How to cook the perfect ugali recipe and serve with braai
Ugali is the most common staple starch featured in the local cuisines of the African Great Lakes region and Southern Africa. The process of preparing it is easy and can be served with varieties of other dishes. These include braai, meat, soup, vegetables, ugali samaki, among other accompaniments that go well with it.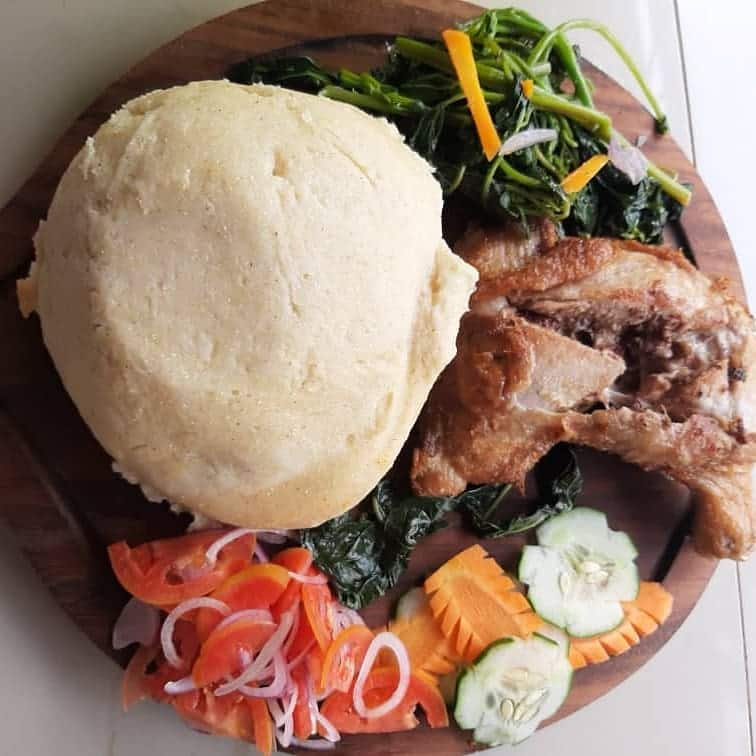 When ugali is prepared from another form of starch, it is usually given a different name more so from that community. For instance, the Kenyan ugali from the Luhya community is known as Obhusuma. The dish is usually eaten three or four times a week in most of the African homes. It goes well with different soups and stews such as ugali nyama. Therefore, every day you can eat it with something different.
Ugali recipe Kenya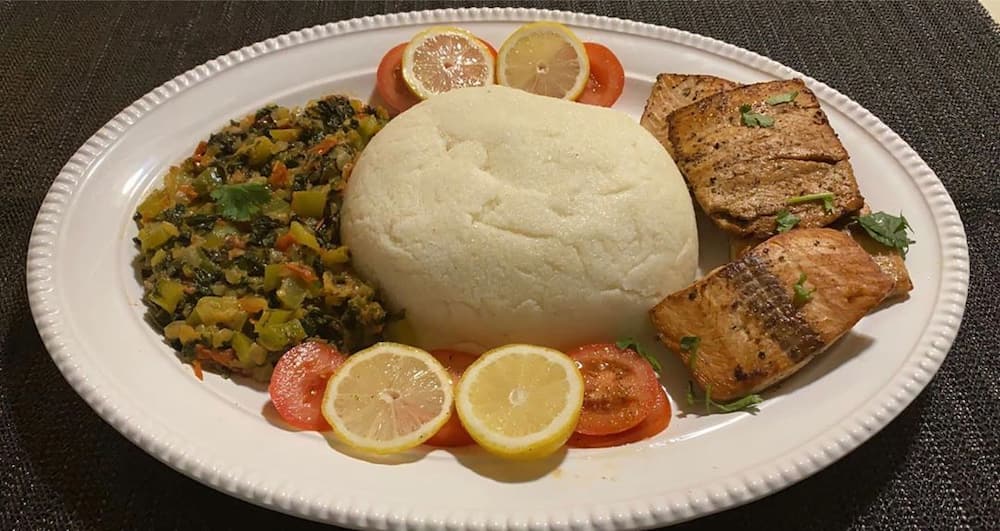 To make the perfect ugali Kenya recipe, you need to learn a few tips. To start with, you need to be patient and know when to stop adding flour to ensure the dish is not crumbly or has flour lumps once you are through with cooking. The recipe in Kenya is the same as the ugali recipe Tanzania and ugali recipe Uganda.
Ugali ingredients
Below is the ugali recipe ingredients for two people:
2 cups of maize flour
A spoonful of blue band/margarine
2 large cups of water
READ ALSO: Best hummus recipe South Africa from scratch
Preparation
1. Bring the water to a boil in a large pot, and then pour in some of the maize flour.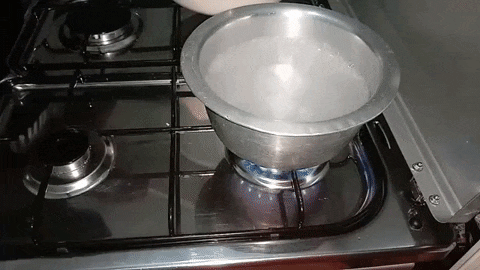 2. Allow the water to keep boiling for a few minutes, and then begin to turn the mixture with a long wooden spoon.
3. Sprinkle in more flour and continue mixing. The mixture should start to thicken as you keep stirring and adding more flour.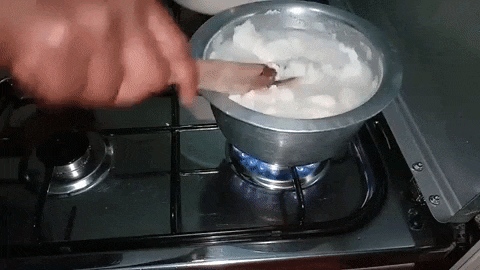 4. Hold the pot with mittens or a cloth to prevent burning your hands, and continue to fold the flour into itself. It will become firmer and more difficult to turn.
5. Press it against the wall of the pot with the spoon, then mix it back into the middle of the pot.
6. Repeat this process several times. Let it stay in the middle of the pot, and turn down the heat to low.
7. After a few minutes, press out and return it to the middle of the pot again.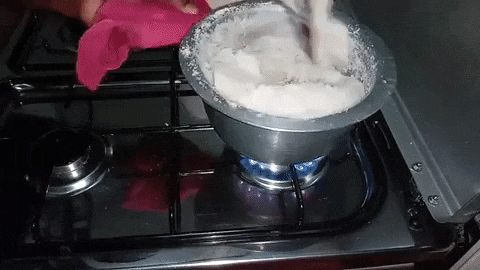 8. Remove it from the heat.
9. Scoop the ngima onto a plate, and cover the plate with the pot for a few minutes as you dip the spoon into some water.
10. When taken out of the pot, the ngima will be shapeless. Use the wet spoon to press it until it is rounded.
11. Serve with meat, chicken, fish, or vegetables on the side.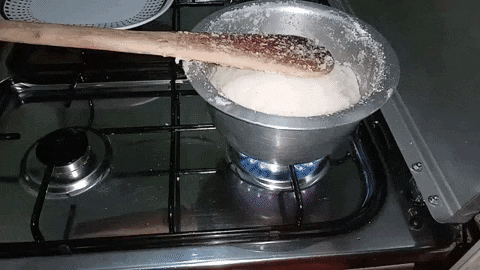 How to eat ugali food
The dish is usually served as an accompaniment to meat or vegetable stews, greens such as ugali Sukuma, or soured milk. To eat it, pull off a small ball of mush with your fingers. Form an indentation with your thumb, and use it to scoop up accompanying stews and other dishes. Or you can form larger balls with your hands or an ice cream scoop, place them in individual serving bowls, and spoon stew around them.
Ugali variations
White cornmeal is the most commonly used grain for ngima. But you can substitute sorghum, millet, or coarse cassava flours (ugali wa muhogo). More or less water can be added to achieve the consistency you prefer. Most Africans would not salt the water, so you can leave the salt out if you wish.
READ ALSO: Best South Africa devilled eggs recipe
Frequently asked questions
Below are the most common questions. They contain thoroughly researched answers. Enjoy reading.
What is ugali made out of?
It is made from white cornmeal or red millet. It is one of the most common dishes you can find in many African countries. Served with meat or mashed vegetables, it is the national dish.
Is ugali and fufu the same thing?
Fufu, ugali, posho, mealie-meal, nsima are the names of the same dish. However, it is usually translated as porridge. This is not very accurate.
How is ugali called in English?
Also known as ugali pap, nsima, and nshima, it is a type of maize flour porridge made in Africa. It is also known as ngima, obusuma,obuchima, kimnyet, nshima, mieliepap, phutu, sadza, kwon, isitshwala, and other names. Different names depend on the community and region.
What can you eat with ugali?
There is a wide range of accompaniments to take with nshima. They range from saucy beef, mushroom or fish stew, Sukuma wiki, or green vegetable soup, among others. The choice depends on your preference.
What does ugali taste like?
It tastes a bit more like popcorn than grilled corn. It is a very simple dish of milled white maize, cooked with water until it is very stiff. It is served in big floppy slabs together with meat and vegetables.
Is ugali a carbohydrate?
Yes, it is carbohydrate. It is enjoyed with many meals and is one of the primary forms of starch. It is similar to maize porridge, with added millet flour or sorghum, which is cooked in milk or water until it forms a dough-like consistency.
With the above instructions, you can comfortably cook ugali and treat your friends and family. The process takes between 10-45 minutes. Try it today and enjoy the delicious meal.
READ ALSO: Best homemade tuna pasta recipe South Africa
Briefly.co.za reported, on August 13, 2020, about the best homemade tuna pasta recipe in South Africa. Tuna pasta is one of the easiest recipes to make at home. Everything you need for these recipes is readily available in your home, and it will take 20 minutes to prepare.
It works well for lunch, dinner, or as a side dish. The dish also packs a lot of health benefits. Tuna is an excellent source of protein, and it contains Omega 3 and fatty acids, which help fight heart disease.
READ ALSO:
How to make hard Kombucha at home - quick and easy recipe
Easy and best brownie recipe South Africa
15 best breakfast in Cape Town (popular brunch and breakfast spots)
Source: Briefly News