- Minister Stella Ndabeni-Abrahams' husband reportedly had a finger in the Covid-19 relief grant pie
- According to reports, Thato Abrahams benefited financially from the distribution of the R350 coronavirus grant
- The businessman allegedly played a crucial role between Blue Label Telecoms, the SA Postbank and a former SA Post Office executive to distribute the grant
PAY ATTENTION: Click "See First" under the "Following" tab to see Briefly.co.za News on your News Feed!
Communications and Digital Technologies Minister Stella Ndabeni-Abrahams' husband, Thato Abrahams, is reportedly caught up in a Covid-19 relief grant saga.
According to a whistle-blower, the business played a vital behind the scenes roles during the negotiations between Blue Label Telecoms, the SA Postbank and a former SA Post Office executive.
The source provided a media publication with a letter sent to the National Treasury on 1 July, asking for emergency procurement funds for a proposed partnership with Blue Label Telecoms to pay out the special distress grant.
IOL spoke to the whistle-blower and reported the letter had been written with the SA Post Office letterhead on it, yet the SA Post Office (Sapo) claimed it was sent without their approval.
According to a screenshot shared by IOL, a case of fraud has since been filed by Sapo at the SAPS in Olifantsfontein.
Sapo executive Refilwe Kekana claimed in the affidavit that the person who wrote the letter was not even an employee of the Post Office.
READ ALSO: Analysts believe concealed CR17 donations are ammunition for a faction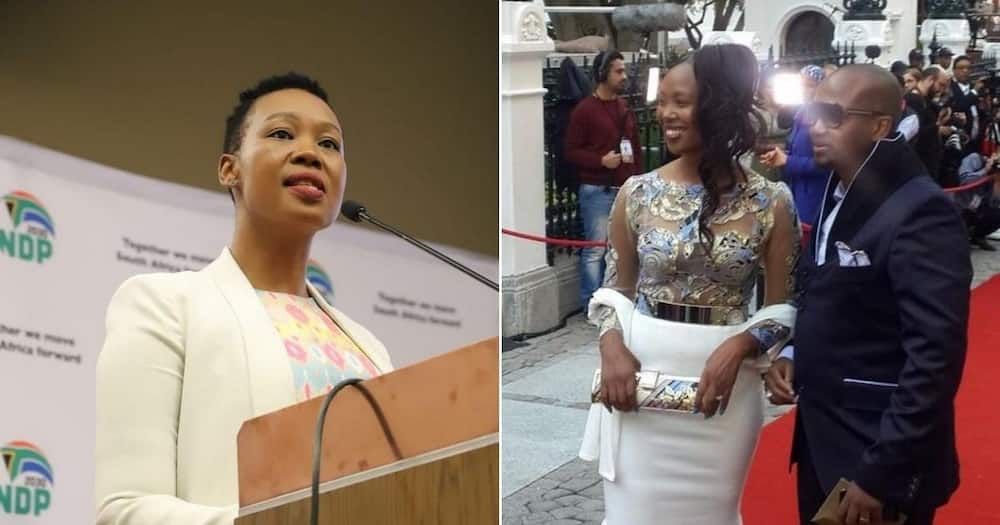 However, Independent Media was able to confirm that the person who wrote the letter was an employee of Postbank.
Postbank confirmed the letter and claimed it was sent to the National Treasury by an official in line with the National Treasury Supply Chain Management (SCM) Instruction Note 3 of 2016/17.
A source at Blue Label Telecoms overheard a phone conversation where the Postbank official was instructed to write the letter on the Post Office's letterhead.
However, the source could not confirm whether or not Thato had been involved. It is not the first time controversial stories surfaced that implicated the minister's husband.
Itweb reported this week that State IT Agency (SITA) executive caretaker Luvuyo Keyise slammed rumours that he and Thato had a personal relationship.
This follows an IOL report that claimed Keyise and Abrahams' hubby are familiar with each other. The report suggested their relationship resulted in "interference" by the latter in SITA business.
Part of Minister Ndabeni-Abrahams' duties include overseeing ICT-related departments and entities, which includes SITA.
Previous reports also accused Ndabeni-Abrahams and her husband of colluding to collapse an Eastern Cape Information and Communication Technology Company because its founder refused to sell Thato shares.
According to Simphiwe Cele, the company's CEO, after refusing the offer they started losing business from the Department of Communications.
Social media user, H.M Tshweu, shared the story in a Twitter thread:
However, none of the claims against Ndabeni-Abrahams and her hubby have been proven.
The minister and her husband have been at the centre of controversy before. Briefly.co.za previously reported Ndabeni-Abrahams was accused of using taxpayers' money for her wedding anniversary celebrations. Minister Ndabeni-Abrahams was in the United States for a conference that took place in New York.
However, she also travelled to Switzerland to do shopping. Her husband, Thato Abrahams, went along with her and this happened without President Ramaphosa's permission, according to reports.
In other news, political analysts have weighed in on an ANC faction calling for concealed CR17 donations to be investigated.
This follows controversial ANC Nelson Mandela Bay councillor Andile Lungisa pushing for President Cyril Ramaphosa to face the ANC integrity commission. Analysts believe Lungisa is part of a faction run by Ace Magashule that is attempting to remove Ramaphosa as the head of state.
Enjoyed reading our story? Download BRIEFLY's news app on Google Play now and stay up-to-date with major South African news!