Teachers' Day 2020: date, quotes, wishes, messages
Education is an essential aspect of one's life. Teachers play an important role in instilling knowledge, and their commitment to their jobs requires that they are celebrated. As a result, going through the details of Teachers' Day and the deeds that one can engage in to mark the occasion can go a long way.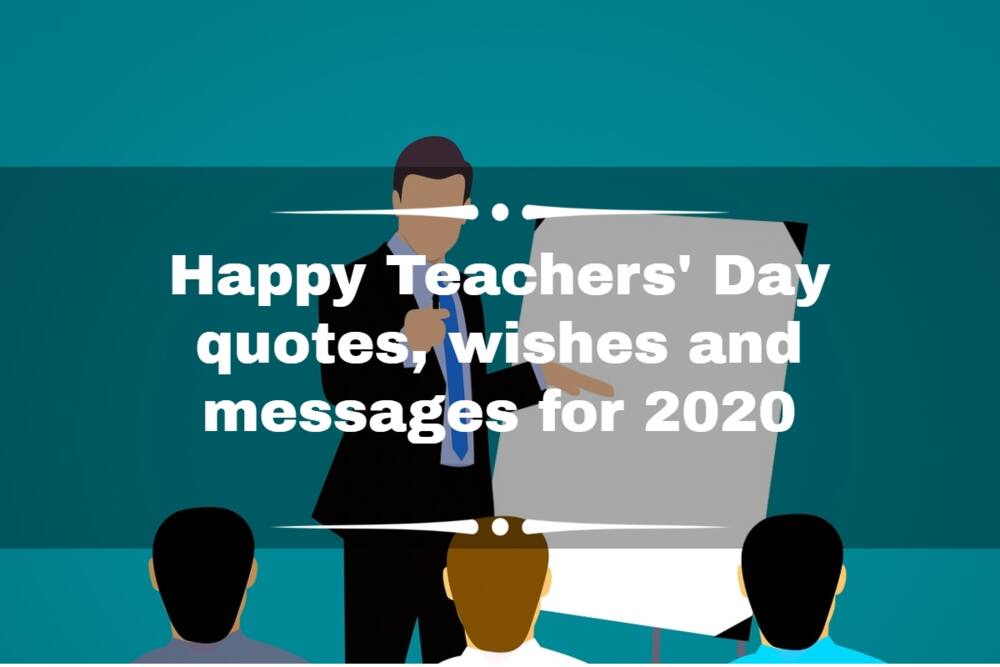 Teachers' Day is an annual celebration that is marked on 5th October to appreciate the impact that tutors have on the students they mould. The occasion is marked through a couple of ways and events. However, as an individual, you can appreciate your tutors on National Teachers' Day South Africa 2020 by sending them messages, quotes, and wishes. Read on for details on how to go about it.
Teachers' Day 2020
Teachers are the guiding light for students. They show them the correct path and help them discover more about themselves. On this day, you can show your affection towards your tutors by thanking them and giving different kinds of gifts. So as you celebrate World Teachers' Day, here are some wishes, greetings, messages and quotes to share on Teachers Day 2020.
Teacher's Day date
UNESCO initiated 5th October to be marked as the World Teachers' Day; a special occasion to appreciate the vital contributions that tutors have in the vision of the world education and development. The day is also referred to as International Teachers Day, and it is marked through different events aimed at creating awareness of the teaching profession. Apart from the various celebrations, these messages, quotes, and wishes can help in cementing the message.
READ ALSO: US cancels visas for 1 000 Chinese students, links some to military
Teachers' Day wishes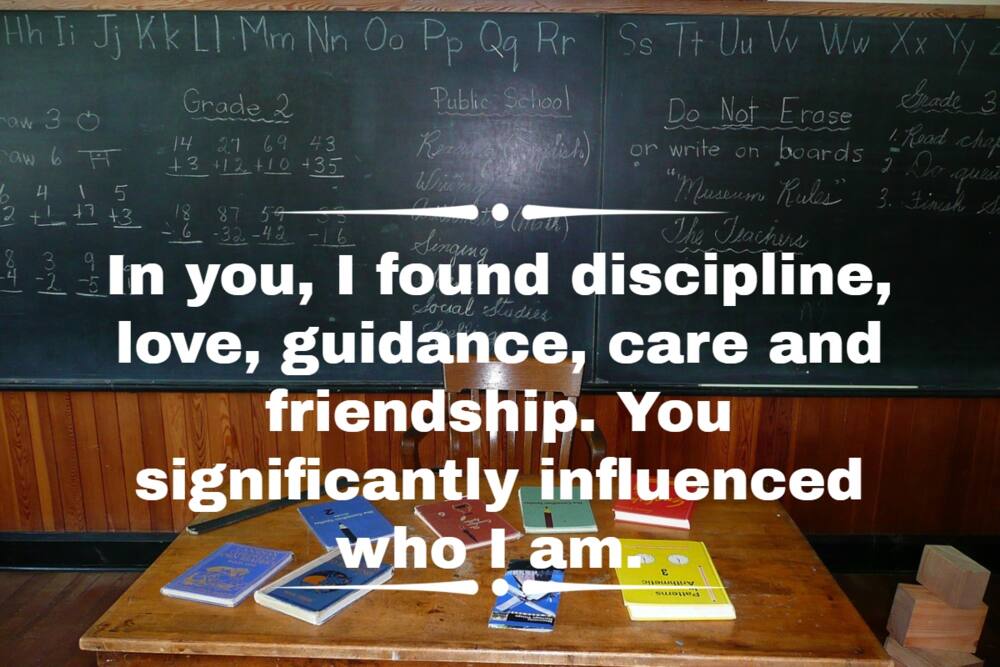 If you are not in the position to physically meet your tutor for the Teachers Day celebration, you and send any of these wishes. These Teachers Day wishes are proof that you thought of them:
In you, I found discipline, love, guidance, care and friendship. You significantly influenced who I am.
Had it not been for you, I would not have been who I am. You have seen me through to becoming who I am today.
Tutors are the people who make ordinary students do the most extraordinary things!
The award of the best tutor this year goes to you. You are the force that has influenced who I am today.
Without you, we would have been lost. Thank you for guiding us, inspiring us, and making us what we are today.
You have always been my inspiration who guided me throughout. Thanks for being my dedicated mentor. My prayer is that Teachers' Day 2020 will be exceptional for you!
Today, I celebrate you for being understanding, outstanding and caring. You proved to me how exciting learning can be, and I am glad that I walked the journey with you. I celebrate you today!
I am honoured to have crossed paths with you because I am because you are. I am forever indebted to you.
I am proud to let you know that you have been a great mentor in my life! Happy World Teachers' Day!
On this special day, I would like to appreciate you for igniting my imagination, instilling in me a never-ending quest for knowledge and the glimmer of hope. You built my confidence and propelled me to strive for greatness.
You have always been a mentor in my life. Even though it took me quite some time to realise that, I am grateful that you selfishly gave your all to make me a better person.
Every time I think of you, I am honoured to have encountered you in my life. Happy Teachers' Day to you!
READ ALSO: SA teachers in dire straits due to job stress, survey report uncovers
Teachers' Day quotes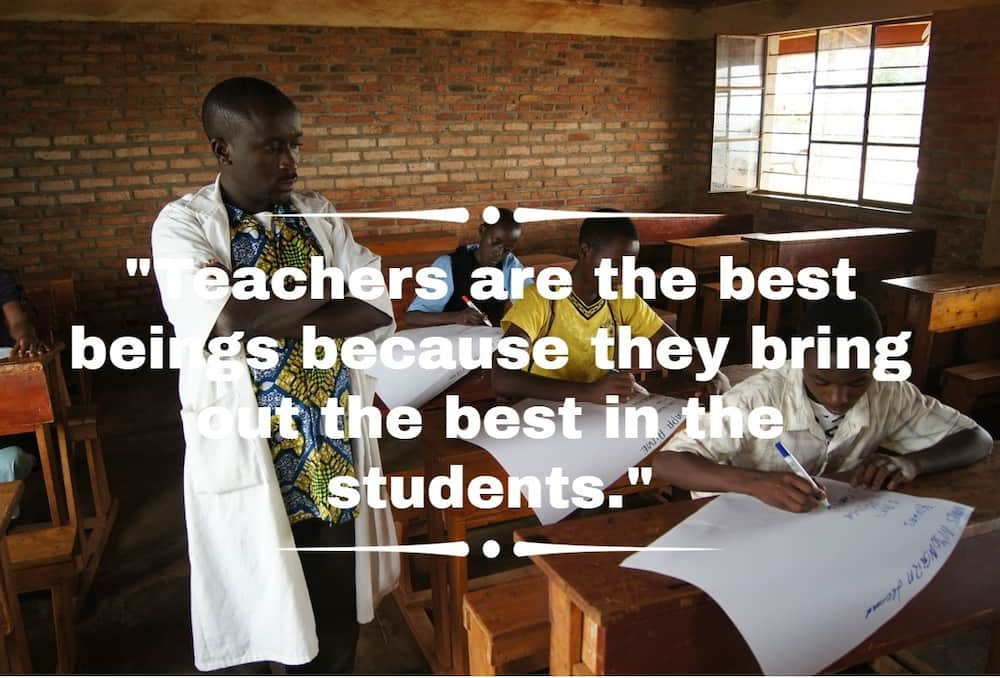 These are some of the World Teachers Day quotes that affirm how vital teachers are in the life of an individual.
"Teaching is an art that involves awakening a human being's natural curiosity with the prospects of satisfying it later. Therefore, teachers are the most significant beings in our existence."
"Parents are considered to be the most significant beings of our existence because they gave us life. However, tutors are equally important because they taught us the art of living well."
"A good tutor can best be described as a candle because of much they light the way for a lot of people."
"It is the supreme art of a tutor to awaken creativity, knowledge and expression; and that is nothing short of what they do."
"Tutors are the best beings because they bring out the best in the students."
"Good tutors know how to bring out the best in students."
"If we were to focus interest on a country with beautiful minds and be corruption-free, the key stakeholders that we would look out for are a father, a mother and a tutor. They are the trio that guarantees significant societal difference."
"The teacher who is indeed wise, does not bid you to enter the house of his wisdom but rather leads you to the threshold of your mind."
READ ALSO: Teachers transform pupils' desks into tiny, social-distanced cars
Teacher's Day messages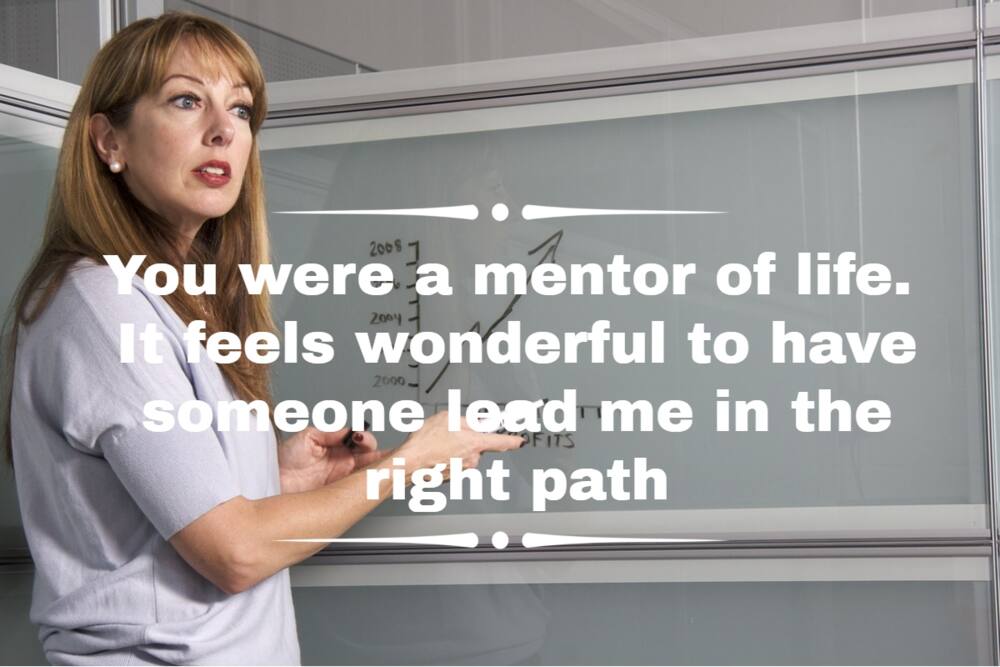 What is the best message for Teachers Day? These are some of the messages that you can share on the special occasion or on any other day to remind tutors of how significant they are.
You possess an unbeatable power of inspiring young people to achieve their goals. The world can never have enough mentors. Happy World Teachers' Day 2020!
No words can ever express the amount of impact that teachers have on the people they encounter. Their willingness to teach passionately and their superpower to guide like mentors is everything one would want in life. Happy Teachers Day!
Our parents gave us life, but tutors gave us the manual on how to live a fruitful life. You introduced us to qualities like honesty, passion, integrity that have significantly influenced our personalities.
No one can repay all the efforts and hard work that you have invested in moulding students. We can only feel grateful for having a tutor like you! Happy National Teachers' Day 2020!
I am honoured to have attended your classes because your kindness and friendliness when impacting lives are qualities that I admire. Thank you for challenging me to impact lives in such a polite way.
Dear tutor, I m grateful for how much you enlightened and supported my journey toa attaining my goals. I am assured that with your blessing, I have all that it takes to surf the waters of life.
READ ALSO: Covid-19 pandemic: Global death toll crosses 1 million mark
Who declared Teachers Day? World Teachers' Day was first held in 1994 at the initiative of UNESCO and has been observed every year since. It was set aside to acknowledge the impact that tutors on education. Therefore, it is marked every year, and different states mark it differently.
Teachers' Day 2020 is one of a kind as the tutors are one of the individuals that were affected by the pandemic. Therefore, sharing these messages, wishes, and quotes can go a long way on reminding how important they are to the nation.
READ ALSO: Funza Lushaka bursary application form, status and contact details 2020
Briefly.co.za recently published exclusive details about the Funza Lushaka bursary and how to apply for it. If you have been thinking of pursuing a teaching profession, you might want to read on for more details.
READ ALSO:
From bakkie to classroom, teacher's dedication knows no limits
Brilliant lady drops beautiful graduation pics: Biology graduate
GDE admissions 2020: Step-by-step guide to online application
Source: Briefly News