Trevor Noah: A look at the very private love life of Mzansi's fave funnyman
Born a crime, world-known comedian Trevor Noah didn't enjoy his childhood as much as many other kids do, in part attributed to being bi-racial and being in constant hiding during the period when interracial intimate relationships were illegal in South Africa. But Noah found life in comedy, using it as a medium to voice his opinions.
PAY ATTENTION: Click "See First" under the "Following" tab to see Briefly.co.za News on your News Feed!
By Clinton Emscent - Freelance Journalist
Trevor Noah is known for being a rather private man when it comes to his romantic life. A quick visit to his Instagram page will prove this as there aren't any pics of him and his rumoured bae, Minka Kelly.
In this piece, we help fans and readers alike to understand Trevor and get a window view into his extraordinary life.
Trevor Noah finds love with Minka Kelly
It has been reported that Trevor Noah is in a relationship with the stunning American actress Minka Kelly.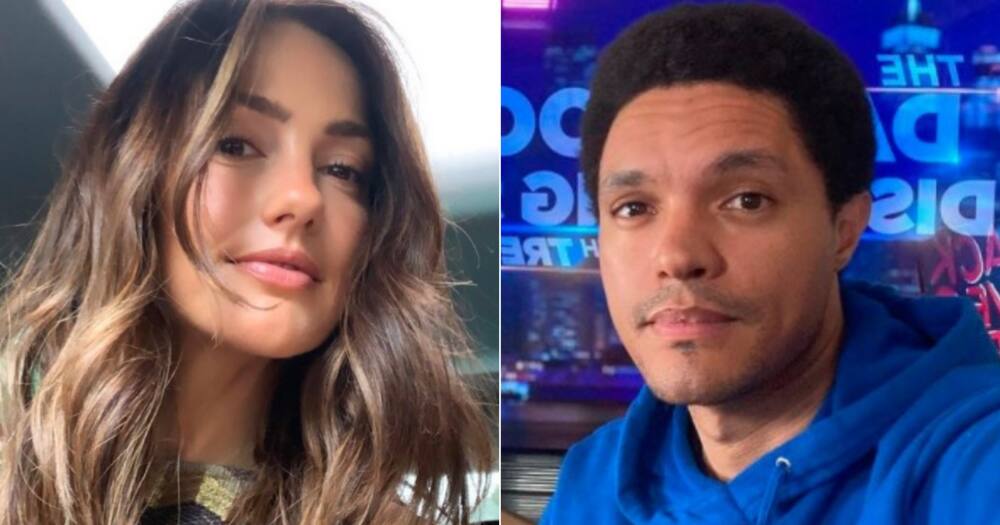 Trevor has been engaging on her Instagram page as far back as 2019 although he stopped following up on her posts from 28 August.
According to Life & Style magazine, it was reported that Minka Kelly had been crushing on the comedian for a long time and now they are very much in love. According to the source, "they are a perfect match".
While the reported couple doesn't share photos of them together on their socials, News24 reported in November that the couple is rumoured to be house hunting together.
Trevor Noah's past relationships versus Minka Kelly's past relationships
Trevor used to date South African-based physiotherapist Dani Gabriel. The couple split up 2015, according to a report by Daily Mail.
According to another report by IOL, Trevor also dated singer Jordan Taylor, who he went on holiday with in 2017. The couple split up late in 2018.
Minka, on the other hand, allegedly dated the likes of Brian White, Donald Faison, Chris Evans, Derek Jeter and John Mayer, according to a report by ABC News.
On 28th September, Minka cited one of her favourite book passages in a book she read titled All About Love by Bell Hooks:
"Now and then when I find myself forgetting to celebrate life, unmindful of the way embracing death can heighten and enhance the way I interact with the world, I take time to think about whether I would be at peace knowing that I left someone without saying what's in my heart.
"I try daily to learn to leave folks as though we might never be meeting again. This practice makes us change how we talk and interact. It is a way to live consciously."
Trevor Noah is a man of the people
Noah is a man of the people, and not only a man of the people loved by the people, but a man who loves his people and humanity.
"So many people tell me they can see themselves when they look at me, so beautiful to know how I can affect people's hearts, thank you," he said on his social media pages.
Trevor Noah's childhood wasn't the best
Trevor Noah had a tough childhood.
According to Trevor Noah's memoirs Born a Crime, he reflects on the difficulty he had to endure while growing up, showing that growing up meant depression and sorrow for him.
For a kid who was in seclusion for being "half-white and half-black" the only time he could be with his dad was indoors, which made him miss out on many things he could have done.
"I didn't know any kids besides my cousins," wrote Trevor Noah in his memoir.
Noah's parents never lived together and as a result, he didn't have those parents' time and love. His mother would be sent away to prison for weeks if she was caught visiting his dad.
After his dad left them, all he had was his mother. According to Trevor it was like an adventure, just him and his mother. Noah also noted that they were like a "team" but added that his mom remained strict.
Trevor Noah's school career
When apartheid ended, white schools started admitting other races. In his book, Noah says he was expelled from a private school when he took a knife there to defend himself against bullies.
Then, at a state primary school, Noah experienced more challenges. In the memoir, Noah writes that he was the odd one out, noting that black kids played with black kids at school and white kids played with white kids.
However, proficiency in languages saved him. He got on with with black kids because he spoke the language very well.
In high school, Trevor was in trouble many times for arriving at school late. He sat many detentions for this. Little did the school know Noah walked far to school, which often made him late.
Trevor Noah's star starts shining
Noah recalled spending most of his young adult life on the streets of Alexandra, not having enough money for college. In 2002, 18-year-old Noah finally landed a small role on Isidingo and later hosted his own radio show titled Noah's Ark on YFM.
Trevor dropped his acting and hosting gigs to focus on his comedy and performed alongside South African comedians such as David Kau, Kagiso Lediga, Riaad Moosa, Darren Simpson, Marc Lottering, Barry Hilton and Nik Rabinowitz, to name a few.
In 2007, Noah opened for American comedian Gabriel Iglesias and Canadian comedian Russell Peters on his South African tour. Noah then hosted several shows on SABC and MNet.
In 2011, Noah moved to the US, hoping to grow his career. He became the first South African stand-up comedian to appear on The Tonight Show and The Late Show with David Letterman.
Noah then forged a long-lasting career both locally and internationally and has probably been Mzansi's greatest comedy export since.
Trevor Noah lands the job of a lifetime
In 2014, Trevor became a regular contributor on The Daily Show. But earlier in 2015, Trevor lands the job of a lifetime when the show's host, Jon Stewart, stepped down.
Much to Noah's surprise, he was appointed the new host of the popular show and signed a contract until 2022.
Just a month ago, Trevor again made history when it was announced he would host the 63rd annual Grammy Awards in January. The ceremony has since been postponed to 14 March over Covid-19 concerns.
Trevor Noah under fire for Bill Gates interview - fake news debunked
In April, News24 reported that Bill Gates wanted to test a vaccine in Africa.
The article, titled "Bill Gates confident a potential coronavirus vaccine will work in Africa, but Twitter does not think so" was based on a tweet shared by President Cyril Ramaphosa. The tweet stated Gates was involved with testing and research, not vaccines. Ramaphosa posted a short clip of Gates being interviewed on Noah's The Daily Show.
Noah came under heavy fire from many South Africans, but the comedian later pointed out neither he, not Gates, mentioned any testing of vaccines in Africa during the interview.
News24 has since rectified its mistake in a fact check article.
Enjoyed reading our story? Download BRIEFLY's news app on Google Play now and stay up-to-date with major South African news!
Source: Briefly.co.za