- When the president announced a hard lockdown in March 2020, the government tried to help those in need but there were some it simply could not reach
- Nobuhle Ajiti decided it was her duty to help those the government could not reach by running a soup kitchen and handing out food parcels
- Recipients of her hard work, such as the homeless and people who lost their jobs thanks to the pandemic, have praised her
PAY ATTENTION: Click "See First" under the "Following" tab to see Briefly.co.za News on your News Feed!
By Mkhululi Chimoio - Freelance writer
On March 27, South Africa's President Cyril Ramaphosa announced a nationwide lockdown to try contain the spread of Covid-19.
A harsh but necessary move in the face of a pandemic that has since ravaged greater parts of the entire globe. The lockdown sent millions of people into economic inactivity, throwing their futures into a period of deep uncertainty. Alarm bells rang for especially the less-privileged members of society, including migrants.
The government reached out to some poor communities with a number of initiatives meant to curtail the economic and social impact of the various levels of the lockdown, but there were certain people whose hand it could not reach.
This limitation meant that non-governmental organisations and individual humanitarian workers had to intervene, or the catastrophe would have been worse.
Enter Nobuhle Ajiti, a humanitarian activist who reached out to the homeless and poor communities in the sprawling Johannesburg suburbs of Hillbrow, Yeoville and Berea.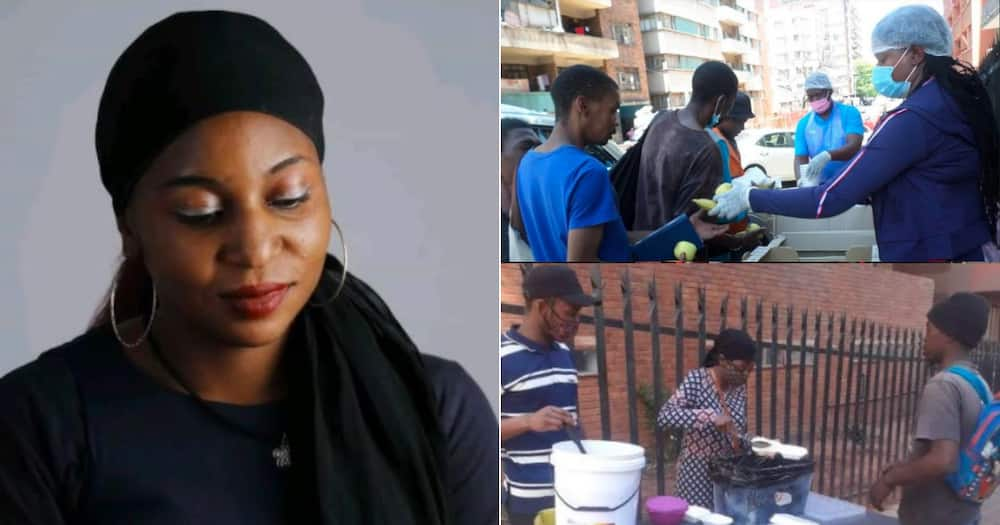 A humanitarian worker and gender activist Ajiti already runs a soup kitchen for the homeless every Sunday and Wednesday in Berea and when the lockdown and its effects hit, she upped her tempo.
Jo'burg is facing a huge humanitarian crisis
The country's busiest city, Johannesburg, experiences one of the world's most devastating humanitarian crises.
Global averages estimates that the homeless community in the city consists of between 8 000 and 20 000 people in a population of over four million. No research has been undertaken in the city – the busiest in Gauteng, to establish accurate figures.
The lockdown inspired Nobuhle to mobilise food parcels to help the vulnerable groups. These groups include the homeless, less fortunate families and people who lost their jobs and could not manage to feed their families.
"I have always been very passionate about helping people who are in need," the 35-year-old Ajiti exclusively told Briefly.co.za
Ajiti, through her soup kitchens, feeds around 500 homeless people at least two days a week, across the sprawling densely-populated suburbs. The homeless people are fed every Wednesday and Sunday with the help of volunteers that Ajiti draws from the social media site Facebook.
"It has been a very tiring and challenging journey, but I cannot give up on looking after vulnerable groups in our society.
As a people, we do not get everything that we want, but I am glad that all my efforts are helping others. For nearly a year now, I have managed to make sure that the homeless get food at least twice a week on Sundays and Wednesdays.
I do not have all the resources, but I go to bed in peace knowing that those who are less fortunate than me have something in their stomachs," she added.
"I do not have money to do all this but I move around seeking help and resources to make sure that this initiative does not die, especially during this Covid-19 pandemic.
"I make sure that my beneficiaries are served a plate of rice or pap, salads, meat, bread, vegetables, fruits and juice. To me it is not only helping out with food, but also trying to uplift their health.
I am grateful to various volunteers who always take their time to help serve especially the homeless drawn from across African nationalities and races. It has not been an easy journey, but we are moving forward."
Thabo Zuma, a homeless man, expressed appreciation towards Ajiti's gesture:
"It is dry out in the streets nowadays. If it was not for sister Nobuhle, I do not know where I would be now. We believe that our leaders must appreciate people who are doing great wonders for their citizens," he said.
Nobuhle gathered over 11 000 parcels at the hight of the pandemic
At the height of the lockdown, Ajiti mobilised 11 000 food parcels from well-wishers, which she donated to various families who were starving following job losses and lack of access to food.
"Realising that people are losing their jobs, I mobilised food parcels. I managed to get above 11 000 food parcels which I distributed to families who lost jobs.
"I am glad that I managed to make sure that families go to bed with something in their stomachs," added Ajiti who has been involved in humanitarian work for a couple of years now.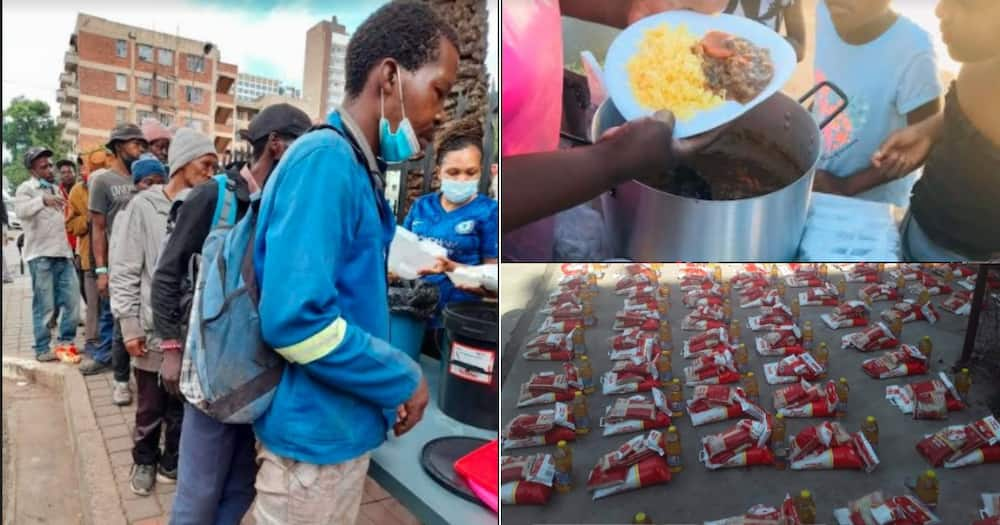 Recently, Ajiti started an initiative where she is feeding people who are recovering from Covid-19.
She said it is challenging to visit those with Covid-19:
"I have to make sure that I don't contract the virus. So I have to make sure I always have my protective gear before visiting and feeding them.
"Most people are abandoned in these buildings. They will be dying and suffering in silence so I saw it necessary that I also start putting them in my feeding schemes.
"I like what I am doing. At least when someone is sick, having something in their stomach increases their chances of survival. So my aim is to also save lives," added Ajiti.
Ajiti is also a victim of gang rape and this has led her to consider rescuing victims of gender-based violence.
"I am glad that I have managed to assist more than 200 people who were trapped in abusive relations and victims of GBV across Johannesburg since the start of the lockdown.
"As a victim of GBV I believe it is my duty to make sure that no one experiences what I went through in life."
Meanwhile, Briefly.co.za reported that a young man recently passed with his Honours in accounting and was looking to celebrate the momentous occasion.
According to a post made by his dad, Vani Archary in Facebook's ImStaying group, this is when he decided the best way to celebrate would be to donate food to the needy.
"My son passed with his Honours in accounting and is now a CA trainee. So he decided he wanted to do something different to honour his passing. He decided to feed about 60 people who are desperate for a meal and he randomly gave out money to the poor who stood at robots.
Enjoyed reading our story? Download BRIEFLY's news app on Google Play now and stay up-to-date with major South African news!