Who was Hugh Masekela: all important biography facts
Today, on the 4th of April, it could have been the 80th birthday of Hugh Masekela. Google put his icon on its doodle to let all people around the world know about such a talented jazz trumpeter and pay tribute to him. Look through Hugh Masekela biography facts to know more about this great man.
Hugh Ramopolo Masekela was a world-renowned Trumpeter from South Africa who made great strides in the fight against the apartheid government. He did this even after he was exiled from his own country for his controversial music and for opposing the apartheid government. He is an inspiration to all and is nick-named the father of South African jazz. He is a legendary man and that is why it is important to be acquainted with the Hugh Masekela biography. If you want to know more about this man who came from a small village in South Africa and went on to perform for royalty and presidents all around the world, then this is the article for you.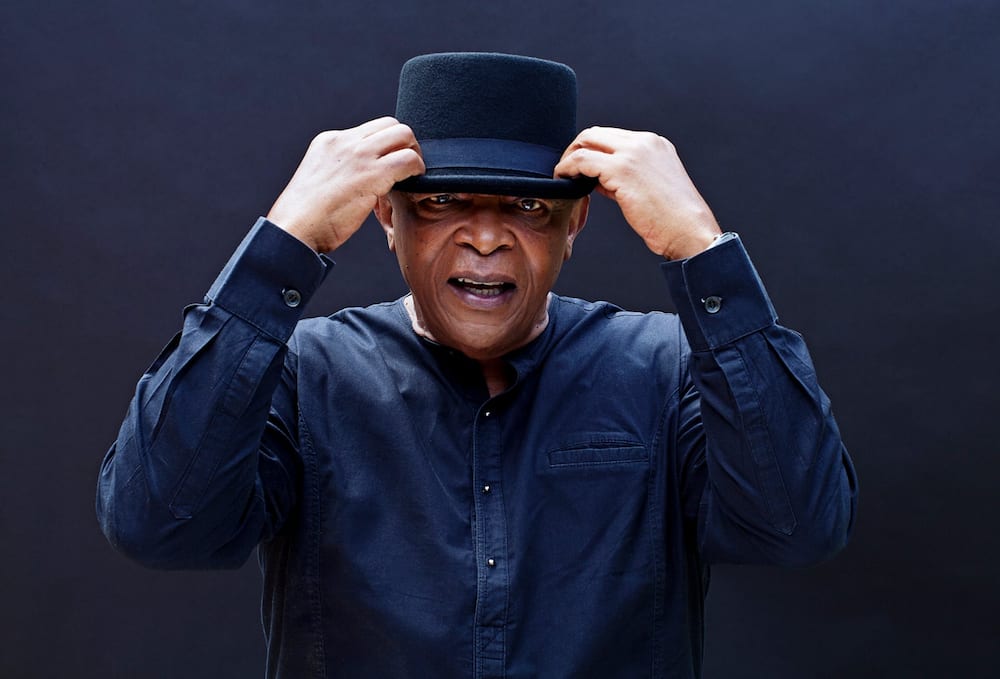 Hugh Masekela profile
Date of birth: 4th April 1939
Place of birth: Witbank, South Africa
Age: 78
Spouse: None
Children: Sal Masekela and Pula Twala
Parents: Thomas and Patricia Masekela
Famous for: Playing the trumpet and singing
Date of death: 23rd January 2018
READ ALSO: 16-year-old South African published her first book to much acclaim
Hugh Masekela biography
Hugh Masekela early life in South Africa
On the 4th of April in 1939, Hugh Masekela was born in Witbank, South Africa. He was raised by his grandmother who runs a bar illegally. The bar targeted the coal miners since their town was a coal-mining town.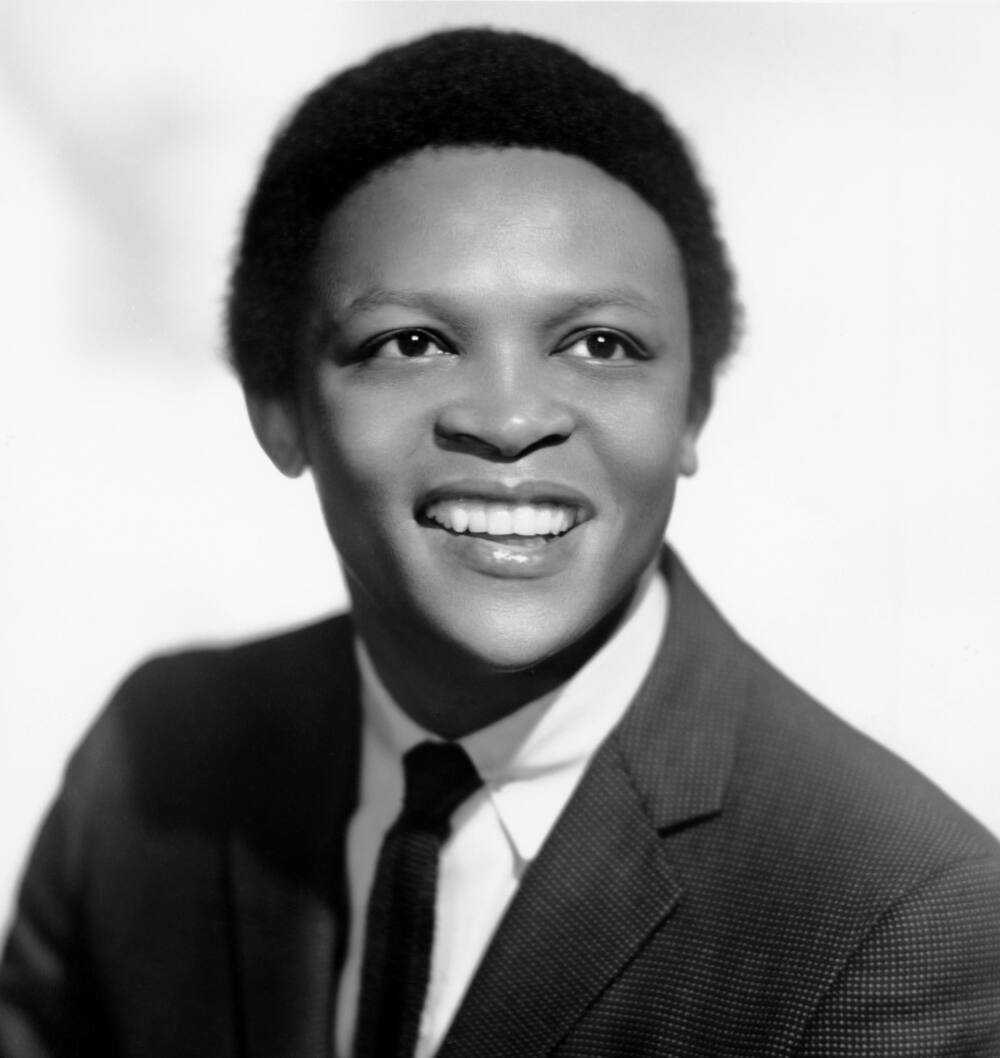 Music fascinated the young Hugh Masikela. When he was just a kid, he was drawn by the stories of the men who would go and drink at his granny's bar. He even said that he knew about many countries all over the world at a young age because of interacting with foreigners.
Hugh Masekela joined St. Peter's secondary school when he was 12 years old and turned out to be a very naughty student. Only the worst students were taken to Father Trevor Huddleston. He told the father about his fascination with the trumpet and made a promise that he would stop being stubborn if he got one. The father raised the money to buy a trumpet and got Hugh one. A local trumpeter known as uncle Sauda taught Hugh Masekela to play the trumpet and the rest is history.
READ ALSO: Meet Dimitri Tsafendas, the man who killed apartheid architect, Hendrik Verwoerd
Since Hugh started playing, the other students became curious and wanted to play an instrument as well. This led to the formation of the Huddleston Jazz Band. The band created a platform for these talented youth to display their talent. The band members wore matching outfits, black pants and grey silk shirts.
One time, during a trip to the United States, the band played for Louis Armstrong, he was so impressed he sent the boys a trumpet, which became Hugh Masekela's, and as you can see below, he was very excited to get it.
Hugh Masekela became such a big deal that he played in one of South Africa's hit musicals, King Kong. This was just the beginning of his blossoming career.
In 1960, he joined a band known as the Jazz Epistles, which had other talented instrumentalists such as Abdulla Ibrahim, Jonas Gwangwa, Kippie Moekebi, Johnny Gertze, Dollar brand and Makaya Ntshako.
READ ALSO: Cop's letter show a different side to the South African Police Force
Hugh Masekela in New York
The year 1960 was riddled with trouble; this was the year of the Sharpeville Massacre, which saw more than 50 South Africans losing their lives for protesting the apartheid Government. Hugh Masekela ended up fleeing the country, as it was very unstable and thus not safe for political activists like him.
At this time, he did not know this, but he would be exiled from his country for 3 decades and would only return after Nelson Mandela was released from jail in 1990.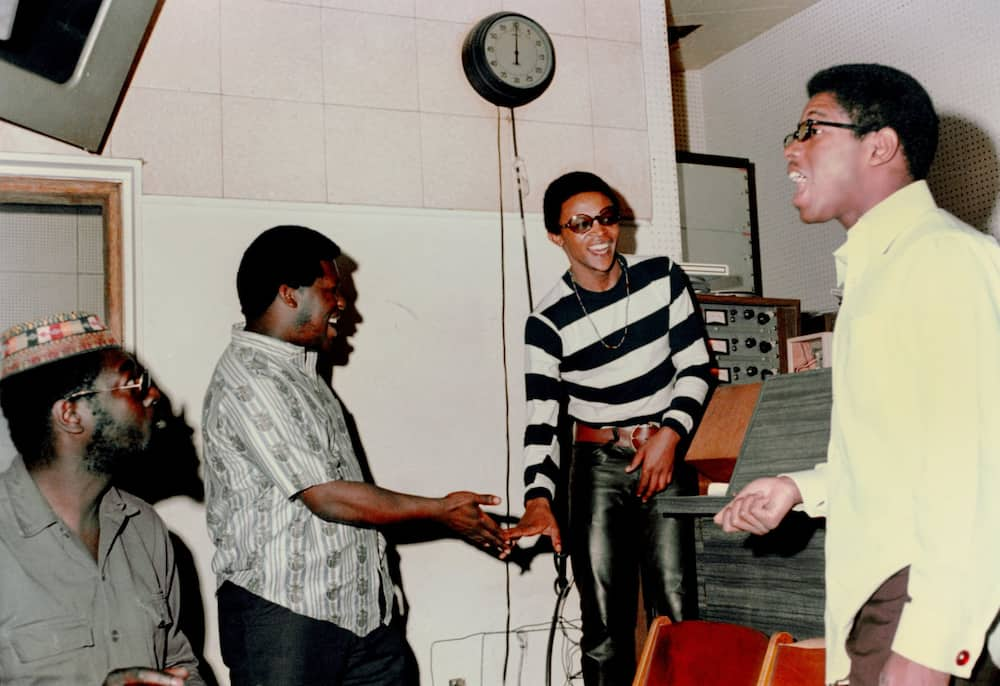 He went to London but he was not pleased with the jazz scene there. Soon, he left for New York and enrolled in the Manhattan School of Music where he studied the Classical Trumpet for four years.
The Jazz scene in New York was very advanced at the time and Hugh Masekela watched artists such as Miles Davis, John Coltrane including many others. He learned from what he saw and heard and this is what shaped his career as a Jazz musician.
What is so unique about Hugh Masekela is that he was able to bring his own touch of South African music and culture into his jazz music. His ability to combine the American style jazz with a dash of African made him popular both in his homeland and abroad to such an extent that he got the opportunity to play for the queen.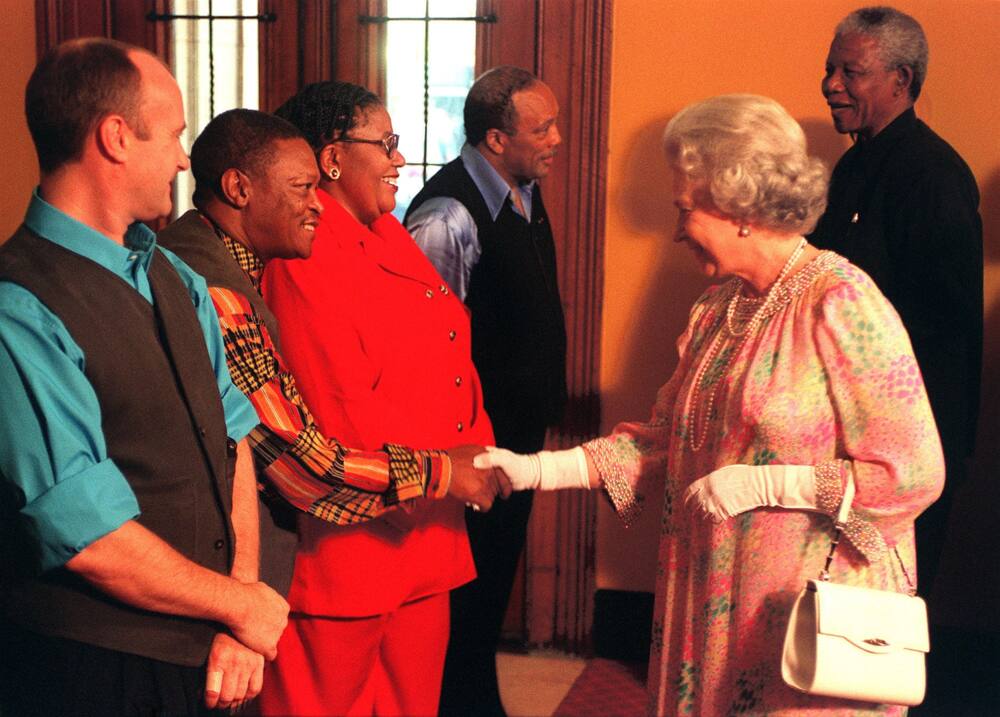 Life, however, had not always been blissful for the musician. He battled with an addiction to alcohol and cocaine for a long time in the 70's and the 80's. He was able to get sober in the 90's.
Hugh Masekela Instruments
Despite playing the trumpet, Hugh Masekela was skilled in playing other instruments. These include the Flugelhorn, Trombone and Cornet.
When he was younger, his father bought him a piano. He, however, decided to play the trumpet at the age of 14 when given the chance by the father Huddleston. This was when the legendary trumpeter was born.
READ ALSO: SA paraplegic pilot will fly around the world for humanity and Inclusion
Hugh Masekela family
Hugh Masekela has a small family with four siblings and only two children. He is remembered fondly by his close family members for his loving and accepting nature. In a tribute to his brother, Barbara Masekela said that he said on his deathbed that he does not want to see sad people in his room. That everyone should be happy because he believed that he would get better.
Hugh Masekela children
Hugh Masekela has two children namely, Selema 'Sal' Masekela and Pula Twala.
Sal Masekela is also in the entertainment scene but he did not follow his father's footsteps to a tee. He, instead, went on to become a TV host in America as well as a sports commentator, an actor and a singer. He is now 47 years old and his mother is Jessie Marie Lapierre.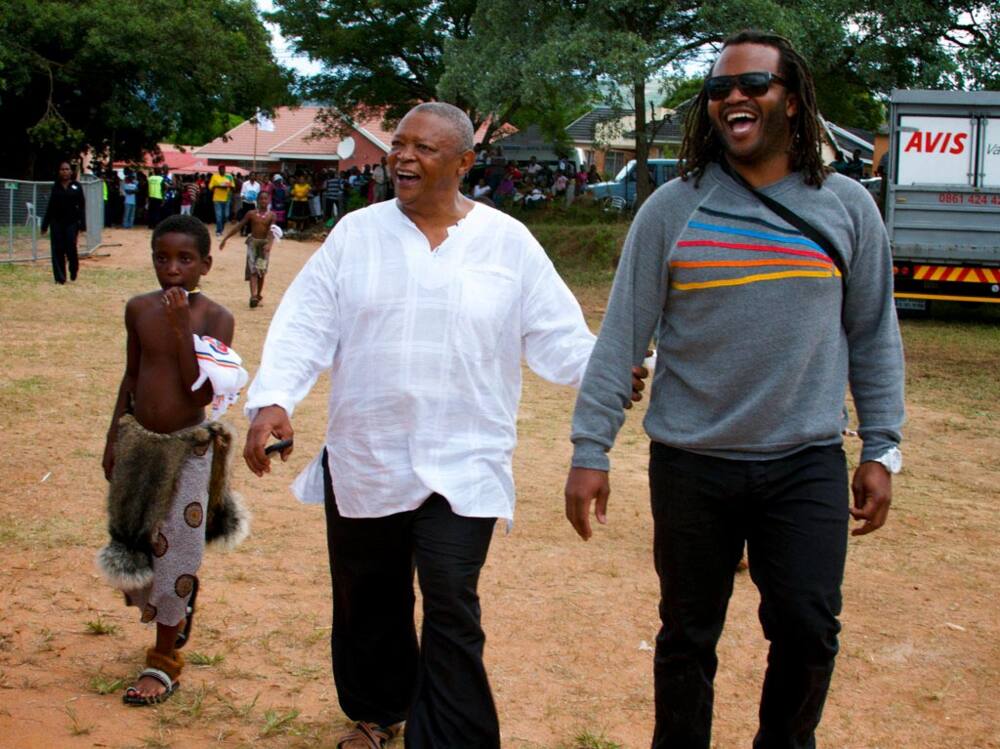 Pula Twala is the more conserved child and she keeps away from the limelight; thus, not much is known about her. Her mother is Dr Tshidi Ndamse.
Below, Pula and Sal are seen at their fathers memorial five days after his demise, visibly celebrating his life that was an inspiration to so many.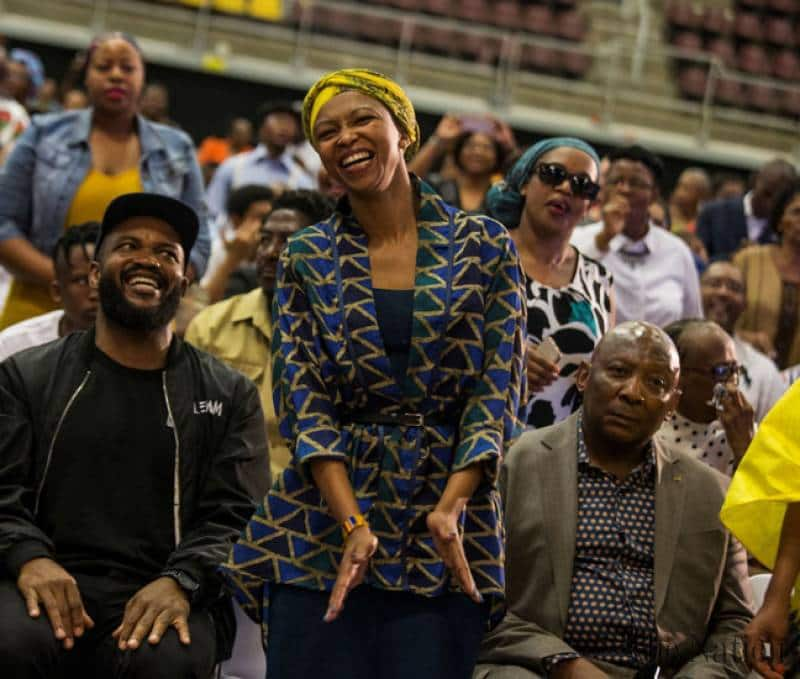 Hugh Masekela Wife
His first wife was also an activist and a musician just like him. She is known as Miriam Makeba. They were married in 1964 but divorced soon after in 1966. There was no bad blood between them.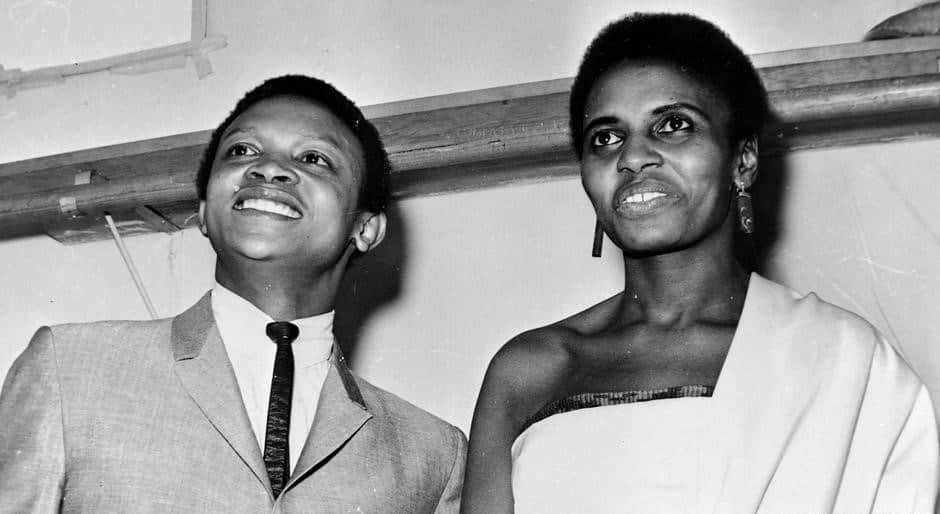 His second wife was Elinam Coffie. They were married in 1999 and divorced in 2013.
Hugh Masekela has also been linked to three other women who are Jabu Mbatha, Chris Calloway and Nomsa Manaka.
Nomsa Monaka was the woman who he was involved with him in his last years. It is comforting to know that the musical icon found someone to be devoted to and who was devoted to him before his demise.
Hugh Masekela's siblings and parents
Hugh Masekela's parents are Thomas Selema Masekela and Patricia Bowers Masekela.
Thomas Masekela was a health inspector and a well-known sculptor, and his wife Patricia Masekela was a social worker. They had four children together where Hugh Masekela was the first followed by Barbara Masekela and then the other two. His sister Barbara was an activist just like him and they both opposed the apartheid rule.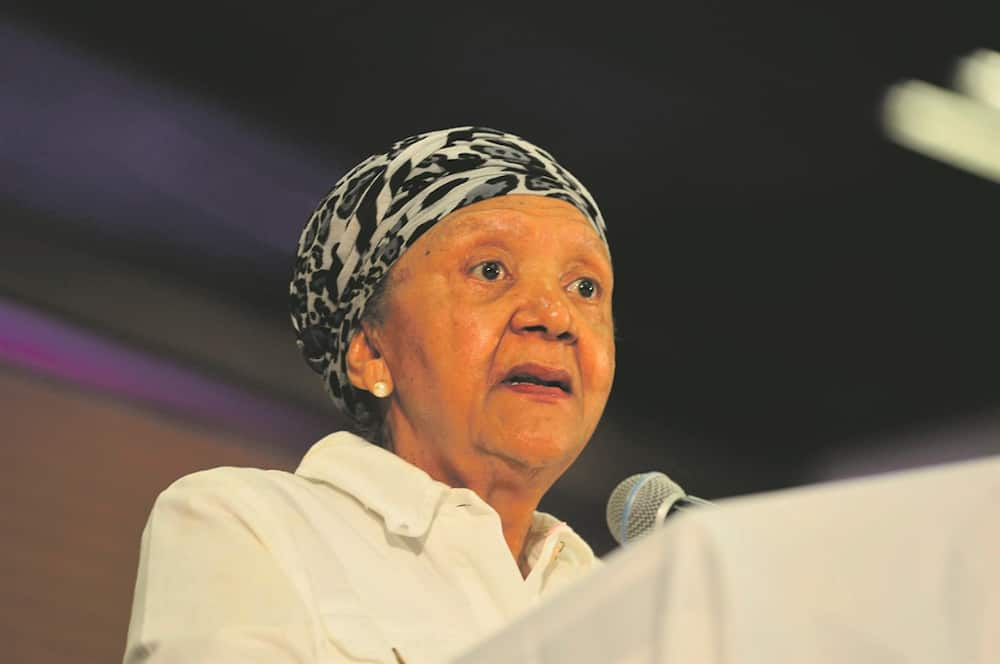 Hugh Masekela net worth
It is not well known what Hugh Masekela's net worth is.
READ ALSO: Trevor Noah cars - pictures and worth
Bra Hugh Masekela death
Hugh Masekela died after a long battle with prostate cancer, which was first discovered in 2008. In March 2016, he had to go for eye surgery when the disease spread to his eye and in September, he had to go for surgery again after tumor was found. For about ten years, he struggled with the disease, which just shows how much of a fighter he was. Hugh Masekela age was 78 years when he passed away.
Hugh Masekela songs.
Hugh Masekela has collaborated with several prominent artists including Marvin Gaye, Stevie Wonder and many more in his singles and albums.
Hugh Masekela singles
Some of the Hugh Masekela songs that were great hits and that were released as singles include:
Stimela
Grazing in the grass
Bring Back Nelson Mandela, Bring Him Back Home to Soweto
Ashikoe
Vasco Da Gama
Don't Lose it Baby
African Secret Society
The Market place
Hugh Masekela Albums
Hugh has released about 49 albums with his last album being No Borders. The album was released in October 2016. Some of his other albums are listed below:
Almost like being in jazz
Alive and well at the Whiskey
Americanization of Ooga Booga
Home is where music is
Techno Bush
Greatest Hits
Emancipation of Hugh Masekela
Promise of a Future
Sixty
Black to the Future
READ ALSO: The viral 17-year-old South Sudanese most expensive virgin bride has been taken finally
Hugh Masekela Awards
Hugh Masekela has won and been nominated for several awards that include:
2016 - MTV Music Legend Award
2017 - South African Music Award for Best Adult Contemporary Album
1968 - Grammy for Best Contemporary Pop Performance
2011 - Lifetime Achievement Award at the World Music Expo
2012 - The Order of Ikhmanga by Jacob Zuma
That is everything about Hugh Masekela biography. This man used his experiences in an apartheid Government to influence his music and to fight the harsh era of apartheid. His music would express his feelings and that was why he was able to move large crowds of people just by playing. He was and still is an inspiration to many and his legacy will forever remain in the hearts of those he touched.
Source: Briefly.co.za