Enhle Mbali, whose real name is Mbali Mlotshwa, is a famous South African actress, a director, and a TV presenter, as well as a Fashion Designer. The multi-talented beautiful lady is also famous for being the wife of Black Coffee, a well-respected star in the music scenes of South Africa and Africa as a whole. Here is all you need to know about her.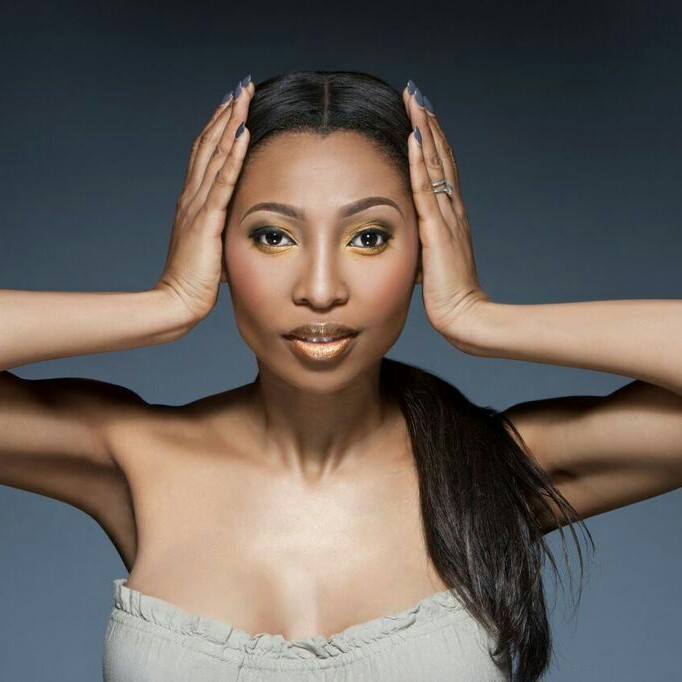 Enale became famous at SABC 1 when she acted in an African murder mystery series called 'Mtunzini.com', and she was only 17 years old back then. This set her on the right career path as she soon bloomed right from the start and would soon land a lead role on 'Tshisa', which is a famous TV drama.
Enhle bio
Here is everything you need to know about Enhle.
Education
Mali has moved from being a Fashion student that went to the University of Johannesburg early in her life to studying filming in Boston. Even after this, Enhle kept showing that there is no end to studying. Recently, she studied Performance at the famous Lee Strasberg Theatre and Film Institute in the State of New York.
Age
For those asking about Enhle Mbali age, you may want to note that her date of birth was on March 3rd, 1987. This made Mbali Mlotshwa age 32 years, which is a pretty young age for all that she has already done so far.
Marriage and wedding
Mbali Mlotshwa got married to Black Coffee in January 2017. The two legally got their union registered in their home area. Black coffee and wife were engaged back in 2010, and by 2011, the couple had their traditional wedding located in Soweto. The two are blessed with two children.
Career
Back in 2015, Enhle Mbali Maphumulo launched a business which was a maternity wear range known as SE Preggoz. This was launched in both New York as well as South Africa. The aim of this range was to ensure that the pregnant woman maintains her sexy and gorgeous look while still remaining stylish even when she was pregnant.
Career-wise, Enhle has moved from being a fabulous actress on Tshisa, which was the beginning of her countless roles and opportunities on different leading South African soapies as well as drama series. These are the likes of 'Soul City', ''iNkaba', 'Rhythm City, and 'Moferefere Lenyalong'.
Standing out as an excellent actress, she went on to become a TV Presenter in 2009. This year marked the beginning of her career in TV when she hosted Channel-O's Award Winning 'Young, Gifted and Black'. She did it with so much grace and ease that she later on became a presenter for the ANN7's 'StarBiz' show, which is a weekly entertainment show that portrayed her personal knowledge on matters of entertainment. These are the platforms that went on to catapult her career leading to her establishment as one of the well-respected as well as a multi-talented performers. She then scooped the roles on a number of popular TV hit shows such as 'Rockville', 'My Family', '7nde Laan', and 'Those who can't teach'.
READ ALSO: Who is Black Coffee's wife?
Mbali Mlotshwa Instagram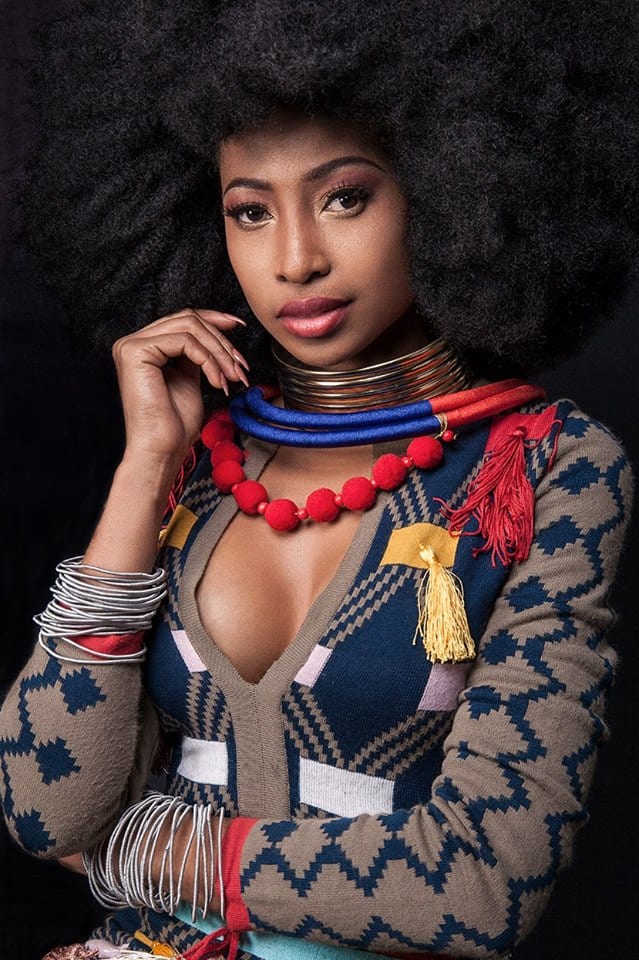 Visiting the actress's Instagram page reveals a lot more about her life. She is one lady that chooses to live her life to the fullest as she enjoys every good thing that life has to offer. A good example of this would be the unique Enhle Mbali car that she says she has always wanted to own since her childhood. The successful lady loves spending time with her family and enjoys the good company of friends as well.
Latest news
Enhle Mbali wigs are the new sensation. She clearly loves wigs, and when asked about it, she did not hesitate to let everyone know that it allows her to enjoy different styles. It is this versatility that she enjoys more than anything else. This explains why she bought shares in Labello Beauty online.
What is happening between the two lovebirds?
There are rumours that Black Coffee and his lovely wife may be no more together. Going by the drastic action when Enhle has deleted all the pics of herself and her husband on Instagram, it is obvious that something is amiss. Could it be true that indeed Black coffee cheated on her and that she is no longer able to cope with the betrayal? It has been said that Black Coffee is currently with David Guetta's former wife, Cathy Guetta. Apparently, she is the woman causing a rift between South Africa's celebrity power couple.
It appears that while others are really enjoying their marriage, some are waiting for their own divorce papers to get to them. While some bash Cathy for being in a relationship with Black Coffee for about 2 years, others think it is only professional and that the lady should be misunderstood.
She took Coffee a few years ago seeing that she has a lot of contacts in the music world, and true to this, she has been instrumental in Black Coffee's immense success in the recent past, just as she was for her ex-husband when she managed his affairs back then.
While the relationship may have grown from purely professional to a close friendship, a few twitter twerps have shown otherwise. There has been an uproar on Twitter with people having mixed reactions. Generally, though, it is not business as usual.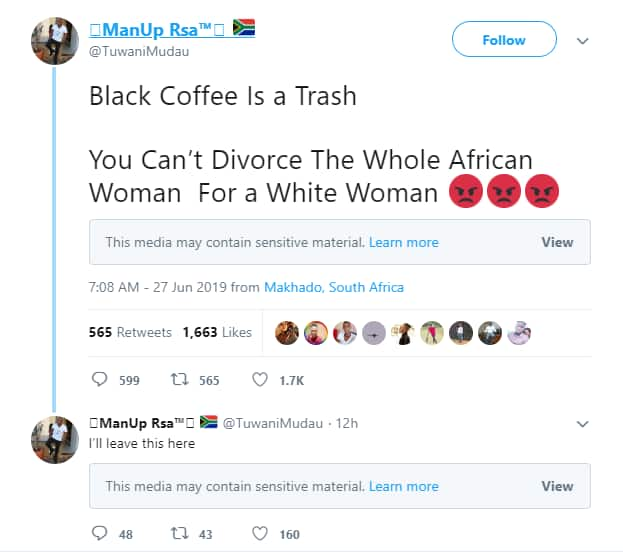 There is an obvious uproar on what Black Coffee is actually doing. This post is an excellent representation of this.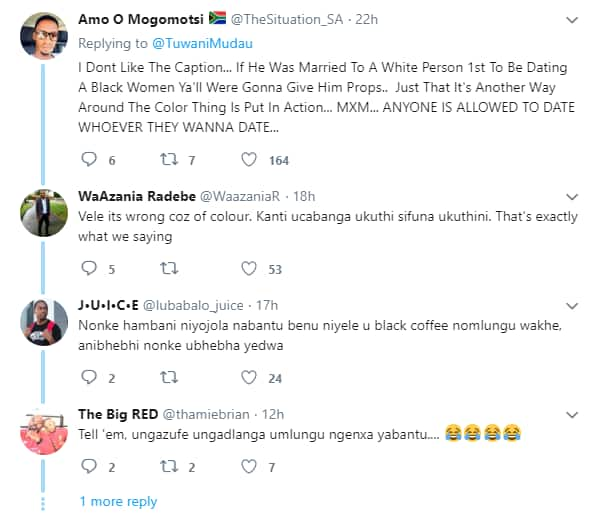 Apparently, despite the wrong Black Coffee may have done, it is not right to take a racial approach to it.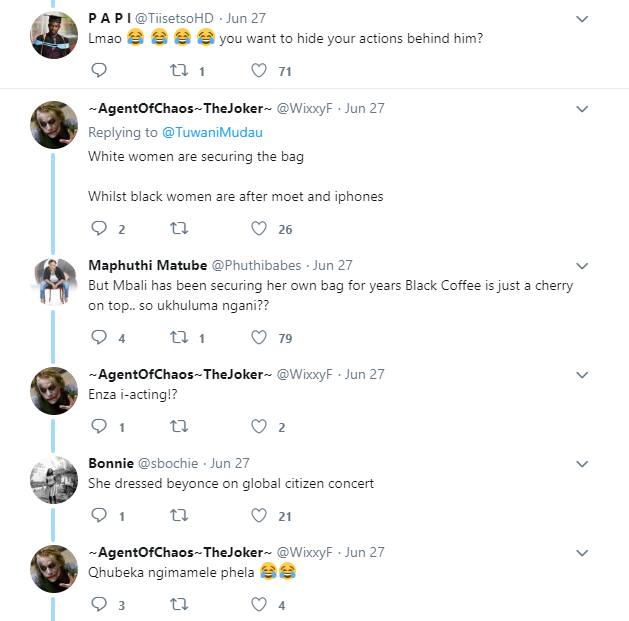 Critics cannot hold their peace as they keep trashing Cathy for interfering with their own. The sarcasm is clear!
Fans believe that Mbali will pull through and do just fine.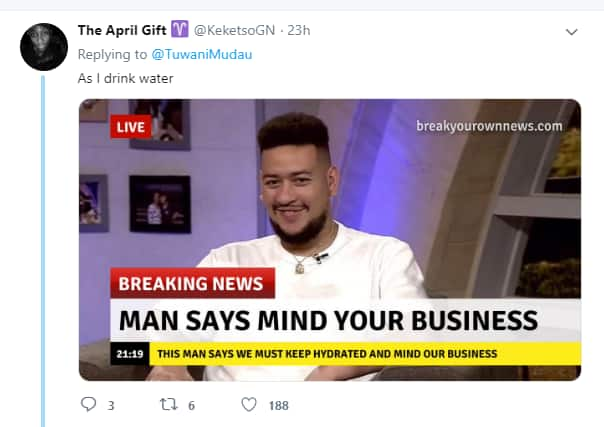 Here is a follower who thinks that it would be better for everyone to mind their business. After all, the two are adults that know exactly what they want. Don't you think so? Here's a tweet by Black Coffee about the incident.
Well, Enhle Mbali is a strong woman. With all she has achieved so far, it is not surprising to see that she will get through anything that is thrown her way. As we wait to know for real if the divorce rumours are true, we can only wish her well and cheer her on.
READ ALSO:
Black Coffee wife car high jacking story
Black Coffee biography: age, real name, wife, battle with cancer, songs, awards and net worth
Haibo: What on earth is going on with Black Coffee and Enhle?