What simple dish can be best enjoyed with a family or served to guests if not steak and kidney pie! This savoury pie leaves you with a hunger for more every time you have a bite, and as a mother or host, you can imagine the feeling of fulfillment that you will have knowing that your loved ones enjoyed every bite that they had. While it does not take time to prepare, here are steak and kidney recipes that you would be proud to try based on the results that you will get.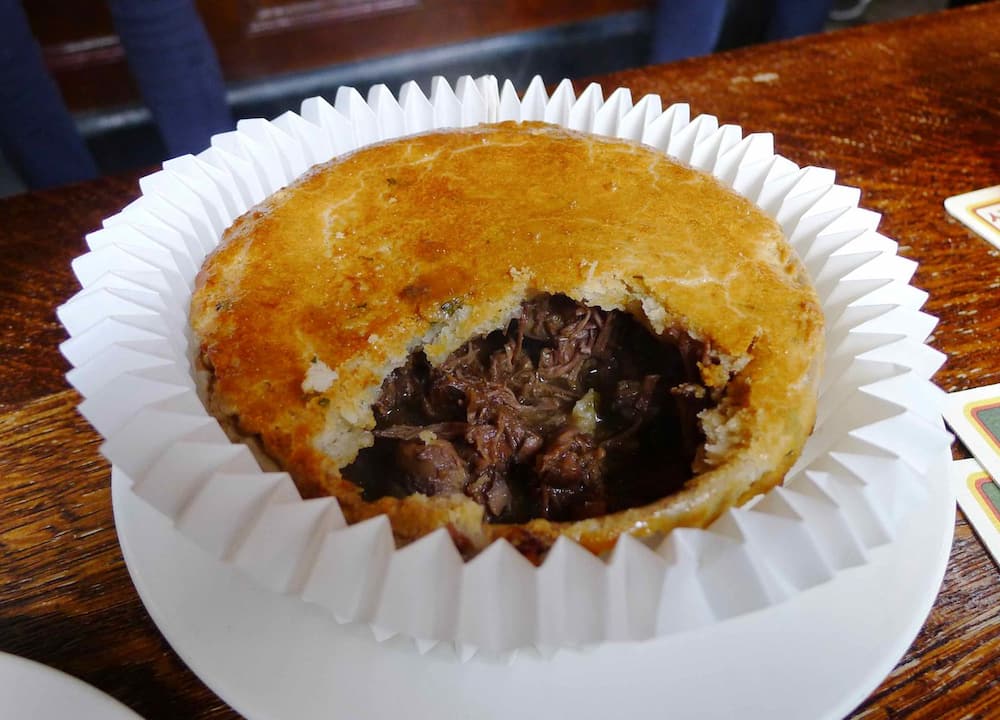 What is kidney pie made of? Being a savoury pie, steak and kidney pie are prepared by mixing diced kidney and beef with brown gravy and fried onion. Interestingly, when you are looking for a light meal to serve, the process and time invested in making this British cuisine is usually worth the result as well as the exciting experience that you will get afterwards. As the ingredients are within reach, it will not be a bad idea to try out the steak and kidney pie recipe South Africa shared below.
How to make steak and kidney pie
If you are looking for an easy steak and kidney pie recipe, you have got the necessary steps explained below:
READ ALSO: Sago pudding recipe - tastiest recipes here!
Ingredients:
Beaten egg (one piece)
Fat trimmed boneless neck of beef (750 g)
Ox kidney (225 g)
Cooking oil (15 ml)
Large and chopped onion (one)
Salt
Freshly ground black pepper (1 ml)
Bay leaf (one)
Chopped parsley (30 ml)
Meat stock (250 ml)
Cake flour (30 ml)
For your steak and kidney pie shortcrust pastry, you will need the following:
Cake flour (120 g)
Salt
Butter or margarine (100 g)
Iced water (50 ml)
Lemon juice (10 ml)
Preparation procedure
Cut the beef into cubes while you soak the ox kidney inside saltwater (lukewarm).
Cut the kidney into halves so that you can remove the membrane and the hardcore inside before you cut it into cubes as well.
In heated cooking oil, fry the beef and kidney until they turn brownish.
Next, add the chopped onion and sauté. Also, add pepper, salt to taste, parsley, and bay leaf.
Heat the whole stock, and after then, add them to the meat.
Reduce the heat and cover the lid; then, allow to simmer for about one and a half or two hours. Just ensure that the meat becomes tender.
Then, with the cake flour, thicken the liquid until it becomes a paste. Add a little water as well.
Once the meat mixture becomes slightly cool, you can then turn it into a pie dish while ensuring that the pie funnel is in the centre.
For your shortcut pastry, sift the whole dry ingredients that you have together, and then, cut the butter or margarine (depending on which one you are using) and mix to have a firm dough.
Get a plastic bag and place them inside, and then allow it to chill for about 20 minutes or so.
The next thing is to roll out the pastry and let it cover the meat. You can cut a slit on top to make an exit for the pie funnel.
Use the beaten egg to brush everything and bake for about 15 minutes under the heat of at 200 ºC or until the pastry has turned golden brownish.
Remove from the oven and serve.
If you do not want the above recipe, below is another steak and kidney pie recipe that you can also consider.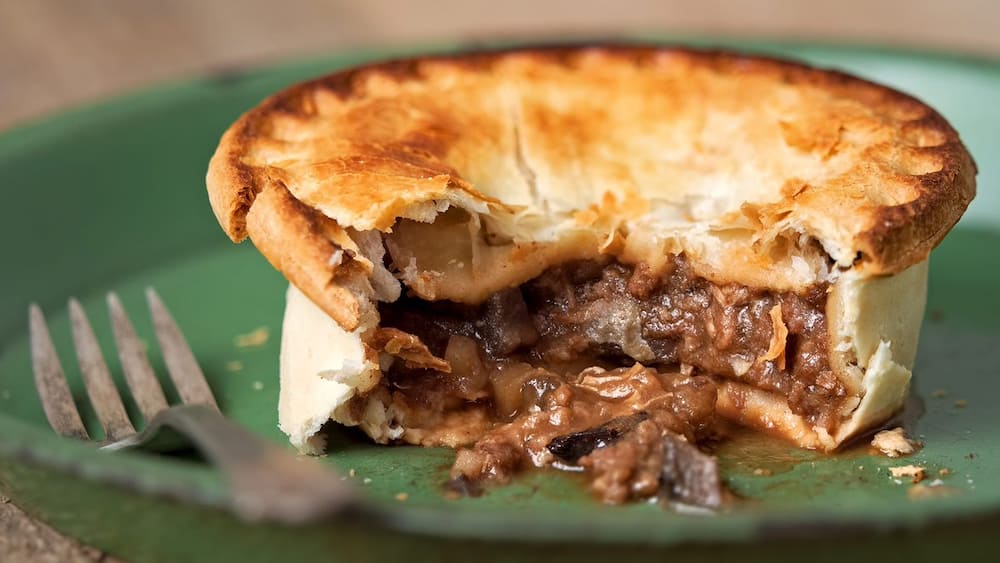 READ ALSO: Braai snoek recipes for an easy and quick meal
Ingredients
Beef (500g)
Lamb kidneys (500g), cleaned and cubed
Red wine (250ml)
Flour (50g)
Oil (15ml)
Water (250ml)
Knorr hearty beef stew with Rosemary dry cook-in-sauce (1)
Roll puff pastry (400g)
Lightly beaten egg (a piece)
Preparation procedure
Cut the beef and kidneys into cubes and marinate them in red wine, preferably overnight.
Dust the cubes of the beef and kidneys with flour while you preheat the oven to 200°C. Note that you will still use the wine later.
Using your oil, fry the beef and kidneys cubes until they become brown.
Then, simmer the addition of your reserved wine, Knorr hearty beef dry cook-in-sauce and water for about 25 or 30 minutes.
After that, place them inside a dish that is ovenproof while you roll out the pastry. Then, put it on top of the mixture so that it can make the top of the pie.
Use the beaten egg to brush everything and allow the pie to bake at 200°C for about 15 minutes or until it has a golden brown colour.
Remove from the oven and serve.
Steak pie recipe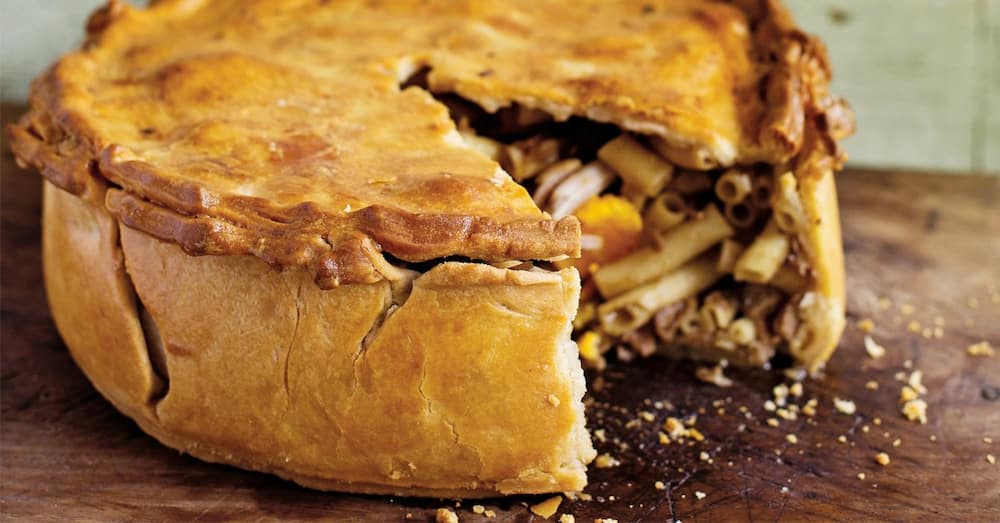 Ingredients
Braising steak (900g) cut into cubes
Plain flour
Olive oil (1 tablespoon)
Sliced onions (2 balls)
Freshly chopped parsley (1 tablespoon)
Freshly chopped thyme (1 tablespoon)
Freshly ground black pepper and salt
Hot beef stock (570ml)
Ready-rolled shortcrust pastry (225g)
Beaten egg (1 free-range)
READ ALSO: Simple pancake recipe and guide for the perfect bake
Preparation procedure
Season your plain flour with freshly ground black pepper and salt as you will need it for dusting.
Use the seasoned flour to dust the cubed steak.
In a large heavy-bottomed pan, heat the oil, and then, fry the meat on all sides until they turn brown. Ensure that you frequently stir to avoid burning.
Add all of the herbs, sliced onions, freshly ground black pepper, and salt, as well as the stock. Once you have done that, allow everything to boil.
Then, reduce the heat while you simmer everything for the next one and a half hours.
Preheat the oven to 190°C.
After that, get an ovenproof dish and transfer your filling mixture. Then, use a thin strip of pastry to line the rim of the dish.
The next thing is to brush the pastry with the already beaten egg before you cut a piece of the pastry that can fit the top of the dish that you are using and place it there.
Then, press the edges together so that they can seal up. Use pastry trimmings for decoration and remember to make a centre hole in the pie to allow the easy passage of the steam.
Once you have done that, use the beaten egg to brush the pastry again before you transfer it inside the oven.
Let it cook for about one or one and a half hours until the pastry turns brown. If you discover that it gets too brown, you can cover it with foil.
Once it is done, remove it from the oven and serve your steak pie while it is hot.
Pepper steak pie recipe
Chuck steak (1 1/2 kg)
Flour (1 cup, seasoned with pepper and salt)
Olive oil
Sliced onions (2 balls)
Crushed garlic cloves (4)
Sprigs fresh rosemary (2)
Sprigs fresh thyme (4)
Chopped tomatoes (a can of 400g)
Beef stock (2 cups)
Cracked black pepper (to taste)
Salt
Thawed ready-made puff pastry (1 roll)
Beaten egg (1)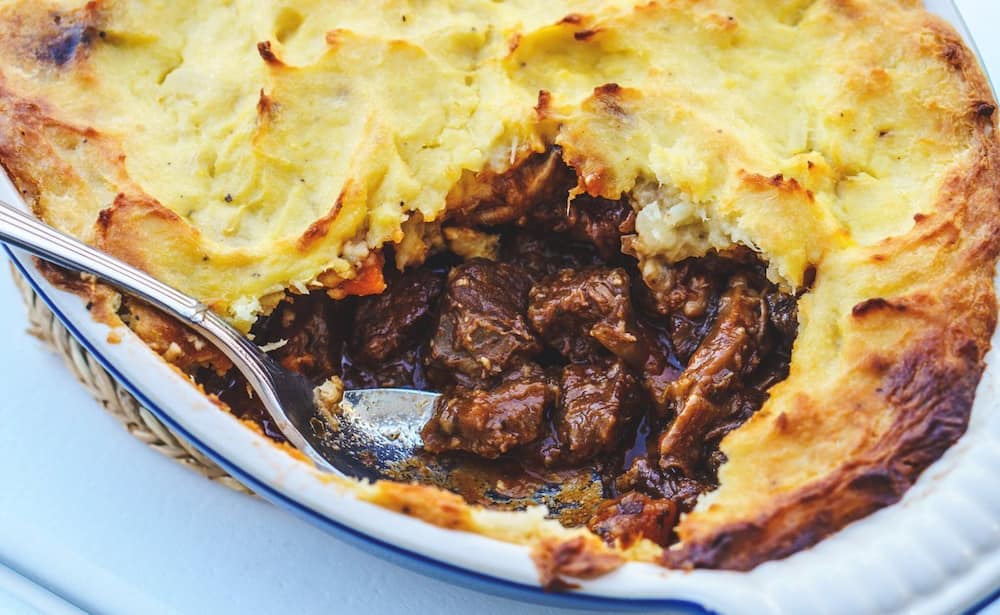 Preparation procedure
Place a large pot on your cooker and heat the olive oil.
Cube the chuck steak and coat in the seasoned flour.
In the hot oil, fry the beef until it becomes golden brown on every side.
Also, fry the onions until they become translucent and add the garlic, thyme, and rosemary before frying everything for about thirty seconds.
Now, you can pour the pepper, stock, and tomatoes as well as the beef back inside the pot.
Lower the heat so that you can simmer everything for like one and a half to two hours. Or better still, until you are sure that the beef is tender. While cooking, if there is a need for you to top up with stock, do so.
Preheat the oven to 180°c.
After the beef is cooked, you can season to taste before placing it inside an ovenproof pie dish where you will be able to make different sizes of pie dishes depending on your choice. And if you like, you can make an encased pie by adding a layer of pastry to the bottom of the dish.
At this time, you can use the beaten egg to brush the edges of the dish, and then, roll the puff pastry over. Ensure to trim the edges, and afterwards, you can brush it with the beaten egg that you have left.
Pierce the centre of the pie to give way for the steam to escape.
Transfer the pie into the oven and allow it to bake for about 20 minutes or until the pastry is golden brown.
Finally, remove your pastry from the oven, and you can then serve it while hot.
It is evident that making steak and kidney pie is easy, and more interesting is the fact that it remains one of the best light meals that you can make and also have for dinner. If you follow the kidney recipes shared above, you will be amazed by the results that you will get afterwards. Once you are done with your preparation, get your best drinks, and you can be sure of a pretty good night ahead.
READ ALSO: Famous South African artists and their greatest pieces of work