See this easy traditional trifle recipe: favourite dessert in South Africa
Trifle is a favourite dessert in South Africa and even globally. Family gatherings or holiday celebrations cannot be complete without it. The best part is that you can make it at home. There are a number of trifle recipes that will help you make a trifle dessert that tastes as great as the one made by Gordon Ramsey, or close.
Nikki Symons, owner and creative director of Sweet LionHeart (online bakery), shared amazing tips for traditional trifle recipes.
Lameez Abrahams, SASKO Top Baker, also provided guidance on key components of a traditional South African trifle.
Your trifle dessert will taste the way you want it to. Different tastes can be achieved by using different toppings, including almonds or grated chocolate. The sponge base can also have something different like a Swiss roll, your favourite cake, or biscuits. Below is a trusted South African trifle recipe you should try.
How do you make an ideal trifle from scratch?
There are many ways you can prepare this delectable dessert at home. The traditional trifle recipe has several layers and can be enhanced with other ingredients like chocolate or almond toppings and a fruit layer.
Nikki Symons - owner and creative director of Sweet LionHeart, an online bakery in Cape Town - shared with Briefly.co.za the key components of traditional South African trifle.
Sponge Cake: A light and airy sponge cake forms the foundation of the trifle, often soaked with fruit juice, sherry, or a flavoured syrup (or coffee!) for added moisture and flavour complexity.
Custard: A rich and velvety custard layer adds a creamy texture to the trifle. Traditional custards often feature vanilla, but variations may include unique flavour infusions. If you're making your own make sure to include some vanilla paste for that extra vanilla flavour dynamic (plus the beautiful black specks!). You can even stir some into some store-bought custard - no one would ever know.
Fruit: Fresh or canned fruits are a crucial element, providing bursts of sweetness and freshness. Popular choices include berries, kiwi, peaches, or any seasonal fruits.
Jelly: A layer of fruit-flavoured jelly, often made with gelatin, adds a refreshing and colourful element. Some variations may use unique flavours to enhance the overall taste.
Cream: Whipped cream or a creamy topping is the finishing touch, creating a luxurious and indulgent layer. It's usually generously dolloped on top of the trifle.
Optional Additions: Some trifles may include additional elements like nuts, grated chocolate, or coconut for extra texture and flavour complexity.
She shared tips on choosing and arranging the right fruits, sponge, custard, and cream to create a delicious and visually stunning trifle:
The components are layered to create a beautifully delicious dessert, and while the basic structure remains the same, there's room for creativity and innovation in ingredient choices and flavour combinations. I honestly feel that you need to layer according to what you find beautiful and don't stick to the rules. I personally would go quite heavy on the cake, custard and cream layers!
Trifle recipe with custard and jelly
Here is an easy way to make the dessert that is enriched with tasty summer fruits.
Trifle recipe ingredients
Jelly (135 grams, strawberry, raspberry, or preferred flavour)
Jam filled Swiss roll (170 grams)
Sherry cream (5 tablespoons)
Blueberries (75 grams)
Raspberries (100 grams)
Strawberries (150 grams, hulled and halved)
You will need the following to make the custard:
Milk (300ml)
Double cream (300ml)
Vanilla pod (1, split and deseeded)
Corn flour (2 tablespoons)
Coldwater (2 tablespoons)
Egg yolk (2, large)
Caster sugar (75 grams)
You will need the following ingredients for the topping:
Flaked almonds (10 grams)
Double cream (300 ml)
Trifle recipe easy-to-follow instructions
1. Make the jelly by following the instructions on the packet.
2. Cut the Swiss roll into 12 equal slices. Place them over the base, a short way up the sides of the bowl and then at the middle of the trifle bowl.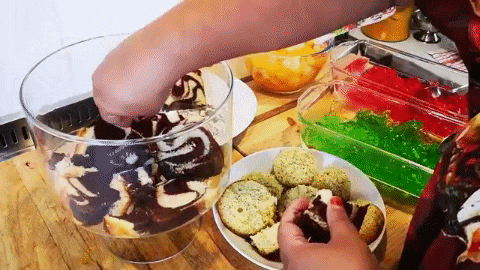 3. Using a spoon, place the sherries over the arranged pieces of Swiss roll slices. Let the sherry soak into the pieces for a few minutes.
4. Spread the fruit berries over the soaked Swill roll sponge.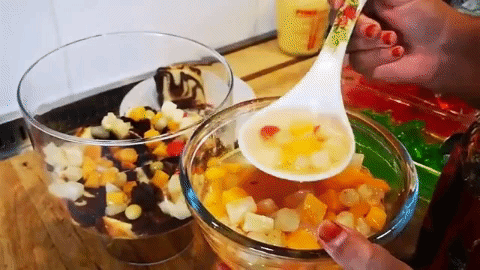 5. On top of the fruit layer, drain the prepared jelly. With a clean cling film, cover the trifle bowl and then place it in the fridge for about two hours to set.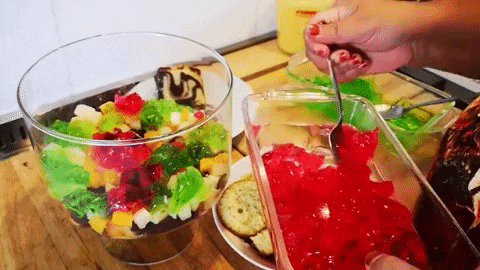 6. To make the custard, add the double cream and milk into a saucepan and then add the vanilla pod. Let it slowly come to a boil and then remove from the heat. Set aside for 15 minutes and then get rid of the vanilla pod.
7. Mix the cornflour in water to get an even combination and then set aside.
8. In a large bowl, beat the egg yolks with the sugar to get a pale and fluffy mixture.
9. Combine the egg yolk mixture and the cream mixture you had set aside. Stir gradually to get a smooth mixture.
10. Place the egg and cream mixture in a saucepan and then heat on low heat for about 8 minutes. Stir continuously to get thick custard (it should coat at the back of a wooden spoon).
11. Take the cornflour mixture you set aside and pour in the custard. Continue cooking for about 2 minutes while stirring continuously until the custard is smooth and very thick.
12. Drain the hot custard in a bowl and then let it cool by placing it on top of another dish that is filled with iced water. Using a cling film, directly cover the surface of the custard to avoid a skin from forming and then set it aside to cool.
13. Remove the cling film from the custard after it has cooled and then stir. Slowly drain the custard into the set jelly.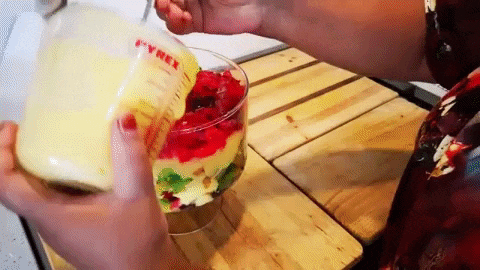 14. With a cling film, cover the mixture and then refrigerate for 30 minutes or until the custard is set.
15. To make the topping, put the almonds in a dry pan and then toast over low heat until they turn golden brown. Ensure you continuously move the almonds around the pan to avoid burning, and then let them cool.
16. Place the cream in a bowl and then whip until soft peaks form.
17. Using a spoon, place the whipped cream on top of the custard layer (you can pipe instead of using a spoon). Start from the side of the bowl and then proceed to the middle. Scatter the cooled almonds over the whipped cream.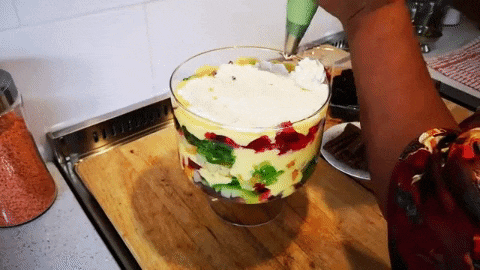 18. Serve immediately. If the trifle will be served later, place it in the fridge until ready.
Tips on choosing and arranging the ingredients
Lameez Abrahams, SASKO Top Baker, shares tips on choosing and arranging the right fruits, sponge, custard, and cream to create a delicious and visually stunning trifle:
Make sure it's balanced by layering the bottom of the dish with the jelly and allowing this to set.
Follow with a biscuit or sponge, a sweet syrup
Then layer with your preferred fruit and the custard layer.
Lastly, fresh whipped cream topped with more delicious fruit, chocolate, sweet mini meringues and edible flowers.
Regional variations or unique ingredients for trifles
Nikki Symons also provided tips on how to give the trifles a distinctive flavour: "There is so much room to play with the trifle! It does not just have to be vanilla, vanilla, vanilla, oh and a hint of fruit."
She suggests adding avant-garde flair by incorporating unique ingredients like Amarula-spiked jelly or a Rooibos-infused sponge cake. Some lekker local variations could include buchu-macerated strawberries. You can also try adding a layer or two of your favourite South African biscuit like Nuttikrust and pair it with a coconut custard (using coconut cream).
There's so much you could try - just make sure that all your basic flavours work harmoniously together! Don't try to go too wild with each layer having an overpowering flavour. Choose one flavour to be the star of the show and the rest of them to be the supporting acts.
Lameez Abrahams says that the possibilities when making a South African trifle are endless - that's what makes it so unique.
South Africa is referred to as the rainbow nation because we have so many diverse cultures and religions, because of this we have many variations of the South African trifle each one unique to with their distinctive flavours. Some cultures may not use alcohol, some may not include eggs in their sponge, some may prefer it very sweet or not at all.
Trifle recipe with custard and Tennis biscuit
Who does not like Tennis biscuits in South Africa? It will bring a crunchy feeling to your dessert. For this trifle recipe with biscuits, you will follow the above preparation method, but instead of the Swiss roll pieces, you will use Tennis biscuit pieces as the base sponge layer.
Trifle recipe without jelly
Traditionally, the trifle recipe with jelly is used. The dish will also turn out fine without the jelly. You will only have the sherry-soaked sponge, custard, and whipped fresh cream layers.
Which are the ideal trifle recipe fruits?
Any fruit of your choice will work, including bananas, peaches, apples, berries, and more. You can also use a mixture of several fruits in the trifle.
Can you make trifle the day before?
You can. It can stay refrigerated for up to three days.
How do you make a trifle custard set?
Ensure the custard is thick and then cover its surface directly with a cling film to prevent skin from forming. Remember to put it on your trifle when it is cold.
How do you serve trifle dessert?
Serving this dessert requires gentleness so that you preserve the layers. You should use a large and long spoon that can lift all the layers in a single scoop from the dish. After scooping, gently slide in serving containers with the bottom layer going in first.
The above South African trifle recipes will help bring a twist to your home dessert preparation. Why not make any day a dessert day?
Briefly.co.za also wrote an article on how to make the best brownies using different recipes. Brownies make ideal snacks and even desserts. Family celebrations or your child's birthday party will surely turn into a joyous occasion when you have this tasty chocolate cake.
Recipes that are explained in detail include chocolate brownies, fudge brownies, and gooey brownies. Baking has never been made this easy and fun!
Source: Briefly News