Steve Komphela is a South African football manager who used to be a football defender and a TV presenter. You may know him as the bald manager who used to coach both Kaizer Chiefs and Maritzburg United. Presently, he manages the Golden Arrows, a football club based in Durban. He is among the founders of the new Mzansi national team.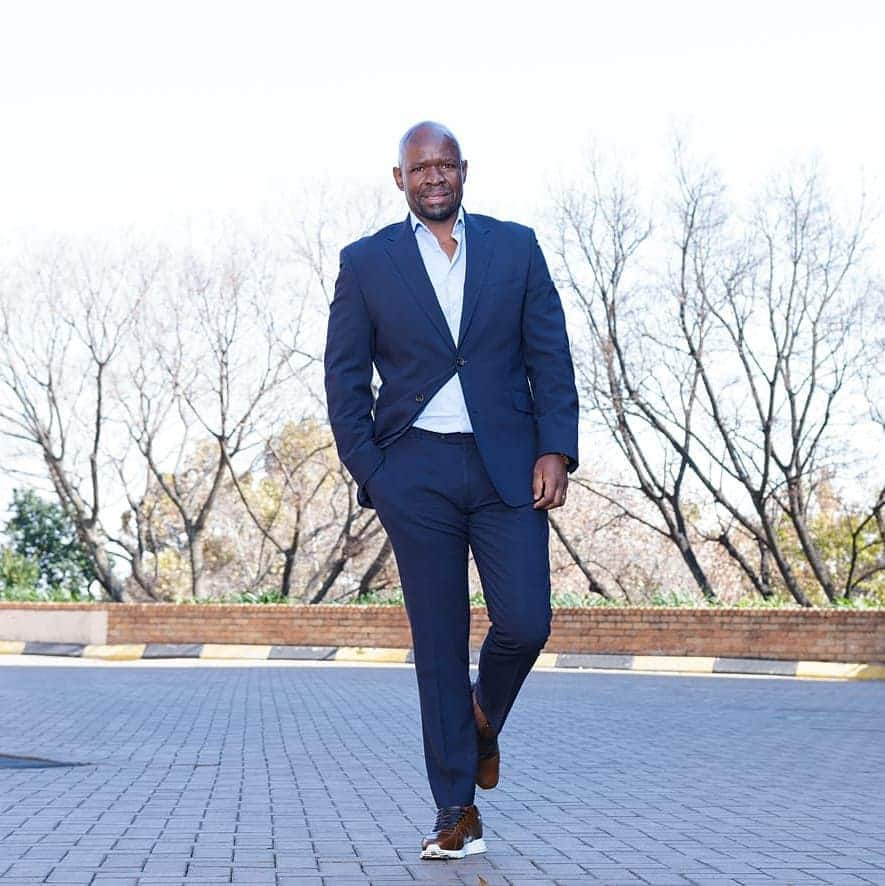 Where does Steve Komphela come from? How old is Steve Komphela? Before we discuss such details, did you know that Steve was the first South African manager to get the Kaizer Chiefs' coaching job permanently since Trott Moloto in 1994? In his first season with the Amakhosi, he managed to reach two cup finals although he lost both of them to Ajax Cape Town and Mamelodi Sundowns.
READ ALSO: Sello Maake ka-Ncube biography: age, wife, foundation, The River, The Herd, Rockville, salary, nominations, awards, Instagram, and net worth
Steve Komphela profile summary
Name: Stephen Mbuyi Komphela
Date of birth: 1st July 1967
Place of birth: Golden Valley farm, Kroonstad, South Africa
Steve Komphela age: 52 years old as of 2019
Nationality: South African
Steve Komphela Instagram: @komphelasteve
Steve Komphela Facebook: @Steve komphela
Steve Komphela Twitter: @komphelasteve
Relationship status: Married to Mamoepi Komphela
Occupation: Former footballer and TV presenter, currently a football a manager
Famous for: Recently managing Kaizer Chiefs and now the manager of the Golden Arrows
Steve Komphela biography
Steve was born in Golden Valley farm, which is about 20 kilometers away from Kroonstad. He is the youngest child of Nomalanga Komphela and Jack Koyi Koyo who had 10 other children. When he completed his primary and secondary education, Mbuyi studied to become a professional teacher and got a teacher's diploma from Free State's Tshiya College.
Career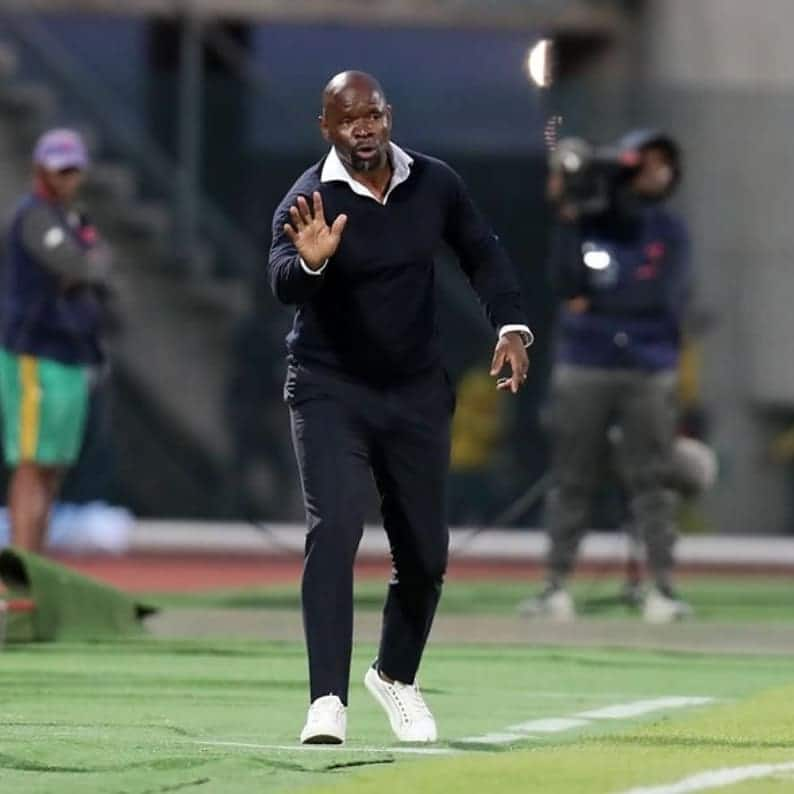 As a player, his career started out at Klerksdorp City in the NSL Second Division. He then joined Qwa Qwa Stars, and it was from here that he was promoted to the National Soccer League. In 1992, his team had an impressive season that saw them finish third and himself voted as the NSL Players' Player of the Year. He later played for other teams including the Kaizer Chiefs and Gaziantepspor in Turkey (1993) before hanging his boots in 1997.
Internationally, he helped start the new national team for South Africa. He made his debut in 1992 when Mzansi beat Cameroon 1-0. Up until 1995, he played almost 50% of all the national games although he did not make the cut for the 1996 African Cup of Nations.
His coaching career started in 2002 when he landed a role as the manager of Manning Rangers F.C. He managed several clubs between that time and 2015 where he stayed on each team for one season only. He joined the Kaizer Chiefs in 2015 and signed a 3-year contract.
Steve Komphela resigns
Due to the inability of his team to win any trophy, In July 2018, Mr. Mbuyi was forced to resign from Kaizer Chiefs before the end of his contract. The pressure to step down was as a result of the violent protests that Kaizer fans launched in every match, as well as the negative comments that were trending online. He moved to Bloemfontein Celtics.
Interestingly, when he joined Bloemfontein Celtics for the 2018-19 Premier Soccer League, Steve won his first six games in charge. He even managed to draw with the mighty Chiefs 2-2 in the first half and beat Orlando Pirates. However, he quit after six months with his interviews showing issues at the club level that extended even to Steve Komphela house, like DSTV being shut down. Currently, he is rebuilding his career with the Golden Arrows.
Steve Komphela wife
Who is Steve Komphela wife? Mbuyi is presently married to Mamoepi Komphela, and together they have three kids: Nombuyiselo Komphela, Nomalanga Komphela, and Noxolo Komphela.
Steve Komphela salary
He earns between R300,000 and R400,000.
Steve Komphela cars
The sportsman is a lover of fast cars. Currently, he is a proud owner of a Harley Davidson and a Lamborghini Gallardo. All this and he still bought a new car (2018 Mercedes-Benz SLC Class) late last year that is worth more than R178 million.
Steve Komphela quotes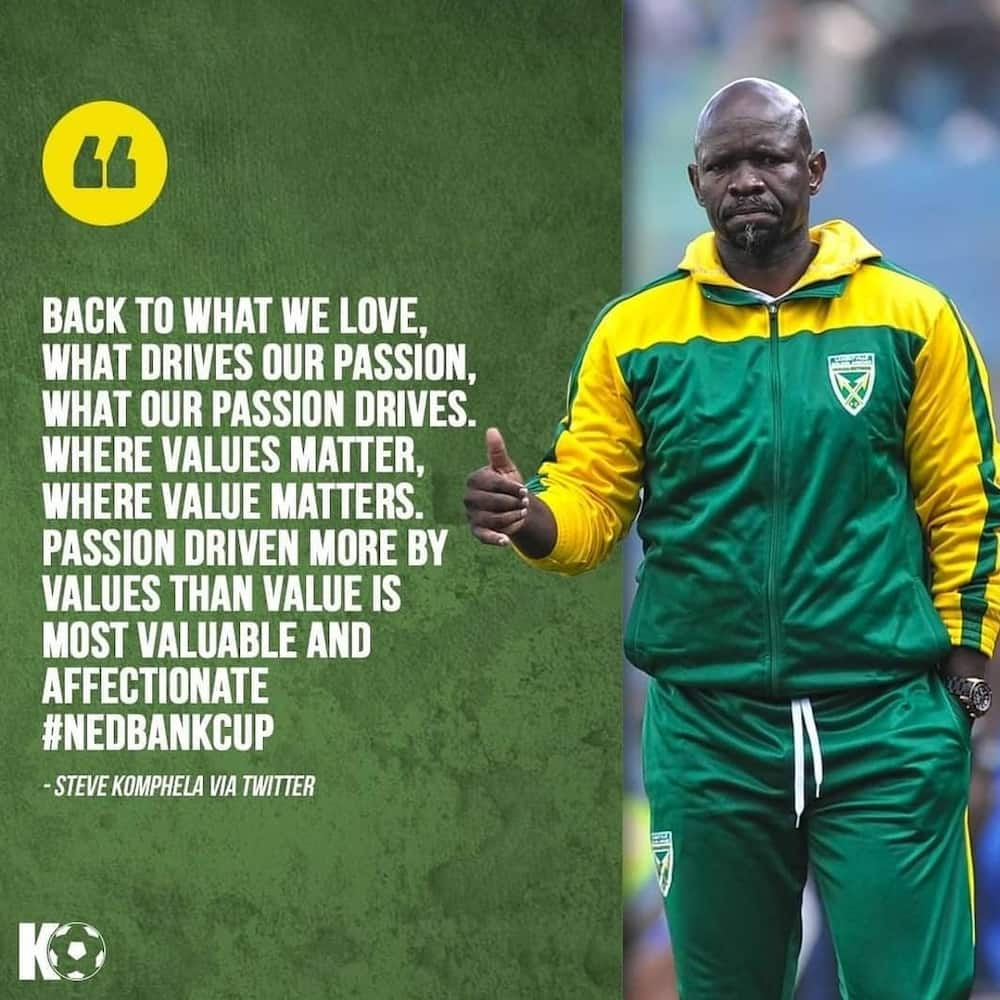 Some of the famous Komphela quotes include:
It (refereeing standards) is purely rubbish and if you go through the rubbish then you will come out stinking. It is discouraging.
Already there are two ways in coaching: entrance and exit; hired and fired.
I sincerely apologize for coming late, we just came from Cape Town. On our way here, you know this is a democratic South Africa, and we had to go through the JMPD (Metro Police). Fortunately, I got out clean! Please, we have to pay our traffic fines.
An error is an error if committed once and an error becomes suspicious if committed twice and thrice. But the minute it becomes more consistent, then it is deliberate.
That's a nice question. Most questions have answers in them if you listen attentively but it's a very good question.
We are the biggest toilet in the world; whenever we want to relieve ourselves it is the easiest to get rid of the coach.
With such quotes, it is not surprising that there are lots of Steve Komphela memes in circulation right now. Some fans even went ahead to predict that there will be a book on Steve's parables.
The book
In line with the above prediction, last year, the renowned football manager hinted that he was busy writing a book. What is Steve Komphela book about? Clearly, we are all eager to get our hands on this piece of writing, and we hope that he will publish it soon.
Komphela news
In recent Steve Komphela interview, Mbuyi has come out reflecting on his time at the Chiefs. He says the job almost destroyed him but it made him stronger. He has the strength to keep fighting.
READ ALSO: Tony Kgoroge biography: nationality, child, ex-wife, wife, family, movies, Imbewu, The Seed, and Instagram
That is it about Steve Komphela for now. Hopefully, he manages to revive his career and reach the heights we all know he can reach.
READ ALSO: