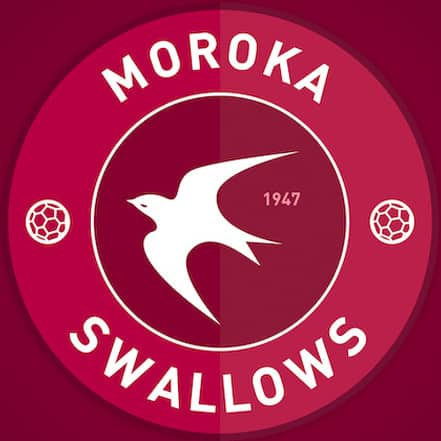 Moroka Swallows FC
Arenas/stadiums: Dobsonville Stadium, Germiston Stadium
Coach: Steve Komphela
Chairman: David Mogashoa
Founded: 1947
League: DStv Premiership
Moroka Swallows Football Club is a South African professional football club based in Soweto, Johannesburg, Gauteng province. The club was founded in the 1940s by Ishmael Lesolang, Strike Makgatha and Johnny Kubheka. Steve Komphela is currently coaching Moroka Swallows FC.
History
The club was originally named Congregated Rovers and later changed to Moroka Rovers before finally settling on Moroka Swallows in 1947.
The name 'moroka' means 'rain maker' in Setswana and the township was probably named after Chief Moroka of Barolong boo-Seleka, who became the president of the African National Congress in 1940s.
The 1950s and 1960s were a successful time for the club, culminating in their greatest-ever achievement, winning the South African League title in 1965.
In 1971, they became the first-ever football team to register as a public company. That same year, they were also the first to receive an official sponsorship when Teljoy began their association with the club.
In 2009, they won the Nedbank Cup, their first piece of silverware in five years.
They won the 2019-20 National First Division and competed in the 2020-21 South African Premier Division, finishing sixth in what was their first season back in the top flight football league system and qualified for the 2021 MTN 8 competition.
Highlights
Moroka Swallows FC has played every season of the Premier Soccer League until relegation in the 2014-15 season.
They won the South African League title in 1965.
They won the Nedbank Cup in 2009.