Easy homemade naan bread recipe South Africa
Here is another delicious Asian dish to try making at home. Naan is a puffy and soft leavened flatbread that can be eaten as an appetizer, with stew, or with curry. It is also the best substitute for toast. Why buy ready-made naan when you can make them using easy to follow naan bread recipe?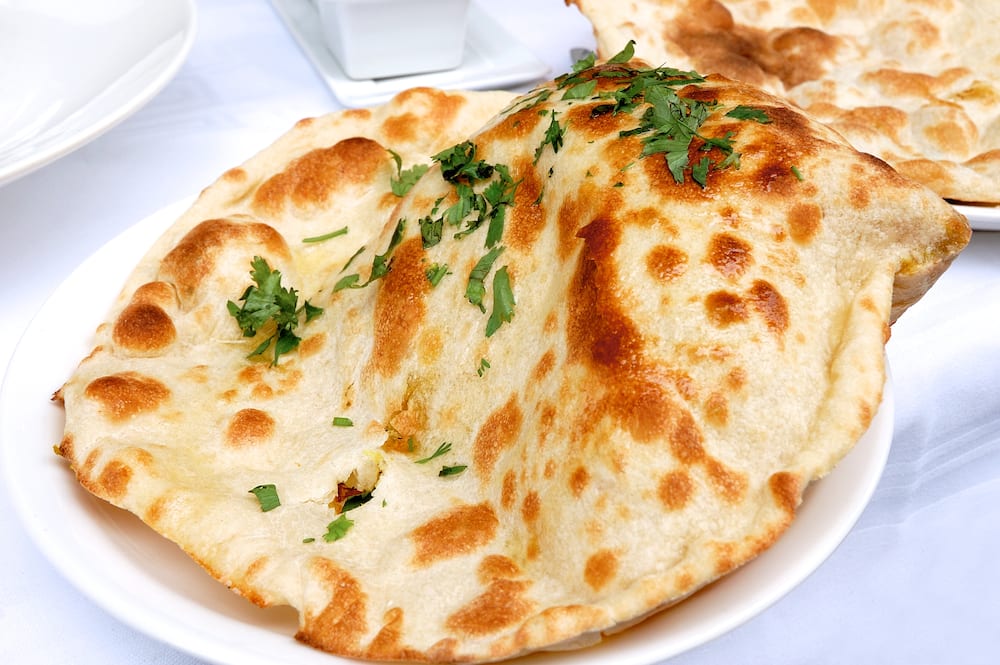 There are several ways to make naan bread, which depends on the ingredients used. You can make naan bread with mass, egg, yoghurt, milk, among other ingredients. Read on to find out the perfect way to prepare the bread in South Africa.
How do you make naan bread from scratch?
This dish can be baked in the oven or cooked on a hot pan. Traditionally, the tandoor oven is used, but since most modern homes do not have it, using a normal oven or pan will do. Several recipes use different ingredients, including naan bread recipe without egg and naan bread recipe with mass.
Naan bread recipe with yoghurt
Yoghurt ensures that the bread you make is fluffy and tasty. It will also add flavor. Greek yoghurt, one that has been strained to remove most of its whey, is preferred. Naan bread recipe with milk can also be used instead of yoghurt. To make the naan bread recipe vegan friendly, use coconut Greek yoghurt instead. Another better alternative for naan bread recipe no yoghurt is to use cream.
What you need
You will need the following ingredients to make bread that can serve at least six people.
All-purpose flour (2½ cups) and extra for dusting
Baking powder (¼ teaspoon)
Greek yoghurt (3 tablespoons)
Instant dry yeast (2 teaspoons)
Sugar (2 teaspoons)
Salt (¾ teaspoon)
Water (¾ cup)
Oil (2 tablespoons)
Ghee or melted butter (for brushing on the cooked naan bread)
Method
1. In a bowl, place all-purpose flour, warm water, salt, sugar, instant dry yeast, baking powder, oil, and Greek yoghurt. Mix to ensure an even combination.
2. Knead to get an elastic and smooth dough. Remember that the dough needs to be soft. Avoid adding more flour.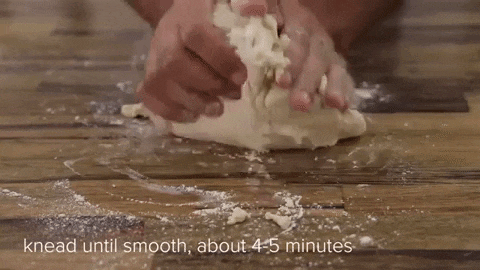 3. Lightly oil a large bowl then place the dough inside.
4. With a plastic wrap, cover the bowl followed by a clean kitchen towel.
5. Leave for at least 1 to 1½ hours in a warm place for the dough to rise (should at least double in size).
6. Punch down the dough to deflate then cut to six equal parts (keep it covered).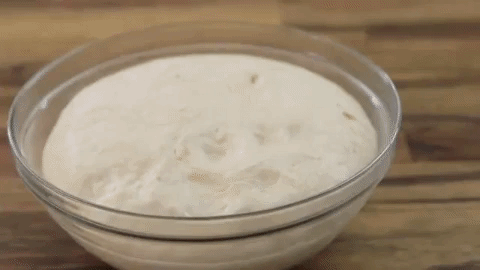 7. Sprinkle the kitchen surface with a little flour then roll each ball into any shape you desire.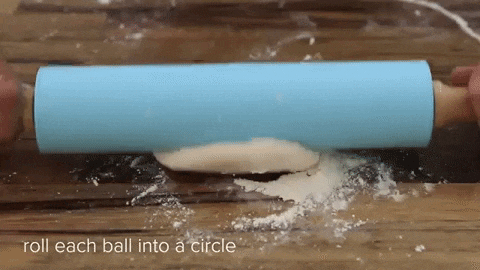 8. Place a flat griddle pan on heat (can also use a frying pan). Ensure it does not get smoking hot.
9. Place the shaped dough into the dry griddle pan (do not oil the pan).
10. Cook each side of the naan until lightly brown (will puff up as it cooks).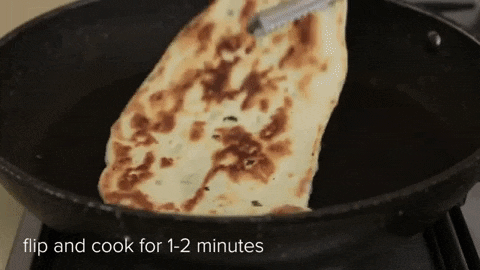 11. Remove the cooked naan from pan then brush both sides with ghee or melted butter.
12. Wipe the griddle pan with a clean paper towel before placing the next naan (wiping ensures any remaining flour is removed as it will burn).
13. Serve the naan bread while still hot.
READ ALSO: 15 best breakfast in Cape Town (popular brunch and breakfast spots)
Naan bread recipe no yeast
Traditionally, the naan bread recipe with yeast is adopted. You can, however, avoid yeast and use self-raising flour or replace yeast with baking powder and baking soda. Cooking instructions are the same as above.
READ ALSO: The best fish pilchard recipes South Africa
Naan bread pizza
Naan bread is an excellent crust replacement for the traditional pizza dough. Below is an easy way to make the pizza in South Africa.
What you need
Large naan bread (2)
Korma curry paste (2 tablespoons)
Fresh ginger (1, grated)
Dried red chilli flakes (1 pinch)
Chicken thighs (8, skinned and deboned)
Lime juice (for spritz)
Greek yoghurt (½ cup)
Bocconcini mozzarella cheese balls
Ingredients for the salsa include the following:
Mango (1, diced)
Roma tomatoes (2, chopped and deseeded)
Red onion (½, chopped)
Fresh parsley (½, chopped)
Chutney fruit (1 tablespoon)
Fresh chillies (1 tablespoon)
Fresh lime juice
Freshly ground pepper and salt (to season)
Cooking instructions
1. On a lined baking sheet, place naan bread that is lightly brushed with olive oil.
2. In an oven that has been pre-heat to 240 C, bake the naan for 6 minutes until crisp and golden brown.
3. Combine the korma curry paste, red chili flakes, and ginger.
4. Coat sliced chicken thighs in the korma paste.
5. In a pan, heat a tablespoon of olive oil until hot then add the chicken slices. Season with salt and cook until nicely brown on both sides.
6. Spritz the chicken with lime juice then stir in yoghurt. Simmer for a few minutes, then remove from heat.
7. Spread the chicken slices on the base of naan bread.
8. Place small pieces of bocconcini mozzarella balls between the chicken pieces.
9. Place in oven and bake for 7 mins to melt the mozzarella.
10. To make the salsa, combine all ingredients then season lightly with pepper and salt.
11. Spread the salsa on the hot naan pizza then serve as desired.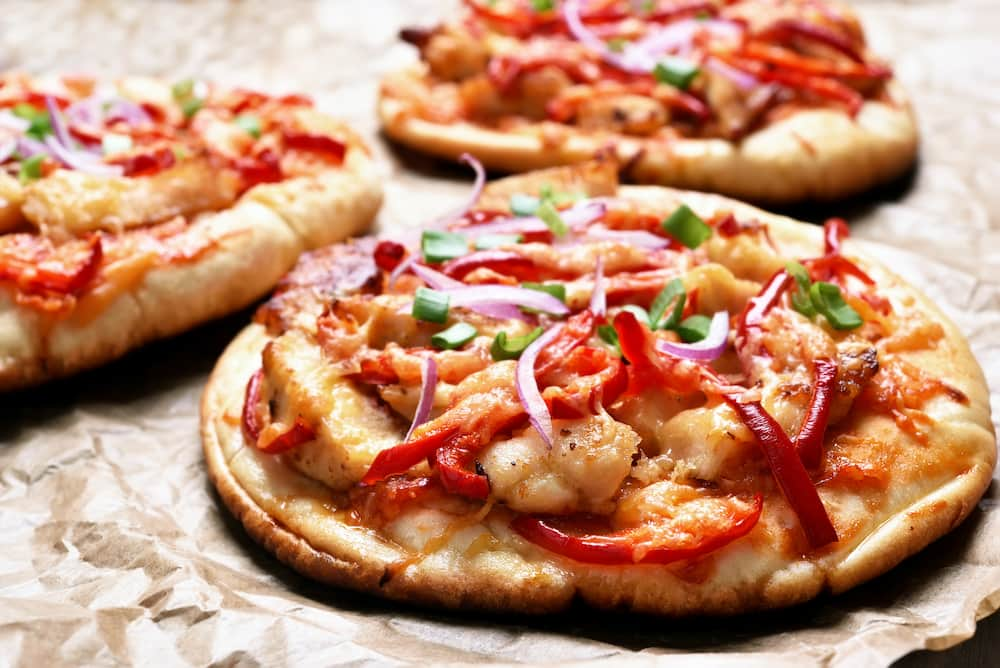 READ ALSO: Easy and best brownie recipe South Africa
Frequently asked questions
What else do you want to know concerning naan bread preparation? It could be the cooking instructions, storage, cooking utensils, and more. The following are some of the frequently asked questions.
What are the ingredients for naan bread?
The main ingredients are flour, salt, yeast, and water. Other ingredients that may or may not be used depending on the recipe you follow include milk, egg, and yoghurt.
Is naan better than bread?
Naan made from whole grain flour is more nutritious than white bread or naan made with white flour. White flour is refined hence less nutritious. Since this Asian dish can be made with eggs and dairy products like milk and yoghurt, it has more naan nutritional value than bread.
It is easy to make fluffy and tasty naan provided you follow the right naan bread recipe. Preparing it at home is also fun, and your family will eat to satisfaction than if you buy one that is ready-made.
READ ALSO: 10 best vegan soya mince recipes South Africa
Briefly.co.za compiled in April a list of the best recipes for vegans using soya mince. South Africa has people that have completely abstained from eating any animal products. Such recipes include soya mince curry, balls, wraps, nodules, sandwiches, cabbage rolls with rice, and onion pie.
Soya mince is the best alternative to dishes that are traditionally made with meat. The ingredient is rich in proteins and has less harmful effects. You can prepare these dishes and enjoy your meal.
READ ALSO:
Easy banting recipes
How to make hard Kombucha at home - quick and easy recipe
Tips on how to cook gammon and ham
Source: Briefly News