70+ cute nicknames for her and him with meaning
When two individuals fall in love, they will, by all means, try to sustain the relationship by becoming selfless, caring, and kind towards each other. One such way of showing affection to each other includes the use of pet names. For the longest time, lovers have used sweet words to refer to each other as a way of expressing how much they adore and care for each other. That said, if you are a guy, you need to look for cute nicknames for her lest you lose her to another more romantic guy. Ladies, you also need to keep up because competition for men is real out here!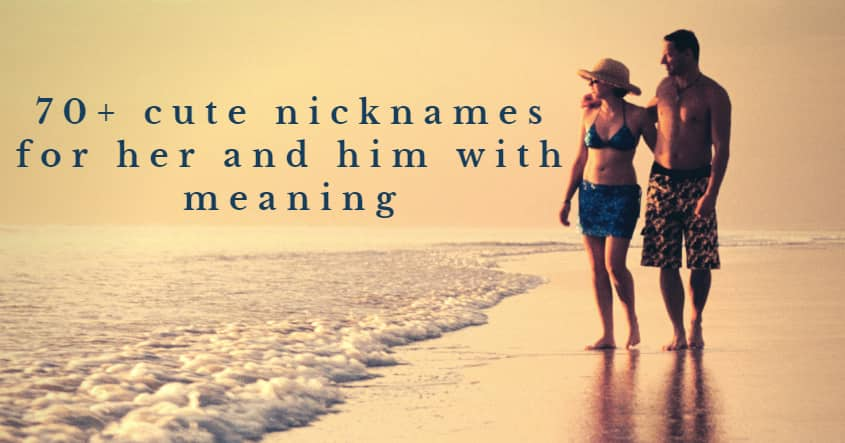 Because pet names make every relationship unique, one needs to select a suitable one that will not jeopardize but boost the relationship. Nevertheless, choosing sweet pet names for your boyfriend or girlfriend is not as easy because one might end up with a bizarre word if not careful. The title that you choose can come from your partner's name or personality. Besides, they can be romantic, funny, affectionate, or even sensual. In case you are stuck on finding cute pet SA names for him or her, then here are more than 70 alternatives that you can use as given, or customize to further spice your relationship.
READ ALSO: 225 original Afrikaans names for boys and girls
Cute names to call your girlfriend
What is a cute nickname for a girl? You can opt to select a unique word that describes your girlfriend's special features, such as her fair skin, body, eyes, or face. Everyone has unique features, and so we are sure you can spot a title that describes your girl and praise her physical features that make you love her.
Angel eyes
Smooch - This is a title to use on your bae if the first thing you want to do is kiss her when you see her.
Bright eyes
Beautiful / Gorgeous
Melody - Does her voice sound like music to your ears? Then, this is a great pet tag if she has a melodious voice.
Cuddle bug - This is a sweet title that any girl will respond well to. It is also an invitation to make out on the couch
Butterfly - If she is as pretty as a butterfly on a sunny day, this nickname will let her know how much you adore her for.
Little dove - Call her this if your bae is as fragile and pure like a dove.
Boo bear - It is the perfect name for the girl of your dreams. It means that you want to be with her for the rest of your life and that she is amazing, sexy, beautiful, funny, and simply pure.
Sexiness - reserve this name for those private romantic occasions such as a date night, her birthday, or Valentine's Day.
More cute nicknames for her
What other names can you call the love of your life? Because we do not want you to end up with a title that conveys sincere compliments as most men do, we have put together tags that you can coin to make your lover feel special.
Kitty - If she is soft, cuddly, and very playful.
Honey bunny - Use this nickname if your girl is sweet, cuddly, and soft.
Lucky charm - A beautiful name for a girl that makes you feel fortunate and brings good luck your way.
Juliet - If your girl is the heroine to your story, you can be her Romeo.
Kitten - Though a sweet title, some ladies will love this tag while others may find it offensive. Use your judgment wisely before using this pet name.
Precious/Treasure
Sunshine
Baby Doll
My Tigress
Hon' Bun
Autumn - This name is for that girl that is mysterious and exotic.
Dreamboat - This is a sweet name for the woman of your dreams.
Magical fairy
Sweet names for her
You can use cute fruit nicknames or names of things that you, her, or both of you like, to make her feel special.
Candy/Caramel
Pudding
Buttercup - Remember Powerpuff Girls? Buttercup is the toughest fighter, so if you feel that your woman has her qualities and she loves the programme, you should definitely use this name.
Honeybunch
Donut/ Cookie
Peaches - If your girl is shy, use this name.
Sprinkles
Other familiar classic names that will not get you in trouble include:
Daisy
My queen
Dimples
Ladylove
Baby
Hot lips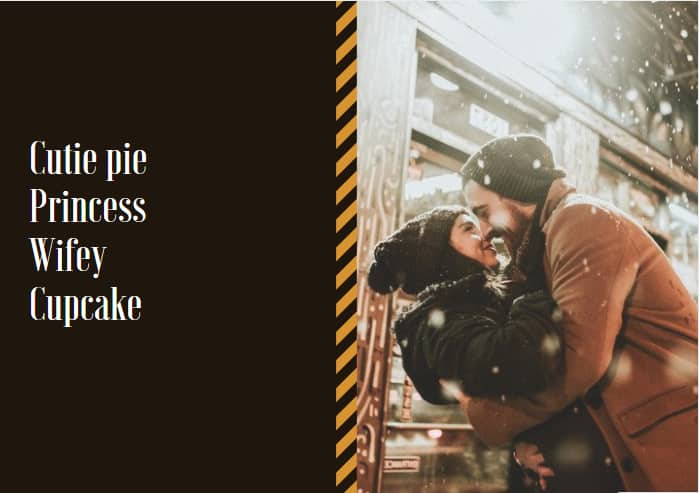 Cute names to call your boyfriend
Most cute couples will use the above titles interchangeably to refer to their partners who may be males or females. If your man is special to you, here are some awesome pet names that you can call him on the phone and in real life.
Eye candy - Use this name to let him know that he is super attractive.
Gum drop
Oreo
Sugarpie
Cinnamon
Love muffin
Marshmallow
Chef
Mustard - Proper name for him if he has both harsh and sweet characters.
Yummers - If he loves eating.
Shortcake - If he is uncommonly adorable.
Peanut - If he appears tough but is crunchy and sweet.
More cute nicknames for him
The list is always endless, so you can add other sweet words to these nicknames for guys to make it particularly special for him.
Pudding pop - If you enjoy his company.
Cherry - Cute pet title for that guy who looks innocent.
Apple
Amore mio - This is a sweet name in Italy that means 'sweetheart.'
My boy
Amante
Hugster
Santa baby
Lover boy
Romantic names to call your boyfriend
Romance is two way, and as a girlfriend, you need put the effort as well.
Lifemate
Ghosty
Apple of my heart
My king
Love of my life
Major- For that boyfriend with a fantastic and executive look who knows how to manage his lady.
Chuf Chuf - One of the funny nicknames for a guy that is entertaining and lively.
Pooh - For that boyfriend who is of a loveable, charming, delicate, and amenable character.
Azucar - Is one of the cute names to call your boyfriend in Spanish that means sugar.
Champ - If he is a champion in your eyes, then this is the perfect name for him.
READ ALSO: Most preferred Afrikaans names and their actual meanings
Can you call your girlfriend BAE? The above gives you so many options to select from, so keep the fires burning in the relationship with these cute nicknames for her and him.
READ ALSO:
200+ Zulu names for boys and girls
50 uncommon Xhosa names for boys and girls with meaning 2019
Popular Muslim girl names with meanings
100+ questions to ask a girl you like
40 melting I am sorry quotes with images 2019
Source: Briefly News