35 TOP celebrity nail art ideas you will want to try out in 2020
Unlike most people who routinely bite their nails, celebrities value them. Often, most of them spend considerable time in salons to get their nails done. A look at their social media pages will give you inspiration for what to try in 2020. You might not be a celebrity, but some of these nail art ideas are worth it.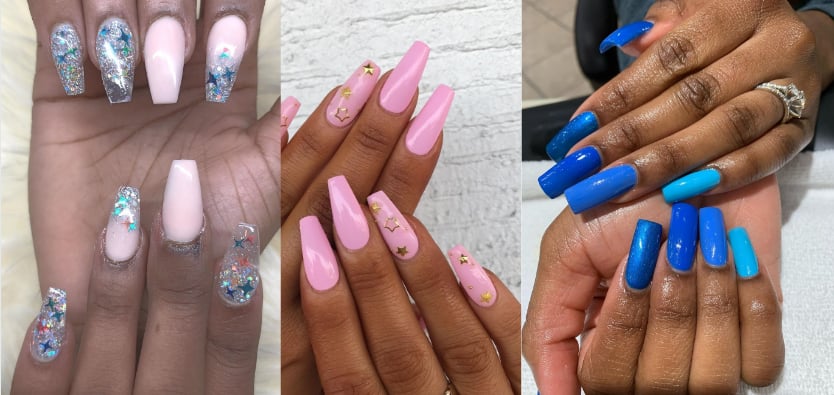 Classy and unique nail designs can boost someone's self-esteem in a significant way. Also, remember, times have changed. You can wear the nails of your choice to stand out of the crowd without breaking a bank. Besides, it does not harm to be your own Kim Kardashian, Dua Lipa, Selena Gomez, or Cardi B.
Best celeb nail art trends of 2020
The list contains the latest nail designs for you to choose from. Each of them is unique to suit the personalities of every woman out there.
Well, have a look at the list of the latest nail art designs that are driving most admirers crazy on the internet.
1. Dua Lipa
Lipa's neon plaid nails do depict not only fashion but also class. They can match with most outfits because they are multicoloured. Irrespective of your non-celebrity status, you can be the first person to wear them because they are highly appealing.
2. Selena Gomez
This one stole the show during the AMAs. The chrome effects and a little gold sparkling appearance make them beautiful and classy. So, if you are planning to attend an event, this one can come in handy.
3. Lizzo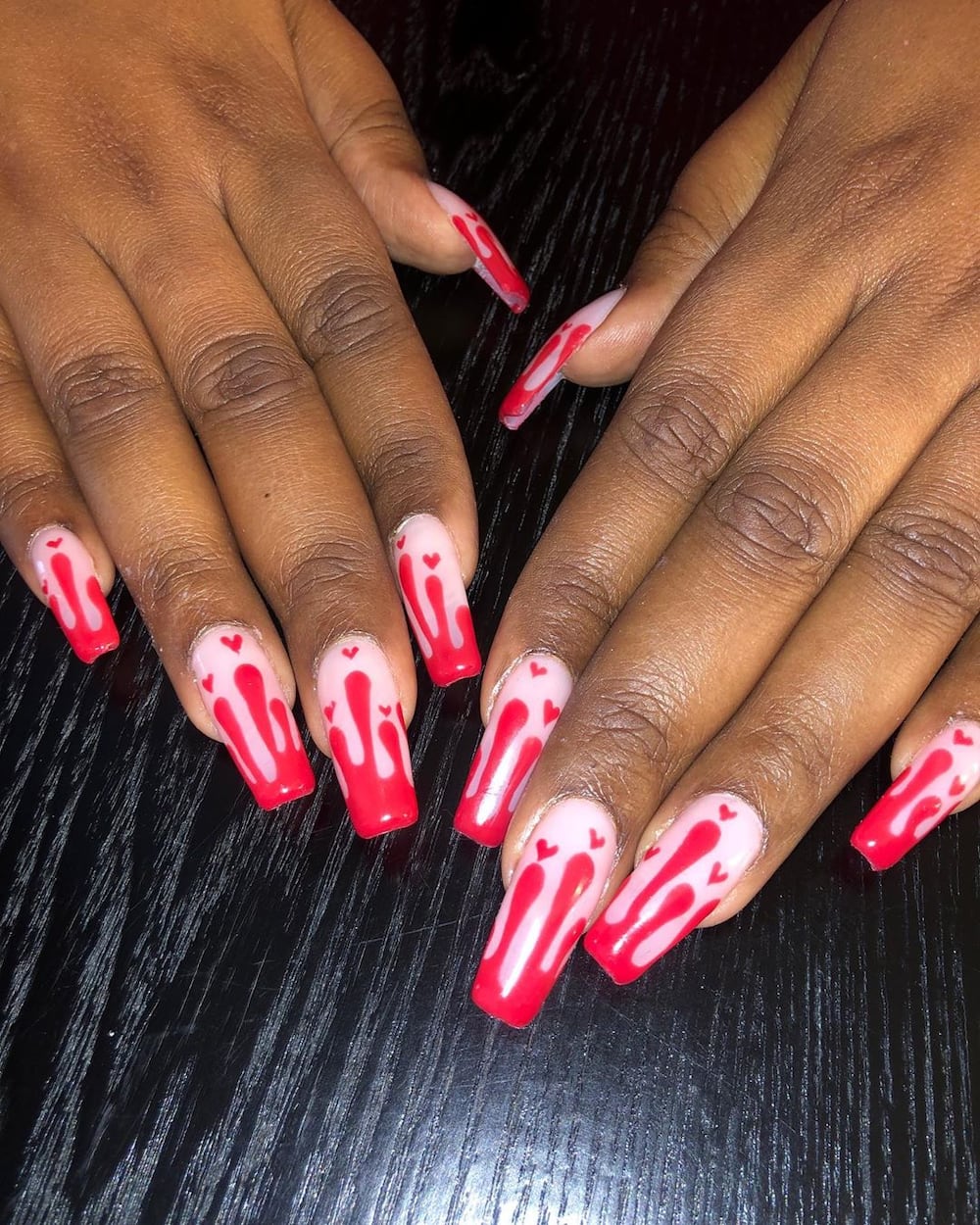 Lizzo is not only a beautiful character but also a woman of style when it comes to manicure. Her spooky red manicure makes her stand out from the crowd. The design can be achieved by first applying a baby pink background followed by red hearts.
Keep all of your makeup tools and cosmetics safe with this lovely Personalised Kind Heart Cosmetic Bag. It is also a wonderful gift idea that can be personalized for the one you want to present it. You can complete the gift by adding a square compact mirror with a similar design.
4. Rosie Huntington-Whiteley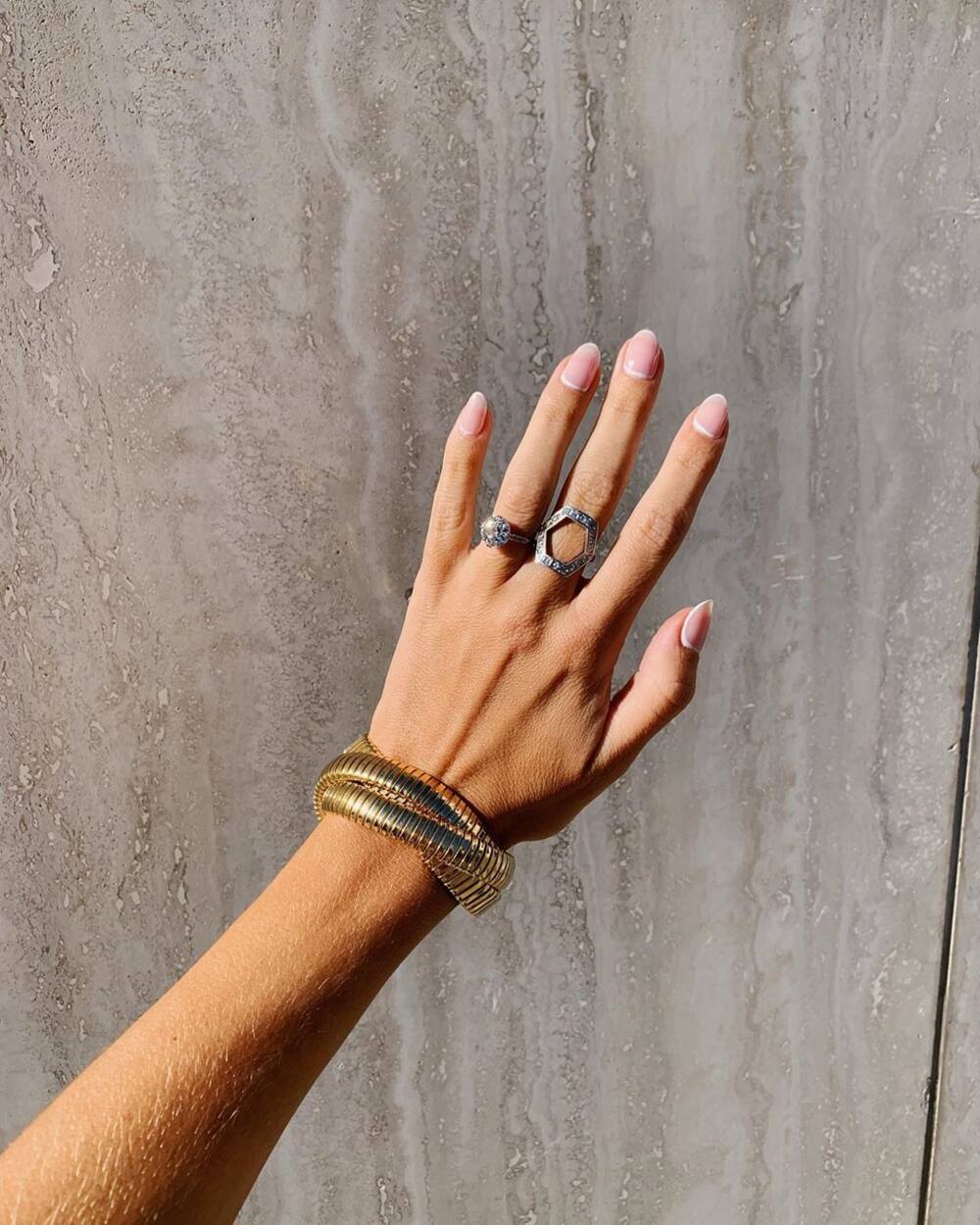 The Reverse Frenchie, as she calls, is a simple but yet an appealing one. It does not matter if you are her fan, but one thing for sure, she has a style. It is for this reason that most people are always on her page looking for inspiration on what nail style to rock.
5. Selena Gomez
This design does not involve many shades, but yet it looks so lovely. With a good artist, you are sure your fingers will look as cute as those of Gomez. What is more about the style, is that it enhances the shape of your fingers too.
READ ALSO: 35 trendy Afro hairstyles for men and women in 2019
6. Gomez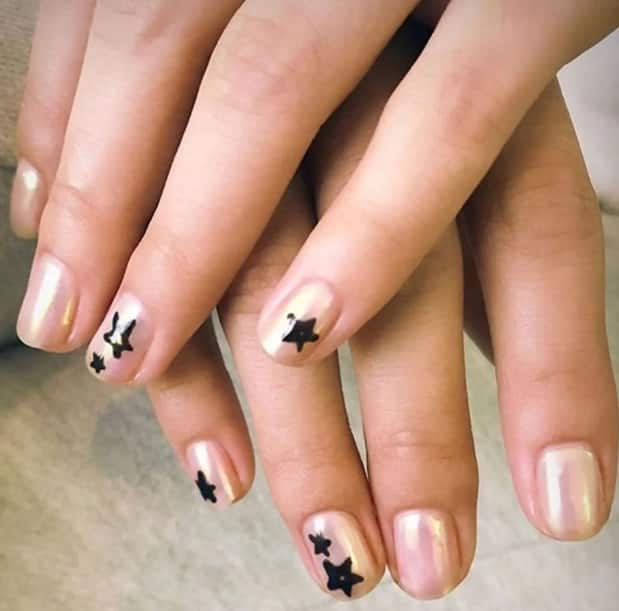 Starry-eyed nails are the latest and coolest one can rock. The black stars look extremely beautiful on her as compared to most designs.
7. Rita Ora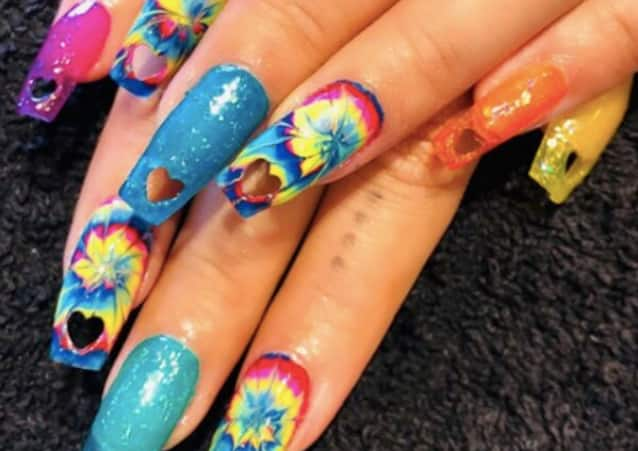 Rita's flowery manicure is the way to go in 2020. It has heart holes at the tip, making it unique. This is a rare style that has not been tried by most people. Again, it is best for most outfits because it contains many colours.
8. Jenifer Lopez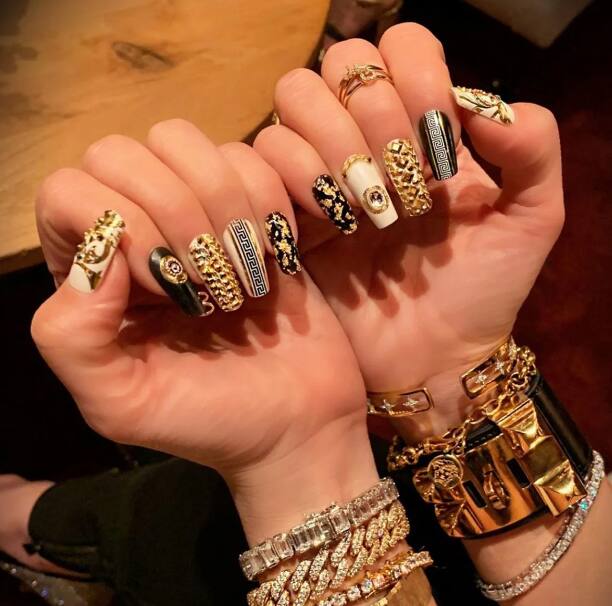 J.LO's nail artist, Tom Bachik, posted a snapshot of her new nail design in New Year's Eve. This new work is inspired by Versace. Each nail is decorated differently. They can match well with sparkling gold jewellery.
9. Lilly Owen
The multi-coloured design seems to be the trend for most celebrities in 2020. Lilly is among the celebrities who have already tried them, and they look gorgeous on her. The design involves a few mixing of colours like yellow, neon, blue, purple, and light red shade.
10. Elle Fanning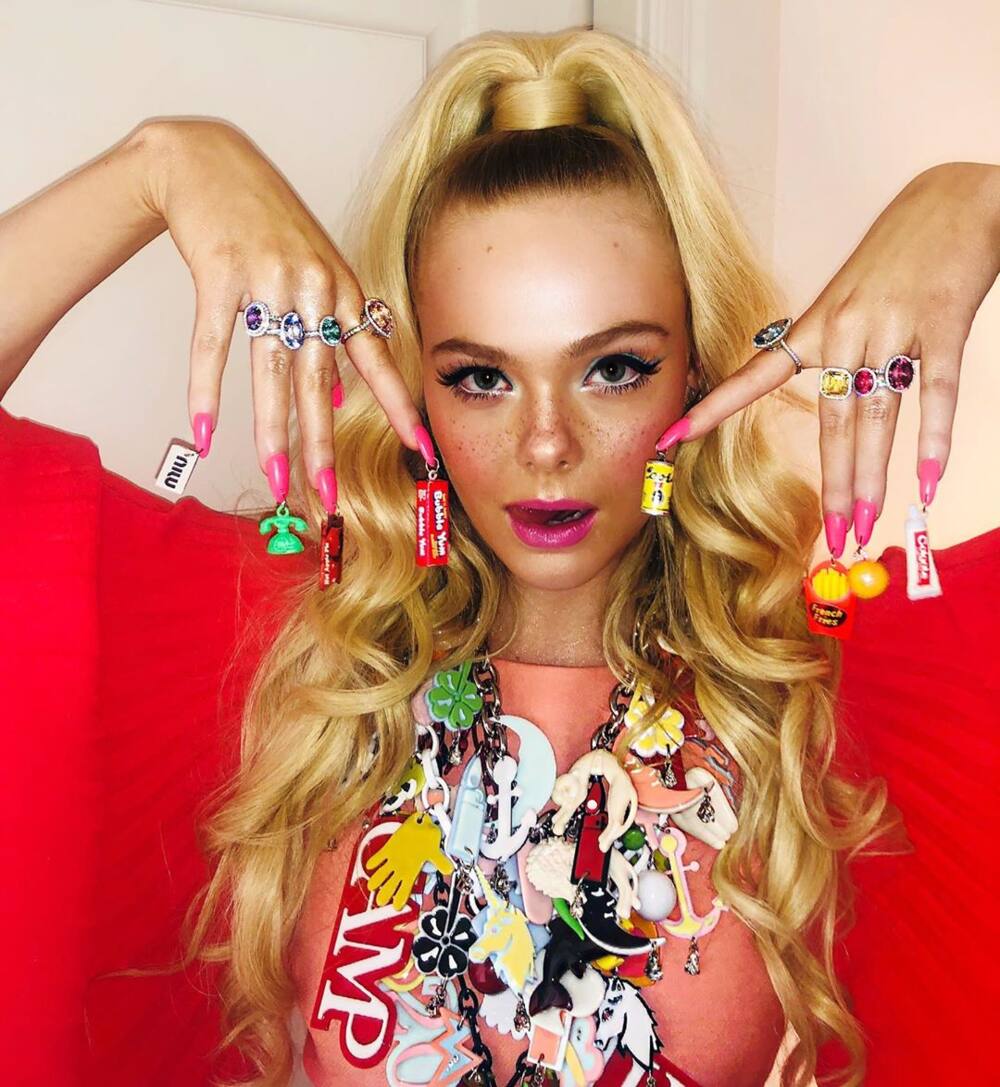 This one is complicated, but Elle seems to be enjoying it. Posing for an Instagram post, she showcased her almond-shaped charm manicure. They are pierced at the tip with different suspended hangings.
11. Laura Harrier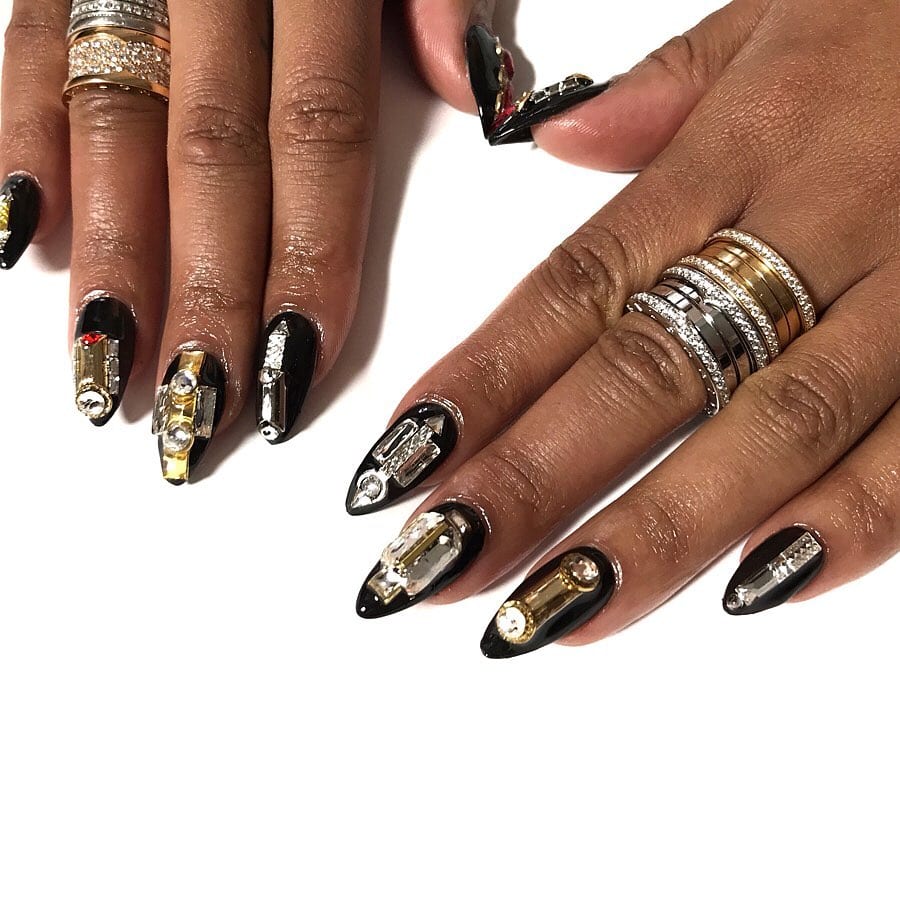 Harrier has always been a woman of style, and her nails say it all. On this one, her stylists decided to apply a 3D nail art black jet shaped base. The shiny appearance matches with most jewellery well.
12. Kim Kardashian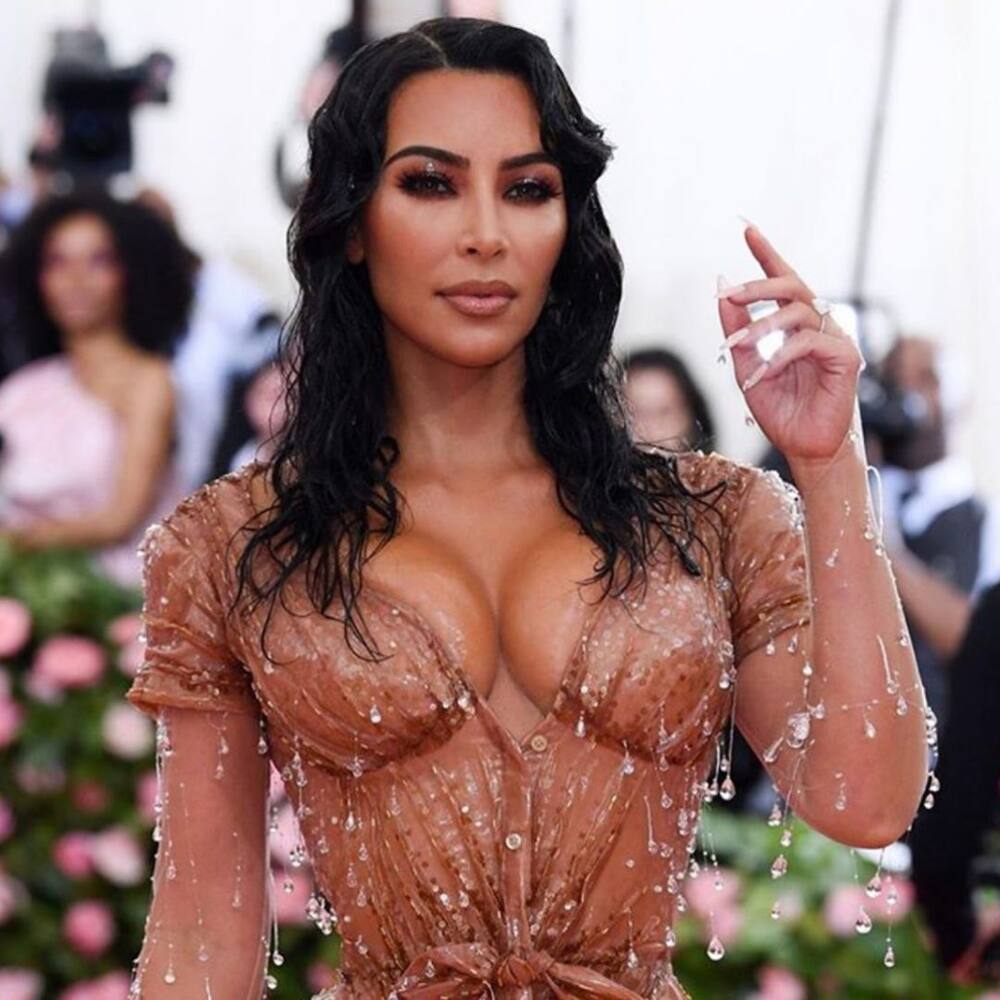 The Kardashian's always on point when it comes to fashion. This one is commonly referred to as a nude manicure. What is more interesting about it is the crystal diamond-shaped hanging. Imagine how cool you can look when you wear it.
13. Constance Wu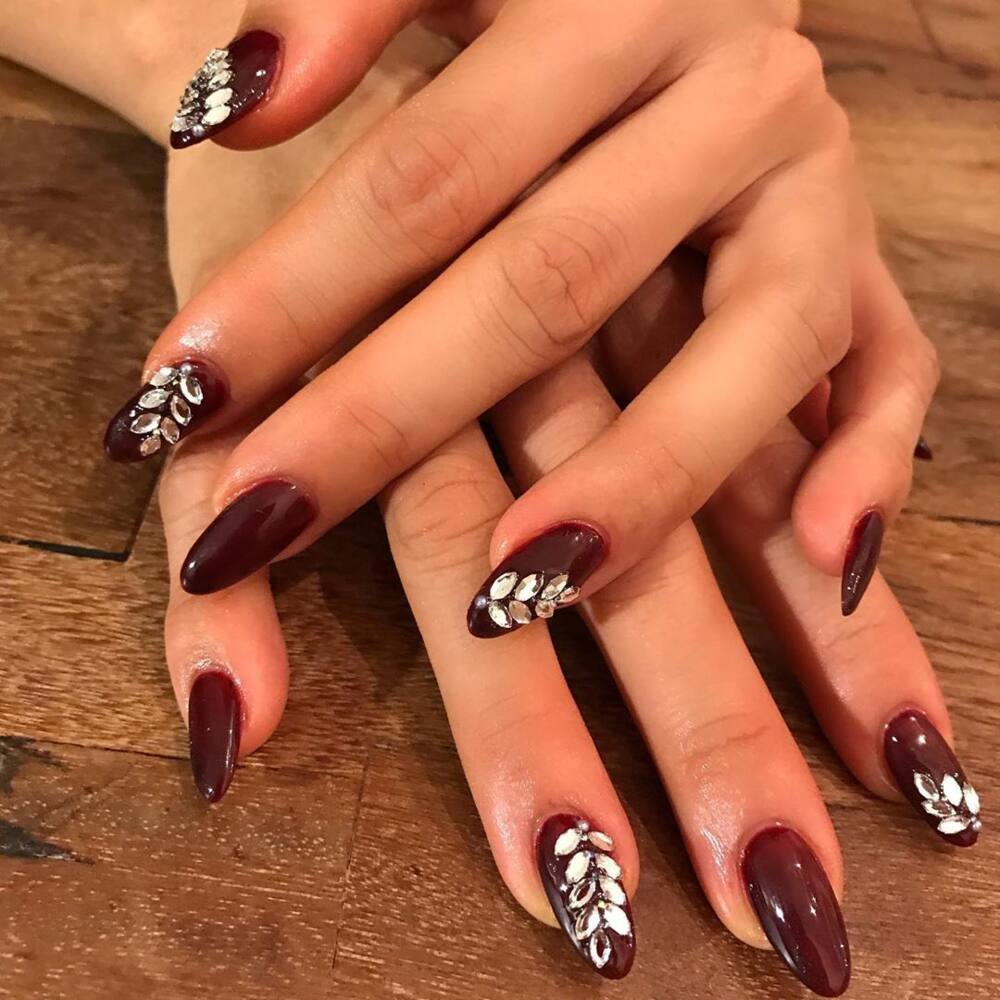 The actress wore a leave nail art design to a red carpet event, and, to be honest, she was looking lovely. In her case, the nude leaves nails were applied on a red, deep classic base on some of her fingernails.
14. Hailee Steinfeld
This neon under toned nails by Steinfeld is the perfect manicure you can have this year. They have a mint pastel finish giving them a candy irresistible wrapper look. They were done by Tom Bachik.
15. Dua Lipa
This one does not have a specific name yet, but it has a lot of colours. It is insanely designed, giving it a unique trait. Scroll left for more photos.
No idea what to get for a girl, mom, or friend? Brighten up the day of your loved one with this great Personalised Your Own Message Ladies T-Shirt. Design a unique T-shirt by adding a special text or name to it. It costs R405 and is available in different sizes.
READ ALSO: How to style braids 2020
16. Cardi B
She wore this dramatic red manicure to the Gala event last year. Her stylist used Gel Candied Kingdom colours to style them. Imagine how cool they can look when worn with a red dress. You got to try this in 2020.
17. Madelaine Petsch
Madelaine wore this metallic and rhinestone manicure to the Gala event. They look good on her, especially with her outfit.
18. Lucy Boynton
Unlike other designs, this one is set on a simple base. The shiny stones give it a radiant look every woman would want to have. If you have a shiny handbag with shiny metallic pieces, then this is your style.
19. Karlie Kloss
This Gucci-themed manicure was done by Mei, who is a celebrity manicurist. The deep red colour on the other fingernails is also a perfect choice for the style.
20. Kim Kardashian
Tom Bachik made the celebrity this water-like blue manicure. Being a woman of style, she chose a dress matching the nails, and people could not stop talking. How about you draw inspiration from her?
21. Regina King
Actress Regina King's cocoa and gold manicure is currently the latest a woman can try. They may appear complicated, but the look is just irresistible. Again, these black acrylic nails are not difficult to achieve.
22. Ezra Miller
Are you looking for simple and classy short nail designs? Then this design by Ezra Miller will inspire you. This white duck nails are not only clean but also easy to maintain.
23. Kylie Jenner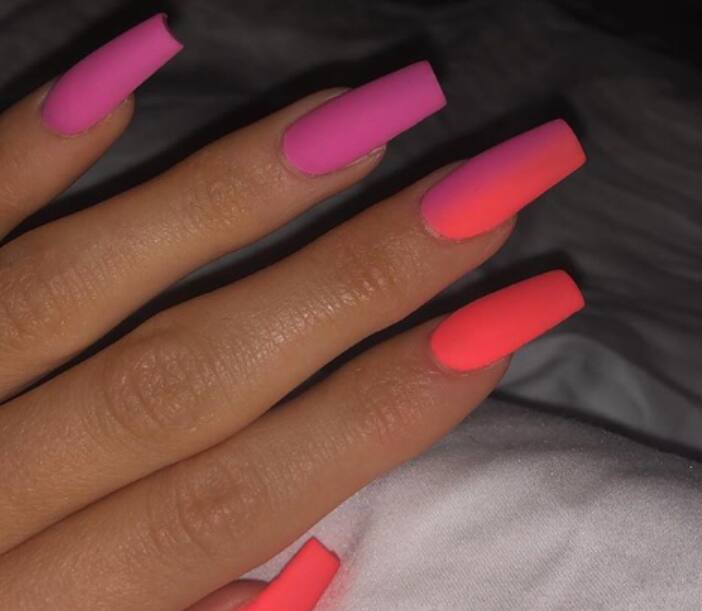 Kylie is always on point when it comes to manicure. Her fingers look gorgeous as she decided to apply a neon pink colour. The style blends well with her skin colour and the size of her fingers.
24. Gigi Hadid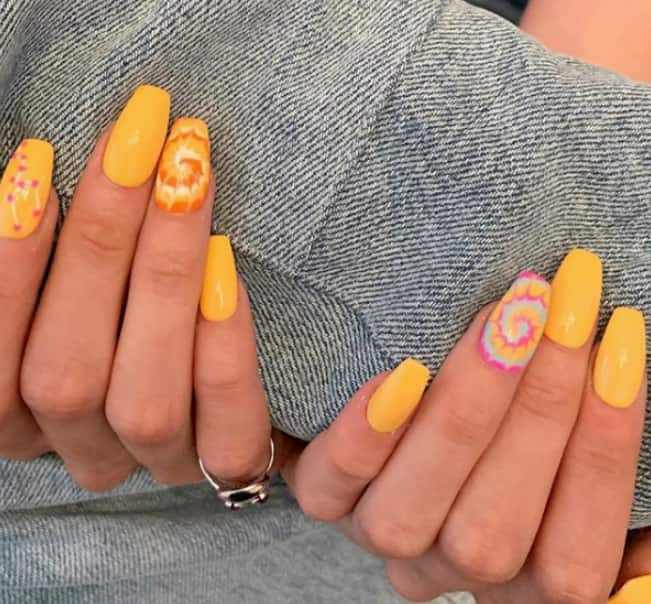 If you love yellow, then this design by Gigi will come in handy. Look how the stars are styled on the fingers with pink and a slight blue touch on the background.
25. Kylie Jenner neon star manicure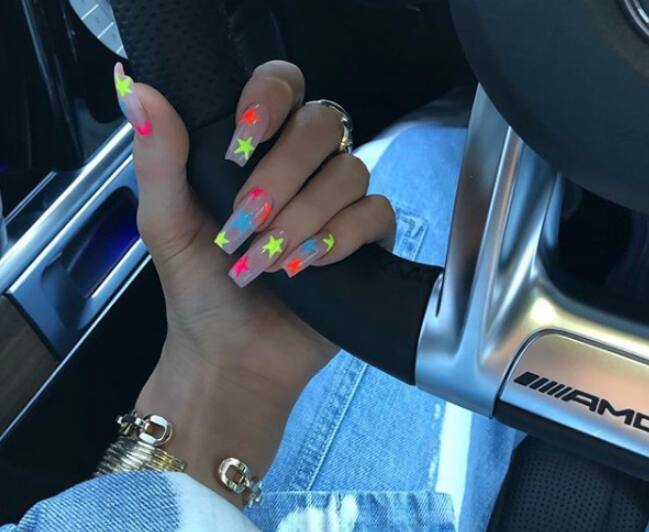 By now, you know where to get inspiration if you are looking for a classy manicure. In this design, she had her nails decorated with neon stars. No doubt, this is one you do not want to miss.
READ ALSO: Latest Ankara styles for men and women in 2020
26. Candice Swanepoel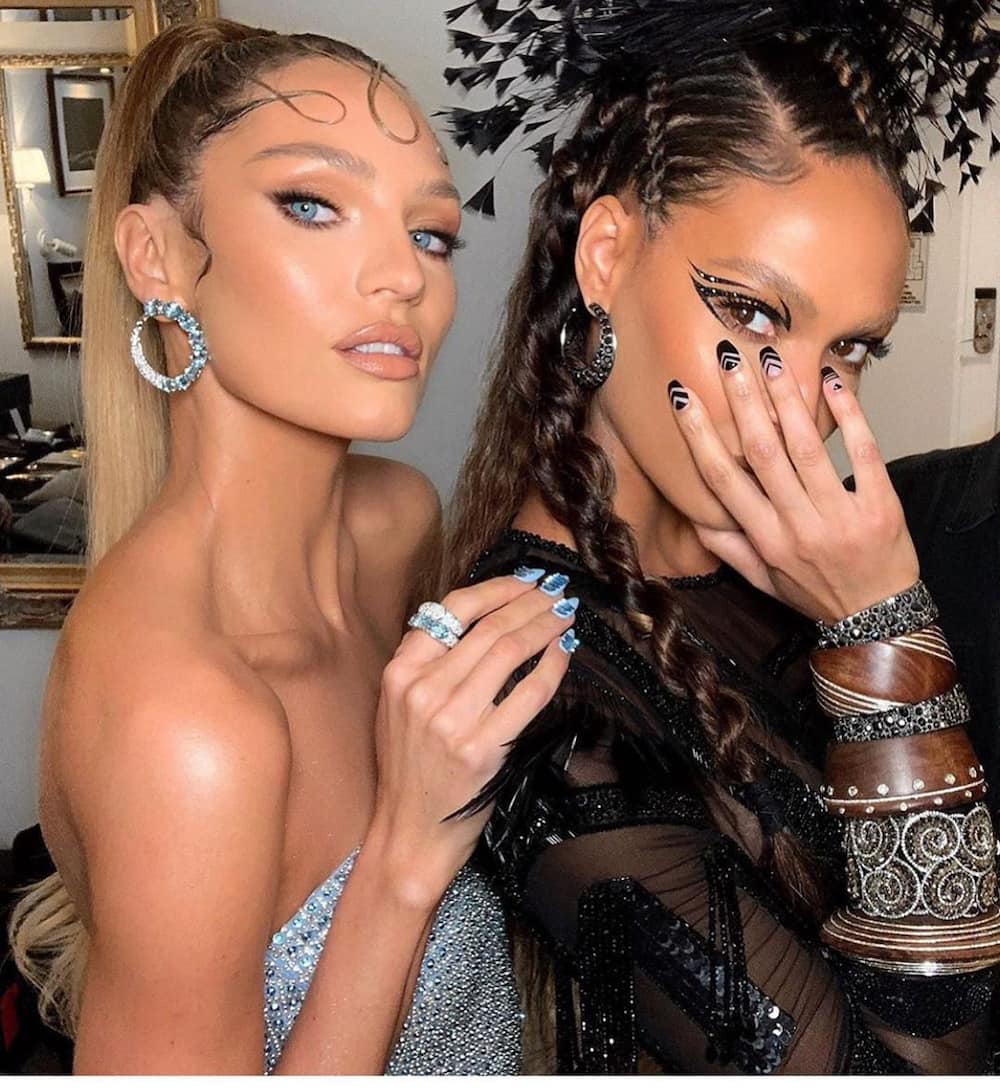 While posing for a picture with Joan Smalls, Candice could not hide her new nails by her manicurist, Mary Soul. According to the manicurist, she applied a $6.99 nail polish to achieve this look.
27. Kerry Washington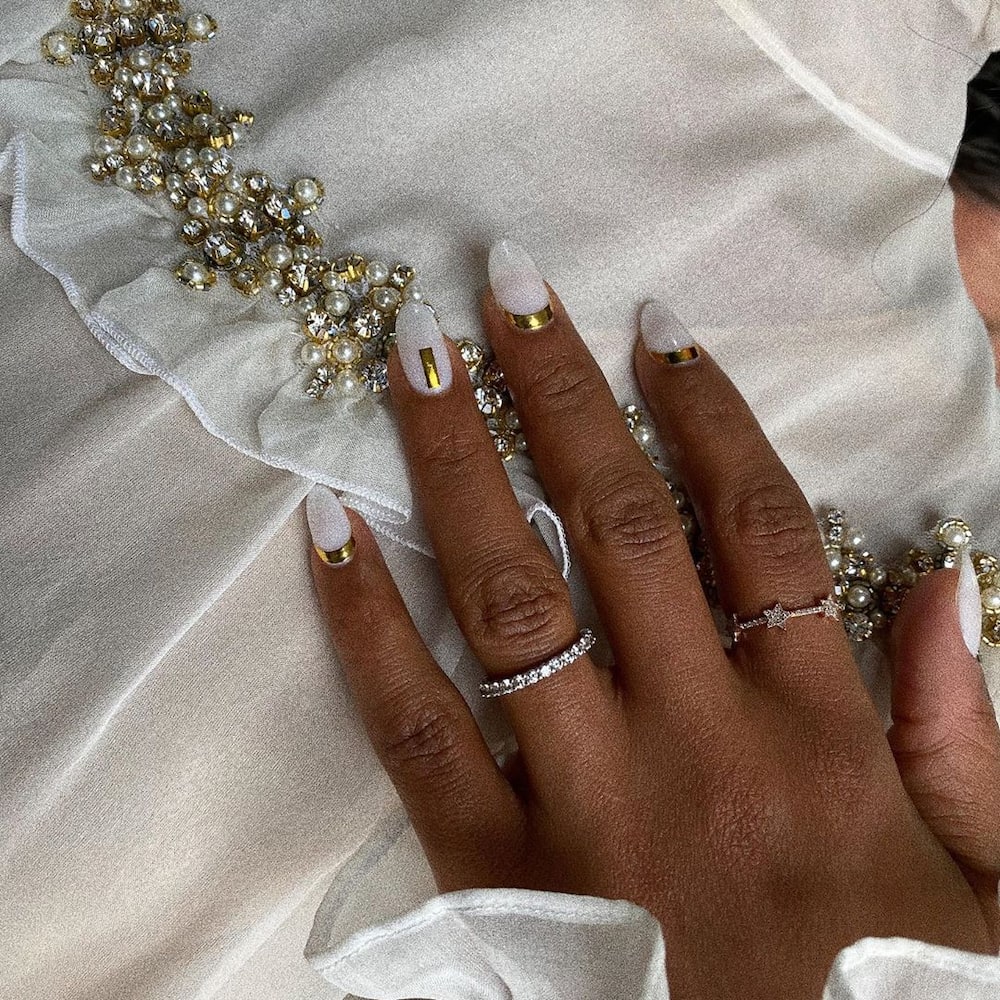 The model took to her Instagram, posting her white nails with gold linings. If you love white, then this might be all you need this year.
28. Gigi Hadid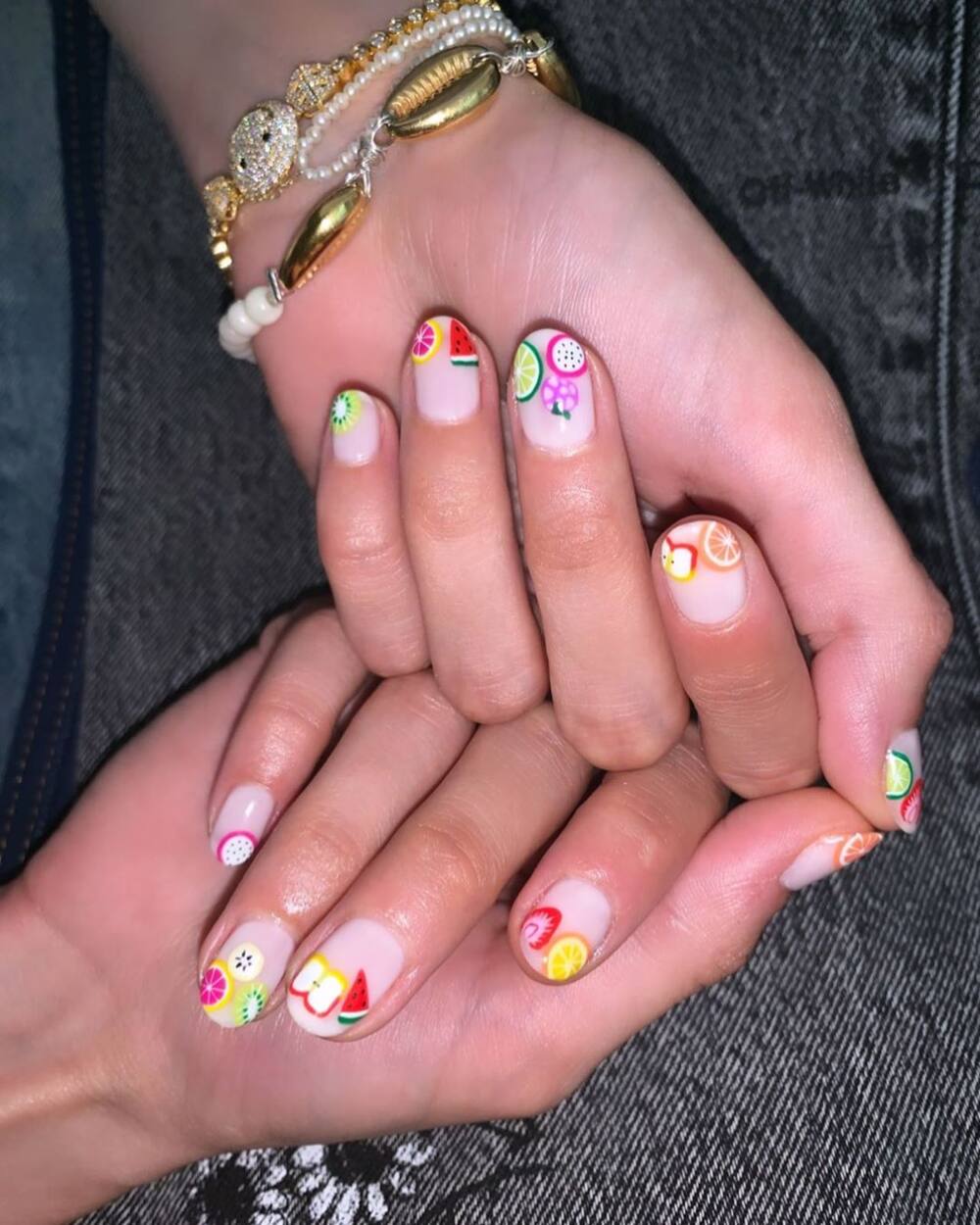 It is amazing how manicure has evolved. Right now, we have a fruity inspired design worth trying. Oranges, melons, apples can be seen on her tips.
29. Kylie Jenner
Jenner is a queen of epic manicure. Here she has a butterfly-inspired manicure. The light pink base and gemstone dots give the butterflies a magical look any woman would want.
30. Jordyn Woods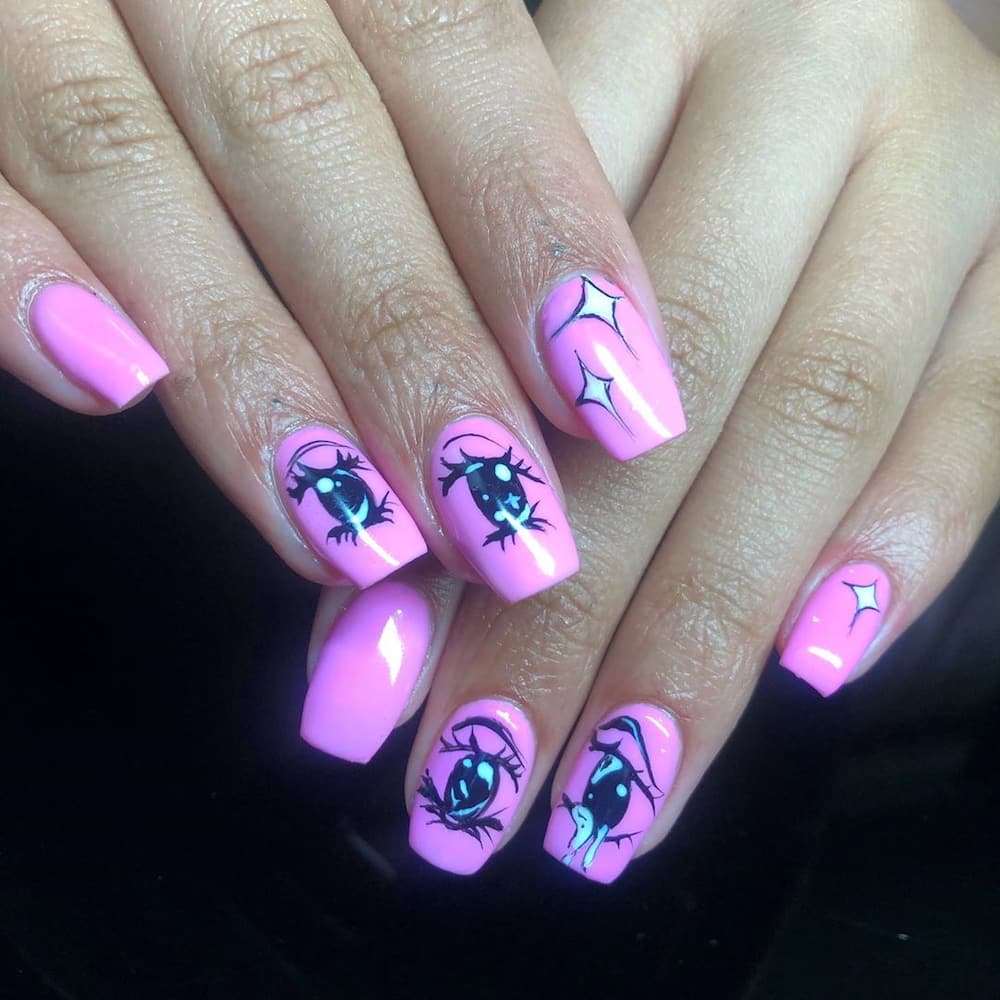 Jordyn has tried different manicure designs, but this animated one worn by her might provoke you to book an appointment at your manicurist today. Look how amazing those sparkling emojis and animated eyes appear on that pink base.
31. Normani
Normani's orange neon tips are, no doubt, the coolest you do not want to miss trying in 2020. It is amazing how appealing they look even when she is in dark. They are set on a bright French manicure.
32. Khloe Kardashian
The Kardashians hardly disappoint. In this one, her stylist applied a French manicure on the base before designing the tips with a yellow crescent moon.
33. Lana Condor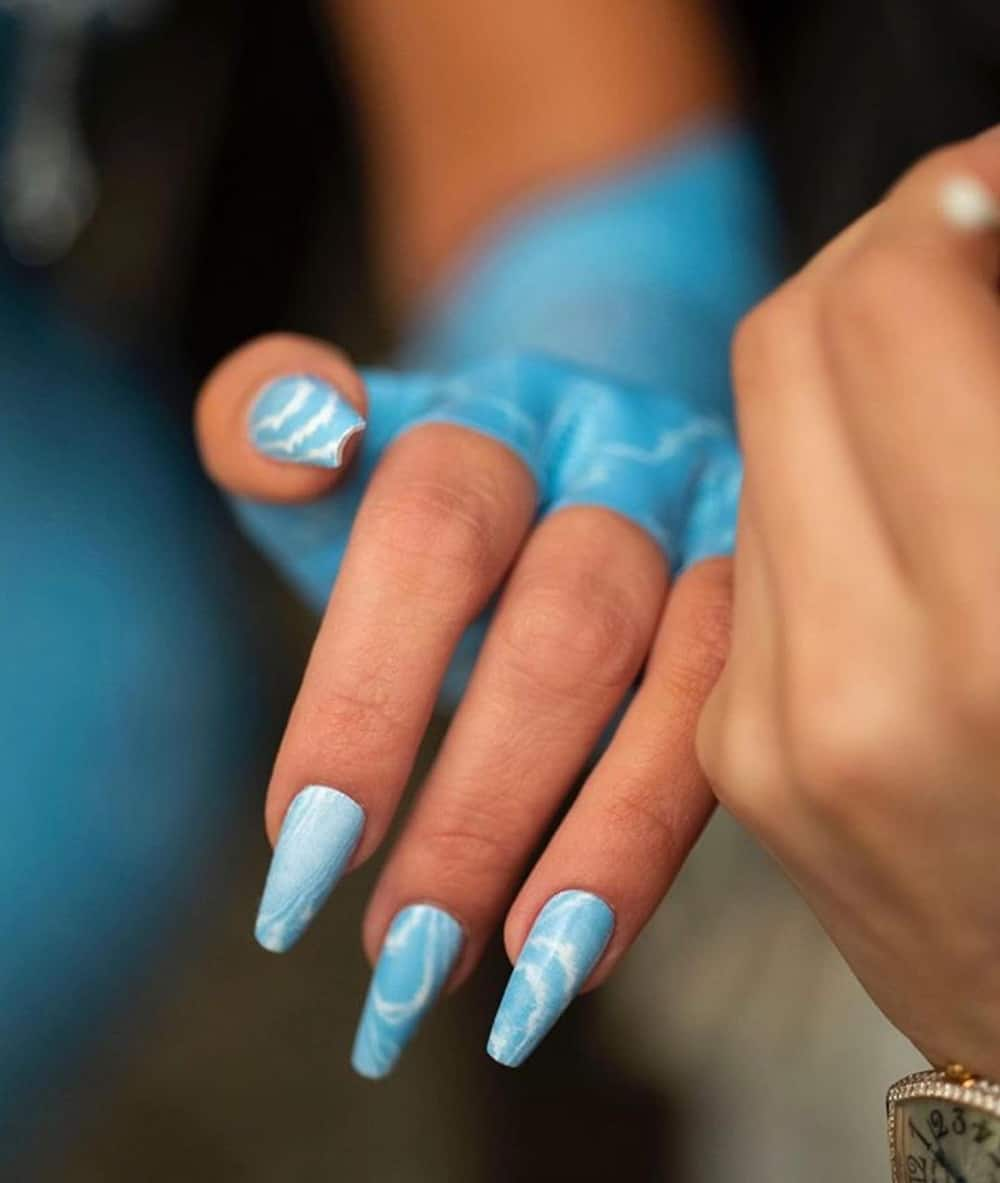 These blue marble manicure are done by the celebrity manicurist Tom Bachik. Like that one of Kim Kardashian, they match with a blue outfit.
34. Katy Perry
Have you thought of having clear tips? Well, Katty Perry's white tips with half-moon metallic bases might inspire you this year. See how classy they look.
35. Bella Hadid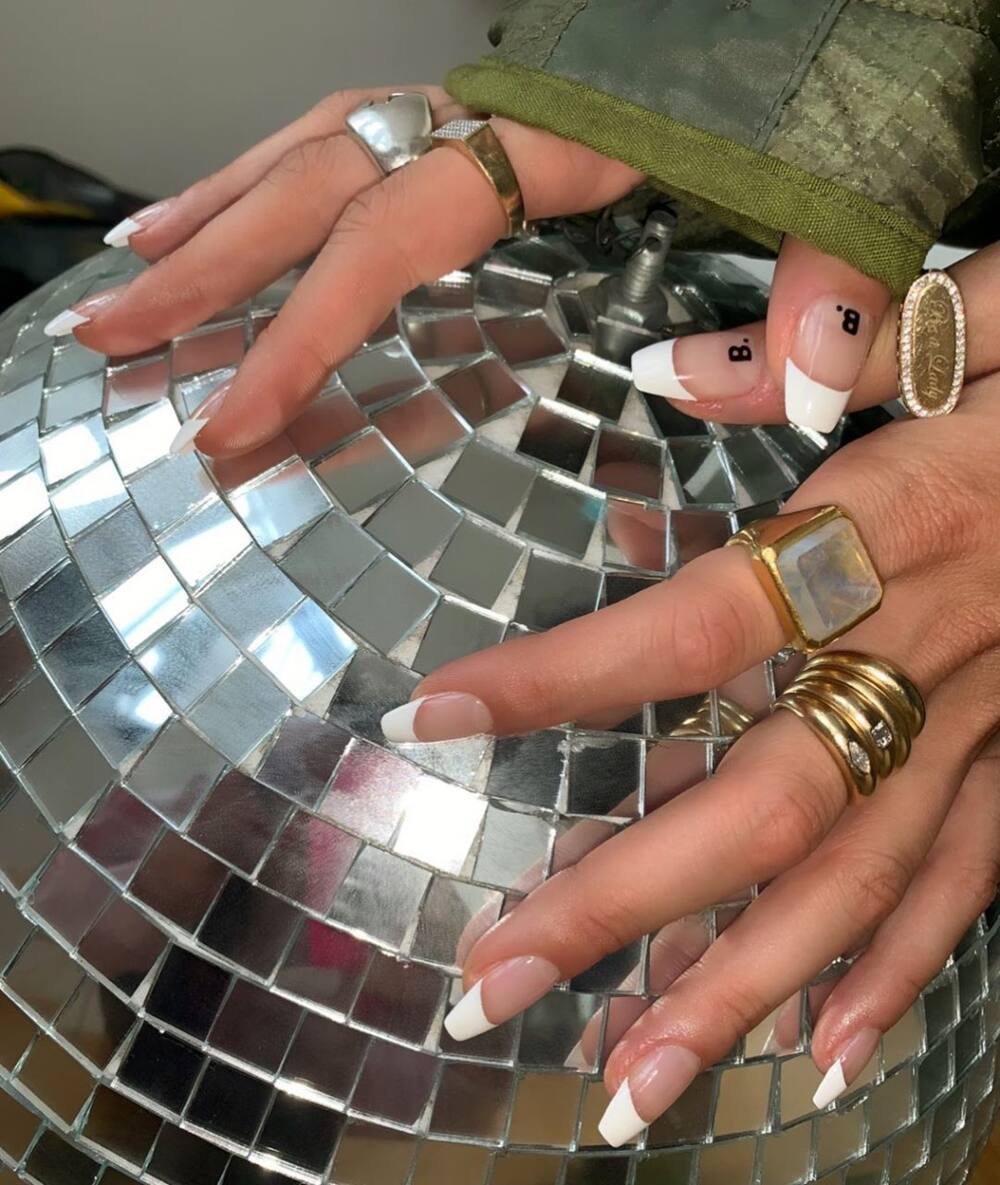 Bella's French manicure is also among the favorite nail arts of 2020. The white tips make the fingers look appealing and clean. Also, they are not that long, meaning they will not interfere with your daily duties.
It is good to have unique nail art ideas that will make you stand out from the crowd in 2020. Interestingly, all of these celebrity nail designs are unique in their capacities. So, it is up to you to pick the one that will suit you.
DISCLAIMER: Please note that some of the links in the article are affiliate links and Briefly.co.za will earn a commission if you purchase through those links. However, we always choose only the best quality products that we use ourselves and recommend to our readers. The earnings we get from the affiliate marketing help us continue preparing useful and entertaining content, that our audience enjoys.
READ ALSO: How to style braids 2020
Source: Briefly News