Resignation letter South Africa: The right way to quit your job with a professional resignation letter
Job seeking and job resignations are two critical career processes that require high levels of professionalism. Workers should, therefore, handle them carefully to make sure they secure their dream jobs and then leave peacefully when it is time to move on to greener pastures. Career advisers insist that employees should use proper channels on their way out as much as they did on their entry. So, how do you politely write a resignation letter?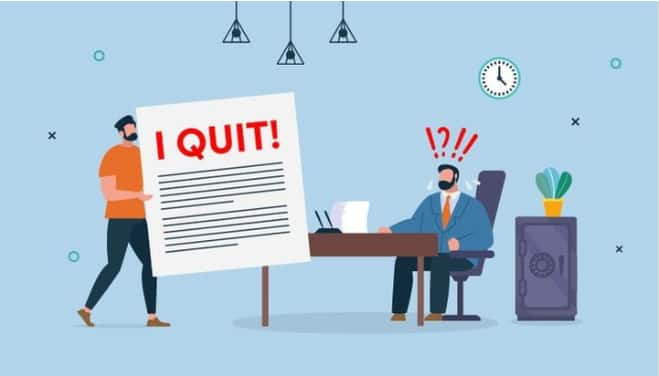 The labor market is ever-changing and highly unpredictable for career persons. It is advisable to make peace as you leave a workplace for a smooth transition in your career. Remember at the workplace, never burn your bridges.
READ ALSO: All you need to know about short time notice as an alternative to retrenchment
Guidelines on how to write a letter of resignation
The letter of resignation is a formal document that the employee composes informing their employer about the intentions of letting go their roles. The letter is crucial because it alerts an employer, enabling them to make necessary arrangements in their replacement.
How do you write a resignation letter if you are not happy? Whether you are leaving because of unmet needs or you have greener pastures in wait, always stick to these dos and don'ts of a resignation letter.
1. Always lock out all your emotions
It is essential to maintain clarity on the reasons why you want to quit your duties. Most people act on emotions and end up making terrible decisions, which ends up ruining their careers. Most employees cite low pay, intolerable working conditions, and scarce advancement opportunities. Even with all these disturbing issues, it is not advisable to make up your mind to leave unless you are sure your decision is emotionless.
It is critical to think through and consider how the resignation may influence your career, personal life, and those that look up to you. Having checked all these boxes right, work towards writing a resignation letter that will not burn bridges because you may need employer references or reconsideration.
2. Start slowly with an informal alert
You do not have to slap your employer with a resignation letter when they least expect because that will blow them up. Calling in for a private discussion with your manager about your intended resignation will ease the exit making it even more comfortable for both of you.
Before the private meeting, make sure you have apparent responses at your fingertips. Be sure why you are asking your way out without sounding conflicted or under stress to do so. You should limit yourself to real issues, among them career prospects and better pay.
It is now time for the resignation letter. Draft the best resignation letter you can and hand the same as a legal document. Note that it is not mandatory to include reasons why you are opting out of your duties. However, verify that you have included the following details:
Your resignation date;
The person/office that you are addressing;
Your name and position;
Notice for your resignation;
Effective date alongside your signature;
Any other concern that is positive.
How do I quit my job immediately? A simple resignation letter is the best way to leave without causing an alarm. Collect all the facts with a closer eye on the company's resignation policies, and what your contract says about the notice period that you should give your employer when resigning. It is vital to understand that you will need to deliberate most issues with your employer for any due settlements.
3. Avoid negativity and counteroffers
Resignation is a formalized process that should remain fruitful. If your boss promises better pay, you need to consider what has driven their willingness for such an offer deeply.
It is mostly advisable to forego all counteroffers because such should have been provided ahead of your resignation. In reality, it does not have to take a resignation to get what you deserve as a worker.
4. What to say in an exit interview
Most companies are not interested to know why you are calling it quits. There are, however, those that will engage you with the intent of wanting to understand the real reasons why you are moving out. In such sessions, you will need to strike a satisfactory balance between truthfulness and professionalism. To achieve this difficult task, rehearse your thoughts to focus on emotionless and constructive criticism.
5. A stylish exit is all you need
It is ethical to exit without tainting your reputation of leaving behind a messed office. To exit gracefully, you will first need to clear all tasks placed on your table because that will facilitate a smooth handover.
Update your boss and co-workers about your exit and never bang the door behind you; this is an excellent opportunity to express your gratitude for having been given a chance to become part of the workers' team. Also, include a phrase to capture your sincere wishes for the company even as you leave.
How to draft a resignation letter
If you are still stuck on how to come up with a simple resignation letter sample, then we got your back to ensure you exit in style. Use our template in the format provided to make sure you achieve a more significant impact.
Resignation letter template
Your name
Your address
Your town/city
Main contact number
Work or personal email address
Date
Name and job title
The company name
The company address
Dear [Name of your boss/manager]
This letter is a resignation notice from my duties as [Job Title] in the company, effective as from [Date].
My pleasure has been working with you and broadening my skills at [Company Name]. I am particularly grateful for a wealth of opportunities that I received working with you for the past [Employment Duration]. My best wishes to the company in its upcoming work.
I am ready to offer my kind support to ensure a smooth replacement and handover process.
Regards,
……………………………
Your signature and name
READ ALSO: All your legal rights with regards to final pay after resignation South Africa
There are several resignation letter formats that you can find online, but not all of them will serve the purpose perfectly. Coming up with a considerate resignation letter is a natural process as long as you comply with all our dos and don'ts. Always keep it professional and maintain a good relationship with your former employer even after leaving.
DISCLAIMER: This article is intended for general informational purposes only and does not address individual circumstances. If a reader clicks on our advertising partner links within our platform, we may receive a referral fee. Our team will never mention an item as the best overall product unless they believe it is the best option. Compensation does not direct our research or editorial content and in most cases does not impact how our listing articles are written. It is not a substitute for professional advice or help and should not be relied on to make decisions of any kind.
READ ALSO:
Constructive dismissal: meaning and how to prove it in 2019?
Retrenchment South Africa: strategy, procedure and compensation 2019
Unfair dismissal: how to deal with it in South Africa 2019
Letter of good standing: step-by-step guide to get one in 2019
15 best tips on how to write a motivational letter that really work in 2019
Source: Briefly News