How to replace a lost matric certificate | All processes and costs
Have you lost or damaged your matric certificate? Then by now, you know how stressful applying for a job or getting enrollment to any academic institution can be. However, this should not be the case from now on because how to replace a lost matric certificate is simple.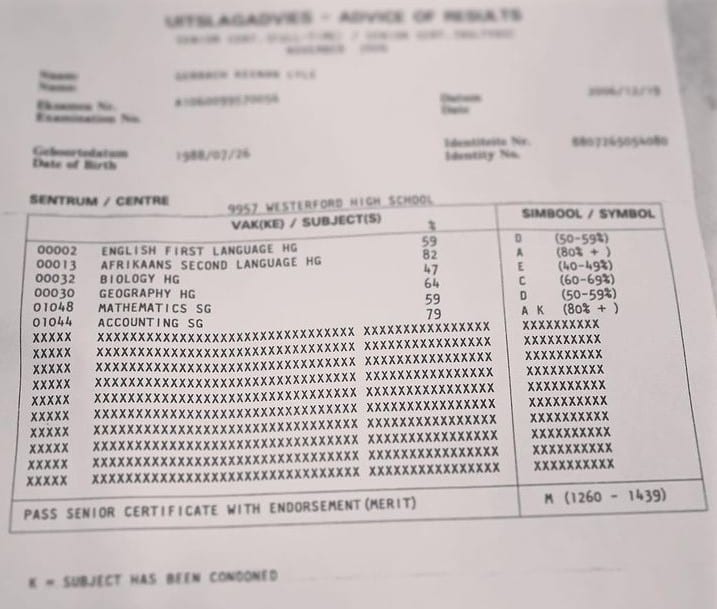 What is a matric certificate, and why is it important? It is the National Senior Certificate in SA, awarded for matriculation or acting as the senior school leaving certificate. It is an important document in the job and academic markets because it is highly sorted after minimum qualification entry-level. Even though it is possible to build a career without this certificate, having it would work to your advantage since it attracts lots of amazing opportunities your way.
How to replace a lost matric certificate
Is it possible to replace your matric certificate after it is lost? Yes. This guide on how to replace a lost matric certificate explains all the processes involved, costs associated, and just how long your wait will be.
Replacing to replace a lost matric certificate- where to begin
The process for obtaining a lost matric certificate can be done online or offline. Since September 1992, Umalusi has been tasked with replacing lost or damaged lost matric certificates. However, applications for lost or replacement certificates must be done at any Department of Education and NOT directly with Umalusi.
What do you need when applying for a lost matric certificate?
The first step is to completely fill out a detailed application form that can be obtained on their website or from any Department of Education offices, irrespective of where you wrote your matric (apart from IEB and SACAI). Alternatively, you can download a matric certificate replacement form pdf.
When filling out the form, it is important to take note of all the necessary required details. These are your:
Examination year (when you obtained the qualification)
School name and
Surname (as used in the original document issued)
Supporting documentation

After filling out your form, you will need to provide a set of documentation to support your application. These include:
An affidavit: An applicant must take a detailed sworn statement, affidavit for lost matric certificate. This affidavit issued only by the police must clearly state the status of the previous/ original document. It must state how the document disappeared, for example, lost on transit, stolen, vandalized, and by a misfortune.
Certified copy of applicant's identity documents: Proof of identity is necessary for this process. You are required to make a copy of your identity document and certify it with a Commissioner of Oaths, at an attorney's office or the police station.
Proof of payment: Replacing your lost certificate is not free. So, how much does it cost to replace a lost matric certificate? Upon request for the document, Umalusi will charge you an administrative fee. This fee is reviewed every year with the terms running between 1st April to 31st March of the following year. From 1st April 2020 until 31st March 2021, to replace a lost certificate, you are required to pay R130. Once this payment is made at the Post Office (postal order), cash at DBE/PED office, or by cheque, you will be required to produce your proof of payment, either EFT or an ATM/deposit slip.
An electronic request: This is the last step before completing your application. After you have finished compiling and filling the form, you will need to send your submission electronically to the Umalusi database. Therefore, ensure that you have all the checks in place before completing this process. If filing a form offline, post it with the required documents to Private Bag X895, Pretoria, 0001.
Replacing a lost matric certificate is quite simple as long as you follow the above process. Note that after the application process, the original or previous document seizes to be valid.
How long does it take to replace a lost matric certificate?
How long does it take to reprint matric certificate? No matter how urgent an application seems to be, it is important to emphasize that a matric certificate cannot be replaced in a day. So how long does one need to wait? Under ordinary circumstances, you will receive your replacement certificate between 4-6 weeks.
Important contacts
Where can one get information if they encounter a problem? If you encounter a problem with your application, below are regional contacts for various provincial and National Education Departments:
Exam Centre
30 Durban Street
King Williams's Town 5600
Tel: 043 604 7724
Thobeka.Dumbisa@edu.ecprov.gov.za
55 Elizabeth Street, 1st Floor
Fidel Castro Building,
Bloemfontein
Tel: 051 404 8252
M.Monnaruri@fseducation.gov.za
111 Commissioner Street
Johannesburg
Tel: 011 355 0611
Nomthandazo.Malinga@gauteng.gov.za
72 Stanger Street
Malgate Building
Durban
Tel: 031 327 0312
Bongani.Chiliza@kzndoe.gov.za
Beta Building
SADC Street
Middelburg
Tel: 013 766 0051
m.viljoen@education.mpu.gov.za
Buckley road
Ex-Perseverance college
Kimberley
Tel: 053 839 6503
nicolettefredericks@ncdoe.gov.za
crn 113 Biccard & 24 Excelsior
Polokwane
Tel: 015 290 7740
ThomasE@edu.limpopo.gov.za
90 Van Der Hoff
Potchefstroom
Tel : 018 388 0827
Bkeetile@nwpg.gov.za
Grand Central Towers
Lower Parliament Street
Cape Town
Tel: 021 467 2936
Desmond.Botes@westerncape.gov.za
Department of Basic Education
222 Struben Street
Sol Plaatjie building
Pretoria Central
Tel: 012 357 3255
Nene.T@dbe.gov.za
Department of Higher Education
222 Struben Street
Sol Plaatjie building
Pretoria Central
Tel: 012 357 3255
Visser.M@dbe.gov.za
278 Serene Street
Garsfontein
0042
Tel: 012 348 5650
karendw@sacai.org.za
Johannesburg
Tel: 011 483 9736
dladlas@ieb.co.za
Certification@umalusi.org.za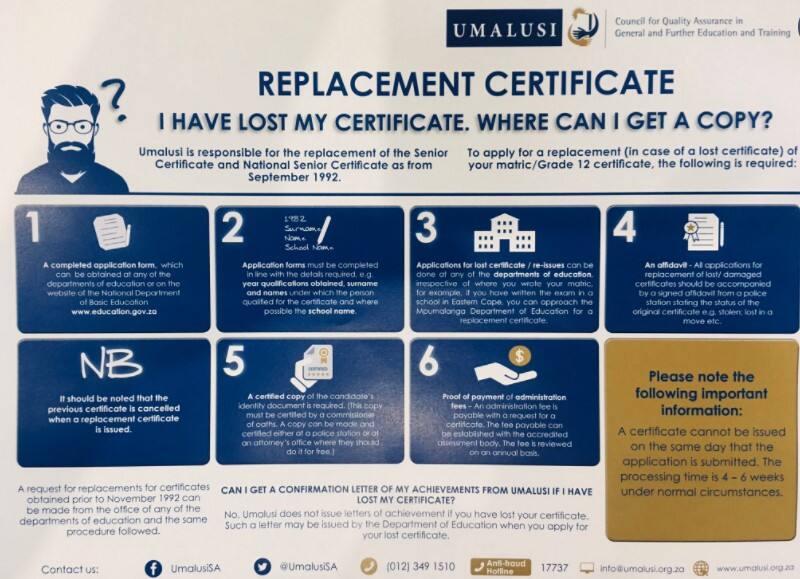 With this knowledge on how to replace a lost matric certificate, you should no longer be worried. Follow the correct steps, and soon you will have another matric certificate. If you face any problem, contact the nearest or relevant offices.
DISCLAIMER: This article is intended for general informational purposes only and does not address individual circumstances. It is not a substitute for professional advice or help and should not be relied on to make decisions of any kind. Any action you take upon the information presented in this article is strictly at your own risk and responsibility!
READ ALSO: BEE certificate: How to apply for or renew one in 2021?
Briefly.co.za published the procedure for applying or renewing the BEE certificate. Obtaining a Black Economic Empowerment (BEE) certificate is mandatory for every business owner in South Africa. Your certification will depend on whether your company is new or not and your organization's annual turnover. Read about the process in the article.
Source: Briefly News