Gosiame Thamara: Details of the Gauteng woman who gave birth to 10 babies
Gosiame Thamara Sithole has made it to the Guinness World Record for delivering the highest number of babies all at once. While most people are trying to wrap their heads around the news and its practicality, others are curious to know who she is and how she managed the pregnancy.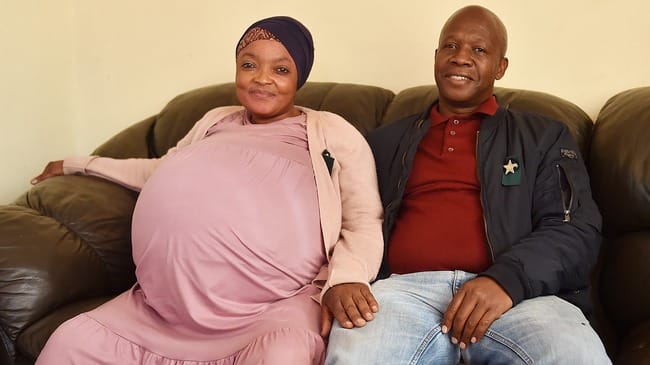 Gosiame Thamara Sithole delivered her decuplets on 7th June 2021 at a hospital in Pretoria. Interestingly, she was not on any fertility treatment, although she did not carry her pregnancy to term. Gosiame had not anticipated giving birth to ten babies. Instead, her scans revealed that she was expecting eight children; hence, the doctors were bummed to find two more babies. During the delivery, she was 29 weeks into the pregnancy; how incredible! Meanwhile, how about checking out unknown facts about her?
Interesting facts about Gosiame Thamara
Gosiame Thamara is the mother to most babies born to one woman at once. Apart from setting the record as the woman who gave birth to 10 babies, Mzansi has been curious to know what it was like for her. Some have been curious to learn more about her background. These are some of the known facts about the mother of 12.
Gosiame Thamara's age
As of 7th June 2021, when Gosiame Sithole was delivering her babies, she was thirty-seven years old. She works at a retail store.
Gosiame Thamara's husband
Gosiame Thamara Sithole is married, and her husband is Teboho Tsotetsi. Teboho hails from Tembisa, Ekurhuleni.
Gosiame Thamara's children
Apart from her seven newborn baby boys and three newborn baby girls, she has two other children; a set of six-year-old twins. That makes twelve children in total. Her most recent delivery earns her recognition for the world record for most babies born at once.
Gosiame Thamara's pregnancy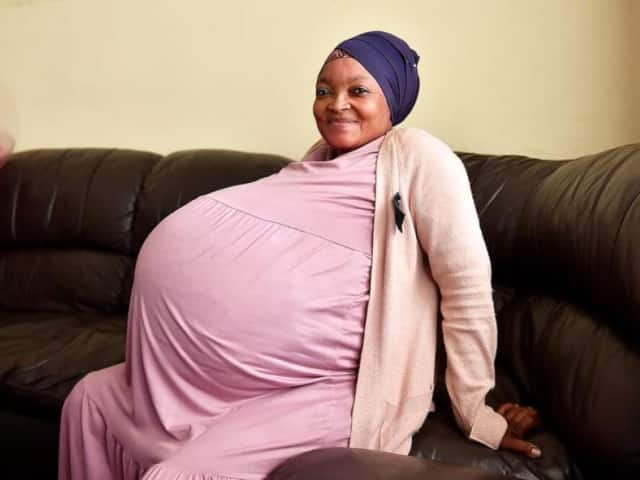 While talking to Pretoria News last night, Tsotetsi revealed that his wife was the woman with 10 babies. He stated that she gave birth to their bundles of joy at 29 weeks via C-section. During an interview that Gosiame did before her delivery, she revealed that the pregnancy was delicate during the first trimester. Some of the challenges that she faced include feeling sick, heartburns and leg pains.
During the interview, she made the following remarks,
It's still tough, but I am used to it now. I don't feel the pain anymore, but it's still a bit tough. I pray for God to help me deliver all my children in a healthy condition and for me and my children to come out alive. I would be pleased about it.
Initially, during her appointments at the beginning of the year, the doctors told her she was expecting six children. Later, during a follow-up sonar scan, the imagery revealed that they were expecting eight babies.
Guinness World Records most babies born at once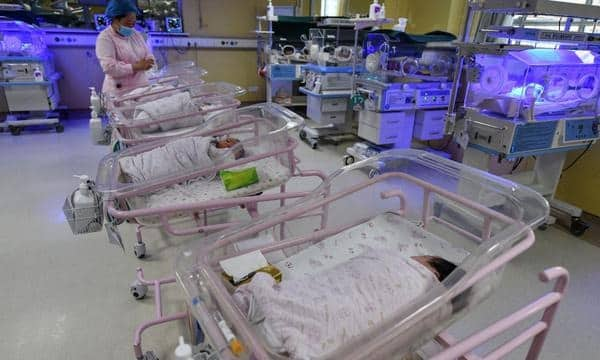 Tsotetsi said he found it difficult to decipher his wife expecting six babies. To him, it was medically impossible. However, after reading about testimonies from similar cases, he made peace with their situation and was excited to meet his babies. But was he aware that theirs would be decuplets and not sextuplets as they had expected?
Woman gives birth to 10 babies!
On 7th June 2021, during the surgery, the doctor was shocked to learn that Gosiame had more babies who had not been captured during her sonar scan. In total, Gosiame gave birth to seven boys and three girls, and all of them were born alive. Not much is known about the babies' health status, but they will spend a couple of weeks in the incubators before they are taken home. Cases of infant mortality are not as common following multiple births.
woman gives birth to 10 babies!
She is not the first case
Sithole's case comes a month after a Malian woman gave birth to nine babies in one delivery. Twenty-five-year-old Halima Cissé delivered to the nonuplets in Morroco. The Malian government flew her to Morocco for specialised care. Her case was nearly similar to Sithole's since she thought she was expecting seven babies, although a second opinion from Moroccan doctors confirmed the count.
She gave birth to five girls and four boys via C-section on her thirtieth week. According to Mali's health ministry, the babies weighed between 500g and 1kg.
What causes multiple pregnancy?
Apart from the hype around Gosiame being the woman who gave birth to 10 babies, most people have been curious to know more about multiple pregnancies and how they occur. But, according to Dr Bill Kalumi, a Kenyan gynaecologist, it is unusual for such pregnancies to occur naturally. Instead, they result from fertility treatment.
However, in Africa, it is common for fertility treatment to be administered when a woman comes off a hormonal contraceptive, as it takes a while before she ovulates. The effect of taking fertility treatment is the release of several eggs during ovulation during a woman's cycle.
Gosiame Thamara has secured the spot in the Guinness World Record for most babies born at once. She is happy and excited for the milestone and the gift that is her babies. Be sure to check out updates on her welfare and that of her babies.
READ ALSO: Crystal Espinal: All you need to know about Tyreek Hill's girlfriend
Briefly.co.za published exciting details about Crystal Espinal. You might want to check them out! Crystal Espinal is famous for being Tyreek Hill's girlfriend between 2014 and 2019. Their relationship received public attention, especially during her first pregnancy. They had their first kid in 2015 and were blessed with a pair of twins in 2019.
Source: Briefly.co.za