Bonang Matheba is a television and radio personality who has a very outstanding fashion sense. She is beautiful, elegant and sophisticated, and in almost all events, she manages to blow people's minds with her choice of dressing. Matheba has appeared in several awards and events since she began her career, and in between, she started a fashion line with a designer called legit. She has experience in fashion and design, and this contributes to her fashion statements that she makes on social media. Bonang Matheba casual style is one to be admired by many. Each dress that she puts on tells out a story about her personality. She mostly wears long dresses that look amazing on her.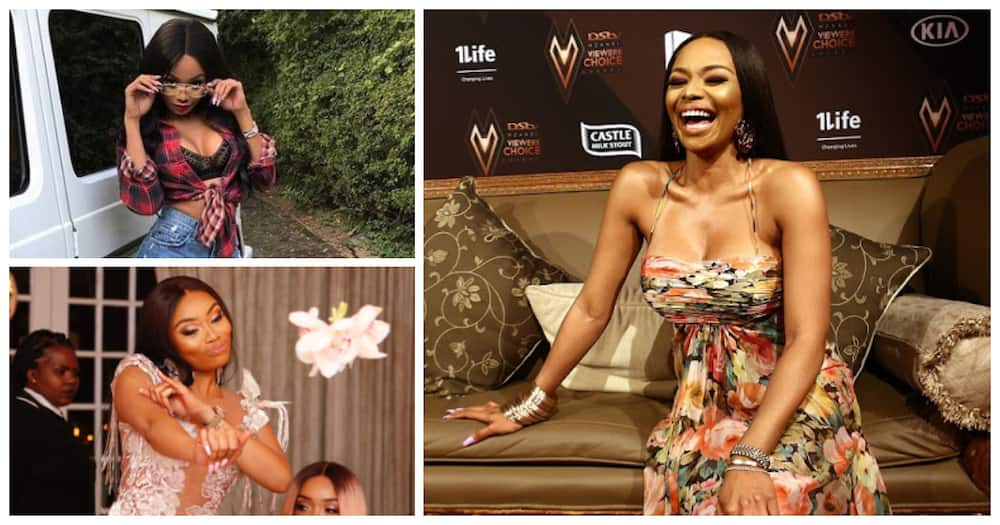 In this article, we have compiled the best of Bonang pictures and the good looks. Keep scrolling and get to appreciate her.
Bonang Matheba fashion style
Bonang dresses to impress. She dresses according to the occasion, and she has designers at her disposal who give her a wide range of options. Below are some of the fantastic outfits that had people talking about her.
1. The white dress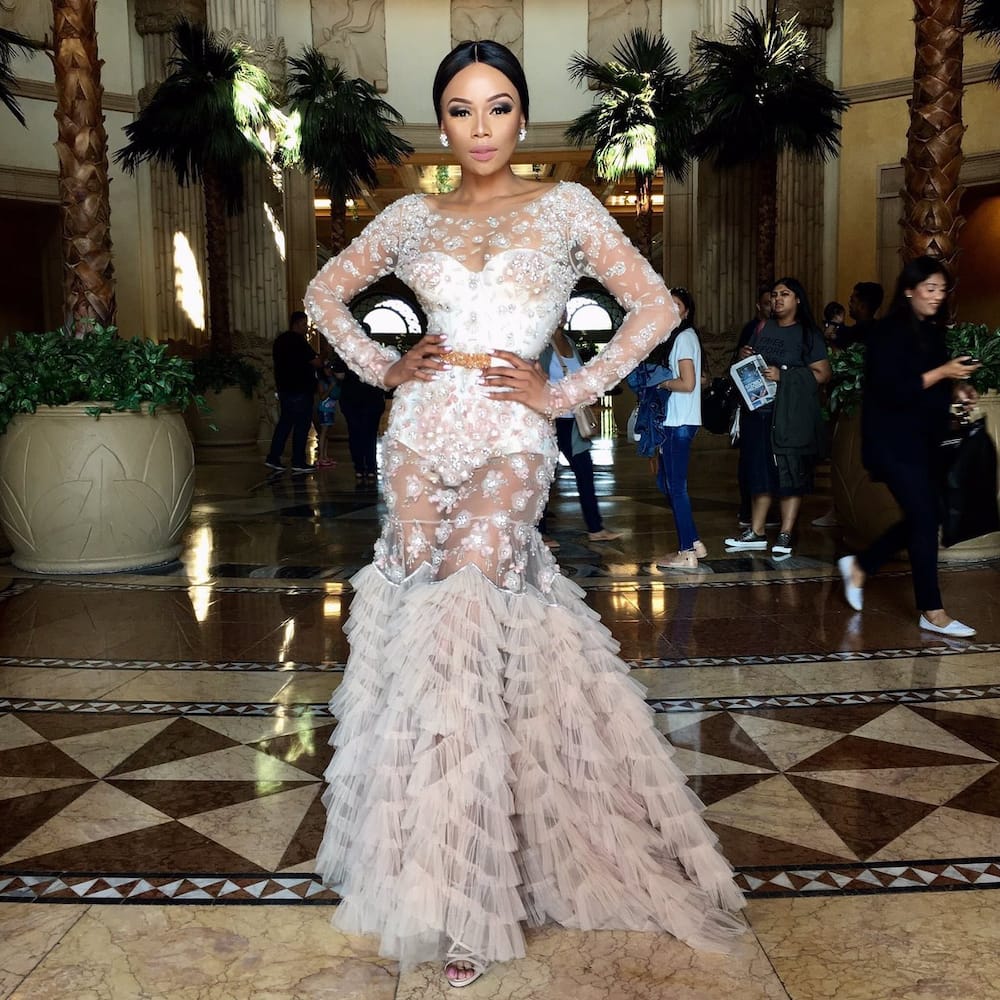 Bonang wore this dress at the SAFTAS red carpet. This is the long white dress by her designer Warrick Gautier. She left her fans with mouths open with amusement when she wore this dress as she really rocked in it. This is one of Bonang Matheba outfits that stood out.
2. Yellow dress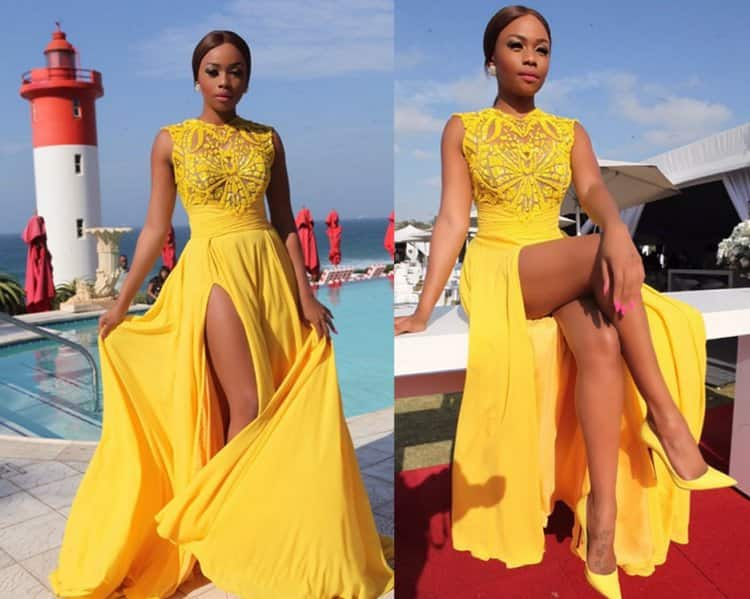 The silky yellow dress was designed by Johan Coetice who seemed to know Bonang's taste. This dress showed her curves and made her look amazing. The slits brought out her beautiful legs, and somehow defined her personality. We all know Bonang as the confident and sophisticated lady who is not afraid of stepping out and speaking out. She does not just dress to impress, but she dresses to tell a story. The yellow dress spoke volumes, and it was a perfect blend with her skin color.
Make any outfit more interesting by adding a nice accessory like Refined Red Bag Elegance. This luxurious bag has a sophisticated and timeless look. It is beautifully constructed and appropriate for nearly any occasion. There is also a unique option of getting the red bag with a colourful scarf for only R675.
3. Red dress- Bonang Matheba red carpet dresses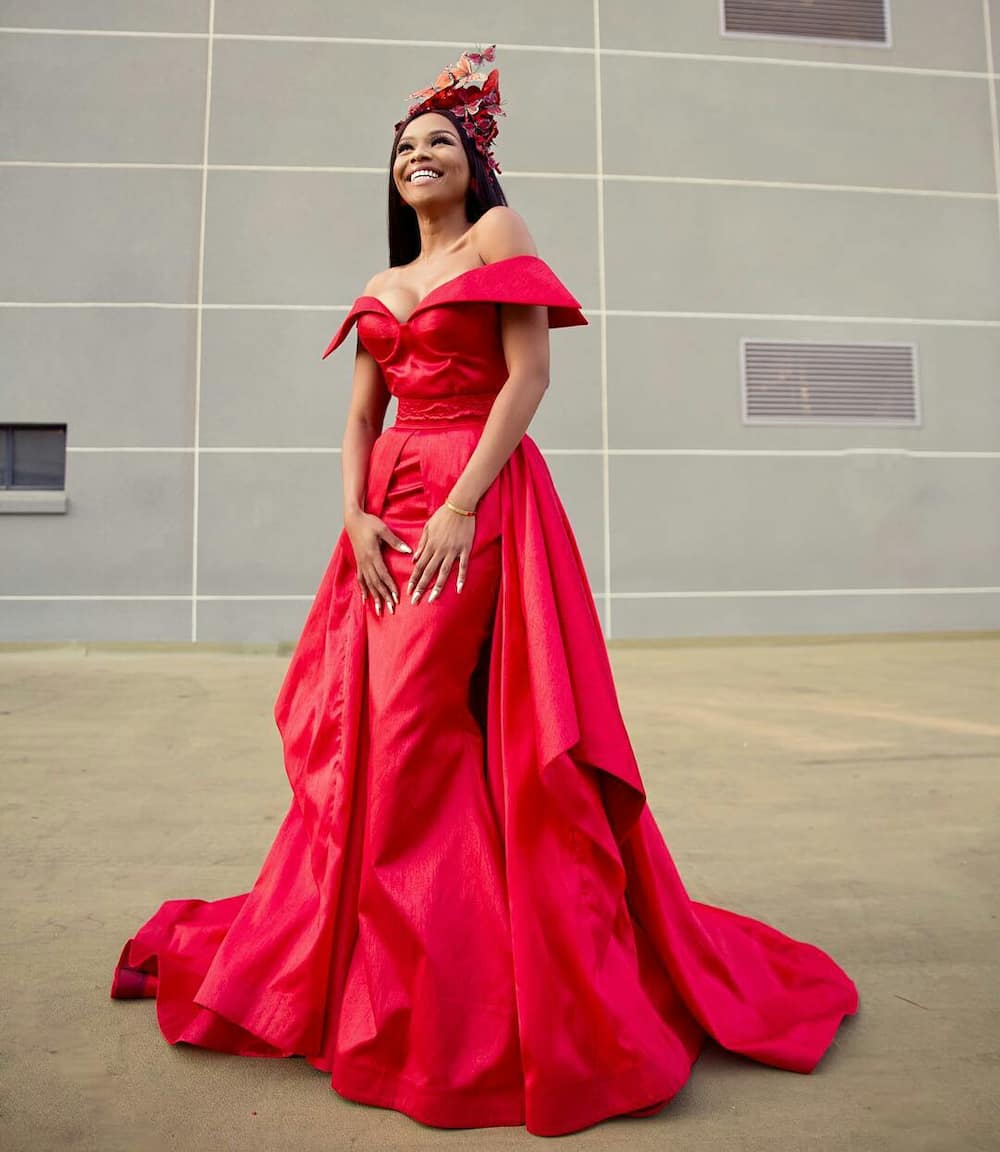 Bonang also put on a red dress in the Miss South Africa awards. The red carpet is very restricted because you have to be cautious with what you wear. The dress has to speak volumes, and it has to complement the event. She posted the photo on Instagram thanking people for turning up for the event. The dress was long, showing a bit of her skin and making her look even more beautiful. She wore pretty heels to compliment her whole outfit and the result was extra fabulous. This dress is part of Bonang Matheba casual style.
4. Grey dress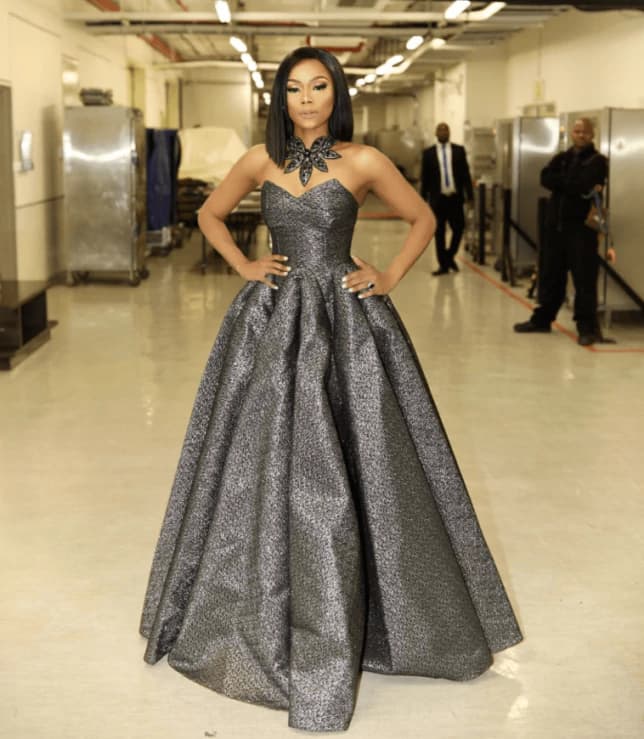 Bonang had announced earlier that she would be giving away three dresses to three lucky girls. However, she did not give up this grey dress. It is one of the best dresses that Queen B has ever worn. The best part is that the dress is done by Zeina Mnabalusi, one of our very own designers with talent. One of the other outstanding features about her is that she knows how to step out and blend the colours well. The grey dress made a fashion statement, and one can wear it to a matric ball.
5. Green dress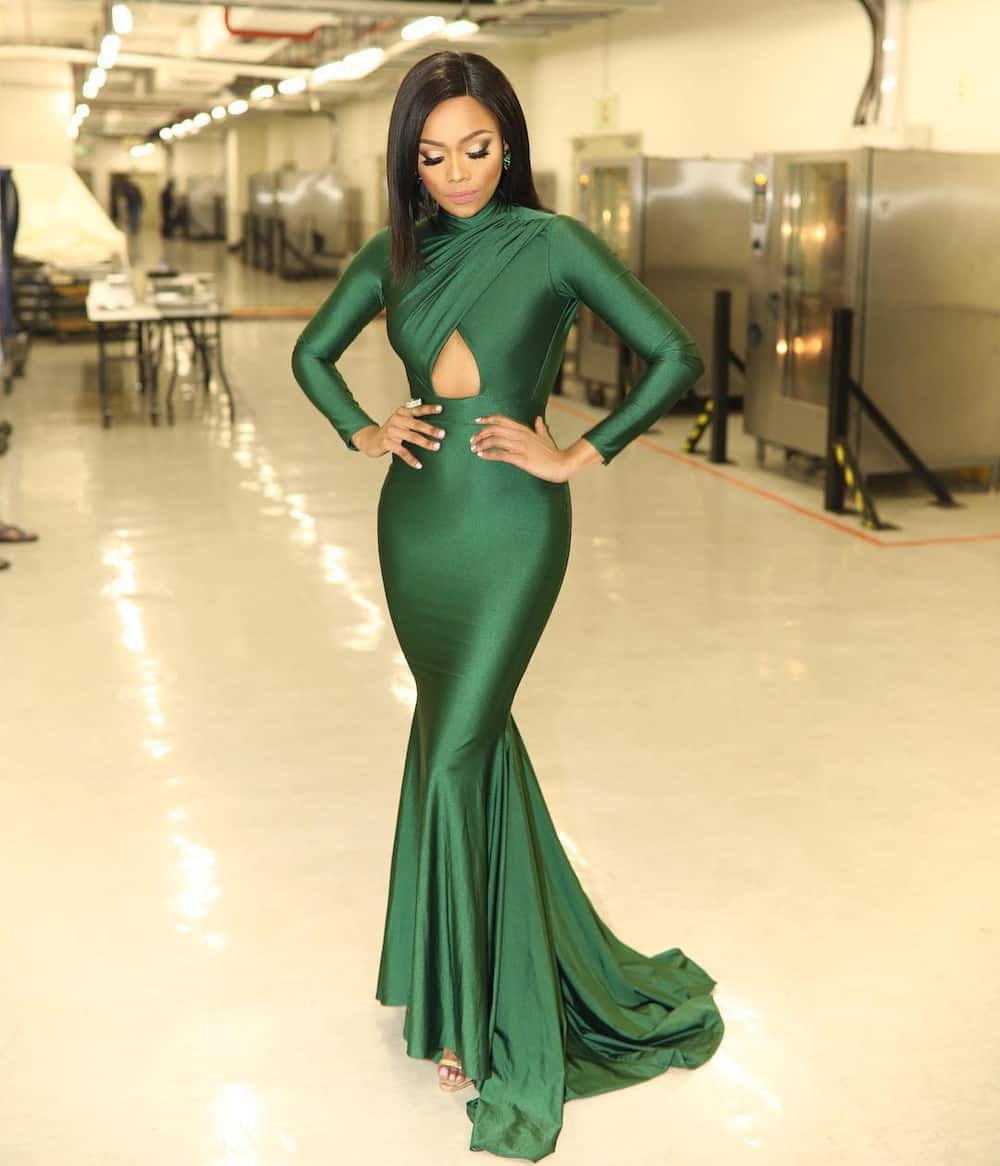 The color of nature is green and not everyone can look amazing in green. However, Bonang did it at the Mzansi Viewers choice awards. She was in a tight green dress that fit her perfectly to expose her mesmerizing curves. We all got to admit that she has the body that every woman craves to have. This dress did more than showing her curves, as it brought out her elegance. She went ahead to point out that she loved the dress, and as usual social media never forgets. That dress blew many people away and many men and women got to appreciate that he is indeed blessed. Bonang dresses are simply outstanding.
6. Birthday party dress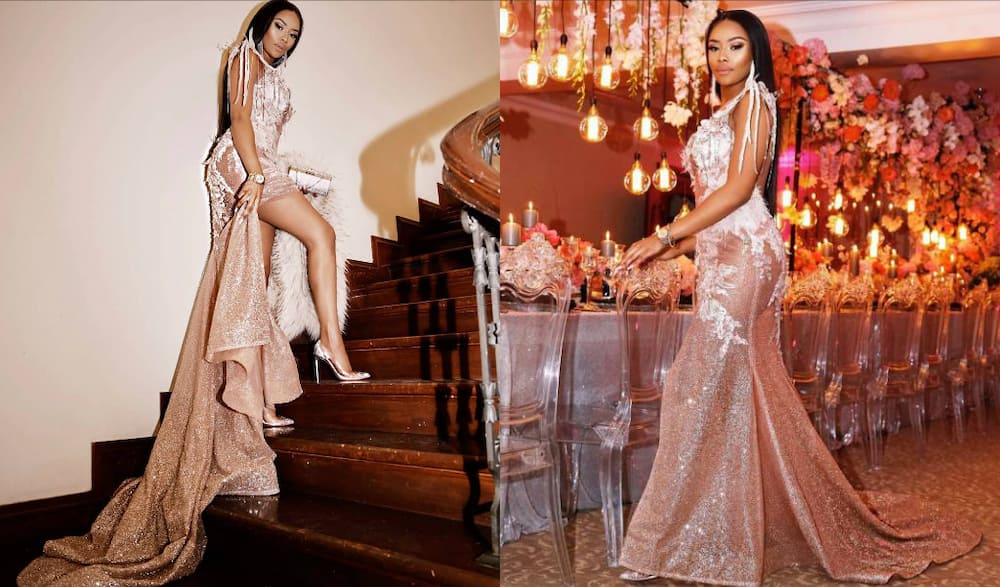 On her 31st birthday, Bonang had to make a fashion statement with the dress that she chose. Bonang was wearing a silver dress that showed her curves all the way. It was long with a tail, and it had a fantastic slit on the front. The dress accompanied a silver purse and silver heels.
7. Floral dress
A floral dress is a requirement for every lady and Bonang is not left behind. This long off-shoulder dress brought out her upper body showing off her small waist and neckline. The floral dress looked amazing on her and it was accompanied by a pair of open heels. This dress is good for an outdoor event, like a wedding or any casual event. It is one of the amazing Bonang Matheba's outfits.
Looking for a personalised gift for a girl? Let your loved one know how important they are with this Personalised Floral Gown. This personalised dressing gown can be worn every day, and it goes only for R810. This cuddly and soft floral gown will help hold onto the meaningful memory for years to come.
8. Animal print dress
Bonang looked outstanding in the beautiful short dress which fitted her body perfectly. She wore it with black stilettos that made her look awesome, and she also had black gloves on. This dress made her look like a courageous woman; whom she is anyway.
9. Black lace dress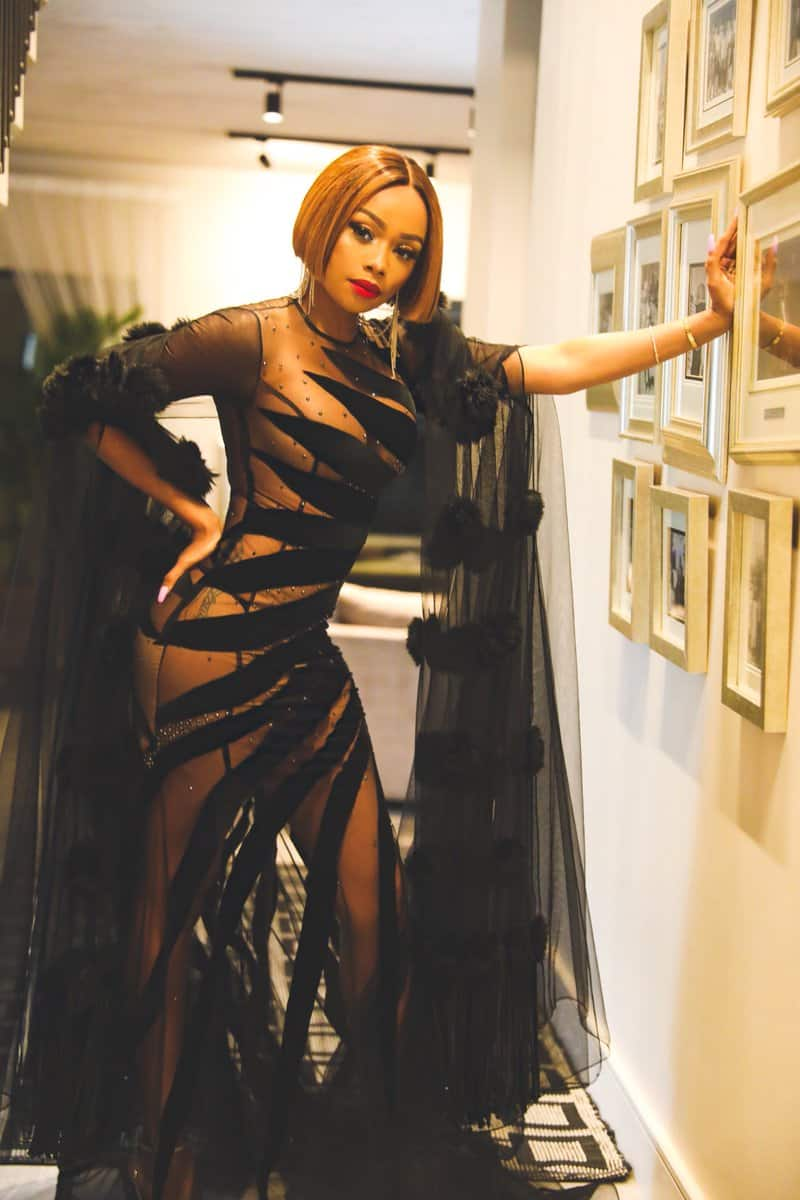 Bonang looked outstanding in this awesome lace dress. The way the dress is made makes her look as if she did not have anything else inside. She wore the black lace dress to a dinner party as she indicated on her Instagram page. She really looked outstanding.
10. The blue hot pant and read top
Bonang is a bold woman and nothing limits her when it comes to fashion and style. Here she wore a hot-pant, a see-through top, and a woolen sweater. It looked like she was ready to go out and have some fan.
Bonang partnered with spree, and right now, she is printing T-shirts, which have helped to advertise her brand. Many fans have fallen for the amazing T-shirts on which it is written: "Give the people what they want." She introduced the line back in 2018, and so far, it is doing well. Bonang Matheba casual style is now a notch higher. It has accomplished to advertise her TV show beingBonang, and it keeps her fans on the lookout for more from her. If you are a Bonang fan, then you got to look out for the next big thing that she will introduce. To check out more of Bonang Matheba casual wear, check her Instagram Bonang Matheba page and borrow some of her fashion tips.
DISCLAIMER: Please note that some of the links in the article are affiliate links and Briefly.co.za will earn a commission if you purchase through those links. However, we always choose only the best quality products that we use ourselves and recommend to our readers. The earnings we get from the affiliate marketing help us continue preparing useful and entertaining content, that our audience enjoys.
READ ALSO:
Bonang Matheba biography
Bonang Matheba car collection 2018
Hottest Bonang Matheba pictures 2018