How to cook Samp and Beans
Samp and Beans is a meal that is relished by most South Africans. Its simple nature means that it is affordable to the lowly, average and high-end consumer. It also means that you do not need a detailed rule book to know how to cook Samp and Beans. Did you know that Samp and Beans were one of Nelson Mandela's favorite meals? Read on to know how to cook this delicious and nutritious meal.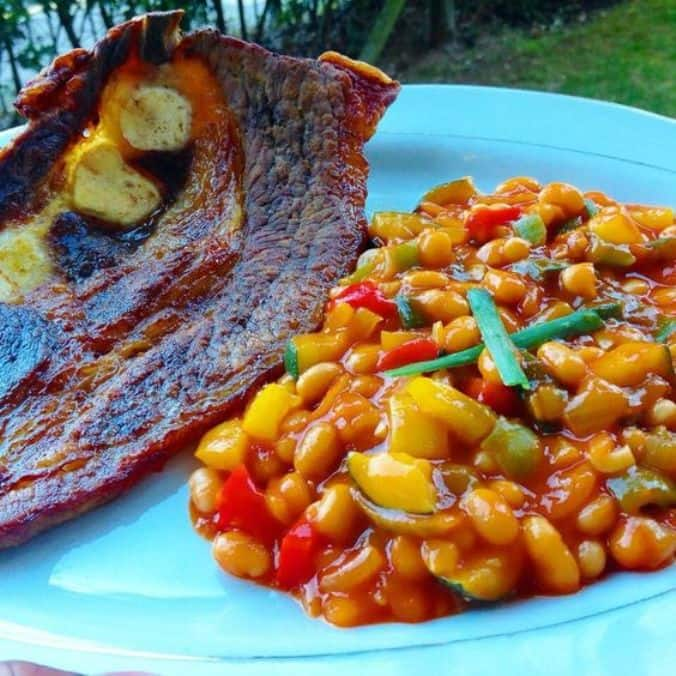 Samp and beans feature among South Africa's most exciting dishes. It is a traditional dish which is prepared from dried maize that has been crushed but not to the finest level. Its variant among the South African Zulu people is referred to as Isistambu. The Xhosa call it umngqusho, while Kenyans know it as Githeri. To save on cooking energy, the process should begin with the overnight soaking of the seeds before you embark on a grueling 3 or more hours of boiling and frying. Read on to learn how various Samp recipes are prepared.
Traditional Samp and Beans - How to cook Samp?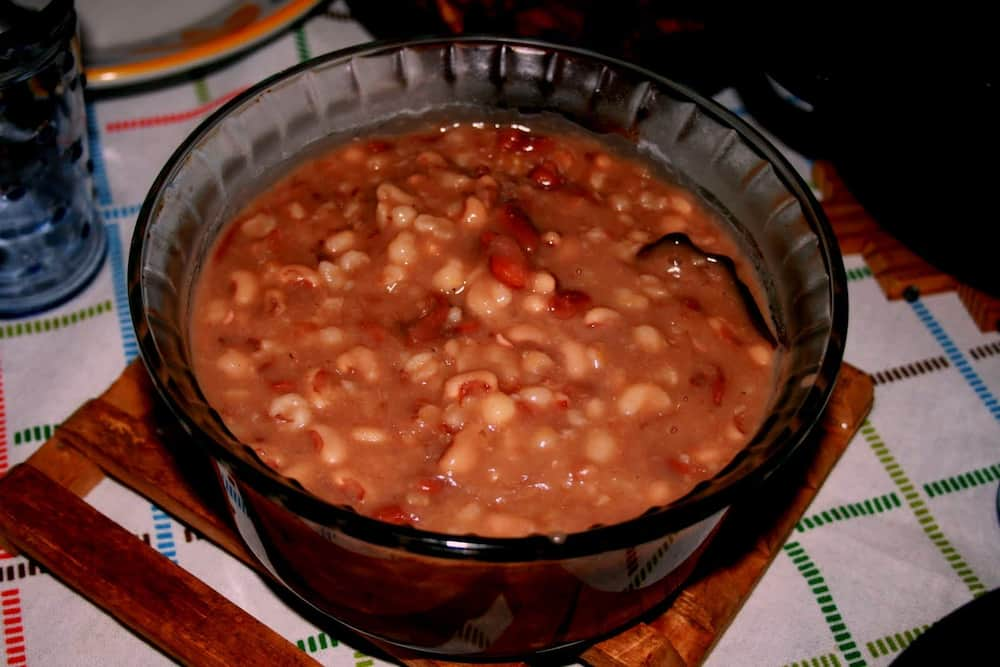 A lot of people know beans quite well, but what is Samp? In simple terms, Samp is coarsely ground corn.
Serves: 4
Ingredients
Soaked 200g of Samp overnight in water
Soaked 200g of sugar beans overnight in water or dried black-eyed beans
Two chicken stock cubes
Salt and Pepper
Extra Virgin Olive oil/butter to taste
Method of preparation
Drain the beans and rinse well.
Drain the Samp and rinse as well.
Place these ingredients in a sizable, heavy-based pressure cooker or saucepan.
Add stock cubes and adequate water. (Water should cover the beans by about 2 or 3 centimeters high)
Do not be in a hurry to add salt. This may prevent the beans from softening.
Cover using a lid and let it cook for approximately 3 hours.
Top up water when necessary.
A pressure cooker will only require 30 minutes at most.
Drain and then mix in the butter/olive oil once the beans have softened.
Add salt and pepper for a better taste and serve with curry or stew.
Samp and Beans soup recipe with meat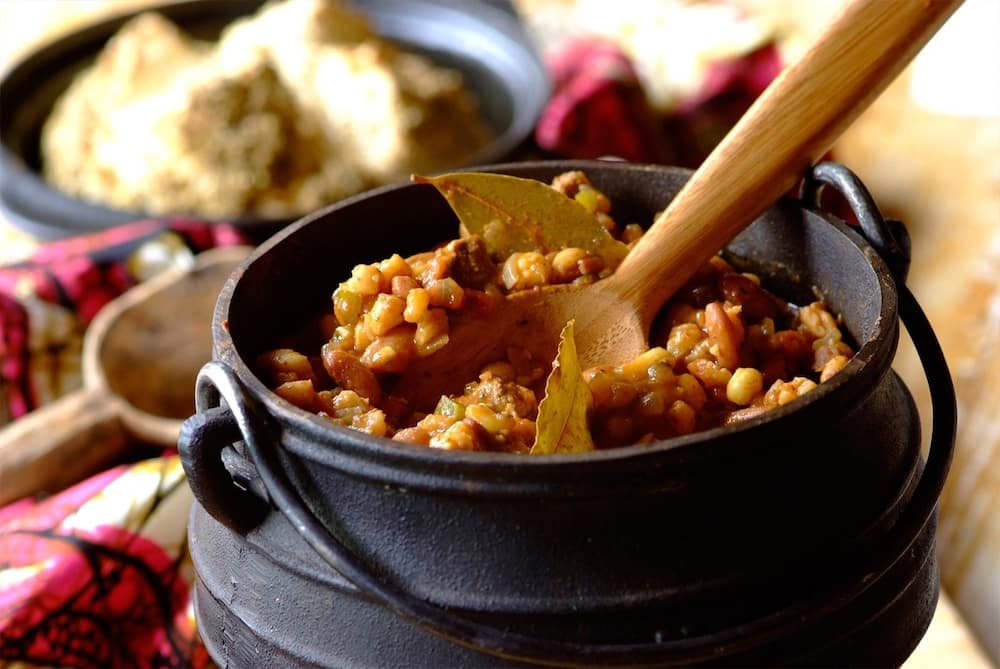 Serving: 8
Time: 1.5 hours
Ingredients
500 grams of beans and Samp
Two chopped onions
750 ml of beef stock
Six curry leaves (dried)
30 grams of mild curry powder
One finely chopped green pepper
Five crushed garlic cloves
30 ml of oil
400 grams of tomatoes (chopped)
Ground black pepper and salt
Two bay leaves
30 grams of masala (for breyani)
500 grams of stewing beef
Method of preparation
Soak the beans and Samp at least 12 hours earlier.
Rinse and place them in a pressure cooker or a pot.
Add in water, 2-3 cm above the contents.
Pressure cook for about 30 min or until the Samp and bean mixture is soft.
Drain the water and season with salt.
Keep it aside for now.
In the cast iron pot, heat the oil and brown the beef in bits.
Remove these using the slotted spoon and put aside.
Sauté the green pepper, onions, and garlic in oil until well softened.
Add your spices and cook for a minute and a half because it draws out the flavor.
Add the cooked Samp, browned meat, and tomatoes.
To taste, adjust the seasoning.
Add 500 ml of stock and then stir well and cover.
Allow them to simmer for 45 minutes.
In case the mixture becomes too dry, add more stock.
Samp and Beans with beef and veggies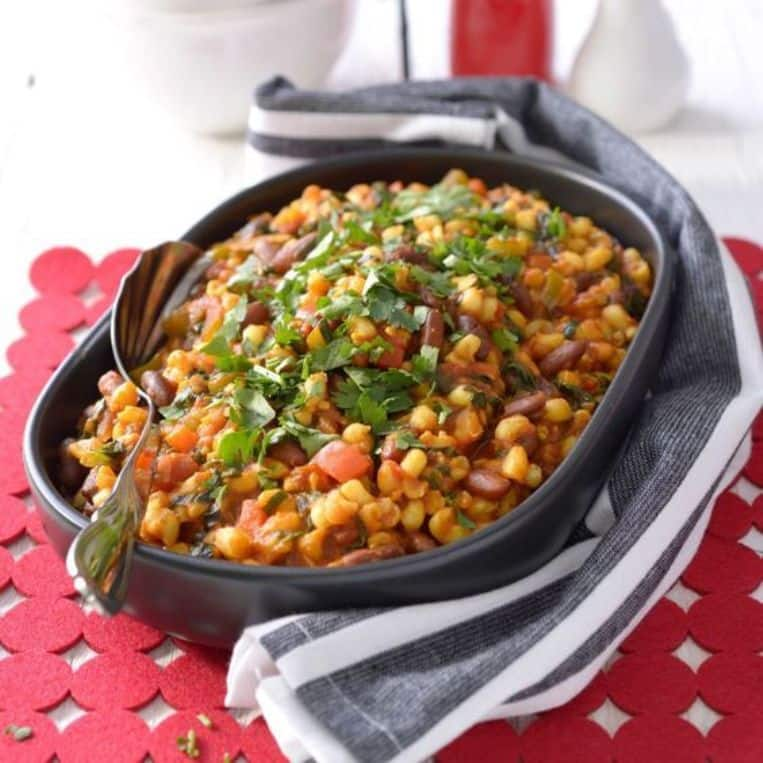 Serves: 8
Ingredients
One cup of sugar beans
One cup of Samp
One tablespoon of seasoning salt
2 kilograms of beef
¼ cup of olive oil
Two sizable onions
1/3 of green pepper
Two tablespoons of coriander powder
One tablespoon of cinnamon
Four beef stock cubes
One potato
One cup of veggies (broccoli, green beans, baby marrow and carrot)
One squash – yellow button
Method of preparation
Separately, soak the Samp and beans in water overnight.
Cook the beans and Samp separately for over 3 hours (Until soft enough). Just add a little salt since you will add spices as well.
Cut the beef in small pieces, sprinkle some salt and boil it for approximately 45 minutes.
Heat the oil in another pot.
Meanwhile, chop the squash, pepper, potato, and onions into small pieces.
Add the above ingredients to the oil and sauté until they turn almost golden brown.
Transfer the meat from the boiling pot to the ingredient mix.
Add cinnamon, coriander, and two beef stocks.
Place a lid over the pot and allow them to simmer on medium heat. Stir at close intervals.
Once your meat is well cooked, add the veggies and allow them to simmer until the veggies are well cooked.
Mix your beans and Samp, and then add two beef stock cubes.
Keep boiling them for approximately twenty minutes, and then add the beef mixture to the Samp.
Stir until everything is well combined.
READ ALSO: Easy butternut soup with cream recipe South Africa
Samp and Beans with a fresh Chakalaka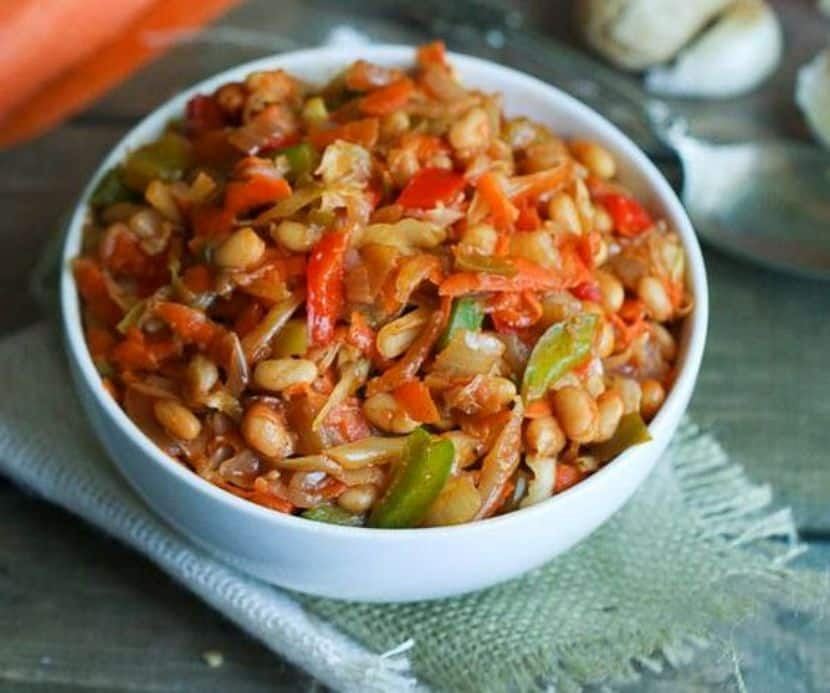 Serves: 6
Ingredients
One cup of samp (dried and chopped corn kernels)
One cup of dried sugar beans
Two teaspoonfuls of Westfalia Avacado oil (garlic flavored)
500 grams of stewing lamb (You can also use cubed boneless beef )
One chopped large onion
Two chopped celery stalks with leaves
Four halved and sliced carrots
Three coarsely grated baby marrows
300 grams of coarsely grated butternut
Two teaspoons of coriander (ground)
Four teaspoons of Paprika
One bay leaf
Three cups of chicken stock
1 cup of strong Rooibos tea
Two 410g tins of tomatoes (chopped)
Two tablespoons of freshly chopped rosemary and origanum
Salt and pepper
Fresh Chakalaka (relish)
Two cubed avocados
Two cubed ripe tomatoes
Four teaspoons of freshly grated ginger
One cubed and seeded red pepper
Two tablespoons freshly chopped Italian parsley
Two tablespoons of lemon juice
Method of preparation
Separately soak your samp and beans in cold water overnight.
Drain and rinse.
Heat oil in a sizable pot and fry the meat evenly until it is golden brown.
Add celery and onions, and sauté until soft.
Add butternut, carrots, baby marrows and spices, and sauté to give aroma.
Add meat, tea, stock, and beans. Let it boil and then reduce the heat.
Cover and allow them to simmer for two and a half hours. Ensure that the meat, samp, and beans are tender enough.
Add the herbs and tomatoes and allow them to simmer for about twenty minutes.
Season to taste.
Fresh Chakalaka
Mix all the ingredients well, season to taste and then serve spoonfuls with the main meal (Samp and Beans).
Hot Chicken, Samp, and beans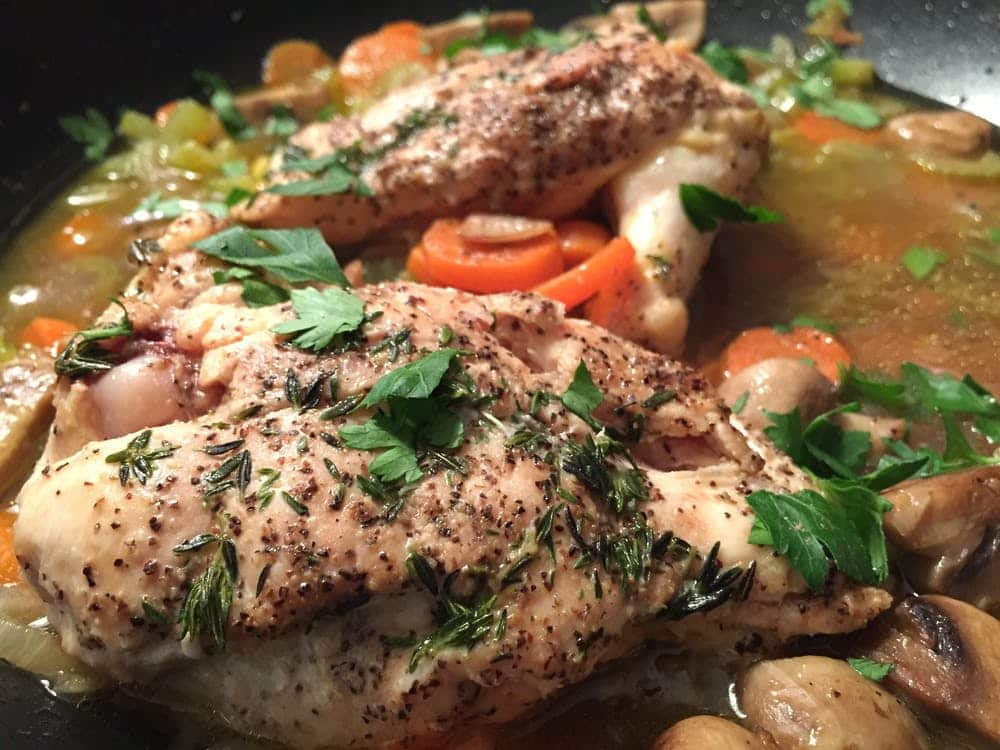 Time: 1 hr
Ingredients
One cup of sugar beans (add two tablespoons of brown sugar and some salt and boil until tender)
One sliced onion
Two chilies
Several stems of thyme
One and a half chicken pieces
One teaspoon of dhanya powder
Half a teaspoon of turmeric
5 Cinnamon sticks
One star anise
A half teaspoon of jeera seeds
Two cloves
Two teaspoons of course salt
One cup of chopped coriander
250 ml of cooking oil
One cup of Samp (boiled until tender)
Two skinned and chopped tomatoes
Fifteen curry leaves
One tablespoon of crushed garlic
One teaspoon of jeera powder
One teaspoon of garam masala
One tablespoon of hot chili
2 bay leaf
One black elachi
One pinch of soomph
Black pepper to taste
Two teaspoons of Amina's butter chicken paste
One tablespoon of Rama Margarine
Method of preparation
Heat the oil in a sizable pot.
Fry the spices, thyme, and onions. The onions should fry soft.
Add the chili powder and stir shortly.
Add the crushed garlic, black pepper, tomatoes, salt, garlic, and Amina's paste. Fry them until your tomatoes are soft.
Add in your chicken pieces (without water).
Stir well and cook for over twenty minutes.
Stir now and then.
Add in the beans and Samp and stir well.
Cover and then lower the heat and cook for about 30 minutes (Stir at reasonable intervals).
Add in the Rama margarine and stir well.
Garnish with coriander, and allow them to simmer for five minutes before serving.
South African Samp and Beans (Umngqusho)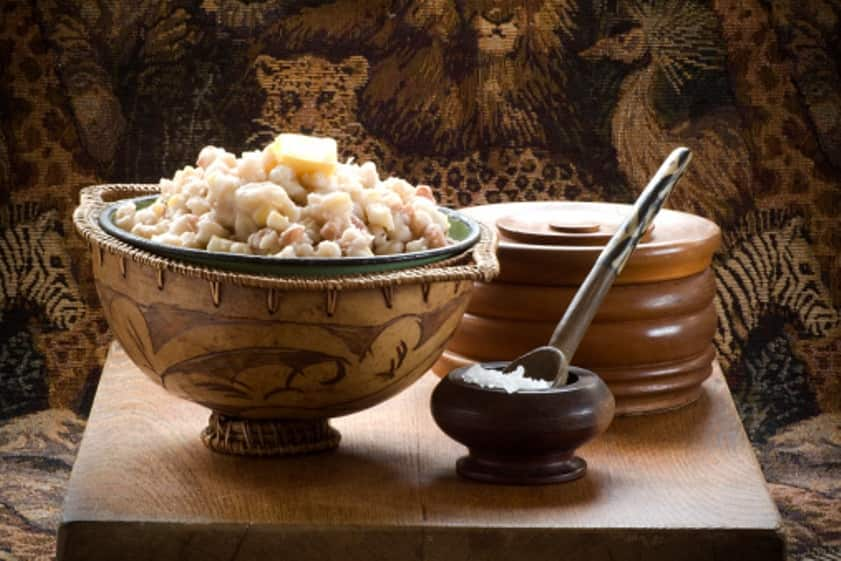 Ingredients
Two cups of cracked hominy (Samp)
Three cups of pinto beans or sugar beans
One onion
Three potatoes
One large tomato
Three tablespoons of canola oil
Salt
Two vegetable bouillon cube
Three tsp of curry powder
Method of preparation
Soak the Samp and beans overnight.
Put them in a sizable pot and add in about 7 cups of water.
Cook until they are soft enough. Check after every 30 minutes to ensure that there is enough water.
Once the Samp and beans are soft, drain off some of the water.
Add in everything else, i.e. Spices, oil, vegetables, salt, and seasonings.
Use at least 30 minutes to cook this mixture until the beans are soft.
READ ALSO: Best butternut soup recipe South Africa
Samp, Beans, and Mutton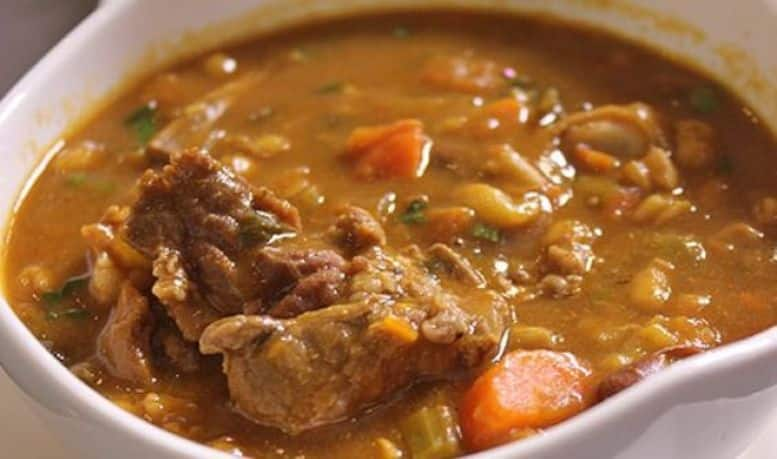 Ingredients
One kilogram of mutton pieces (chopped)
One cup of dry samp (Must have been cooked with a teaspoon of turmeric powder. It must also have the slight hardness to bite)
¾ cup of dry sugar beans (boiled)
One finely chopped onion
Three teaspoons of cooking oil
Spices to add
Three cardamom pods
Two teaspoons of yellow mustard seeds
One teaspoon of fennel seeds
One teaspoon of cumin seeds
One teaspoon of coriander fine powder
Three teaspoons of masala powder
One cinnamon stick
Two teaspoons of chili powder
Four grated garlic cloves
Four grated tomatoes
Two teaspoons of salt
Freshly grated ginger-3cm
Method of preparation
Fry your onion until translucent.
Add in all the spices including ginger and garlic.
Fry for five minutes to release all the flavors.
Add in the pieces of mutton and brown them.
Add in the grated tomato and allow them to simmer for about twenty minutes.
Take two cups of the water extracted from the boiled Samp and beans and add them in.
Let it simmer until it is thick (You are making some delicious tomato chutney right there)
Add in the beans and Samp and heat it for almost 15 minutes.
Season and serve with fresh coriander.
Samp and beans recipes are quite versatile. With a little more research, you may find many more ingredients (like tripe) that can fit in to give you a different and even better meal. Now that you know how to cook Samp and beans, use this guide, and you will for sure marvel at the fruits of your creativity.
READ ALSO:
How to cook rice
How to cook prawns in South Africa
How to cook Eisbein in a slow cooker
Best Potjiekos recipes chicken South Africa
Source: Briefly News