Best goodnight my love messages, wishes and quotes
Have you ever thought of keeping your loved one awake or thinking about you all night because of the passion of your love that burns in his or her heart? If yes, that is fine; but if not, then you have got some work to do. But how do you achieve that? Simply, send him or her a special good night my love message and he or she will keep your thoughts at heart all night. Therefore, to help you accomplish that, these romantic messages have been compiled to inspire you to create your own message and send it to your sweetheart.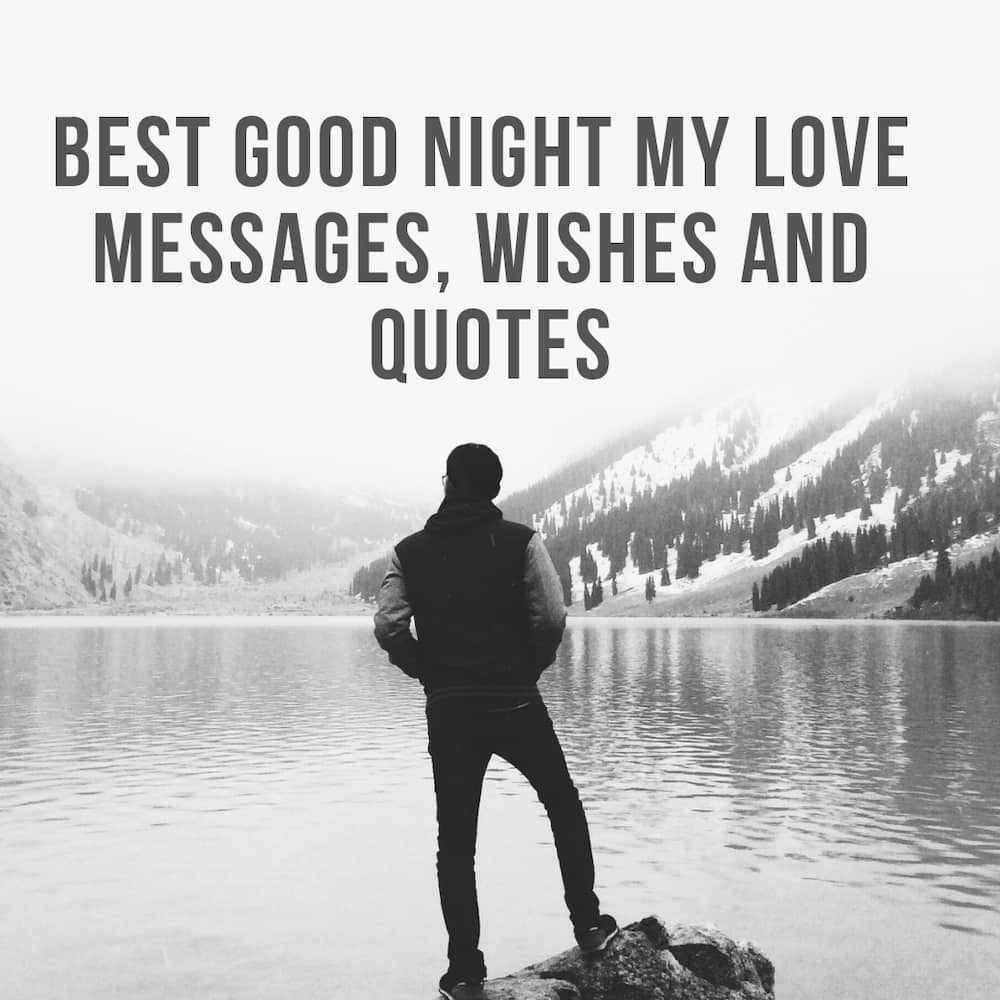 No matter how long the time you spend with the one you love in the day time, there is a part of you that will always long to keep him or her with you without letting go. So, after you have departed or talked over the phone, it will make a lot of sen
se to end the day with him or her thinking about you for the rest of the nighttime. Check through the following messages to keep your spouse busy with your thoughts.
Goodnight my love quotes
Never underrate the power of words because they can achieve more than you think. Here are some romantic goodnight messages that you can send to your special one and you will keep him or her thinking and even dreaming about you all night.
READ ALSO: 10 best Nollywood movies of all time
As you retire to bed, I just want to let you know that someone special out there is really thinking about you. Have a beautiful rest my dear and enjoy a sweet dream.
The part of the day that I love most is the morning while the part that I hate the most is the night time. You know why? When I wake in the morning, I know it gives me another opportunity to see my love and to be around her, but when the night time comes and I remember how I will have to let you go, I feel bad. But then, I just have to say goodnight my sweetheart. I miss you.
If the time can be held down or slowed so that it does not tick fast, I'd gladly do so that I could enjoy some more special intimate moments with you. I will really miss you.
When the day dawns, it is just as if the night should not come and when the night time comes, my best prayer then is for the day to breakfast so that I could be with the one that my heart truly loves. Sweet dreams honey. I love you.
For every night that you have calmed me to sleep with your voice that sounds like that an angel, and for every morning that you have ensured that I wake up to your tender embrace, I just want to say thank you my angel.
What a king without a queen and what is a hat without a head that will put it on? What is me without you? The love of my heart and the queen that perfects my palace, even in the dark hours of the night, your radiance shines brighter than the stars. I just want to let you know that I miss you. Have a pleasant night rest!
Oh! How I wish that the moon would be so bright and full tonight so that it could give you just the right dream and get you ready for the days when we both would be together forever. As you go to bed, the only thoughts that should feel your heart are the thoughts of the pleasant moments that we have shared and the beautiful days that lie ahead of us. Sweet dreams.
Wow! Another day has just gone in the twinkling of an eye. Well, I am not surprised and that is because a thousand hours spent with you are just like a minute. Thank you for filling my day with fun and moments of joy, and thank you for the inspiring moments that you brought to me today.
A perfect match is exactly who you are. You are second to none. I cannot imagine how much impact you have made in my life within the shortest time that you have come in. You are a bundle of inspirations wrapped up in a human container and delivered to me by the Creator. Thank you for everything that you have done for me.
On several occasions, I had tried and felt like giving up until you came into my life. Loving you has been the strength that kept me going while knowing that you are around me.
Good night message to my sweetheart
What do you say in a goodnight text? Anytime you want to send a goodnight message to your loved one, you need to carefully choose your words and also make sure that whatever words you are using are such that can tickle your partner or invoke his or her emotion to a level that he or she cannot help but think or dream about you all night. Check out these messages below to help your creativity.
The sensation of your gentle touch and sweet voice are like water that quenches every thirst. Since the day that I met you, I knew that I had found true love, and every moment we have shared together has kept emphasising that to me. Goodnight!
Whenever I look around me and find no one to help; when I look around me and hear no voice to cheer me up; and whenever I am in my lonely times, remembering you gives me joy while feeling your sensational touch keeps me warm. With these, I am able to move on in life with confidence. I miss you baby. Enjoy the best of your rest.
When I wake up and feel the breeze in the morning as it blows on my face, I always remember you. When I look into the sky, I think about you. The sun that rises and shines on my skin, the birds that sing softly on the trees and everything that God made reminds that there is no other love except for yours and that you are all that makes a complete world. For me, the night time gets filled with loneliness which is why I am always looking forward to a new day. I miss you.
The world may end, I do not care. The only thing that I never pray to end is our love. Have a beautiful night rest.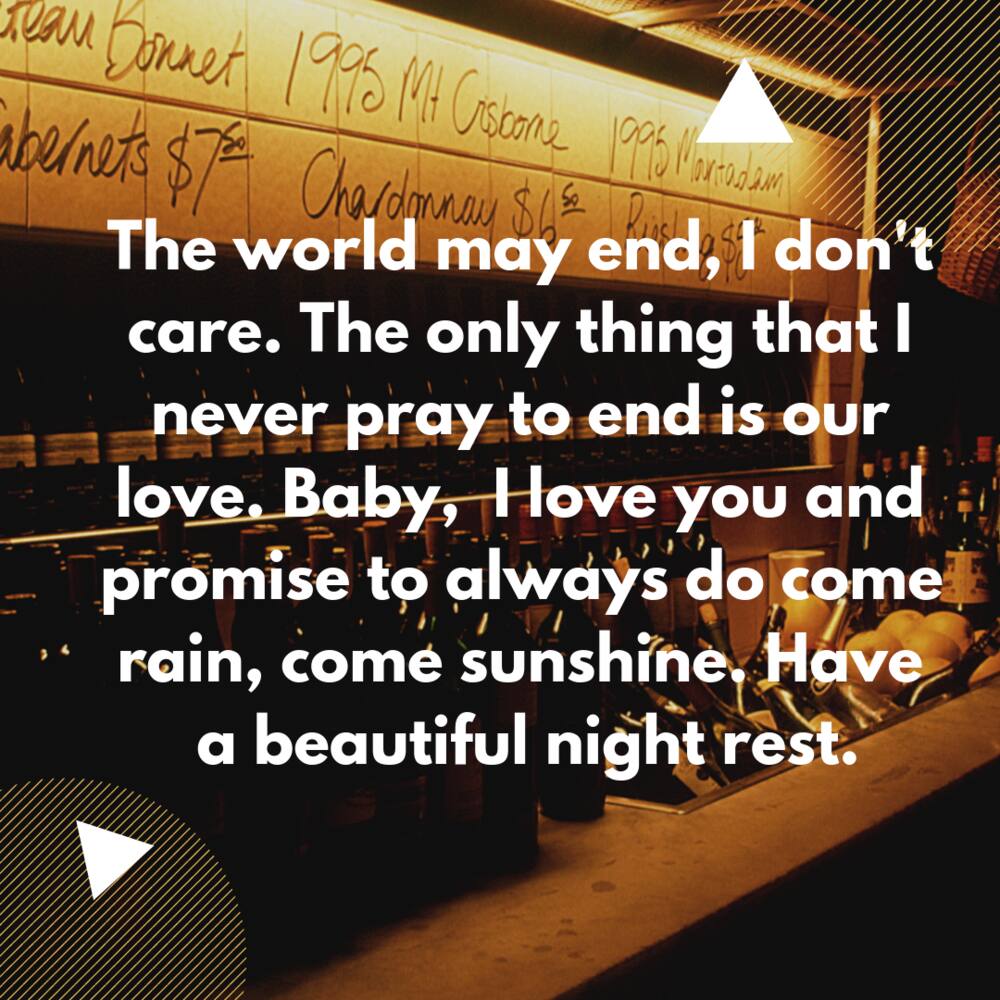 We may not be able to determine where we come from but everyone has the power to determine where he or she goes from there. My determination to be with you always over the years have never shaken for once between you are simply the perfection of every decision I could ever make. Thank you for loving me. Have a pleasant rest!
Apart from God, you are the next most important person in my life. Finding you is finding life and having you is having peace. I just wonder what would have become of me if you were not there for me. I will miss you again tonight my angel. Sweet dreams.
Real security is not about having the strongest men to watch over one but knowing that one's heart is in safe hands. With that, I think I can sleep with every form of optimism. Good night.
Good love, they say, is having someone who quenches your thirst with a drink of water and gives you a soothing pat on top of your head. But I have come to understand that good love is about one who fires you up and gets you going despite the hurdles. You are indeed one in a million. Have a peaceful rest and dream about me.
The best way to end a day is to convey one's love to the one that matters most to him or her. As I retire to bed, it is great hanging out with you today. Pleasant rest my heart.
READ ALSO: 50 best birthday wishes and quotes for 2019
Good night my dear love
It does not really matter whether you and your loved one are far apart for a long time or for a while, what matters is how well you are able to imprint your love in his or her heart so that at every minute of the day, he or she is always thinking about you. One of the ways that you can achieve that is by sending a sweet message that will trigger his or her emotion. And guess what? Sending messages like that at night before bedtime can make him or her thinking about you all through the night. Check these ones out.
I wish you can feel the tenderness of my touch and the warmness of my hugs as I cuddle you in my imagination. I wish you the best of night rest my dearest baby.
Just before I close my eyes and travel to the world of the unknown, I just want to let you know how desperately I am thinking about you. I miss you love. Have a terrific rest my dear love.
I am confident that no matter how long I wait, someday my dream of having you beside me while I rest my head on your chest will come true. Sweet dreams until then my love!
With your eyes closed and your mind cleared, I like you to pay rapt attention as the stars in the sky take their places to wish you a beautiful sweet sleep my sweetheart. Dream about me.
We may be miles apart so that I cannot feel your gentle touch and your warm embrace, but I am so sure that you are reading this message with a smile on your face and my love in your heart. I am looking forward to seeing you again my baby. Have a beautiful night rest.
The more I love you, the more I want to love you; and the more I want to love you, the more I want to be with you. I do hope that my love with you is so real that when you wake up, you will keep wondering if you are dreaming or you are actually awake.
It is now that I have come to appreciate the power of imagination. Although you are not with me, I can imagine those beautiful eyes of your reading this and your soft skin glowing in the light of your phone while your hair gently lies on your skin. Have you beautiful rest my dear love.
To the only person who beautifies my world and makes me complete, I am sending this beautiful shout out on this special night as you enjoy a beautiful night rest. Sweet dreams my dearly beloved baby.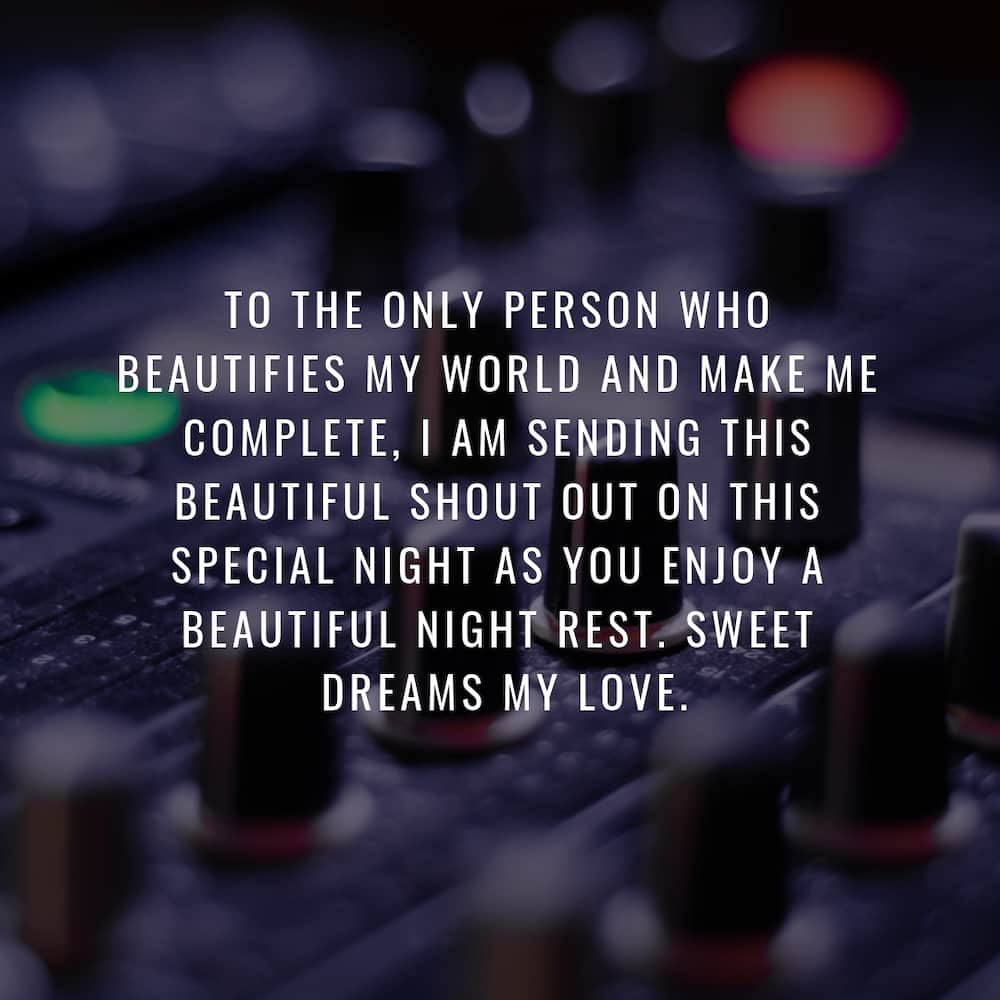 Funny goodnight messages
Put a smile on your partner's face by sending him or her a jocular message such as he or she would not stop thinking about you. Here are some of such messages to keep you creative.
Why waste your time thinking about what is past when you cannot change them, and the future when you can not fully determine what will become of it? Instead, take some out to kill those naughty mosquitoes parading themselves around you so that you can enjoy a beautiful night rest. Have a peaceful sleep.
Oouch! My back aches because I fell while I was trying to reach forth to my phone just to wish my love a pleasant night rest. Sleep tight.
If it were possible for everyone to determine what he or she becomes as he or she comes into the world, I would have loved to be an SMS. You know why? It is so that I can get through to you in seconds. At least, while you read me, I would be able to see your soft and innocent smile which, to me, is worth more than millions. Enjoy your sleep.
The reason why we have every night is that there is another day that is about to dawn. Now, I can rest assured since every new day unveils the new dimension of my love for you.
Are you in bed now? I would like you to do just one last thing for me before you finally sleep. Peep through your window and look into the sky. Can you see the brightest star? That's me saying have a pleasant sleep my unique baby.
Hold your phone as tight as you can because this text message that you are reading now is a hug from me to you in disguise. I wish you sweet rest honey.
ABCDEFGHJKLOPQRSTVWXYZ...Did you notice some letters missing at all? I, M and U right? Never mind, they only mean "I miss U". Sweet dreams
No matter how much you turn off the light and how many clothes that you use to cover yourself, they only point to one fact and that is, in your night time, I am still there with you. Also, as much as you cover yourself, it only helps to keep my love in your heart more secured.
Having gone through these beautiful goodnight my love messages, I hope you find them interesting and worth sharing with your spouse.
READ ALSO: Who is Simon Cowell wife? Her name, age, son, net worth and pics
Source: Briefly News