11 most deranged South African serial killers of all time
Popular South African serial killers are known for their extra barbarous and brutal crimes. South Africa is one of the countries with a high rate of violent crimes, especially in specific rural areas. One of the major reasons emigrants have departed from the country is the high crime rates. Some believe that the prevalence of serial murders is caused by a less robust economy, weak infrastructure, crowding, and rapid urbanization.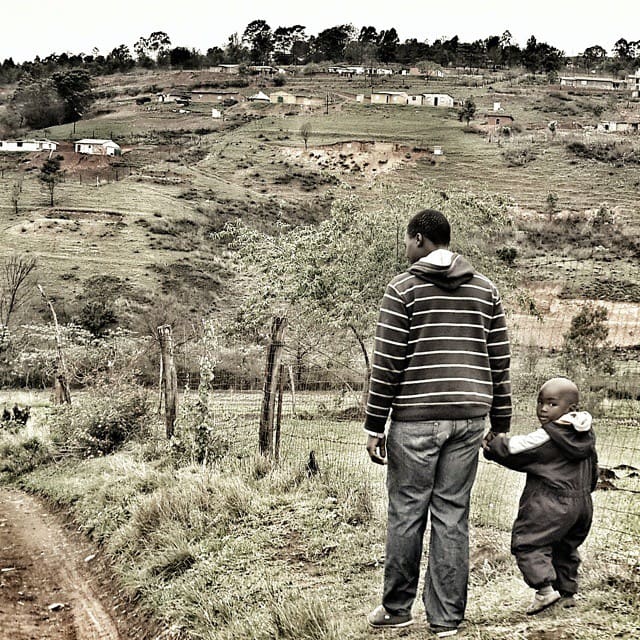 Children run a large number of households in the rural parts of SA. This is as a result of abandonment or death of parents. Thousands live in poorly developed towns where rape and murder are nothing new. Just like most other countries have ruthless criminals, South Africa has its list of worst serial killers to date.
Who are the most ruthless South African serial killers?
There are a couple of men who have committed the most brutal murders in South Africa. Who are they?
Cedric Maake
Born in 1965, Maoupa Cedric Maake stood out from most other killers as he had no weapons or victim preferences. People of any race, age, and sex were suitable for him as long as he could rape, mutilate, and kill them. He is popularly known as the Wemmer Pan Killer as it was this part of Johannesburg in which he attacked most of his victims between 1996 and 1997.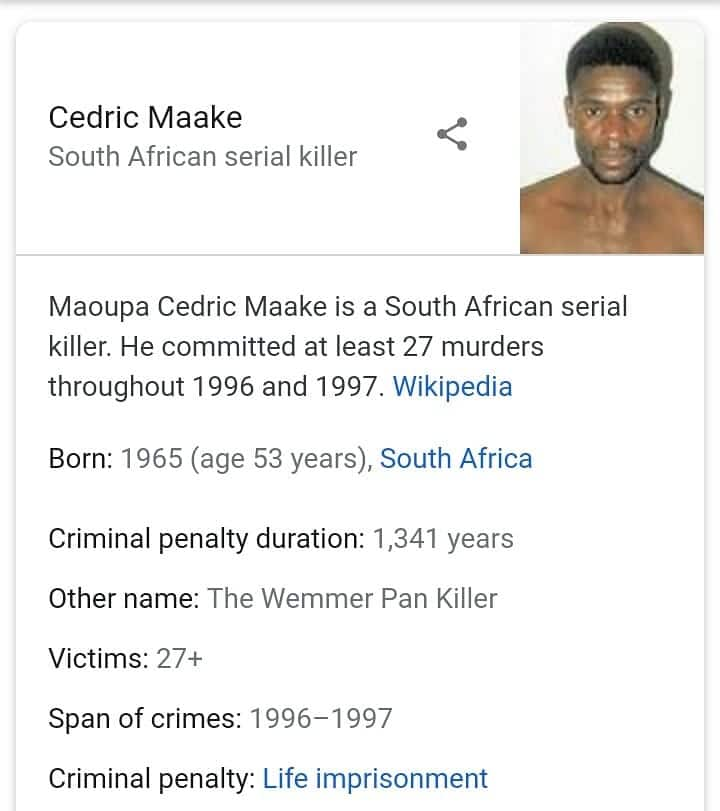 Cedric began his cruel acts by robbing taxi drivers and shop owners, whereafter he would ruthlessly beat them to death. He then started attacking couples where he would murder the men as the women watched. He would then rape the women and kill them after he was done.
Initially, the police thought that two separate people were making the killings. After thorough investigations, they realized that it was one killer all through. During his trial, he pleaded not guilty. Luckily, surviving female victims emerged and testified against him.
Cedric's behaviour in court was outrageous, as he would scream and cry in a manner that caused distress. He even threatened the female state prosecutor, claiming that he would rape and kill her just as he did to other victims.
Eventually, he was convicted of 14 rapes, 26 attempted murders, 27 murders, 41 robberies, and the unlawful possession of ammunition and firearms. He was declared guilty of 114 of 134 charges and sentenced for a total of 1,340 years behind bars.
Elias Xitavhudzi
In the 1950s, Elias killed at least 16 men and women in Atteridgeville, South Africa. His victims were only white people, and this caused much distress during the peak years of apartheid.
Before his capture, he had received the nickname 'Pangaman,' which is a local word for a long broad-bladed knife or machete. This was the item he used to murder his victims. Following his capture and conviction, he was hanged to death on November 14th, 1960.
Jimmy Maketta
Also known as the 'Jesus Killer', Maketta is described as an unremorseful psychopath. During his younger years, he frequently got into fights with others, set things on fire, escaped home, and even got involved in bestiality.
When living in the streets, he got a tattoo of the name 'Jesus' on his upper lip. This was the characteristic that surviving victims would remember when asked to describe their attacker.
Before attacking his victims in Philippi, Cape Town, he would first stalk them, mostly sitting on a hill so that he could get a clear view of the farm laborers' local houses and farms. When darkness would kick in, he would attack his targets, raping and killing them using an axe or hammer. Their bodies were thrown in dams.
Maketta was captured after his phone was collected at a crime scene. He wrote letters to his family, where he would confess to murders and rape in detail. He was found guilty of 47 charges, including 19 counts of rape and 16 murders. Five of his victims were between 60 and 70. Jimmy will be eligible for parole in 2031.
Jack Mogale
Better known as the West-End Serial Killer, Mogale managed to lure his victims by claiming that he was a Zion Christian prophet and preacher. Through his false title, he was able to entice women and take them to the West-End brick and clay factory. This was close to his home in Westonaria, South of Johannesburg. Upon arrival, he would rape and kill them.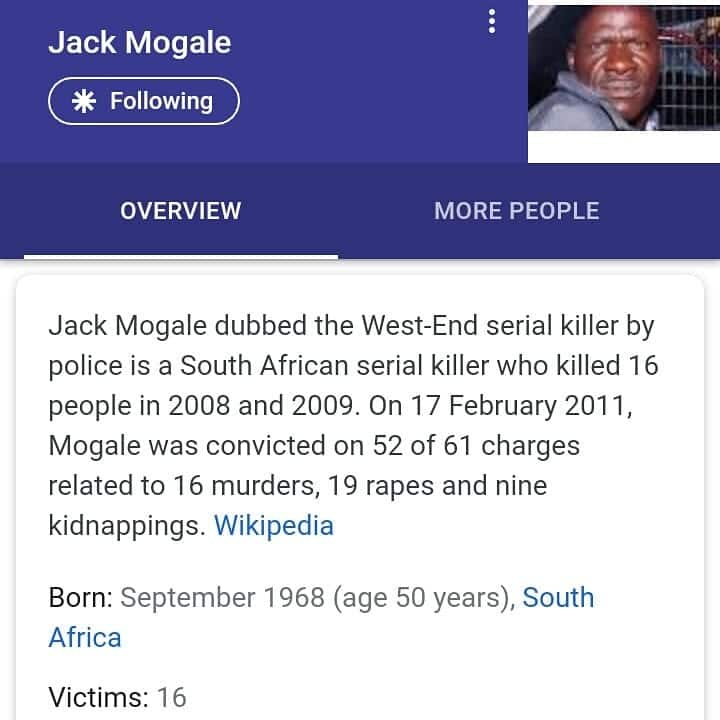 Luckily, two women were able to survive the terrifying encounter with the murderer. One of them testified that he offered her a ride and was prophesying over her on their journey. He then drove to an isolated place where he ruthlessly attacked her. Victims were linked to him from this location and his tactics of murder, which were either beating to death or strangling.
Jack Mogale was convicted of 52 charges on February 17, 2011. This followed the ruling of 16 life sentences in prison without the possibility of parole.
Moses Sithole
While in his 20's, Sithole began sexually abusing women. After being arrested and sent to jail, other inmates began sexually abusing him as well. He was released in 1994, and this is when his reign of terror began.
He told his victims that he was a businessman who would assist them in seeking employment. He would then take them to a secluded place where he would rape and strangle them. There are times when he would ring the victim's family. In less than one year, he had already committed 30 murders.
Sithole committed his wicked deeds in one area, so the bodies of the dead women were only meters from each other. One of the women's 2-year-old son's body was found lying a few meters from hers. He had died from thirst and hunger.
On December 5th, 1997, he was sentenced to a total of 2,410 years imprisonment. The ruling resulted from the judgment made stating he would serve five years imprisonment for each of the six robberies, 12 years for each of the 40 rapes, and 50 years for each of the 38 women he had murdered. On admission to prison, Sithole was discovered to have contracted HIV.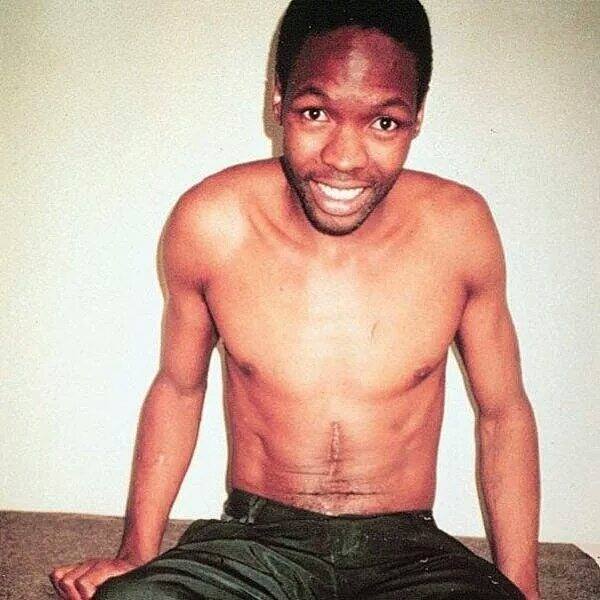 Elifasi Msomi
The Zulu people of South Africa believe in the existence of Tokoloshe. This is a tiny, evil-spirited, hairy, half-animal/half-human. If one were to meet him and look in his eyes, he/she would die at that moment. Additionally, no man can refuse to grant him his wishes. If one commits robbery, rape, or murder, and can convince the community that it is the Tokoloshe that made him do it, the offense may be overlooked.
Elifasi was a weak sangoma(medicine man). While seeking the guidance of another sangoma, he claimed to have been possessed by a Tokoloshe. In this state of possession, he went on an 18-month killing spree.
His first crime was raping and killing a young girl in the presence of his mistress. As she called the police, he managed to escape. After mutilating and murdering five children, he was caught but still managed to escape. Since body parts are necessary for most sangoma treatments, it was suspected that he would sell them to obtain financial gains.
After escaping, he managed to stay in the loose for one month before being captured. In his trial, he claimed to be innocent as it was the Tokoloshe's doings. However, two psychologists refused to believe him as they claimed that he got sexual gratification from inflicting pain. Eventually, he was convicted of 15 murders and sentenced to death through hanging. Several local Zulu chiefs requested to be present during the hanging to ensure that the evil spirit had departed.
Norman Afzal Simons
Norman, also known as the station strangler, was a fifth-grade teacher who was loved and appreciated by his community. He can speak seven languages, including English, French, Xhosa, and Afrikaans. He also possesses great skills in playing a couple of musical instruments.
With his job, he knew the best ways to manipulate and influence young boys. In 1986, young boys began disappearing from train stations and later would be found tied up, sodomized, and strangled with their underwear in shallow sandy graves. In 1994, a total of 11 bodies were found.
Simons was identified when one boy realized that his friend was found dead after helping the teacher carry boxes. Following his apprehension, he claimed that his older stepbrother had sodomized him in his younger years and that he heard voices instructing him to murder his victims. Following his confession, he was sentenced to life imprisonment.
Sipho Thwala
In 1996, Thwala began raping and killing women in KwaZulu Natal. His victims were women seeking employment in the sugarcane fields. He would promise them jobs as domestic servants in hotels and then lead them into the fields where he would rape, strangle, and beat them up till their last breath. To destroy the evidence, he would light up the area.
He was arrested in August 1997 shortly after his DNA matched that one taken from one of the victims. Prior to his sentencing, someone claimed to have seen him near his home, and the rumour spread throughout the village. Vengeful villagers locked his family inside their house and set it on fire. They got lucky as a neighbor came to their rescue. They later rushed to the police station for safety.
On March 31st, 1999, he was declared guilty of 10 rapes and 16 murders. He was sentenced to 506 years of imprisonment.
READ ALSO: Charles Manson: The life and times of the most deranged serial killer of all time
Christopher Mhlengwa Zikode
Zikode began committing murder and getting overly violent at the early age of 19. In July 1995, he got arrested for attempted murder. After being granted bail, he started attacking families, as well as women travelling by themselves in Donnybrook, KwaZulu Natal.
Christopher would invade a home and shoot all the men present. He would then take all the females to a plantation or field where he would rape them together for more than five hours. The females that refused to cooperate would be shot dead; then, he would commit necrophilia.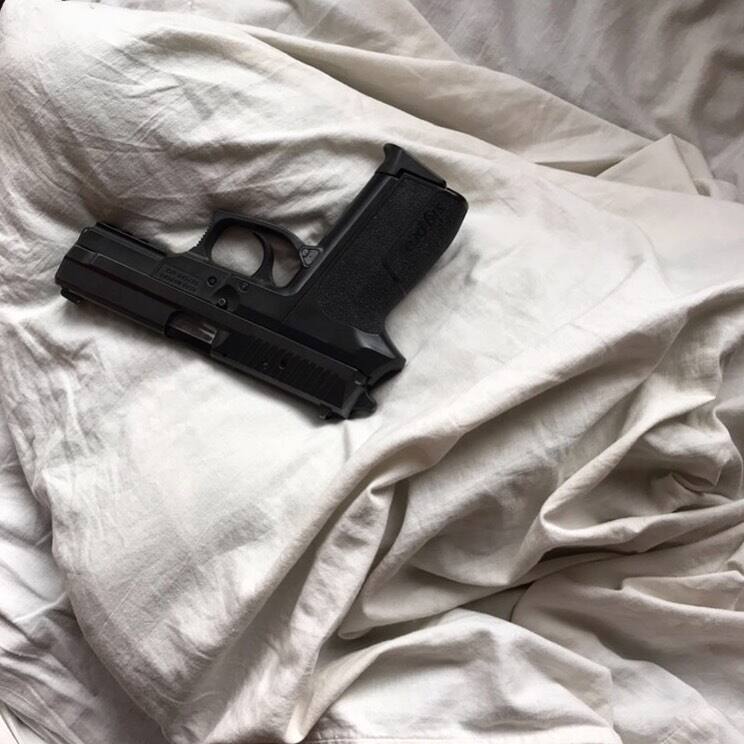 His arrest occurred in September 1995, which was followed by his conviction of 21 charges, including five sexual assaults, eight murders, five attempted murders, and one offensive assault. All these crimes happened between a span of six months. On January 7th, 1997, he was sentenced to 140 years imprisonment.
David Randitsheni
Born in 1964, Randitsheni was a serial killer and rapist who operated around Modimolle town in Limpopo province. In 2009, he was charged with ten murders, 17 rape cases, 18 kidnappings, and one indecent assault. He was sentenced to 220 years in prison, which was equivalent to 16 life sentences.
All his victims were children, except for one woman. During his sentencing, the judge stated that he would not be considered for parole until he had completed at least 35 years in prison. Considering the time that ruling was made, he would have been considered for parole at the age of 80. He did not live to see that day as he was found hanging in his cell shortly after admission to prison.
READ ALSO: Samuel Little: 10 spine-chilling facts about the deadliest serial killer ever
Stewart Wilken
Born on November 11th, 1966, Stewart, also known as Boetie Boer, is a serial killer that operated within Port Elizabeth. Most of his victims were young boys and female prostitutes. His murderous activities began in 1990 until he was captured in January 1997.
Stewart murdered his daughter, Wuane, who was born from his first marriage. He claimed that her step-father had sexually abused her, so he found it best to send her soul to God. He also killed Henry Bakers, who was the son of his second wife. During an interview with the police, he confessed to having had intercourse with the boy's decomposing corpse. He also attested to eating out the nipples of one of his victims.
As a result of committing multiple murders and sodomy, he received seven life sentences. Justice Chris Jansen, the judge of the case, informed Stewart that if only the death penalty had been available, he would have sentenced him to death.
Clearly, the South African serial killers who made it to this list did the unthinkable and unimaginable. The serial killers South Africa have had indeed tortured their communities and made people live in fear. Luckily, such cases are no longer as prevalent, and most communities are now able to live more peacefully. However, in June 2019, a serial killer in Pretoria was reported to be on the loose after similar deaths of several homeless people who sleep in parks. All we can do is hope that the killer is captured before causing any more chaos.
READ ALSO: 7 gruesome and heart-wrenching incidences of femicide in South Africa that we will never forget! R.I.P
Source: Briefly News