The past couple of hours have seen Mzansi social media users focus their interest on the drama going on between Sjava and Lady Zamar. The details that have been unfolding regarding the alleged rape case that the "Collide" singer brought up have left fans divided on whose story to believe. The details of Sjava and Lady Zamar relationship might help in deciphering the mystery.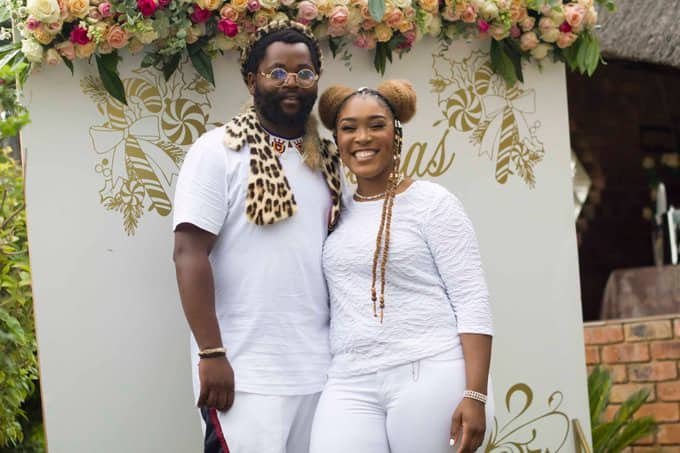 On 26th August 2020, Sjava shared a video on his Instagram page refuting the rape claims that had been tagged on his name. The following day, through Lady Zamar Instagram live, she revealed emotive details of the relationship that led to the alleged rape. Her side of the story has sparked controversy on social media, and fans are unsure of whose theory to believe. How about digging up some of the facts of Sjava and Lady Zamar relationship?
Sjava and Lady Zamar relationship
Some of the fans have stopped to ask why is Sjava doing this to Lady Zamar? Others have been curious to know why an incident that happened in 2017 was reported in 2019. The answers to these questions would be best answered by unveiling the facts about the relationship.
They started dating in June 2017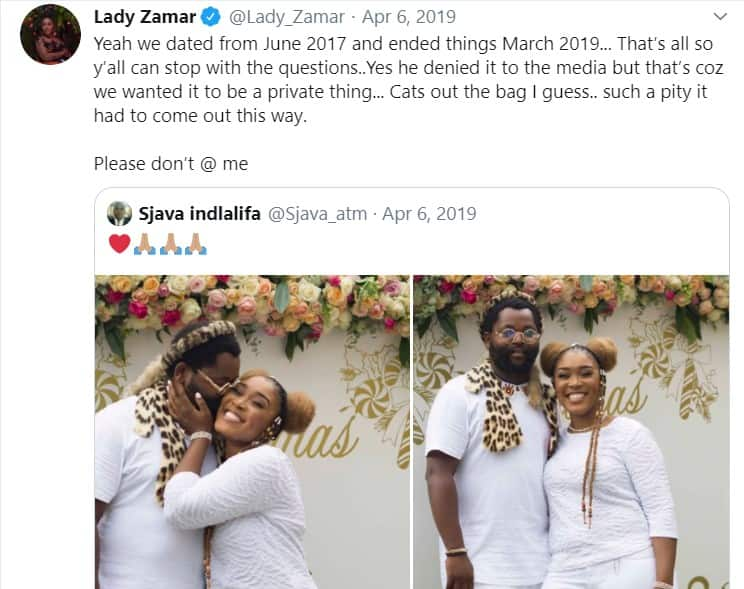 Is Sjava dating Lady zamar? This is a question that most fans would kill to know more details about. Through a Twitter post, Lady Zamar confirmed that they had been dating between June 2017 and March 2019. This was after fans had found hints of them being together, despite the many attempts to keep their relationship private.
On 15th August 2017, Lady Zamar had a bilateral breast reduction surgery, and it was during this time that Sjava among other artists came to visit her while in hospital. Their meetings since then were not sexual.
READ ALSO: Somizi surprises Cassper Nyovest with special father-to-be celebration
"Sjava raped me"
The alleged incident took place on 9th September 2017 after the Royal Heritage Festival event in Venda. According to Sunny World, the alleged incident took place at the Porche Villa Hotel in Thohoyandou. Detailing the events of the incident, Lady Zamar stated that Sjava had invited her to his hotel room. On their way to the hotel, they travelled in different vehicles, and when they checked in, Sjava slept although she did not. According to the police statement about the rape, the "My Baby" hitmaker reported saying,
He woke up and started kissing her, and she kissed him back. And he started taking her clothing of [sic], and she kept quiet [sic] and did oral sex. He took the condom and put it on his penis and penetrated her.
He tried to stop him during oral sex, but he did not stop. She just let it happen as he was stronger than her. She was crying as it was painful. When he finished, he got off and held her and told her to sleep on the same day at 12:00.
After the incident, Lady Zamar stated that they travelled back to Johannesburg together, and since then, she has never been herself.
READ ALSO: Nasty C announces Zulu Man With Some Power's No.1 in the world
''I couldn't fight him."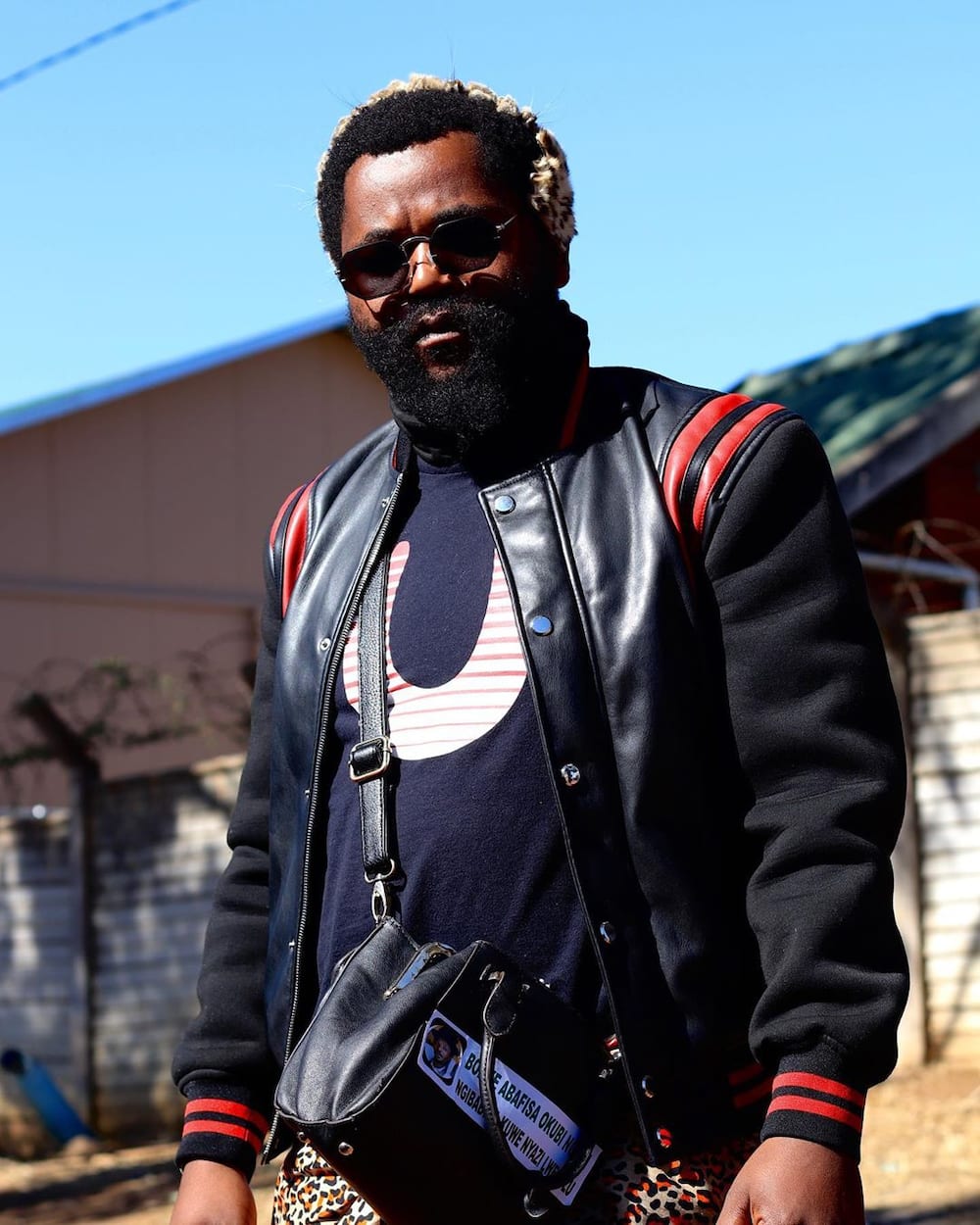 During the Instagram Live that she did, she gave details of how she was unable to stop the "Umama" hitmaker from the act because he is enormous. She also stated that she could not fight back because she was still bandaged from her bilateral breast reduction surgery that she had undergone a couple of weeks prior.
She agreed to date him because she was fearful of him
Lady Zamar went further to state that she went through other forms of abuse like intimidation and verbal abuse while in the relationship. Commenting on why she dated him despite the awful experience, she stated,
A lot of people say things like, how could you continue dating a person that had raped you. So I just wanted to just set the record straight today because I'm really exhausted with all the lies,
READ ALSO: Nasty C references Thickleeyonce's body shape in new track: Peeps react
Pressing charges in 2019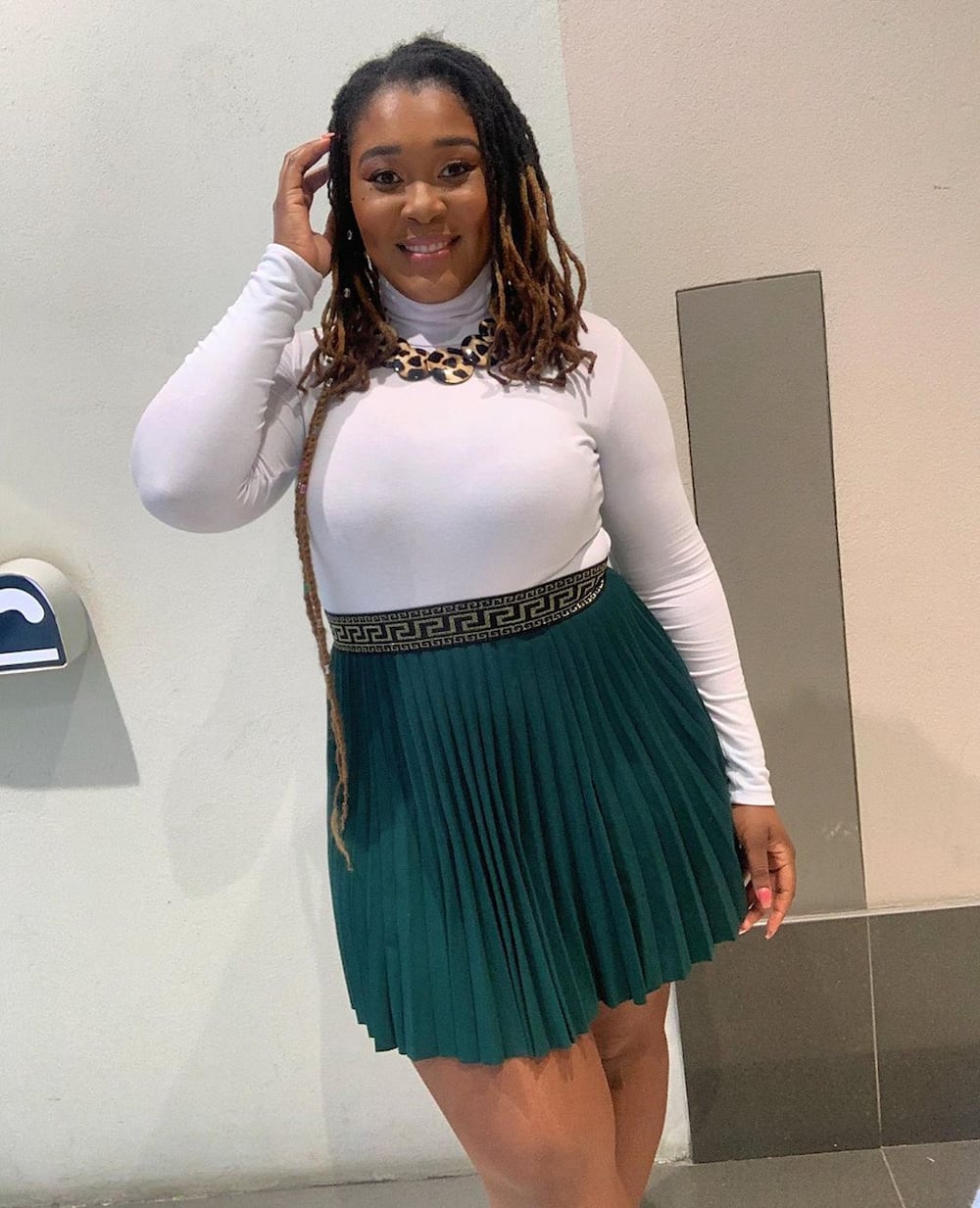 On 29th October 2019, Lady Zamar took to her social media pages to claim that Sjava had sexually assaulted her. A few days later, she opened the case at the Lyttleton police station in Pretoria. The case was later transferred to the Thohoyandou police station for further handling and investigation.
According to Motlafela Mojapelo, the Limpopo police spokesman, the case was opened on 14th November 2019. On 22nd of the same month, it was transferred to the Lyttleton police station in Pretoria since the alleged incident took place at the Thohoyandou policing precinct.
Mojapelo went further to state that Sjava had not yet been arrested nor questioned. This is because the case requires meticulous investigation since it was reported two years after the incident. However, the matter had already been forwarded to the National Prosecution Authority to decide whether or not to prosecute.
Sjava responds to the rape allegations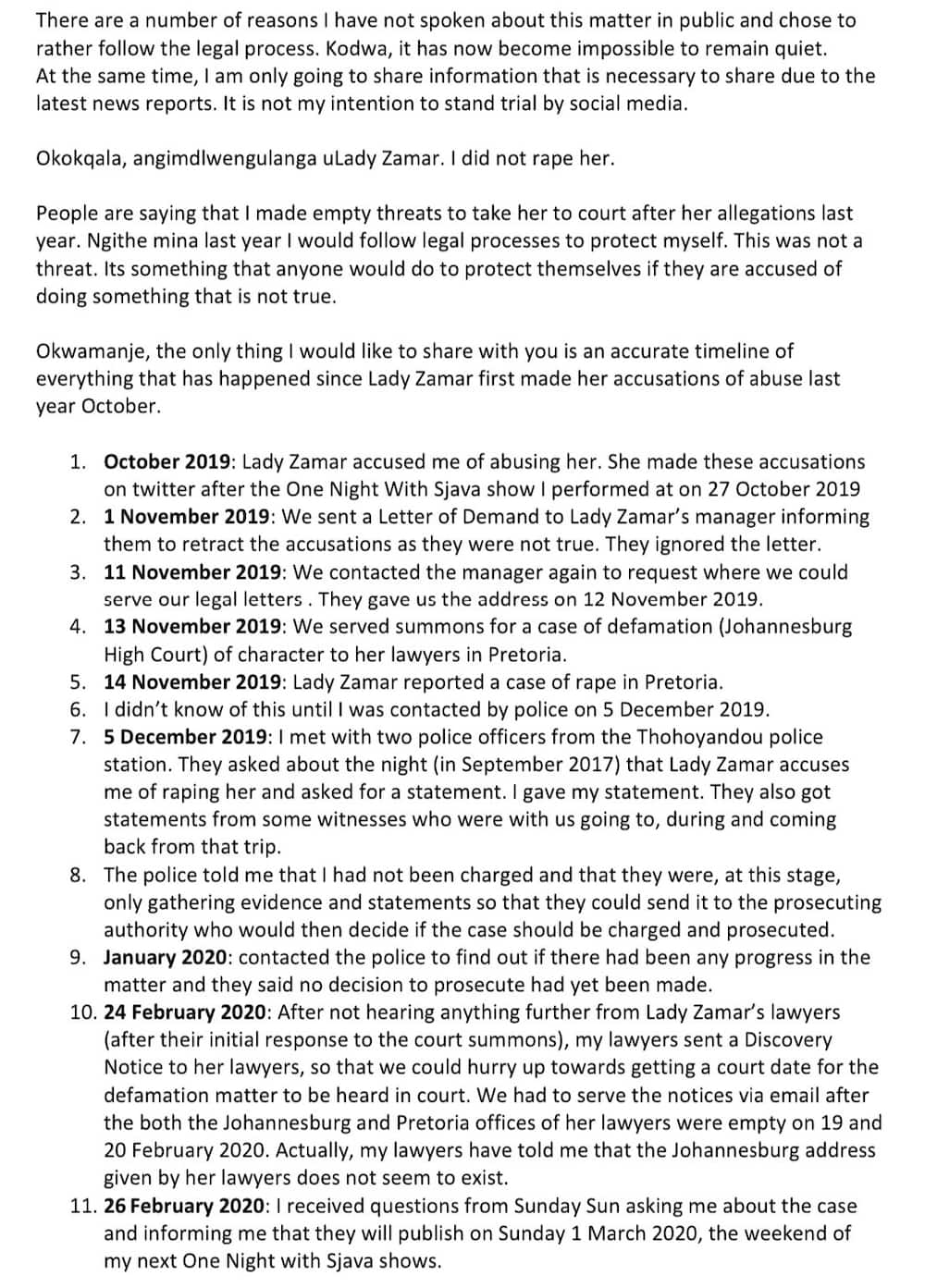 On 3rd March 2019, after a controversy that saw Sjava removed from the Cape Town International Jazz Festival line up, he finally responded to the rape allegations. Through a statement, he denied that he had raped his former lover. He went further to state that his legal team had issued a letter of demand to Lady Zamar, and a day after he had served her for a case of defamation, she went ahead to open the rape case.
Sjava went ahead to state that he had been cooperating with the police who had informed him that they were investigating the matter by interviewing witnesses. By January 2020, the verdict on whether he would be charged had not been made.
READ ALSO: Lasizwe's excited to finally get his teeth fixed: Fans show support
Charging her for defamation
In February 2020, Sjava's legal team pushed ahead with the defamation lawsuit against the House music sensation. Later that month, he received a couple of questions from the Sunday Sun regarding the matter, and he chose not to answer. However, when the publication was made, he pointed fingers at the police for revealing crucial details to the media and yet he had not been charged.
He also pointed out an inconsistency regarding the duration of their relationship and the correlation to the date that the alleged abuse took place.
READ ALSO: Sjava gives his side of story amid allegations by Lady Zamar
Briefly.co.za recently reported about Sjava opening up about his side of his story regarding the rape allegations that Lady Zamar had levelled against him. He responded to the matter through his Instagram TV.
I the post, he stated that he had taken the leap of faith after seeing media houses publish false narratives about the issue. He insisted that he was innocent and that his legal team had told him that he was not allowed to speak about the matter online.
What are your thoughts regarding the Sjava and Lady Zamar relationship? Whose theory would you believe? Be sure to stick around for details as the story unfolds.
READ ALSO:
Lady Zamar shares her side of ongoing Sjava drama, Mzansi reacts
Lady Zamar thanks South African men who don't mistreat women
Ambitiouz Entertainment reveals they wanted to sign Elaine, SA reacts