Deepak Jangra: Meet 'electric boy' from India who can withstand 11,000 volts of electricity
Have you ever thought about a human light bulb? That is the new description that an Indian young man, Deepak Jangra, has deservedly earned for his ability to withstand high voltages without electrocution. Many are yet to believe how electric charges can flow through his body without harm. This shocking revelation is now of interest, especially among professionals from around the world.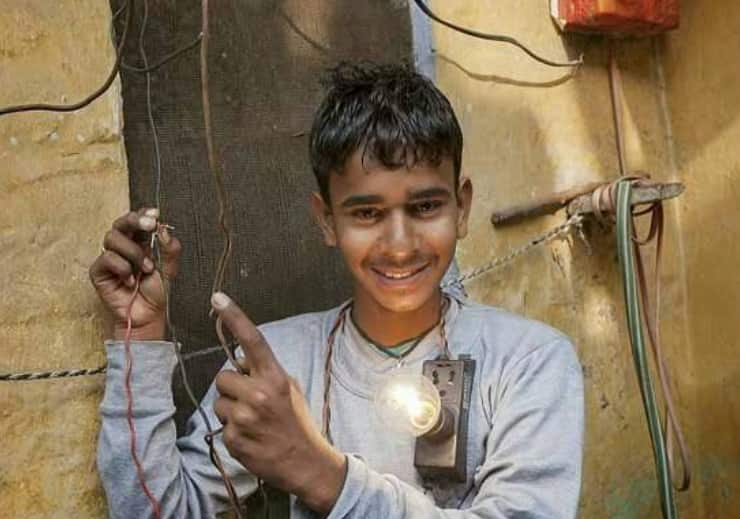 Deepak Jangra has so far described his unnatural experience with electricity as a special gift from God. The charming young man can allegedly support high voltages of power flowing through his body without a sweat. The unlikely phenomenon is challenging everything you may have learnt in science. Further reports indicate that his newly founded skill came as an accident.
Deepak Jangra electric man
Most of the photos and videos circulating on social media display the 16-year-old Indian citizen handling live wires with his tongue. These viral media content come with firm warnings asking people not to try the same at home. An ordinary person cannot support a few volts through their body, leaving many wondering how a minor manages 11,000 volts without hurting.
Watching Deepak handle high-tension power with bare hands and even tongue can attest to the fact that the wonders of this world are endless. Even so, those wanting to know more about the youngster have already looked for Deepak Jangra Facebook and Deepak Jangra LinkedIn pages for details and first-hand reports.
Deepak Jangra electric boy speaks
The Indian teenager has finally revealed stumbling on his electricity-immune talent as he was repairing a home appliance. Having no money to repair a broken home heater, Deepak resolved to do it by himself.
At first, Deepak mistakenly touched a live wire and did not electrocute. He immediately assumed that the power was off. Upon confirming that it was indeed on, Deepak could not comprehend how it was humanly possible for him not to hurt.
As a result, Deepak became more curious and tested the power repeatedly, making sure it was on at the point of contact. Surprisingly, nothing happened to him for touching the live wires. What started as routine kettle repair exercise for Deepak ended with discovering his rare talent with live wires.
Deepak recalls fearing electricity before the fateful day when touching electricity by accident caused him no pain. Knowing that he is a human electricity insulator has restored the confidence of operating around live cables.
The high voltage shocker display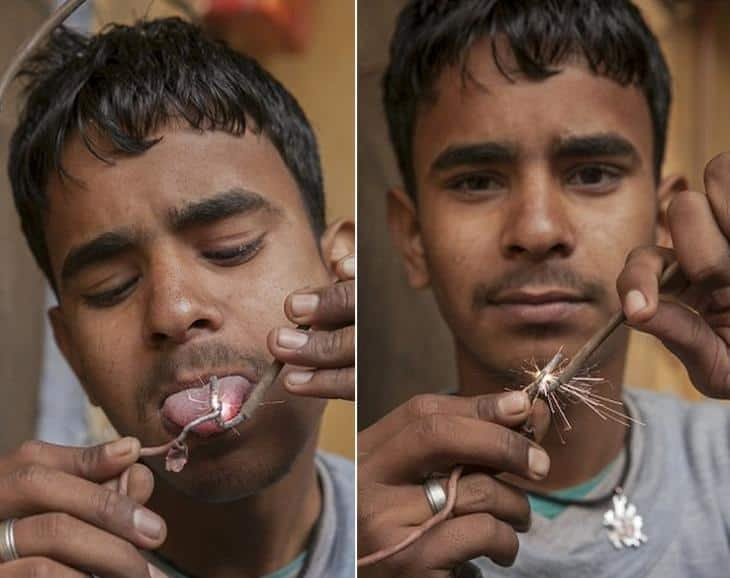 Deepak brags a rare gift that no one else possesses. He is planning to exhaust his talent, being the only one in the world so far. He has so far produced enough evidence to persuade those unbelieving in his rare skill.
Apart from allowing 11k volts to flow through his tongue, Deepak has portrayed himself seated by a bathtub with live wire immersed and bother hands immersed.
The skill he discovered by accident has helped him discover that he can withstand the amount of power supplied to over 500 homes.
It is now about three years since Deepak discovered he could resist high voltages without burning. The electricity boy is now a celebrity with undivided attention from the world. Being a student has not stopped him from demonstrating his skills to the rest who are yet to believe in his bizarre talent.
Climbing an 11,000 volts power supply line to prove his skills brought Deepak Jangra to the limelight. He has since defended his rare skill by demonstrating his rare ability to those stuck with disbelief.
READ ALSO: Proudly South African! 14 crazy Guinness World Records held by South Africans
Briefly.co.za shared 14 crazy Guinness World Records held by South Africans. South Africa, the most advanced nation on the continent, has lived up to her position to set and break the most Guinness World records. Some of the records were set on seemingly small ideas, while many others were broken on significant and life-changing endeavours.
Gracia Machel was the 1st woman to serve as the first lady in more than one country, and 73-year-old Otto Thanning became the oldest man to swim across the English Channel in 2014. Others who broke the record include Zama Mofokeng, Percy Maimela, and Vernon Kruger.
Source: Briefly News