DMX net worth, age, children, wife, music career, profiles, death
The 2000s were the best because of the new crop of artists that made it to the limelight, and DMX was one of them. He set a record by releasing several albums, a majority of which topped the charts. His zeal and lyrical technicality were a testament to a man willing to transform his life for the better. How about reading on for more details on DMX net worth?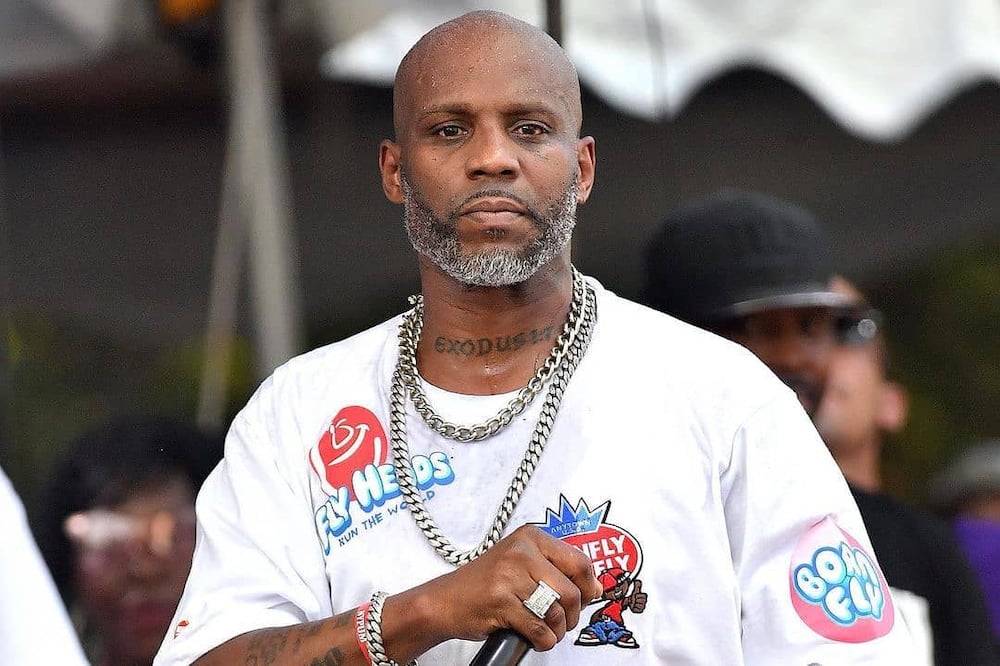 9th April 2021 marked the end of an era for DMX, the renowned and decorated rapper. His death came days after his admission at a New York hospital for a heart-related condition. Despite his musical legacy, he was incarcerated several times and was in and out of jail. The last decade of his life was troublesome as he struggled financially and personally. The details of DMX net worth elaborate on how difficult his journey was.
DMX profiles
Full name: Earl Simmons
Date of birth: 18th December 1970
Place of birth: Mount Vernon, New York
Nationality: American
Profession: Rapper
Date of birth: 9th April 2021
DMX Twitter: @DMX
DMX biography
What happened to DMX? Earl Simmons would best be described as a muscular and raspy-voiced rapper who often paired his lyrics with growls. Despite his unbeatable talent, he was often dragged into controversies, from being in and out of jail to a chain of financial problems. His name would always pop up whenever one asked the question, which rapper has the most kids?
DMX net worth and biography unveil his transcendence to fame and its eventuality.
DMX age
Earl Simmons, the snarling and equally soulful rapper known to many as Dark Man X, DMX, was born on 18th December 1970 in Mount Vernon, New York. At the time of birth, his dad, Arnett Simmons, was nineteen years old, while his mother, Joe Baker, was eighteen years old.
He was fifty years old when he died.
DMX songs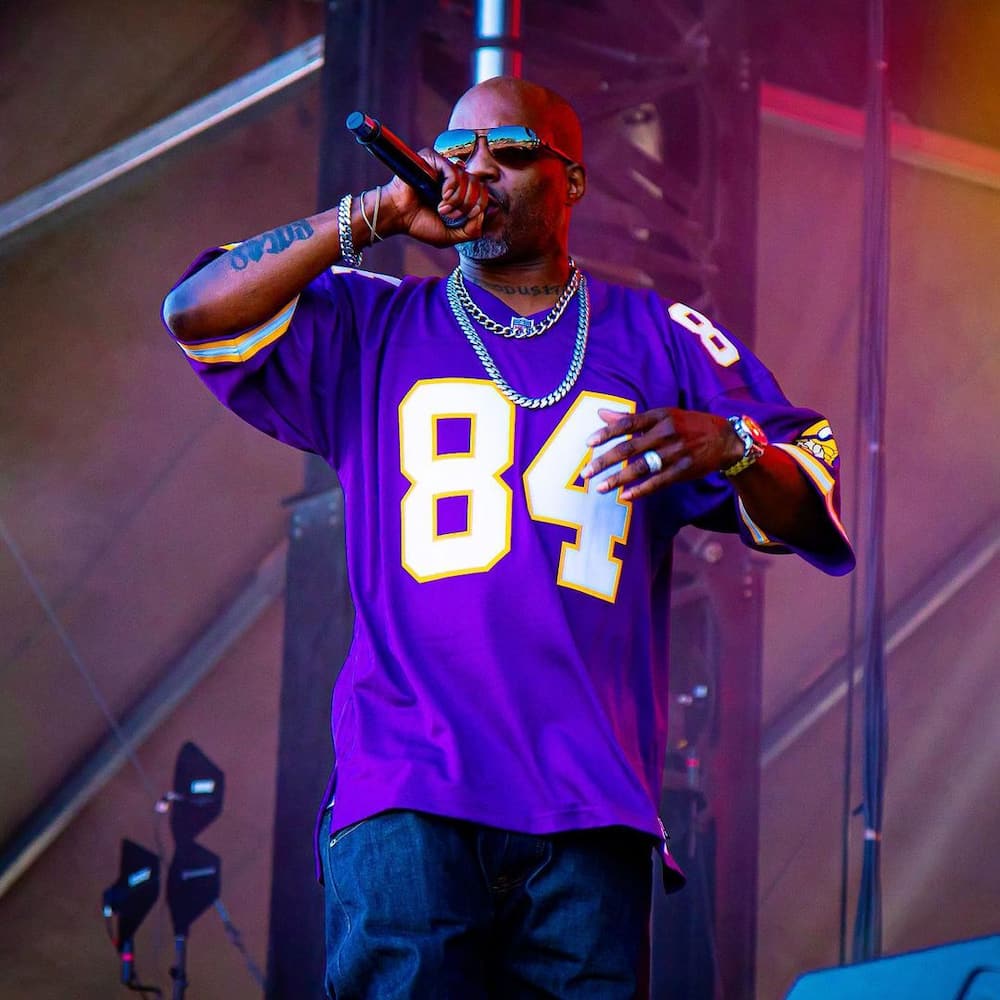 Earl Simmons was separated from his father at birth and was raised by his mother. He had a troubled upbringing and would often be beaten by his mother and her boyfriends. At 14, his mother sent him to a boy's home, where he bonded with his friends over music, and it set the pace for his musical career.
Simmons would perform for his friends, who encouraged him to get better at writing music. When he went back home, he met a local rapper, Ready Ron, who fell in love with his beatboxing skills and became his partner. As a result, he chose the name 'DMX' from the Oberheim DMX drum machine.
The birth of a snarling career
Earll Simmons made his debut in music in 1984, and he would beatbox for Ready Ron. However, he was in and out of prison until 1988, when he focused on growing his music career. He would rap over musical instruments and sell copies of his recordings on the streets. This move helped him establish a fanbase in New York.
His second song, Make a Move, made a guest appearance alongside Jay Z, Ja Rule, and Mic Geronimo. By 1999, he had released his third album, And Then There Was X, and it was his third album to debut at number one on the Billboard 200. His fourth album, The Great Depression, also topped the charts, and so did his fifth album, Grand Champ.
In 2006, he released his sixth album, Year of the Dog... Again, and that same year, he released two more singles, Lord Give Me a Sign and We in Here.
The peak of his glorious career
In June 2008, he released the best DMX song, The Definition of X: The Pick of the Litter. In 2011, he released The Best of DMX, a compilation with some of the best DMX songs like X Gon' Give It to Ya. In 2009, Earl Simmons declared that he would pursue preaching alongside producing music. That year, DMX pastor completed the production of his gospel album before his incarceration.
In September 2012, he produced his seventh album, Undisputed. In 2015, Seven Arts Music, the record label he had signed a deal with, released his eighth album, Redemption of the Beast.
DMX wife
Earl Simmons married his childhood lover, Tashera Simmons, in 1999, and their marriage lasted fifteen years. They gave birth to four children. In 2014, Tashera declared their separation, although they maintained a healthy relationship.
DMX children
At the time of his death, Earl Simmons was the father of fifteen children. Xavier, his eldest son, is twenty-eight years old. The other Tashera and DMX kids are Tacoma, Shawn, and Praise Mary Ella. Praise Mary Ella is the eldest daughter of DMX.
His fifteenth child was born in August 2016 to his girlfriend, Desiree Lindstrom.
DMX dead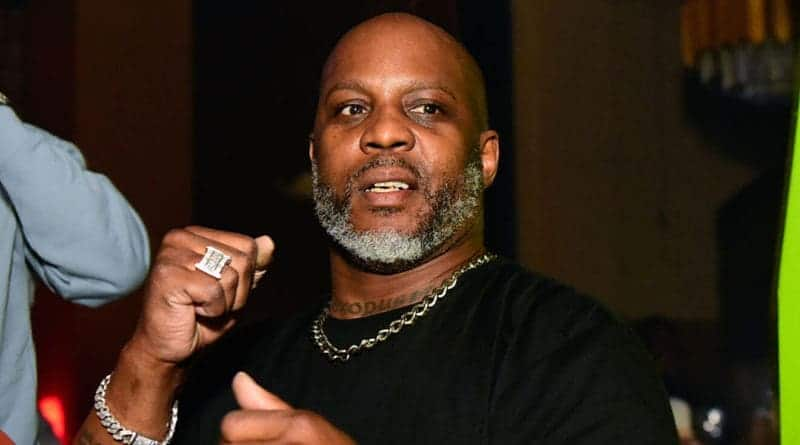 DMX, the rapper who grew into fame through his energetic rapping style, recently died. The Grammy-nominated performer had been on life support at a hospital in White Plains, New York, after allegedly suffering from a catastrophic cardiac arrest on 2nd April 2021. Prior to his death, he had been in a coma and was on life support.
Speaking about his death, his family honoured him for being a warrior who fought to the end. They also remembered him for how much he loved his family and the memories they created when he was alive.
Before his death, when news of DMX condition made it on the internet, fans camped outside the White Plains Hospital, singing his songs aloud. Some prayed while holding their hands to form an X in solidarity with the bedridden rapper.
DMX net worth
What was DMX highest net worth? Having ventured into music at a tender age, Simmons spent the better part of his life creating music. His most glorious years were between 1999 and 2015. He earned through selling thousands of copies of his music and albums. Apart from his rapping career, he played supporting roles in eight films.
He had his highest net worth during his forty-eighth year, and it stood at $10 million.
How did DMX lose his money?
Despite the potential in his musical career, DMX died a poor man. In July 2013, he filed for bankruptcy at a Manhattan court and claimed to have $50,000 and between $1 million and $10 worth of debts. He also cited a $1.24 million worth of debt on child support.
In 2017, he was charged with tax fraud, and despite spending a year in prison, he still owed IRS $2.3 million.
At the time of his death, DMX net worth was approximately -$1 million.
The details about DMX net worth highlight how much the rapper struggled. From having a troubled childhood to being involved with several women and being forced to pay child support while struggling with drugs, he had a lot to deal with. However, his legacy lives through his music.
READ ALSO: Petite Noir age, full name, songs, albums, band, profiles
Briefly.co.za published the biography of Petite Noir, the Congolese South African-raised musician. His biography highlights his rise in music.
Yannick Ilunga, popularly known as Petite Noir, is a talented singer, record producer, and songwriter. He hails from a musical background, and Kanye West is one of his icons. He is also famous for his unbeatable skills when playing the guitar.
Source: Briefly News