Eggheads Dave: What happened to 'Tremendous Knowledge'?
David Omotayo Domingo, popularly known as Dave Rainford, Eggheads Dave or 'Tremendous Knowledge', was one of the most gifted quiz masters. He earned a legion of fans through his extraordinary ability to store knowledge. In addition, the skill earned him fame on mainstream media as a professional quiz expert. So, what happened to Tremendous Knowledge?
When Dave Eggheads realised that he had a special gift, he opted to use it in his favour. His unique skill earned him cash, fame and a role as a writer of questions during several quiz shows. He consistently wowed fans through his ability to grasp the itsy-bitsy details and how well he would articulate himself during live quiz shows. His specialism was sports and entertainment.
Eggheads Dave profile
Full name: David Omotayo Domingo
Nickname: Dave Rainford and Tremendous Knowledge
Place of birth: Stepney, England
Year of birth: 1968
Occupation: Professional quiz expert
Famous for: Are You an Egghead and Who Wants To Be A Millionaire
Eggheads Dave biography
Dave Rainford would best be described as one of the all-time great quizzers. He hailed from Stepney, England and was raised by his Jamaican grandmother in Chorlton. During the late 80s, Dave opted out of the university after realising his vast general knowledge. Therefore, he started playing the newly popular quiz machines. He would travel the clubs and pubs of the North West and Greater Manchester region, draining the quiz machines.
Why is Dave from Eggheads called Tremendous Knowledge?
Dave Rainford was of Nigerian and Jamaican heritage, and his quizzing knowledge earned him the title 'Tremendous Knowledge'. DJ James Stannage called him the nickname after watching him drain a quiz machine in an all-night-bar off Deangate. The pair agreed to work together; hence, Dave appeared on DJ Stannage's specials dubbed Tell Us The Answer Dave. The show involved listeners calling to test Rainford's knowledge.
The Tremendous Knowledge nickname and title earned him the opportunity to make several radio and TV appearances. He participated in popular TV quiz shows like, Lose a Million with Chris Tarrant and Remote Control with Tony Wilson. In Lose a Million with Chris Tarrant, he lost £5,000 after missing out on a question about Claire Rayner.
His epic skill also earned him a job as a question writer for Fifteen to One with William G. Stewart.
Dave Rainford wife
Apart from owning an unbeatable skill in storing knowledge, Rainford was also an ardent Manchester United fan ever since he was a young boy. He was also a husband and a father. So when Dave and Tina, his wife, had their daughter, Ella, he took a break from quizzing and relocated to Manchester. There, he took up a new job as a salesperson who helped promote diversity in the workplace.
Dave Rainford Eggheads wiki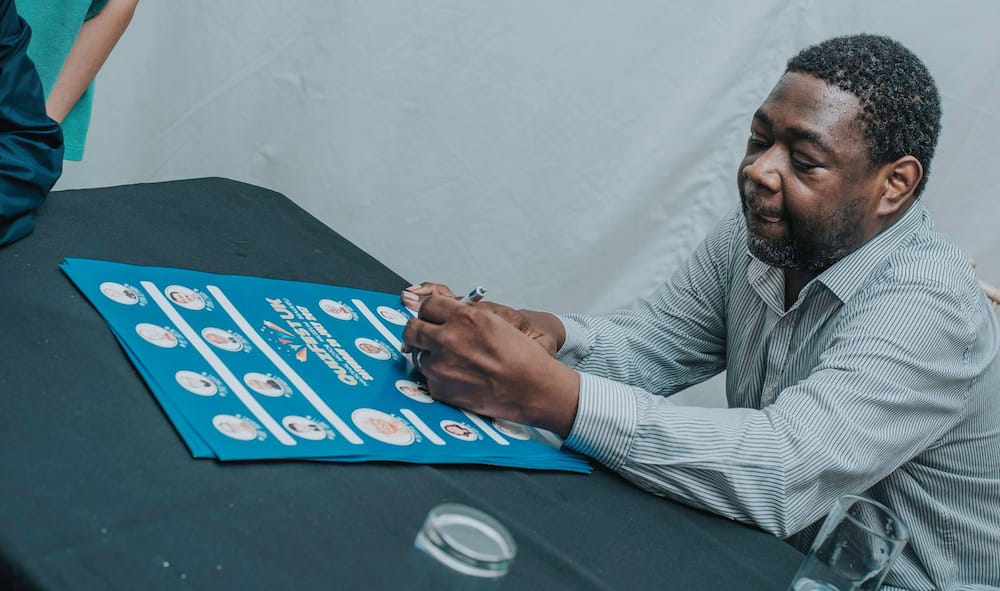 In 2005, Tremendous Knowledge met with Chris Tarrant and later featured in Who Wants To Be A Millionaire. At the end of the competition, he walked away with £250,000. In 2009, he appeared on Dragon Den with Frank Bisson. He also wrote a set of questions for other quiz shows in the mastermind category.
In 2012, he appeared in BBC's spin-off Are you an Egghead? He had appeared in two series of the show's spin-off before the final one in 2012. As an ardent fan of football, he was proudest during appearances on sports and football focus questions.
Eggheads Dave dies
What did eggheads Dave die of? Dave Rainford passed on on 7th March 2020 in Withington. According to speculations, he allegedly succumbed to chronic heart disease. Months before, he admitted to having been battling an undisclosed illness after fans raised eyebrows about his absence in the Eggheads show in 2019.
Before his health deteriorated, Dave had a history of mobility issues. However, he still made time for several charity events. He also made an effort to participate in the Withington Pub Quiz League.
Even in his death, Eggheads Dave is remembered for his remarkable and admirable skill in quiz shows. His fans and colleagues paid tribute to him, referring to him as the Mancunian legend.
READ ALSO: Leanne Manas age, family, education, cries on morning live, house, Instagram, and contact details
Briefly.co.za recently published interesting details about Leanne Manas. You will be bummed by how successful she is.
Leanne Manas ventured into media as a radio presenter and later transitioned into a TV personality. She has hosted the SABC2 morning show for more than thirteen years.
Source: Briefly News