Ilhan Omar net worth, height, weight, family, Twitter, career
Ilhan Omar is among the first two Muslim-American women to be elected to Congress and the first Black woman and African refugee to represent Minnesota. Omar serves as Minnesota's 5th Congressional District representative in the US House of Representatives. She was sworn into office in January 2019, and her term ends on 3rd January 2023.
The politician advocates for progressive agendas like a just immigration system and mitigating the threats of climate change. There is a lot of false information about the Minnesota representative online, such as her marrying her brother to help him migrate into the US.
Ilhan Omar profile summary
Full name: Ilham Abdullahi Omar
Date of birth: 4th October 1982
Place of birth: Mogadishu, Somali
Age: 38 years as of 2020
Career: Politician, public speaker, and advocate
Nationality: Somali-American
Marital status: Married
Children: 3
Net worth: 3 million
Ilhan Omar Twitter: @Ilhan
Ilhan Omar Instagram: ilhanmn
Ilhan Omar Facebook: @IlhanMN
Ilhan Omar biography
Her father, Nur Omar Mohamed, was an army colonel in Somalia. He died in June 2020 at the age of 67 years due to COVID 19 health complications. Ilhan's mother, Fadhuma Abukar Haji Hussain, died when she was two years old.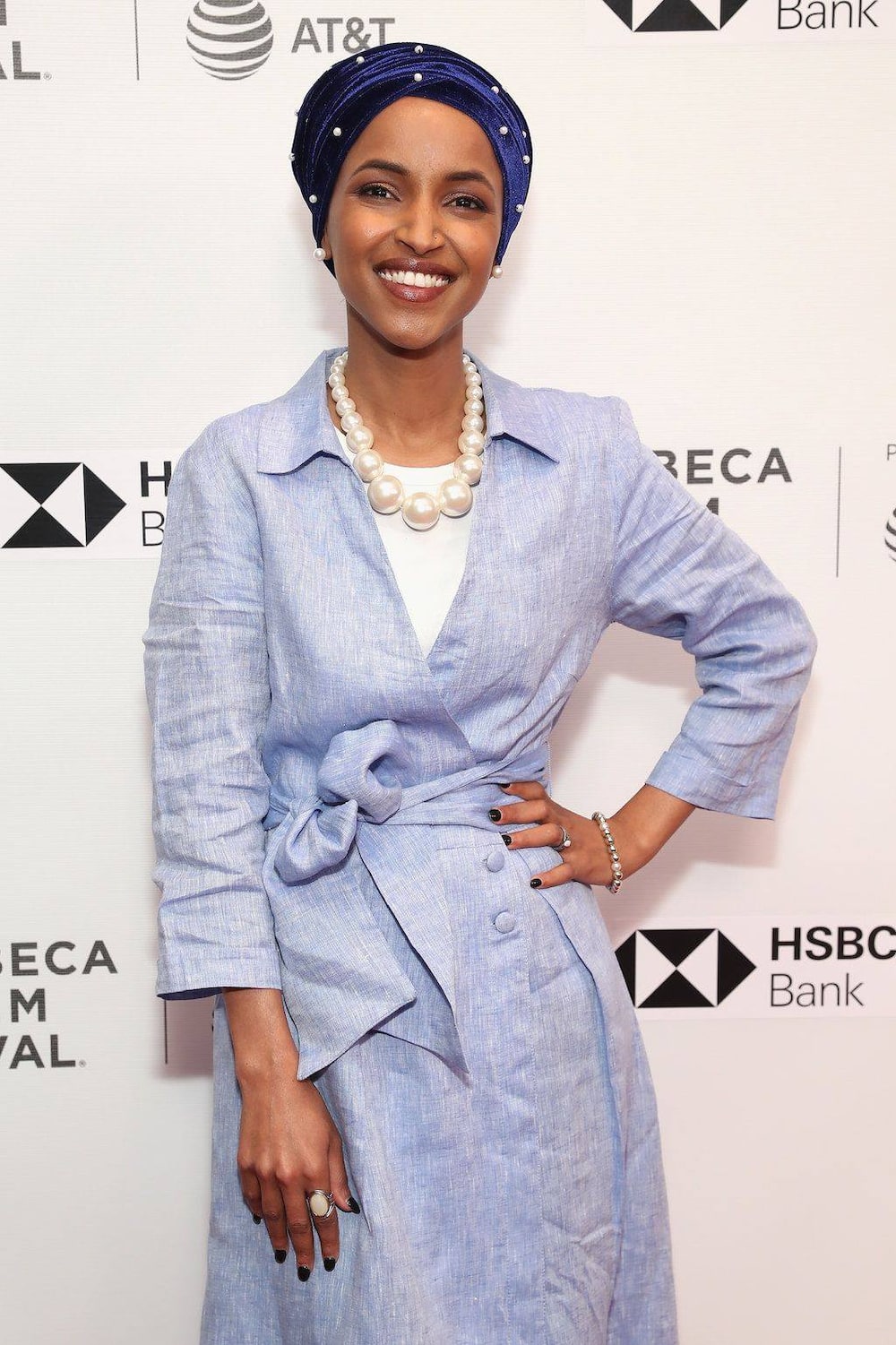 Ilhan Omar age is 38 years as of 2020, and she is the lastborn in the family of seven children. The congresswoman was born on 4th October 1982 in Mogadishu, Somalia. Ilhan Omar real name is Ilham Abdullahi Omar and one of her siblings is Sahra Noor.
Her family fled to a refugee camp in Kenya when she was eight years old because of Somali's civil unrest. Omar accompanied her father and grandfather to Arlington, USA, in 1995. In 1997, they settled in Cedar-Riverside neighbourhood in Minnesota, Minneapolis, where Somali immigrants were the dominant community.
The Minneapolis representative graduated from Thomas Edison high school in 2001 and got a degree in international studies and political science from North Dakota state university in 2011. Ilhan Omar height of 5 feet 2 inches is proportional to her weight. Ilhan Omar weight is 52 kgs.
Ilhan Omar family
She has three children with her ex-husband, Ahmed Abdisalan Hirsi. The duo held an Islamic marriage ceremony in 2002 and divorced in 2008. She got into a second Islamic marriage with British American Ahmed Nur Said Elmi in 2009 but separated in 2011.
The Minnesota representative reconciled with her first husband, and they got their third child in 2012. In 2017, she and Elmi legally annulled their marriage, and she remarried Hirsi in 2018. Hirsi divorced her the following year.
Ilhan Omar husband is a political consultant named Tim Mynett. The couple got married in 2020. He owns the E Street Group political consulting firm, which Omar hired for her 2020 political campaign. She terminated the contract when her political rival criticized her decision.
Who are Ilhan Omar children? Her daughter named Isra Hirsi co-organized the School Strike for a climate campaign in the US with two more students. The congresswoman's other children are Adnan Hirsi and Ilwad Hirsi.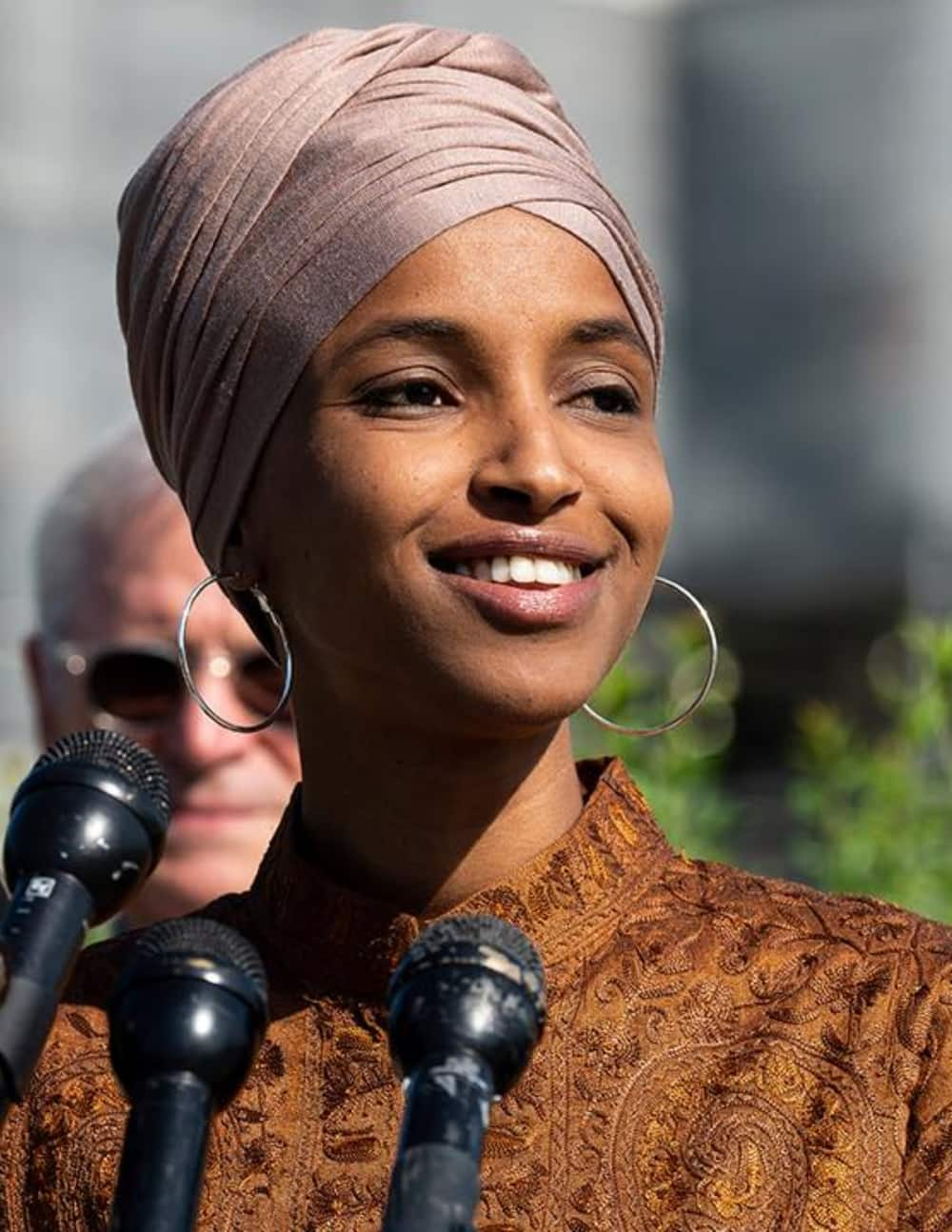 Five false things about Ihan Omar
President Trump claimed the Minnesota representative helped her brother, Elmi, migrate to the US illegally by marrying him and that she was also an illegitimate US immigrant. Forget about Trump's or any other accusations. Here is the truth about Ilhan:
Trump never brought forth evidence to support his claims. Furthermore, there is no proof that Ihnen and Elmi are siblings.
Miss. Omar got her American citizenship at the age of 17.
She has several minor traffic violation cases, but none of it led to an arrest. Therefore, claims that Omar was arrested 23 times are false.
Ilhan Omar parents were neither terrorists nor war criminals in Somalia. Moreover, they never had associations with Somali terrorists.
She does not support any ISIS or Al Qaeda.
Ilhan Omar career
Her grandfather inspired her to join politics. Miss. Omar was a Policy Fellow at the Humphrey School of Public Affairs, a professor at the University of Minnesota, and a Senior Policy Aide for the Minneapolis City Council before running for office in 2016.
In 2016, she won the Minnesota House Representative for District 60B. While serving as the Assistant Minority Leader from 2017 to 2019, Omar worked in three house committees, including the Higher Education & Career Readiness Policy committee.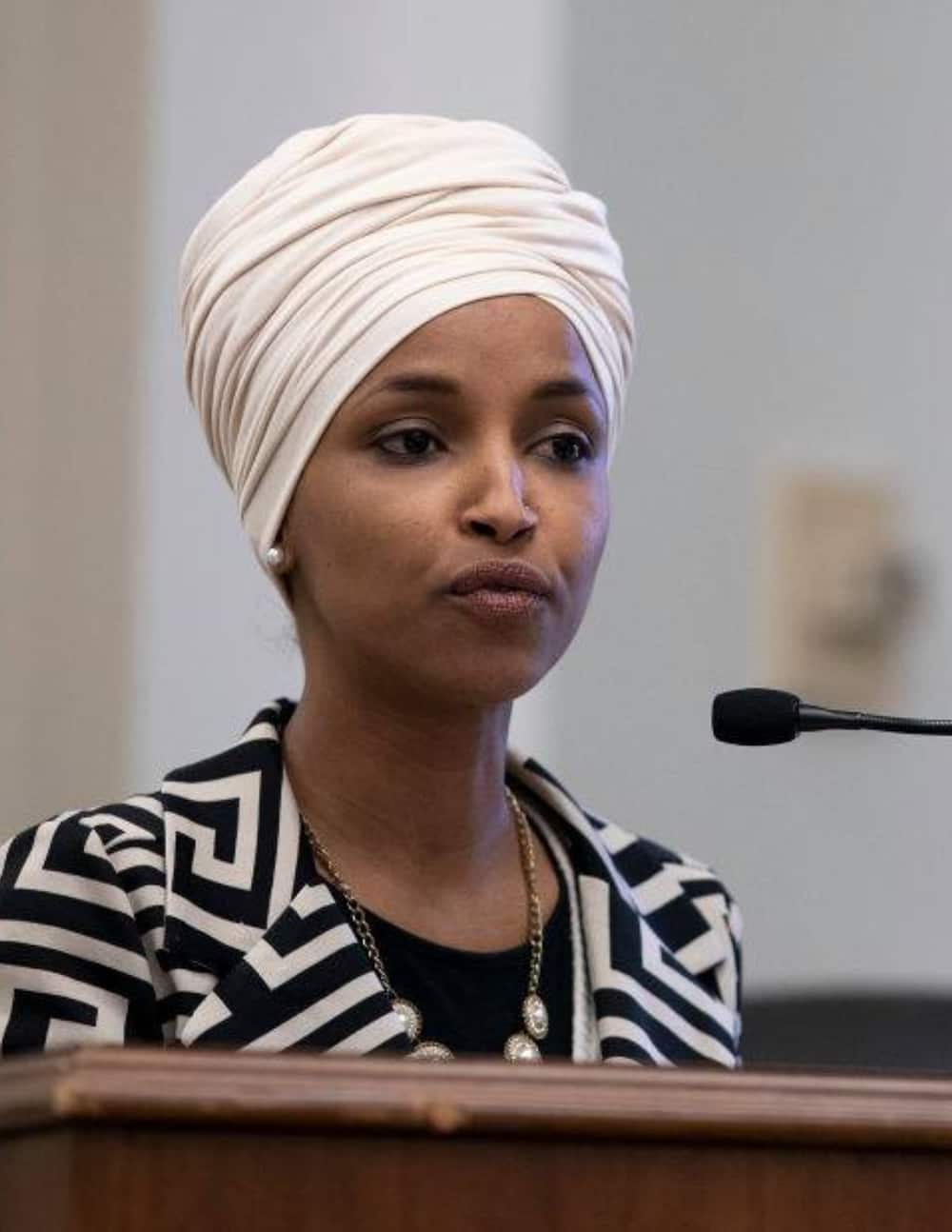 The people elected her as Minnesota's 5th Congressional District representative in the US House of Representatives in 2018 under the Democrats Party. She was sworn into office in 2019. Rashida Tlaib (Palestinian-American), who also won the 2018 elections, joined Omar in making history. They became the first Muslim women in Congress. Ilhan Omar net worth is $3 million.
Ilhan Omar Twitter comment about Trump
Democrats defended Omar when she questioned a government's political influence that pushes people to support specific countries. She was addressing the issue of Jewish-Americans' divided loyalties at an event in Washington DC. President Donald Trump asked her to resign from Congress and the House Foreign Affairs Committee because of her speech. Ilhan responded by tagging him on her Tweet, which read:
You have trafficked in hate your whole life—against Jews, Muslims, Indigenous, immigrants, black people, and more. I learned from people impacted by my words. When will you?
Ilhan Omar is a strong-willed, liberal-minded, and outspoken person. She is dedicated to serving her people. Whenever negative news about her goes viral, understand that politicians are playing their dirty games.
READ ALSO: Aimee Challenor: father, husband, education, husband tweets
Briefly.co.za revealed the challenges transgender activist, Aimee Challenor, faced that forced her to drop out of politics. The British politician aspired to bring equality to the LGBTQ community in the UK.
He discovered he was trans in his teenage years, and his parents supported him. Aimee's elder sibling is also a transgender female.
Source: Briefly.co.za