40 original romantic love messages 2019
This Valentine's Day, if you are looking for the perfect words to sweep your significant other off their feet, you have come to the right place. With a selection of original quotes for every tone you want to strike, we are looking out for you with these perfect love messages. There is something for everyone here. Find yours now!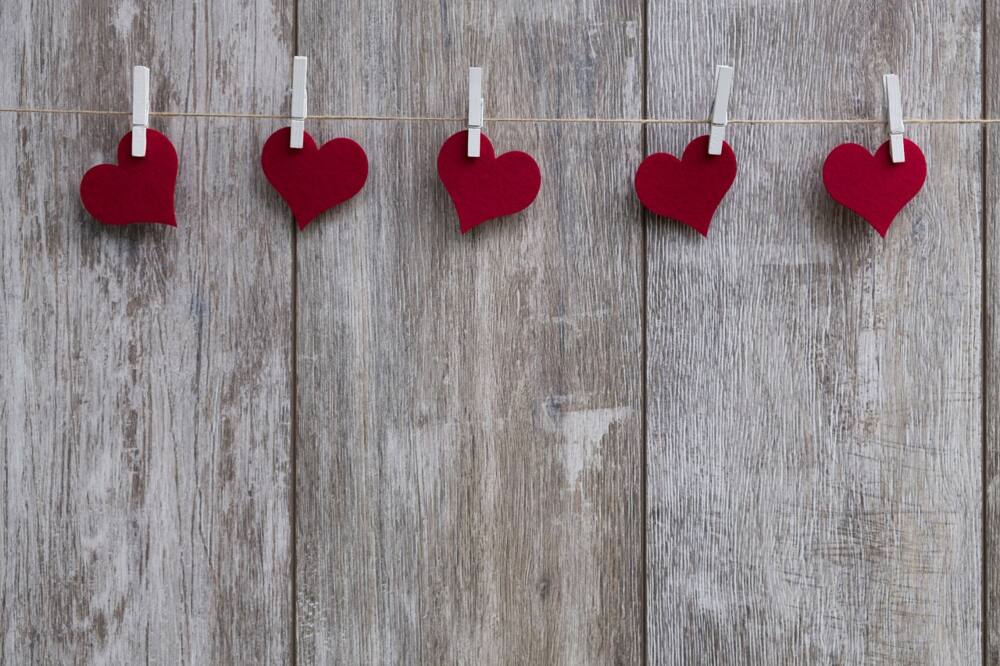 This Valentine's Day, go all out with the romance from the heart with help from this selection of true love messages. Whether you have a boyfriend, girlfriend, husband, wife or someone looking to surprise for the first time, we have got what you want. Your perfect love quote for him or her awaits.
Sweetest I love you messages
I am always looking forward to coming home and curling up with you.
In many ways, a significant other feels like a great work of literature that can take you places and stir up emotions within you.
I love you more than I love love itself.
Let them know just how deep your love for them goes.
Sometimes, I love you more than I did a few moments before, which I had believed to be the most I ever could.
Inspired by such timeless classic romantic novels as The Princess Bride, this is sure to work every time.
.I am convinced you are the greatest kisser in the whole world and I do not really care for a second opinion.
This one will definitely put a smile on the face of whoever hears it, especially after a passionate kiss!
You are like a fine Pinot grigio without the hangover, and I am ready to get drunk.
If they give you that special feeling that makes you feel like you are floating, these words will definitely let them know in the most romantic way!
What we have is the bee's pajamas.
This one is a funny play on words for those who enjoy romantic expressions and metaphors.
Tough luck if the world ever grows tired of hearing about how much I am crazy about you because I will never stop.
If you want to tell them that you put them first before anyone, use this one.
READ ALSO: SA couple unbelievably spent only R2000 on dream wedding day
There are not enough hours in a lifetime for me to adore you in all the ways I would want to.
Tell them this when they are about to leave.
It is not that I will not stop thinking about you, it is that I cannot stop.
Tell him or her how you cannot get them out of your mind.
It is always the little things; I would not want it any other way.
This one is proven to work at all times. Use it when they have done something small but very meaningful for you to show your appreciation.
It is you, me and then everything else after.
You should always make your significant other your priority, and this is a sweet way to tell them that you do.
I do not remember ever being this happy before I met you.
Tell them that they have brought more happiness into your life than you had ever felt before meeting them.
You are my number one and only.
Give your significant other your priority status and tell them.
Loving you feels like magic – I still cannot explain it after all this time.
If you cannot yet put your love for your new boyfriend/girlfriend into words, this is perfect for you to tell them how you feel.
I am so incredibly over the moon for you, it is unbelievable.
Keep it short and sweet with this romantic message.
The hardest thing for me is trying to come up with anything I would enjoy more than just laying next to you on a nice warm afternoon.
Keep this for the weekends where you are simply relaxing together and enjoying each other's company.
I would not know where to start if I had to stop loving you.
If you know, you know, if you do not, you do not.
My life is at its best when you are in it.
If someone makes you a better person, tell them!
I am Lois Lane and your love is Superman – it has saved me countless times.
This one is suitable for lovers of superheroes.
You are the best thing that has ever happened to me. Because of you, I feel that I am the luckiest one in the world.
Let your girlfriend or boyfriend feel how much you are grateful to have them.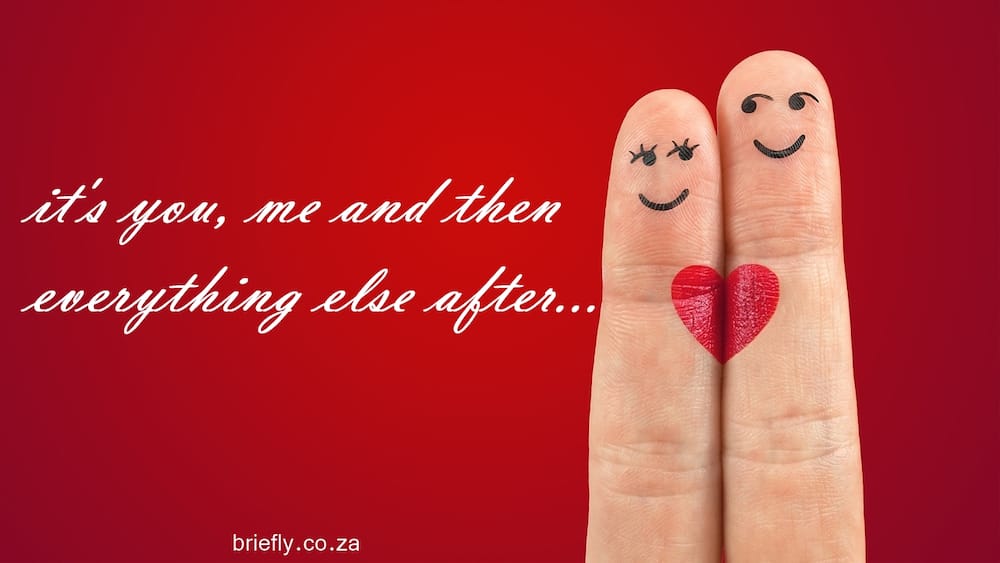 READ ALSO: Tobeka inspires: a family that trains together stays healthy together
Deep true love messages
I want to take the fire in my heart and burn every bridge that leads me away from you.
This is a very romantic message for those who love poetry.
Your love feels like a dream, and waking up is not so bad because I get to wake up next to you.
This is perfect to tell your partner when you are going to sleep or have just woken up. It helps both of you start the day on a high note.
I am not a fortune teller, so I could not say what I will be doing a decade from now, but I know you will be there with me.
This one is perfect for girlfriends/boyfriends to state your commitment and tell them that you are in it for the long haul.
You keep me young at heart, and this is why I want to grow old with you.
This deep quote is perfect for husbands and wives or those looking to pop the question and propose.
I was lost before I found my way towards you.
Show them that you value them with this deep love message.
I am no philosopher, but I know I see the meaning of life whenever I look at you.
This deep quote is perfect for boyfriends or girlfriends in a long term relationship.
I used to put up my walls because I thought I did not need anybody, but now I realize that I need walls so I can be with you and with nobody else.
If you were previously emotionally guarded but now have let someone in because you know they will not hurt you, use this romantic love message to tell them.
I used to consider myself a hopeless romantic, but since I met you, I have so much hope for our future together.
This message tells your boyfriend or girlfriend in a new relationship that the relationship is mature and will last for a long time.
I am less free by myself than I am when we are together.
This sweet message is for when you want to tell your boyfriend or girlfriend that you enjoy spending time with them.
At first, I thought giving us a chance was going to be tough, but loving you now feels like the easiest thing in the world.
Good love does not feel like a chore. Use this to let them know their love is definitely good.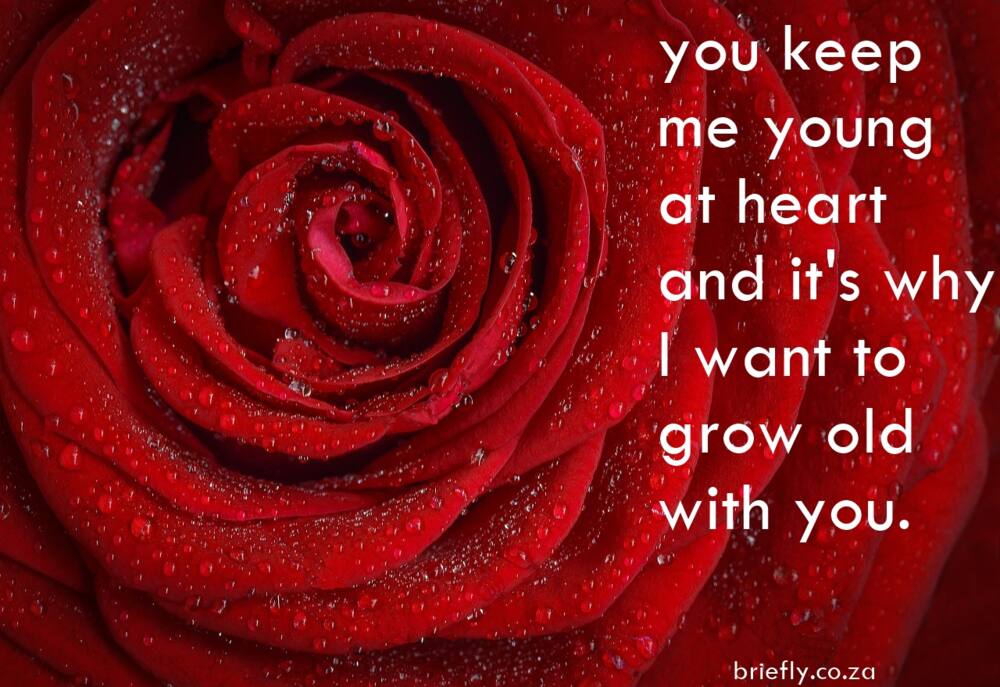 Inspirational touching love messages
Now that you are walking with me through this journey, all my fears and aversions have been abandoned by the wayside.
This is to tell them when they have inspired you to be the best version of yourself.
I could do anything in this world with only one hand as long as yours was holding the other.
This is perfect to tell them that you are inspired by them and they make you feel stronger than you were without them.
I love you more and more with every passing day, and for the first time, I am not scared of what the future holds.
Assert your commitment to your boyfriend or girlfriend with this beautiful message.
I love you more for how you treat everyone with love and kindness.
Appreciate them not only for how they show you love but also for the compassion they show to other people and how it inspires you to be better.
They do not make the cloth they cut you from any more.
It is always romantic to tell your significant other that they are one in a million and that you feel lucky to have them.
Romantic love text messages
I did not plan on falling for you so hard, but here we are.
Almost nobody ever finds love on purpose, but when they do, it is very beautiful.
I hate Mondays! They always interrupt our weekends together.
This one is for fans of the cartoon Garfield, which is a lot of us. Definitely guaranteed to make them feel loved and laugh at the same time.
They say absence makes the heart grow fonder, but I do not want to be away from you for a single moment for whatever reason.
When you love someone, you do not want to be apart from them ever! This one works when you are not together, best over text.
My 9 to 5 is actually counting the hours before I can come back home to you.
This one is perfect and sweet to text your girlfriend/boyfriend when you are at work to let him or her know you are still thinking about them.
Cupid must be looking at us and feeling very pleased with himself.
Use this to let them know your love is one for the ages!
If you have a hard time expressing your feelings with words, there is definitely something in these 40 true love messages that fit what is in your heart. These quotes about are guaranteed to work wherever you use them. Happy Valentine's Day.
READ ALSO: Malva pudding recipes
Source: Briefly News