Everything you need to know about the momentous Umemulo ceremony
One of the most memorable ceremonies in Zulu culture is the Umemolo ceremony. Carried out when a lady turns 21, this coming of age ceremony is both colorful and significant. The traditional Zulu attire and beautiful culture shine in this ceremony, isstruggling to stay alive in modern South Africa.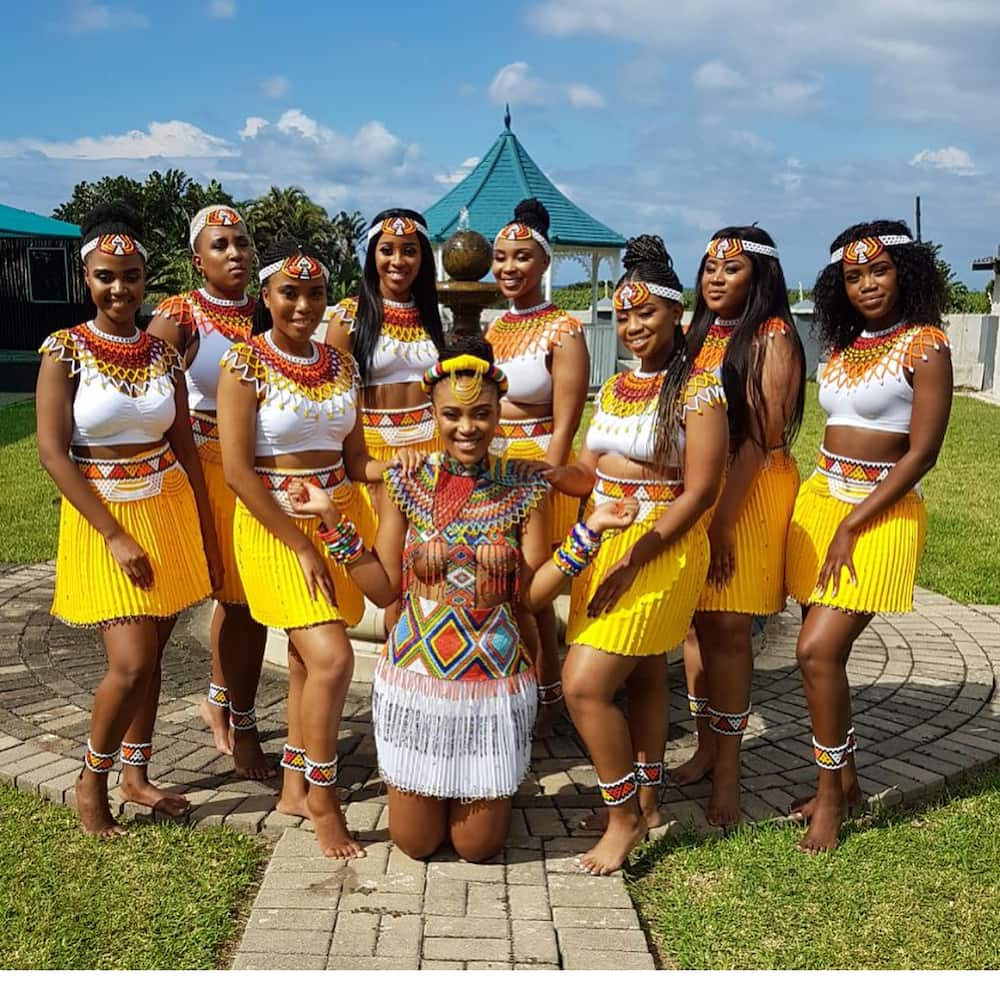 READ ALSO: Day of Reconciliation, meaning, history, facts, and quotes
Umemulo is a traditional ceremony that commemorates the coming of age of a Zulu lady. It is a very meaningful ceremony as it marks the transition of a Zulu girl into womanhood, signifying that she is now ready for marriage. It is a reward from the girl's parents for "good behavior" or remaining a virgin. The Umemulo ceremony is carried out when a girl hits 21 years and signified by drastic changes as per the Zulu traditions and culture.
Umemulo meaning
Umemulo is one of the many beautiful Zulu words whose English translation is "coming of age." While the word is synonymously Zulu, the ceremony it represents can be found in other cultures all over the world such as the Hispanic Quinceaneras. It marks the transition of a girl into womanhood signifying she is an adult and therefore ready for marriage.
Umemulo ceremony preparation
Umemulo is not just a birthday party; it is a process that involves years of planning from the moment a girl hits puberty at around 13 or 14 years of age. Immediately she starts her menstrual cycle, the countdown to her Umemulo begins and ends with the actual ceremony once she turns 21.
Traditionally, the girl is supposed to undergo various classes where she is taught of everything that is expected of her and the disappointments she may face once she crosses into womanhood. Chastity is highly valued at this stage with the crowning jewel being the Umemulo ceremony that is solely for virgins.
In keeping with this requirement, Zulu girls may be required to attend monthly virginity classes from their first period to the moment they undergo their Umemulo ceremony. In as much as these classes are to test virginity, they are also used to educate the girls on all matters self-worth, respect, and womanhood. Once a girl reaches 21 and having fulfilled her Zulu tradition obligation she can now prepare for her Umemulo.
READ ALSO: Nonny Muvhango biography: age, real name, daughter and husband
Umemulo ceremony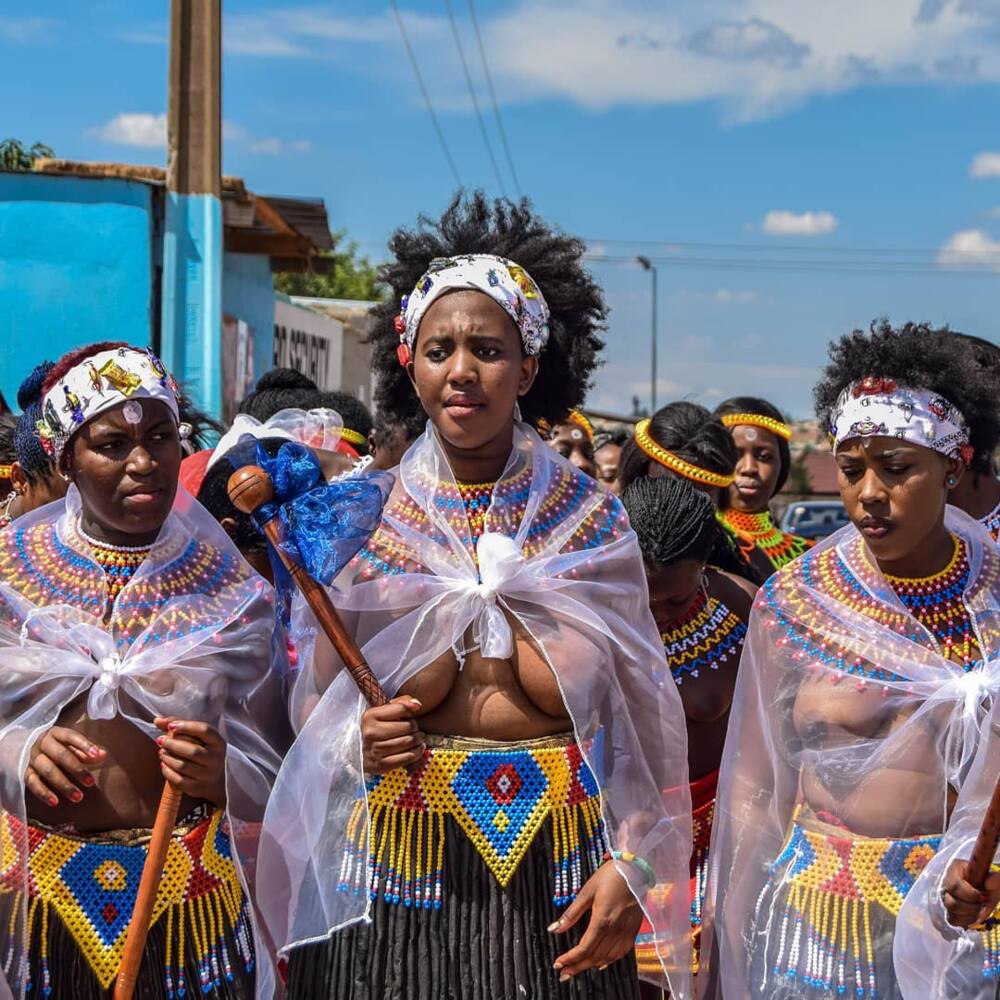 The ceremony begins a week before the set date which is more often a Saturday. During the week, the girl undergoing her Umemulo ceremony (bride) is not allowed outside the house. Everything she needs is provided by her bridesmaids (izimpelesi) for the whole week, and she gets the bride treatment all week.
On the eve of her ceremony, the girl is allowed to go out for a few minutes, covered with a blanket to welcome the cow the family gifts her as a present. Once she does this, she retreats to the hut once again amid singing. The cow is very significant, and each part plays a significant role in the Umemulo ceremony the following day.
In the middle of the night, all the girls leave the house completely naked to go and sleep by a river singing and dancing all night. In the morning, the ukuhlolwa (final virginity test) is carried out by a ngobese and once positive a lot of ululations to alert the family is made. All the girls bathe and get ready in their Zulu traditional wear to begin the celebration. The fat from the cow that was slaughtered is put around her head once she and her izimpelesi come from the river.
Zulu attire for ladies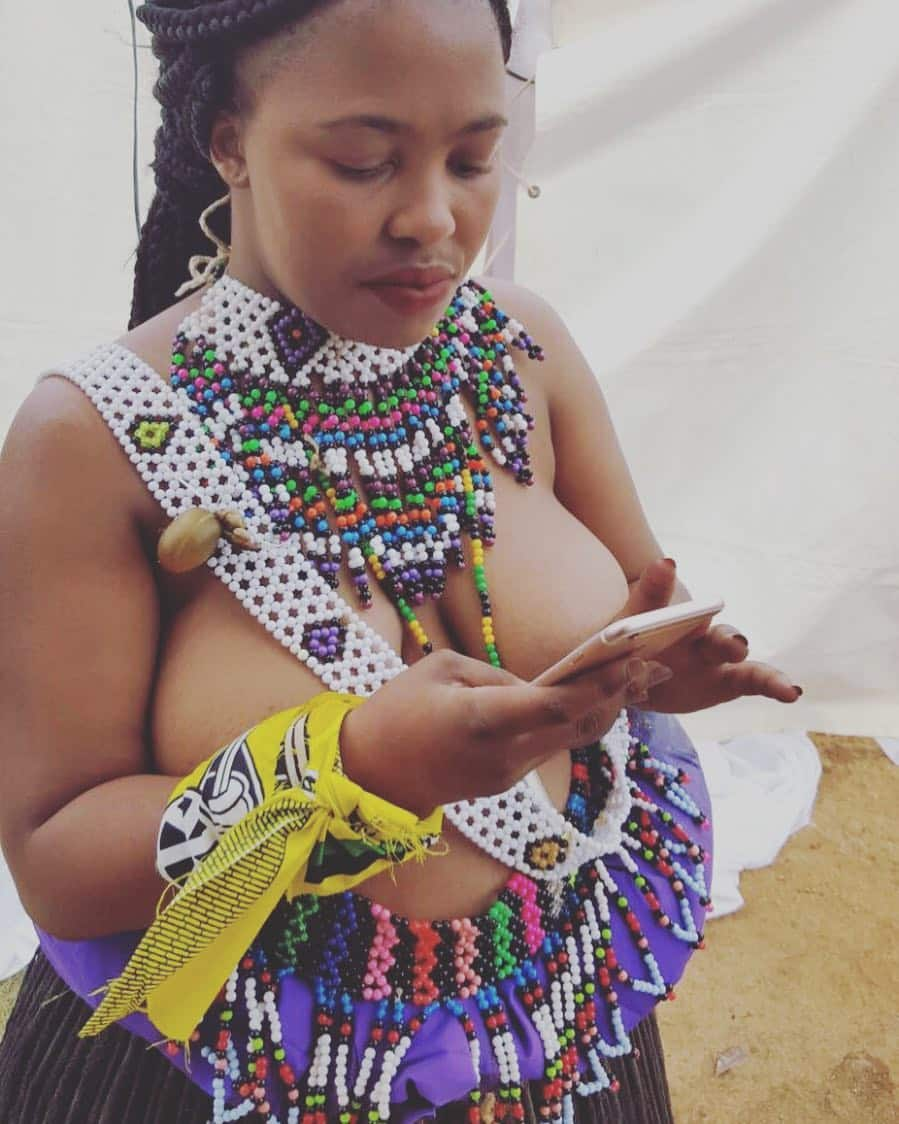 Women in the Zulu tradition dress differently during different stages of their lives. For instance, single young girls wear grass-reed beads embellished skirts and short hair only, while engaged women cover their breasts and grow their hair. Married women have to fully cover up in cowhide skirt and izicolo, a circular shaped cotton and grass hat. Yes, zulu clothes are that interesting.
Umemulo is, therefore, a transition from bare breasts and short hair to the possibility of covered breasts or cowhide skirts. Ntando Duma's umemulo caused all the rage when Instagram pulled down some of her bare-breasted pictures which violated the nudity policy.
Zulu attire for men
On the other hand, the Zulu traditional attire for men consists of feathers and animal skins with a front apron (isinene) and a rear one (ibheshu) to cover the genitals. Only royalties are allowed to wear the leopard's skin, and headbands are purely for married men.
Zulu culture food
Zulu ceremonies are famous for their abundance of food, especially where the slaughtering of a cow is assured. Ironically, most traditional Zulu foods are actually vegetarian such as umfino and amadumbe. Nonetheless, in umemulo, the abundance of porridge, fruit and grain beers and amazi the curdled milk are to be anticipated. The food is also very spicy and tasty which is a good accompaniment to the music and laughter. However, a blend of modern and Zulu food is also common.
READ ALSO: South Africa's 11 official languages
Ukusina and Omkhonto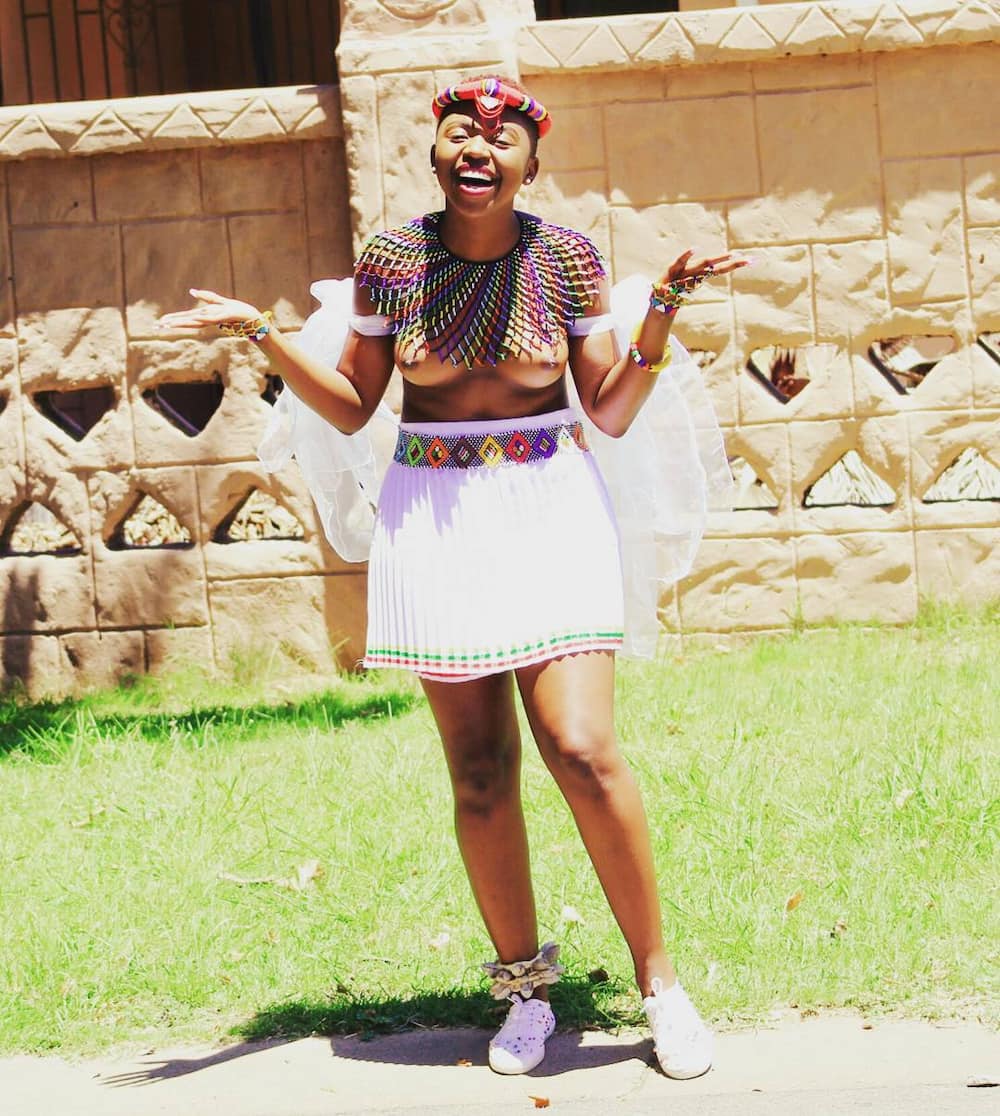 This is one of the main parts of the umemulo that involves a lot of dancing, money pinning, and spear planting. Ukusina is the traditional dance the girl undergoing the ceremony has to learn and perform for those who attend. They then perform the ukusina as she leads a few songs. In modern South Africa, most girls take crash course days or weeks before their umemulo to learn this dance.
The Omkhonto is a spear that she has to throw in front of different people who are then required to present a gift. Nowadays, that gift is normally in monetary terms. However, the only family is allowed to pin money on her hair. The rest deposit it in a basket. The singing and dancing goes on for a while and can actually last into the night.
Umemulo is a ceremony many Zulu girls admire, and that is why everyone wants to do it even past the traditionally required age. It is symbolic and serves to reunite modern South Africa to the great Zulu tradition. The proceedings of this ceremony require both time and money, but it is still one of the most memorable birthdays in a lady's life.
READ ALSO:
Kelly Khumalo - Uthando lyrics, official video and public reaction
Public holidays South Africa
Public and private school holidays 2019
Why do we celebrate youth day South Africa?
Source: Briefly News