- A domestic worker, Thulile Xulu, has been living with her disabled sister, four children and two grandchildren in a tent for three years
- However, after her employer found out about her situation a month after Xulu started working, things changed for the 56-year-old
- Her employer started building her a new house and she'll finally have a roof over her head for the first time in years
PAY ATTENTION: Click "See First" under the "Following" tab to see Briefly.co.za News on your News Feed!
Thulile Xulu and her 85-year-old disabled sister lost their home in 2016 following a massive flood in KZN's Nongoma Thokazi area.
It left the 56-year-old to look after her sister, four kids and two grandchildren while staying in a small 3x3-metre open tent.
However, Briefly.co.za gathered that things started to change for Xulu when she was employed as a domestic worker for Samke Khumalo Dludla.
Dludla said Xulu asked that she keep half her salary each month to save up for a new house. Dludla learned about her domestic worker's situation and it touched her heart.
"There was no way I could live with someone whom I pay and who goes back to a tent to live while we make them serve us, in dignity, I knew I had an obligation to do something no matter how little it is. I knew I needed to act first, do something and then ask for help from different people," she said.
Dludla took to social media and asked for help on New Ladies House, she also contributed some of her own salary towards building Xulu a new house.
PAY ATTENTION: Do you want to know what's trending on Briefly.co.za? Join our WhatsApp group today.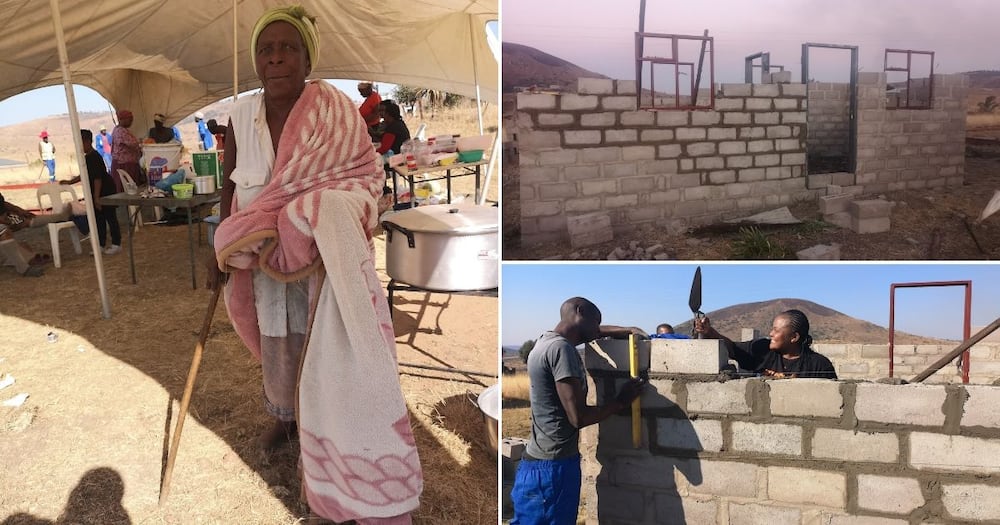 READ ALSO: Man gets married for 6th time with ganda ganda construction vehicle
Armed with only faith, Dludla started building her domestic worker a new house last month.
"We started the house without a plan, water or resources but faith. We asked the community to volunteer to help the family," Dludla said.
A 22-year-old unemployed orphan volunteered to help build the house and the community would walk far to fetch water in buckets to help start the foundation.
"It was a true fulfilling exercise of community effort. We did this as one, apolitical, with one vision to see the family getting help."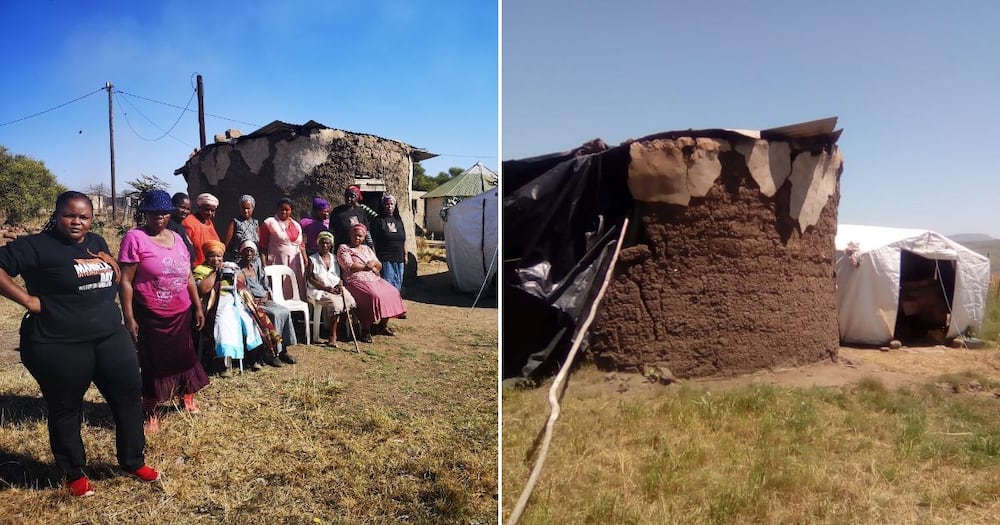 On 18 July, the Department of Human Settlements visited the family. They have since started construction on a second building because the family is big and the special needs gogo must to be accommodated.
Dludla and the women of Facebook group, New Ladies Houses, volunteered to physically build the house on that day.
The kind employer added she hopes to have the building completed before the spring rains come.
"The family should be secured. Nobody deserves to live in such conditions."
Dludla added that people should not always wait on the government to take action, sometimes the community has a moral obligation to take care of each other.
She has since called on Mzansi to help fulfil her dream of helping the domestic worker and her family.
Dludla started a crowdfunding campaign which hopes to raise R250 000 towards building the house, buying furniture and clothing for the large family.
Funds raised will be used to cover:
Foundation for the house R25 000
Bricks, cement, doors, windows etc R80 000
Roof R40 000
Furniture R 60 000
Fencing, electrification, kids' education, food and clothes R50 000
If you want to donate towards the cause, you can visit the crowdfunding campaign or deposit money into an account at Mica Hardware in Nongoma.
Bank details:
KwaMnqandi Mica account 6240 6275 588, Ref KHU002
Enjoyed reading our story? Download BRIEFLY's news app on Google Play now and stay up-to-date with major South African news!