What word pops up on your mind at the mention of Madam Dudu Myeni? Is it power, influence, or raw ambition? Well, this lady's social skills and corporate maneuvers clearly tell how closeness to the axis of political power and the ambition to succeed can spontaneously shift an individual's gears of destiny for their good or self-destruction.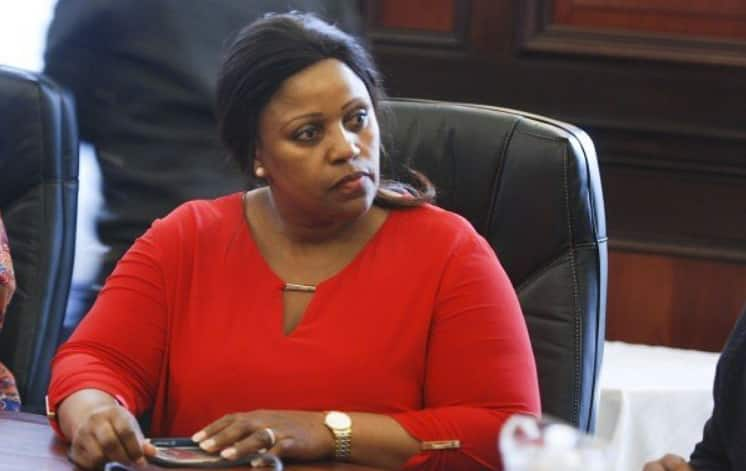 Originally known as Duduzile Cynthia Myeni, Mrs. Dudu Myeni was born on October 29th, 1963. Aside from her sharp business acumen, she has held top positions in several prominent organizations. She is, for example, the former president Jacob Zuma's close friend and his long-serving Executive chairperson of the Jacob G Zuma Foundation.
Dudu Myeni qualifications
Myeni qualified as a primary school teacher from Madedeni College. She moved on to Umlazi College, where she graduated with a Secondary Teachers Diploma. Although details about her University education are scant, the 2009 South African Airways report included a Bachelors degree in administration from the University of Zululand in the list of her qualifications. A year later, though, the degree qualification was expunged following her admission that she was still in class.
In 1999, Myeni founded Skills Dynamic, a consulting firm through which she facilitated several SDPs or social development programmes. She would do this on behalf of big corporations and Government departments around and within Richards Bay. By the year 2015, she held the following positions
Board member: The Jacob Zuma foundation
Vice president: The African Water Association
Chairperson: The South African Association of Water Utilities
Chairperson: The Mhlathuze Water Board
Director: Trade and Investment Kwazulu-Natal
READ ALSO: Bosasa paid for home upgrades for Mokonyane, Myeni, Mantashe and more
The controversial South African Airways tenure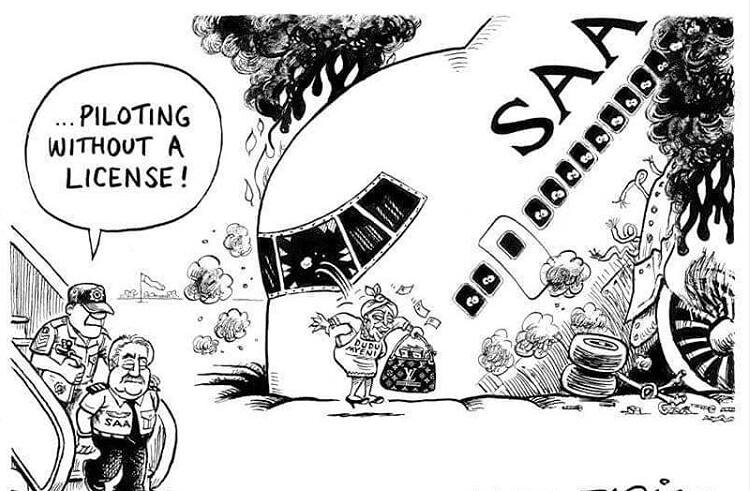 Myeni's tenure at the state-owned corporation was marred with controversy following her perpetual board-room wars, witch-hunt, and tactical maneuvers. She sat on the SAA's board of directors for the first time in 2009. Three years later, in 2012, she was appointed the board chairperson after eight out of the fourteen board members resigned. Shortly after that, Vuyisile Kona, the then acting CEO was relieved of his position amid speculations that she spied on him using the airline's security service.
Come January 2014, several non-executive SAA directors wrote to Mr. Malusi Gibaga (The then Public Enterprises minister) expressing their lack of confidence in her leadership. Two months later, Mr. Monwabisi, the new CEO, paid to procure and produce documents that claimed that Myeni had €18.5-million stashed away in her foreign bank accounts. However, Kalewe's documents were proven to be false, and disciplinary measures were taken against him.
Shortly after that, and in what appeared like a revenge mission, Myeni raised grievances against Kalewe, accusing him of gross governance failure. The ugly spat caught Gibaga's attention, who, while expressing his confidence in Kalewe, called upon the state airline to style up and put her management room in order.
But, barely a week after Gibaga's intervention, President Zuma moved him to the Department of home affairs and brought in Lynne Brown as the new Minister for Public Enterprises. In a bid to sanitize the whole place, Zuma requested Mr. Brown to replace all Myeni's critics and instructed Myeni to bring back Kalawe as the CEO. She ignored the directive.
READ ALSO: Zondo Commission: Jacob 'Number One' Zuma influenced decisions at SAA
Dudu Myeni husband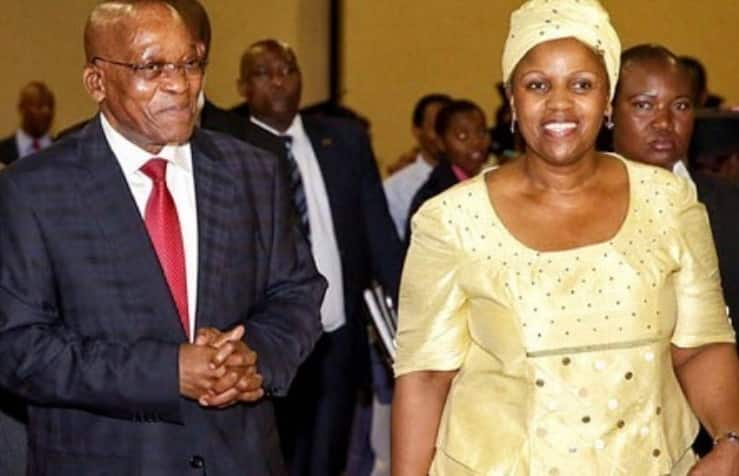 There is very little information about Dudu's actual husband, but once, while speaking in parliament, the Economic Freedom Fighters leader Mr. Julius Malema addressed her as "Dudu Myeni Zuma." For this, Julius Malema stirred the wrath of some house members, but he defended the tag saying that the lady deserved the Zuma surname because of her perceived close ties with Jacob.
Accordingly, the Small Business Development minister Mr. Lindiwe Zulu expressed his concerns saying that the name tag undermined Myeni's matrimonial integrity.
"Such a statement borders of sexism because the lady is a married woman," he said
In a swift, personal rejoinder, Dudu noted that she was looking forward to her husband's retirement so that he could confront those who kept calling her "Dudu Myeni Zuma."
Son and house
The powerful lady owns a Dudu Myeni's house in Richards Bay, and she has a grown-up son called Thalente Myeni. Dudu Myeni son looks financially stable, probably because he runs a shelf company registered as Dimadox.
The Commission of inquiry into the state capture
During her time at the SAA, the ghost of corruption regularly manifested in Dudu's life through episodes of allegations implicating her in diverse underhand dealings. It is widely rumored that she leveraged her close relationship with the President to manipulate vulnerable companies and state corporations into parting with funds to satiate her ever-growing appetite for material gain.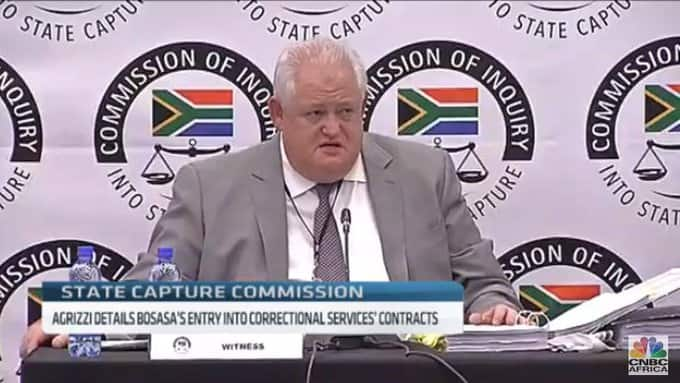 During his detailed submissions to the state capture inquest, for example, the former BOSASA executive Mr. Angelo Agrizzi said that the boss lady would regularly call the Chief executive officer Mr. Gavin Watson to fix executive meetings which at times involved the President. Interestingly, she is alleged to have found her way on to the BOSASA payroll where she was receiving a whooping R300,000 per month. Madam Dudu would also receive pricey gifts in exchange for her closeness to the center of power.
Mr. Angelo testified that her relationship with the firm was entirely pegged on the expected financial kick-backs. He recollected one particular morning when Watson had allegedly organized for a beautiful gift for Myeni to impress her .
He said he needed to impress Myeni. I said, don't ask me, ask my wife. My wife told me to buy a handbag from Louis Vuitton, he testified.
Agrizzi said that after the Loius Vuitton handbag was dropped at the Bosasa offices, Watson loaded it with her R300,000 monthly loot.
Afterwards, Myeni thanked me personally for choosing the bag for her," he continued.
The rejected appointment
Only a few months after her scandal-ridden tenure at The South African Airways, the influential lady was recommended for another top position as Transport Minister Joe Maswanganyi's chief adviser. The minister reportedly rejected her appointment citing a failure on her part to submit the requisite academic credentials.
Dudu Myeni latest news
During a July 2019 session in the ongoing state capture inquiry, the commission heard about another scandalous revelation where she deliberately stopped a fairly awarded tender and irregularly awarded it to a company in which she was a board member, thus entering a conflict of interest.
In a dubious bid to fix an ally in the airline's procurement unit, Mrs. Dudu prevailed upon Phumeza Nhantsi, the then chief financial officer to hire someone "revealed " to her by God through a direct vision. In this case, she cleverly tried to invoke God's name for personal aggrandizement. Shocking, and , isn't this how some false prophets get into business?
Much to her disappointment, the "anointed" candidate had a miserable interview score, and, as you would expect, this did not go down well with Dudu. In a spontaneous reaction, she allegedly ordered Nhantsi to urgently fly and meet her in Durban to shed light on the circumstances under which her favourite candidate failed.
The Dudu Myeni saga reads like a Hollywood movie if you will. Back then, while her boss was still in the top office, it would have been easier to handle the current pressure. But, as the commission continues to sit, it will be interesting to see how it all plays out. Anyone in her position may require a regular dose of dudu drops to catch any meaningful sleep.
READ ALSO