Makhadzi bio, age, songs, albums, latest news
If you are a fan of South African music, Makhadzi is one of the names that you cannot miss out. The latter wowed most people within the country and beyond because of how good her style is. Her songs have gained popularity in Venda weddings. How about getting to know her more.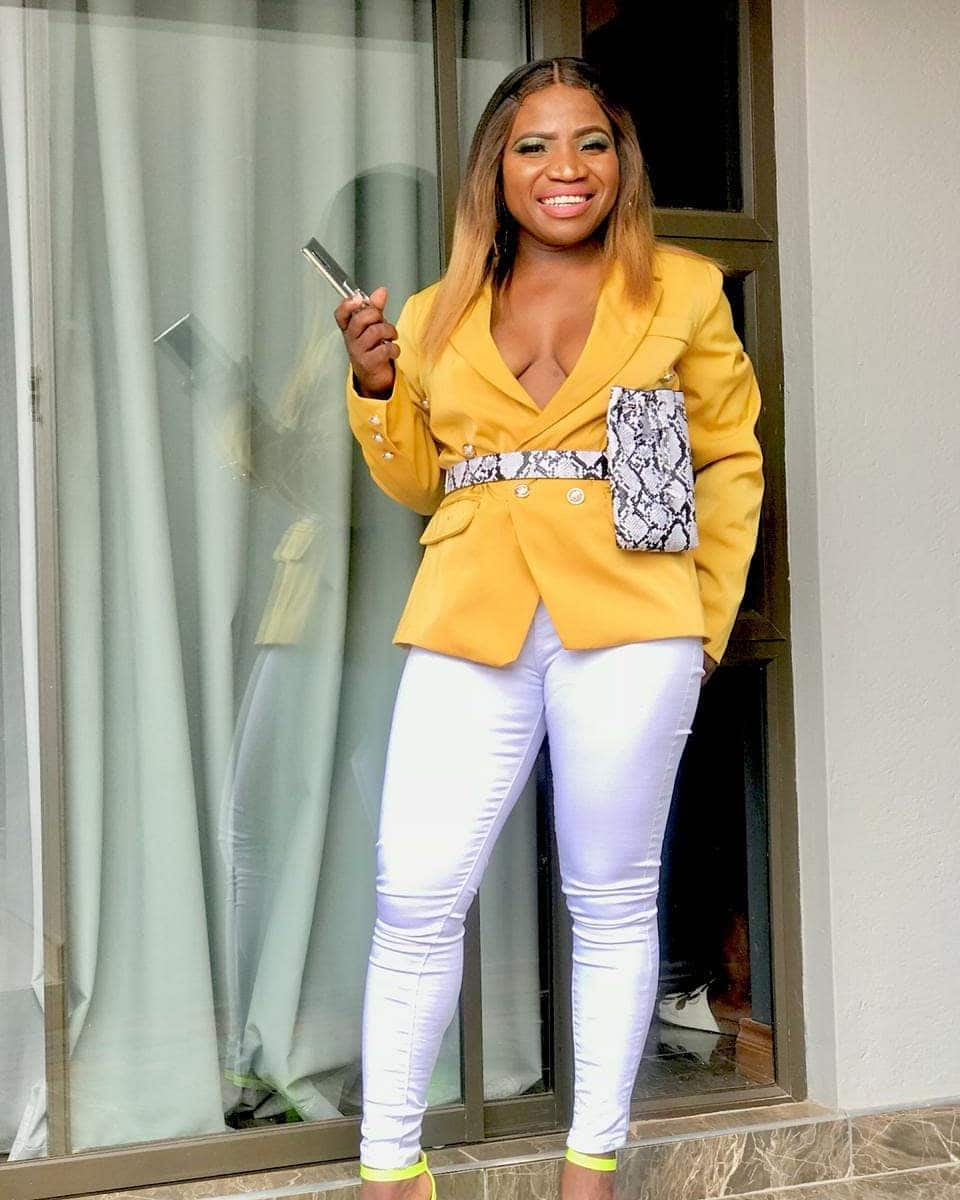 Makhadzi is an iconic South African star who is passionate about her style in music. The energy and hype that her hits create are worth dying for. Her hard work and passion are written all over her facade, and for the past couple of years, she has blessed her fans with killer hits. Her biography shows her journey in music. You might want to jump onto the bandwagon to find out more about her.
Makhadzi biography
These are the key details that define who the latter is:
READ ALSO: Support floods in for Makhadzi after her claims of mistreatment
Makhadzi age
Ndivhudzannyi Ralivhona, known to many as Makhadzi, was born on 30th June 1996 in Ha-Mashamba Tshivhanganiin, Limpopo province. As of date, she is twenty-three years old. She is the eldest child in her family. She spent the better part of her life under the care of her mother as her parents separated when she was young.
Makhadzi music career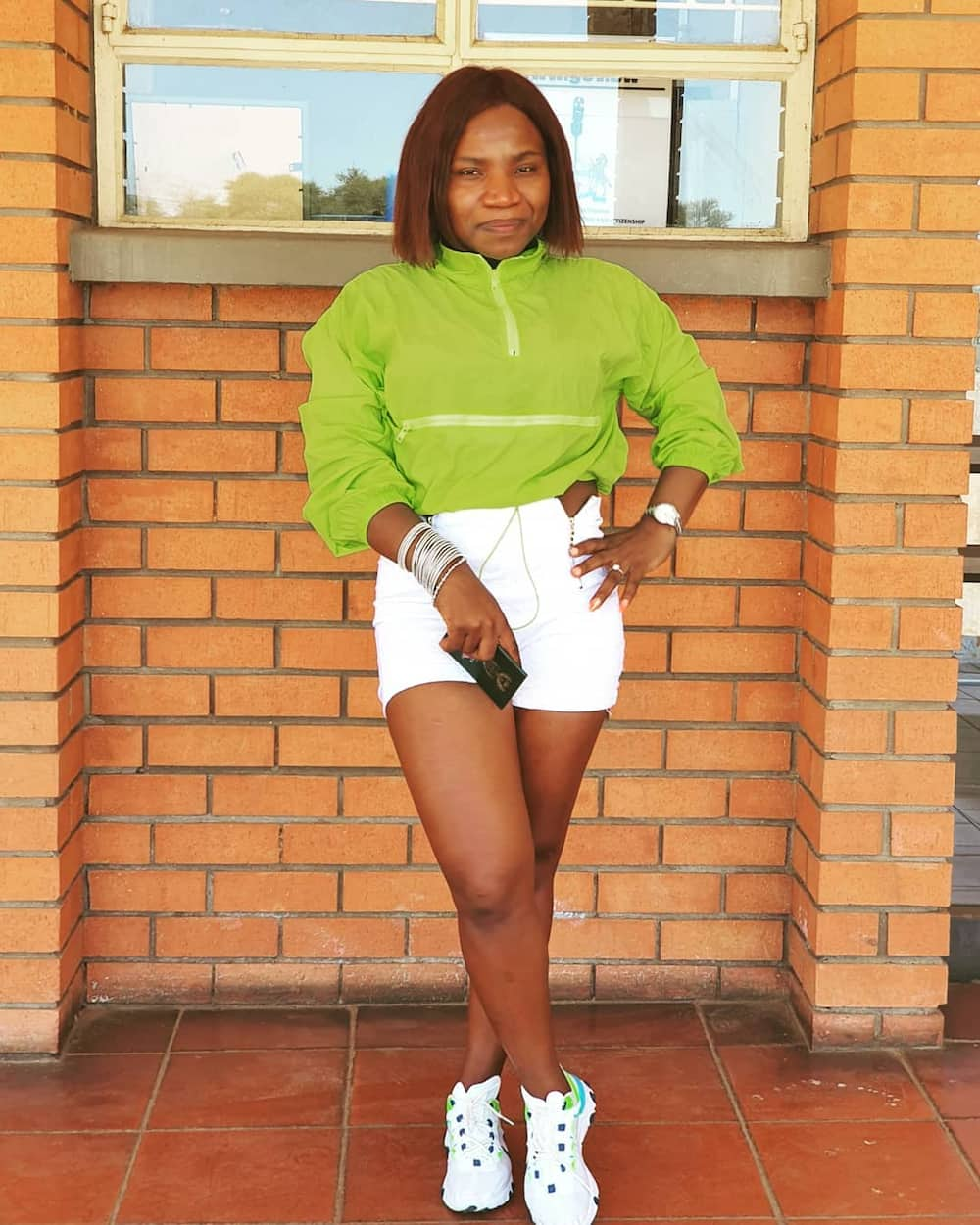 Ndivhudzannyi (Makhadzi) made her debut in the industry in 2010 when she joined Makirikiri Musical Group as a dancer. The experience that she gained as a dancer awakened her desire to be a singer. As the passion grew, she had the exposure of being in a studio. She, therefore, recorded herself singing, and when the manager of the studio came across the recording, he fell in love with it. That is how she landed the opportunity to record in the studio.
In 2012, she released her first album. She has since then been consistent with her career and has released more than five other albums. In case you have not had a glimpse of her music, you might want to hear her songs.
Makhadzi songs
These are some of the top hits that define Makhadzi's skill and expertise in music:
1. Makhadzi ft DJ Tira Riya Venda
This is one of the top hits that the latter released less than two months ago. In this jam, it goes without question that Makhadzi is passionate about music as she involuntarily dances to the song. The blend between the beats and her voice create such a beautiful melody. The video of the song has gathered more than 700,000 views on YouTube.
2. Makhadzi Matorokisi
This banger was released in November and fans do not seem to be over it. The latter did justice to it, and the blend between her Venda lyrics and the beats could not sound any better. It has gathered more than 1 million views on YouTube in less than one year.
3. Makhadzi Tshanda Vhuya
Do you have a bad day and would like to change the mood? This is the jam to listen to because the hype in the song is cool. This smasher came out in November 2018, but the latter's fans never get tired of listening to it. So far, it has close to 2 million views on YouTube.
4. Makhadzi Tshikwama
Makhadzi is one of the South African artists who have revolutionised South African music. Her passion for music is written all over her facade as she performs this hit. This is one of Makhadzi 2019 hits that had fans going crazy.
5. Master KG - Party ft Lebb Simons & Makhadzi
This is another project that the latter did, and it was a masterpiece. The audio of this hit gained more than 500,000 views on YouTube.
Apart from these mind-blowing hits, this phenomenal lady has featured other iconic artists like in Makhadzi ft King Monada hit. Together, they have released a banger called Ngaka, and this is one of the most-talked-about hits of 2019. She has also worked with the likes of Master KG and Sho Madjozi.
Makhadzi albums
If you wish to have a full dose of how good Makhadzi is, you ought to check out her albums. The title of Makhadzi new album is Matorikisi which came out in 2019. Her other records that you ought to check out for include:
Shomela Venda
Yo Shoma
Shomela Venda Vol. 6
Makhadzi awards
The latter bagged an award during the Limpopo Music Awards that was held in 2017. Her hit 'Yo Shoma' topped the best Tshivenda hit of the year category.
Makhadzi latest news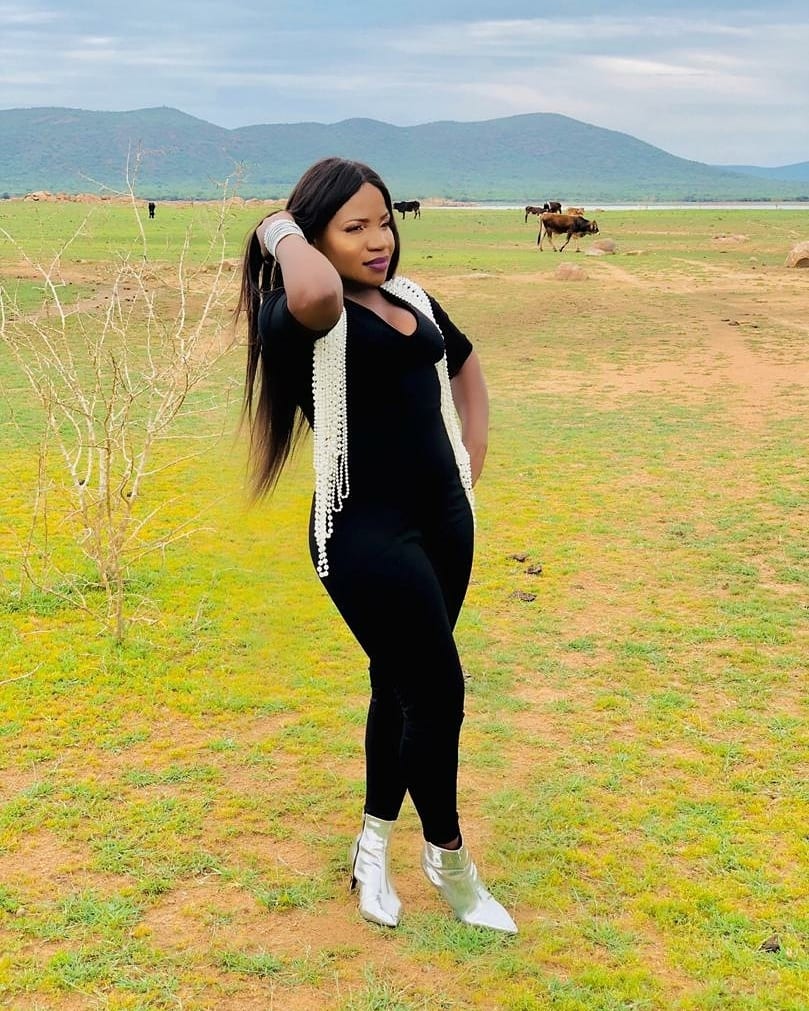 The latter has for the past few hours topped the headlines and been the topic of discussion in most social sites. This is so because of the allegations that she made regarding Rita Dee, her manager and the director of Rita Dee Entertainment for not paying her. According to Makhadzi, she had made more than R1 million from the shows and gigs that she had performed in during the festive season. Unfortunately, her manager had not made the payment to her and was ignoring her calls.
Through her social media accounts, she expressed her frustrations about the delayed payments stating that she had had to beg the manager to deposit the funds even when she wanted to purchase something. In one of her posts, she stated:
I wanted to buy something today [but] I waited, [I] promised the seller that I will pay in hours time because I knew my manager used to switch off her phone but she will soon get back to me,
Is the manager incompetent?
In another post, Makhadzi stated that she did not see the need to get a new manager. However, she went ahead to expose her manager's dirty linen claiming that she had an issue with taming her drinking habits, and that was the main reason why she could not reach her. Her post read:
'And after she get paid she [would] get drunk and switch off her phone, no update of what's going on. I will call like I am crazy, imagine crying, hunting someone to give you your money. I must explain myself first…
Rita Dee I love you and I still need us to work but please change how you do things. Sometimes I become mad at you because of how you treat me. I will end up being depressed [because] you are damaging my mind instead of me being happy I must be stressed because of you'.
What do you think about the allegations?
Social media responds to the claims
More often than not, social media users, who also happen to be great fans of the iconic artist, felt the urge to respond to the matter. The latter's fans expressed their pain and shared their frustrations about how Makhadzi felt. They even started #FreeMakhadzi on Twitter to respond to the issue. According to most of the tweets, it was evident that the situation angered them. These are some of the tweets that expressed how most of them felt about the matter: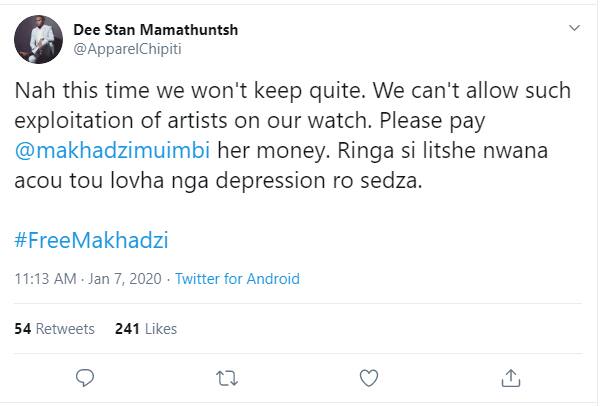 Most of her fans were not only feeling her pain but also disliked what Rita Dee was doing according to the claims.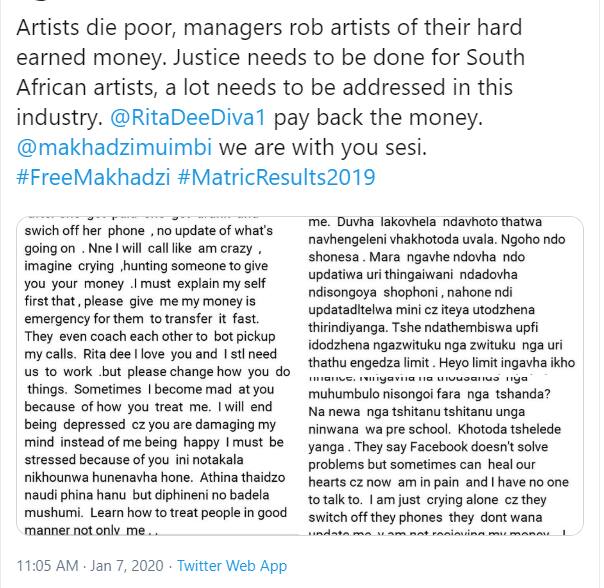 Rita Dee's version of the story
Makhadzi's manager responded to the backlash on social media stating that she does not owe her any money and that she had paid her 75% of the total amount that was paid for the shows. In retaliation, she stated: "How can I owe her money when I pay her?". She said that Makhadzi is being used by someone to tarnish her name. It is not clear whether these allegations are true.
What are your thoughts on this scandal? Do you think that Makhadzi is right? Do you believe that Rita Dee is saying the truth? If you wish to find out more about this story, feel free to stick around for updates.
READ ALSO:
Viral challenge sent SA into a frenzy, teen warmed hearts
5 Challenges that went viral in SA – from Matorokisi to Woolies water
Viral #MatorokisiChallenge sends SA into a frenzy with dance videos
Source: Briefly.co.za