- Friday, 5 June marks World Environment Day and an initiative is helping educate young people on SA's biodiversity
- This youth programme sees an expert training young disadvantaged people to take stunning photos
- The youngsters are exposed to some of SA's most beautiful and diverse wildlife
PAY ATTENTION: Click "See First" under the "Following" tab to see Briefly.co.za News on your News Feed!
Today is World Environment Day and Briefly.co.za was told about a programme that helps unemployed and young disadvantaged people learn skills they can use to pursue a career in wildlife photography.
Canon's Young People Programme in South Africa works with Mike Kendrick, founder of a local NPO Wild Shots Outreach, teaching wildlife photography to break down the barriers between young people in local black communities and their natural heritage.
Their believe is that if young people have never seen the country's wildlife and have no relationship with it, how can they be expected to preserve it.
Many children who live near some of SA's biggest national parks, including the Kruger National Park, have never been inside it.
They face different struggles such as transport and not being able to afford it. However, the programme has not only offered young people the chance to see these stunning wildlife parks, it also equips them with skills that they can use in a career as a photographer.
Canon ambassador, Mike Kendrick, trains students and unemployed young people in wildlife photography.
They are then taken on game drives to see the iconic animals and to learn about the importance of wildlife preservation.
The students who complete the programme reportedly have incredible success in pursuing a career in photography and wildlife conservation. Their images are also showcased at exhibitions.
READ ALSO: SA heartbroken over teacher looking for job on street: "Hang in there"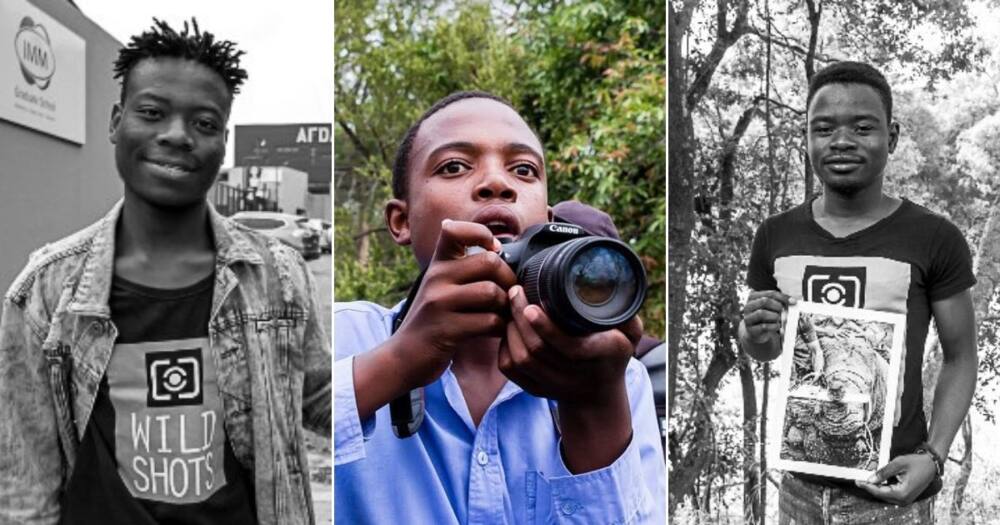 Briefly.co.za had the opportunity to hear from two students who are part of the programme.
Vusi Mathe
Mathe is a 21-year-old man who hails from White City, Mpumalanga. He took the course in 2018 while he was a matric learner at Madizi High School.
He took Advanced Photography and Videography WSO YPP course in 2019, after finishing school and struggling to find a job.
Mathe joined the WSO Media Team in 2019 and in December that year his team became employed by Conservation South Africa on the South African Government's Yes4Youth programme.
Mathe revealed that he learned new skills and is now able to see conservation in a new light.
He said:
"My life is better now because I can now make difference in the world and inspire those around me to take better care of their wild places. It much easier for me to make a living through photography and videography."
Mathe hailed his mentor, Mike Kendrick, as his inspiration. He said:
"He helps young people from the local communities to engage with their wild places through photography. He inspires me to do more for my community and create a better world for all."
Wisani Ngwenya
Ngwenya is a 20-year-old, who hails from Ludlow Village, Mpumalanga. He took took the WSO Canon YPP course in 2018, while still a pupil at Frank Maghinyana High School.
In 2019, an unemployed Ngwenya decided to take the Advanced Photography and Videography course.
Now, he is attending the AFDA Media College in Johannesburg, where he studying a three-year BA degree in Filmmaking.
Ngwenya is sponsored by Wild Shots Outreach, which covers his tuition fees, board, lodging and transport costs.
He said the programme changed his life in many different ways - not only did it give Ngwenya and other pupils like him an opportunity to learn new skills, it also provided him with career paths he never considered - such as journalism, photography and videography.
Ngwenya opened up about his upbringing, adding his mother was his inspiration.
He said:
"My family is my inspiration, more specially my mother. When I was young I started my own business of selling sweets and airtime etc, she and the whole family supported me and believed that one day I'll make them proud. When I met Mr Mike, she didn't know much about wildlife but she saw I was happy with what I was learning and discovering from WSO, they never stopped supporting me."
His message to other young South Africans is:
"We all have voices but it comes a time where you shout and strive more than anyone around you for you to be heard, we are the best and we can save our wildlife. We can be and we're the voice for our animals and our ecosystem. My message is that truth is learned never told, I wasn't told that wildlife is part of me but I learned it and I'm learning it, so don't keep quiet, shout and strive so that our voices can be heard."
Enjoyed reading our story? Download BRIEFLY's news app on Google Play now and stay up-to-date with major South African news!