Giving birth to kids is one thing, and raising them is another. Most parents selflessly put in resources to ensure that they bring up their kids in the best way possible. As a result, they deserve the best reward and appreciation. Sharing Happy Fathers Day messages is one of the purest forms of expressing gratitude.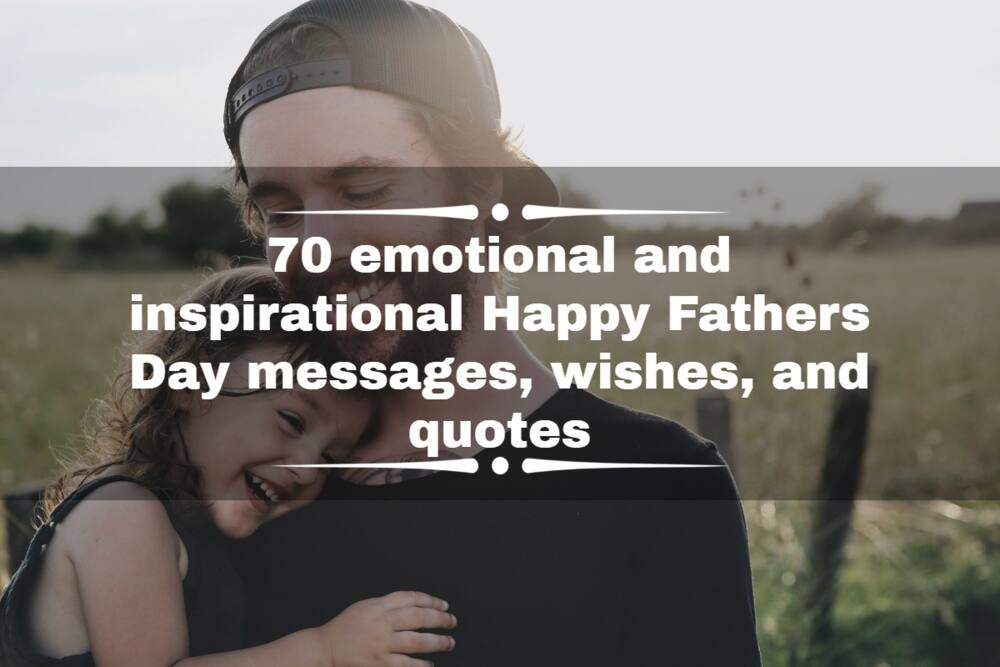 Most South African families have not embraced affirmation as a love language. Very few people can confidently tell their parents that they love them unless it is special occasions like their birthdays. If you have wished to make it a tradition, what better way to do so than through Fathers Day messages.
Fathers Day 2020
When is Fathers Day? Father's Day is an international day that is marked on the third Sunday of June every year. It is a special day that is set aside to acknowledge the role that dads play in the lives of their children. The good thing about this day is that you do not have to throw a whole party. Instead, you can share insightful messages to express your love and gratitude.
Fathers Day messages from daughter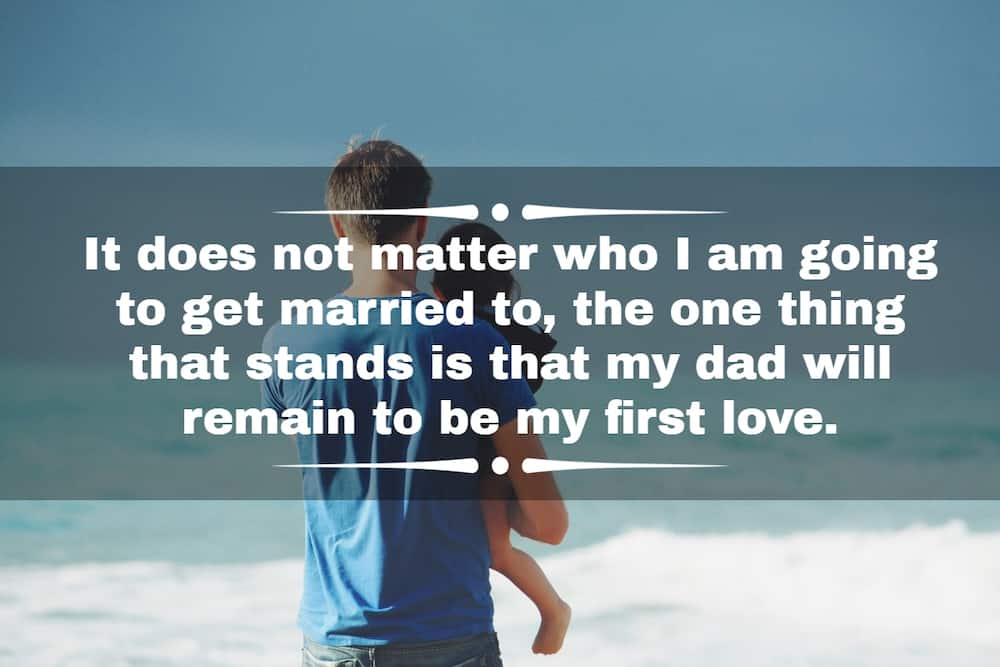 A daughter, in most cases, refers to her dad as the first man that she genuinely falls in love with. The bond is so strong that most ladies would always choose their dads before their significant others. Regardless of one's age, daughters can always share warming Fathers Days messages to their dads to express how strong their bond is.
What do I say for Father's Day? These are some of the messages that one could share.
My dad may not be the moon or the sun that can illuminate the whole sky. However, he is the fireplace that emanates warmth, even in the coldest nights.
The most significant moment of my life is the day that I was born because I got the chance to be my dad's daughter.
It does not matter who I am going to get married to, the one thing that stands is that my dad will remain to be my first love.
When I get married, my dad is going to hold my hand for a short while; however, he has held my heart for the longest time, and I am sure that he is going to hold it for more to come.
When other dads take their sons out for a match, I am a proud daughter because mine takes me out for shopping.
My dad always champions me to laugh as hard as possible, but he will never let me cry alone.
Dads will always look at their daughters as their cute little princesses. Love you, dad!
My dad is my superman because he treats me the same way he treats my mother, with respect, love and care.
My dad always reminds me of how old I am growing, although no matter how old I might be, I always look up to that man.
Most people refer to dads as boats who have your back as you sail when the current is right. However, mine is different because he is my lighthouse who always makes sure that I am on the right path.
READ ALSO: Best 50th birthday messages, wishes, and quotes for a spouse, family or friends
Fathers Day messages from son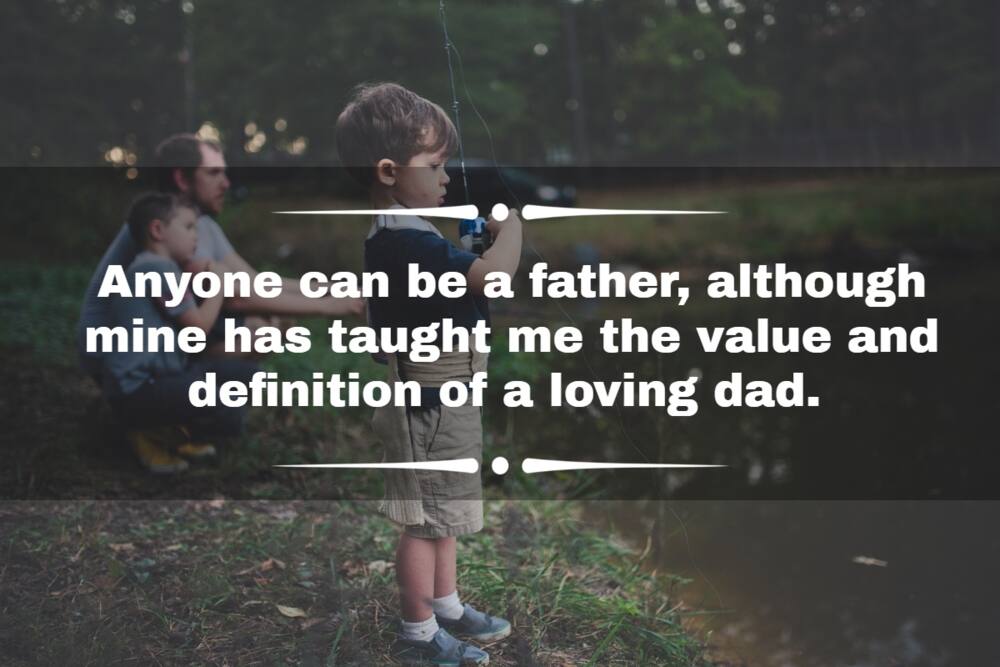 Sons always look up to their dads. On this special occasion, they could express how their dads have influenced who they are by sharing any of these messages.
The whole world knows you as my dad, although to me, you are my world.
My dad stands out to be a man of few words, and that is what it takes for him to make me happy, especially at the moments when I am sad and on the verge of giving up.
Throughout my life, I have learnt so much about superhero comic. However, I am yet to learn of one that matches your capabilities.
It is the pride of every dad for their sons to be more successful than they are, although I cannot be better than you, let alone be equal to you.
A father is as powerful as the sun. His presence is enough to turn the darkest night into a bright day.
You are the best gift in my life, dad!
A father makes an effort to ensure that his children grow up well, although a super dad makes sure that his children have the best memories that they will carry with them, even after he is gone, and pass them on to the generations to come.
Throughout my life, my dad has put me down and picked up my crying sister. This is a great lesson that I will always carry with me.
At times I think that my dad is not right until when I grow older, and my son says that I am always wrong.
Anyone can be a father, although mine has taught me the value and definition of a loving dad.
Buy Personalised Inspirational Fridge Magnets as a gift for your dad, husband, or friend for this year's Father's Day. The magnets come in a set of four and can be customised depending on the message and pictures that you love.
Fathers Day messages from wife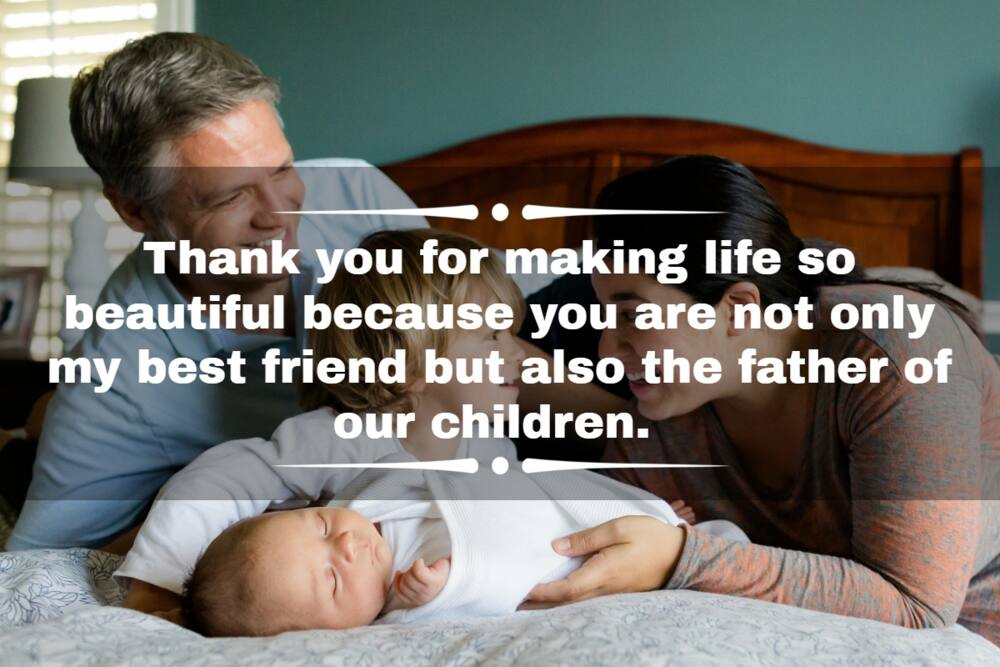 Wives can also appreciate their husbands and significant others on how much effort they are putting in to take care of their families. These are some of the greatest messages that they could share.
Seeing you pull the dad card so perfectly makes me fall in love with you even more.
The only thing that is better than having you as a husband is a fact that you are the father of our children, Happy Father's Day.
One day is not enough to honour an amazing and special dad you have been to our babies.
I am grateful that you have given our kids a father to respect, honour, and admire. You are such an amazing dad!
Thank you for making life so beautiful because you are not only my best friend but also the father of our children.
You amaze me every single day. If I were to choose again, I would choose you over and over again as the father of our children.
May this Father's Day be special because of how hard you work to nurture our family.
Good fathers easily go unnoticed even though they are the most valuable asset in any family. Here is to celebrating the great man that you have always been.
I am blessed to have you as a husband, and more than that, a man who is doing a great job at raising our children.
Your selflessness is unmatched, not only have you loved me unconditionally but also shared the love with our babies. I celebrate you today!
Get the Infused Tea that will help you relax as you enjoy the love that everyone is showing you during this special occasion. It is affordable, and delivery services are available countrywide at a fair cost.
READ ALSO: 20 inspiring and loving Bible verses for birthday woman
Missing father messages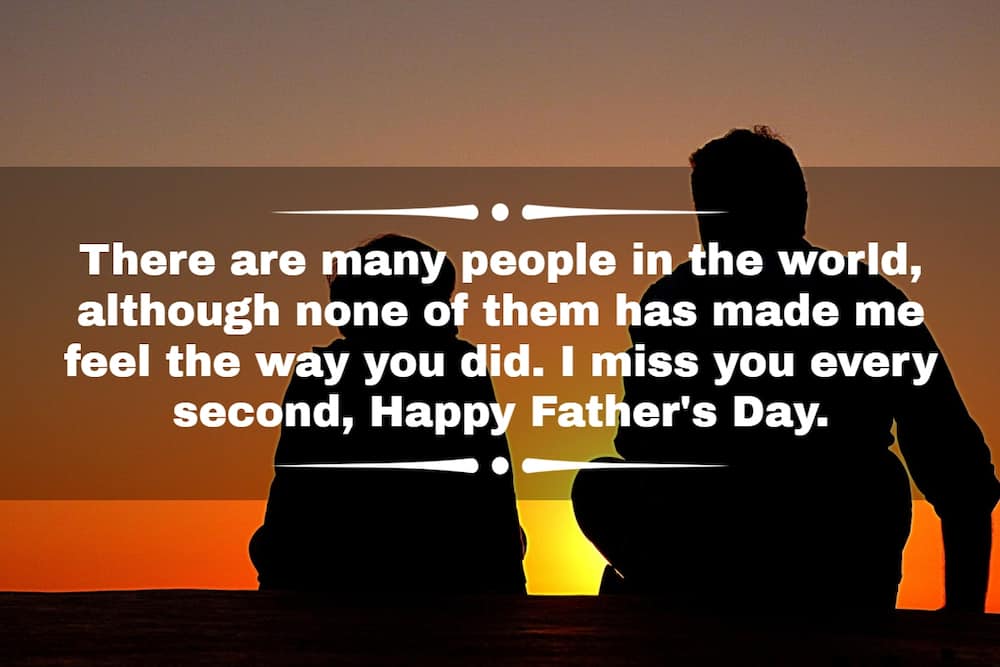 No one can explain the pain that grief brings about. Nonetheless, this does not mean that you cannot uniquely remember your fallen hero. These are some of the messages that you could wish them.
I still find it hard to come to terms with your death. A day cannot go by without me thinking about you. You are greatly missed, Happy Father's Day in heaven.
There are many people in the world, although none of them has made me feel the way you did. I miss you every second, Happy Father's Day.
One day is not enough to celebrate the hero that you are to me. Even in your absence, I celebrate you every day.
You were a masterpiece; in you, I found a friend, a mentor, and the perfect dad. You are my hero!
I lost you, but heaven gained an angel. Despite the pain that I go through every time I think about the memories that we made, I comfort myself that you are watching over me. Happy Father's Day in heaven.
Death was so cruel to steal you from me. I am glad that I got to have the purest form of love, and for that, I am grateful.
You were my source of happiness, and when you left, I have never experienced that kind of happiness again. I miss you every time I think about you.
Every time I close my eye, it is your face that I see, and I miss you more. I know you see the heaviness in my heart and know that your little girl is not okay because she misses you.
You were my role model; you taught me so much. The best way to express my gratitude is by being the best dad to my kids.
I am lucky to have had you for a father because the memories that we created are so precious.
READ ALSO: 80+ sweet things to say to her and him in the morning, daytime or at night
Inspirational Fathers Day messages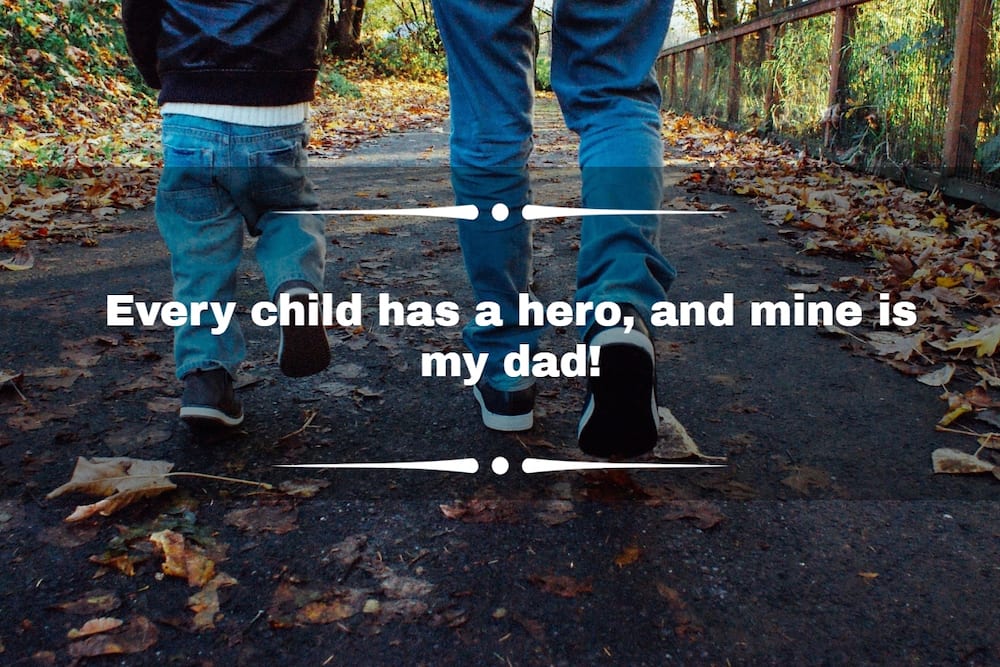 Apart from taking care of families, fathers are an inspiration as they instil some of the key values throughout the life of any being. On this special occasion, you could share these messages to appreciate them for the values that you have acquired from them.
Dads are the most ordinary beings whom love turns into heroes, story-tellers, and adventurers!
Every child has a hero, and mine is my dad!
To the greatest dad in the world, from the greatest kids, I hope you have an amazing Father's Day!
Even when you did not have enough, you went ahead to share the little that you had. You are the best, Happy Father's Day!
Thank you for always believing in me, picking me up, and soldiering me on. I am because you are.
The best compliment that someone has ever told me is that "the apple does not fall far from the tree," because I strive to be just like you. Happy Father's Day!
You have constantly been present to give direction and light. On this day, I want you to relax and enjoy your day.
Saying thank you is not enough to express my gratitude for having you as a father; hence, I strive to be the best dad to my children.
If I were asked to pick what a great man and dad looks like, I would choose you!
I might not always remind you how grateful I am to have you as a father. However, I whisper it to God every day.
Funny Fathers Day wishes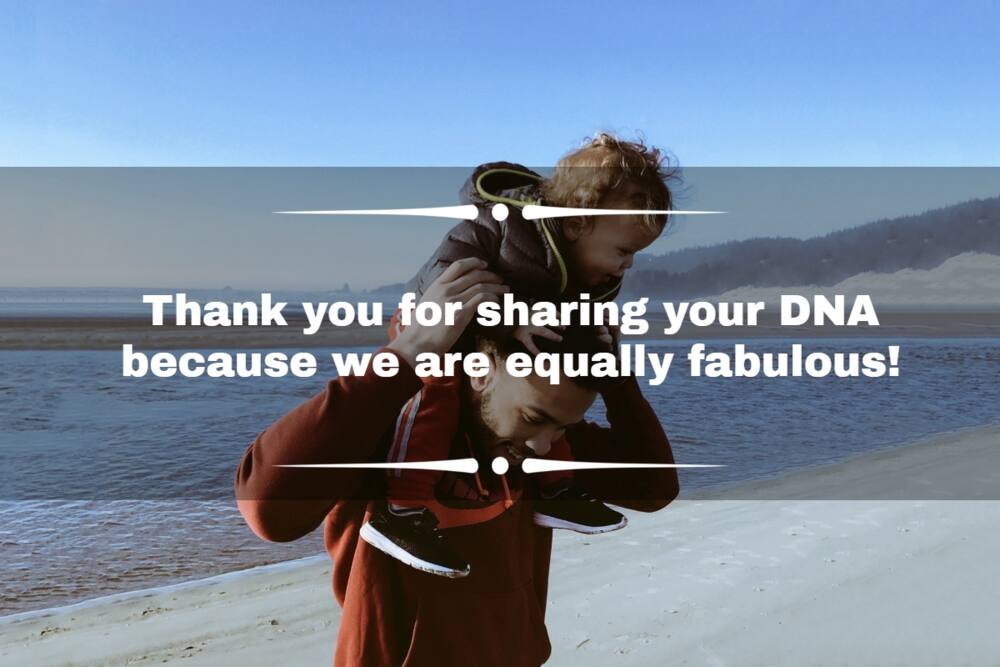 If you wish to add a little hint of humour to the messages, you could try out any of these messages.
Dad, sorry the pubs are closed on Father's Day, my thoughts are with you.
I hope that this Father's Day is as cool as how life was before we got the kids!
Dad, you are one of my best parents.
Thank you for sharing your DNA because we are equally fabulous!
Thank you for the genes that made the funny person that I am.
It does not matter what life throws at you; at least you are not the father of ugly kids.
Thank you for choosing to be my dad. If I had someone else, I would have punched him in the face and gone out to look for you!
Being my dad is the only gift that you need, Happy Father's Day!
Happy Father's Day, Dad! If you wish, I will make a distraction so you can sneak off and get some gaming in.
This is an appreciation for being the coolest dad; for the many times that you said yes when mum said no.
READ ALSO: Siya Kolisi pays tribute to his wife, Rachel
Emotional Fathers Day messages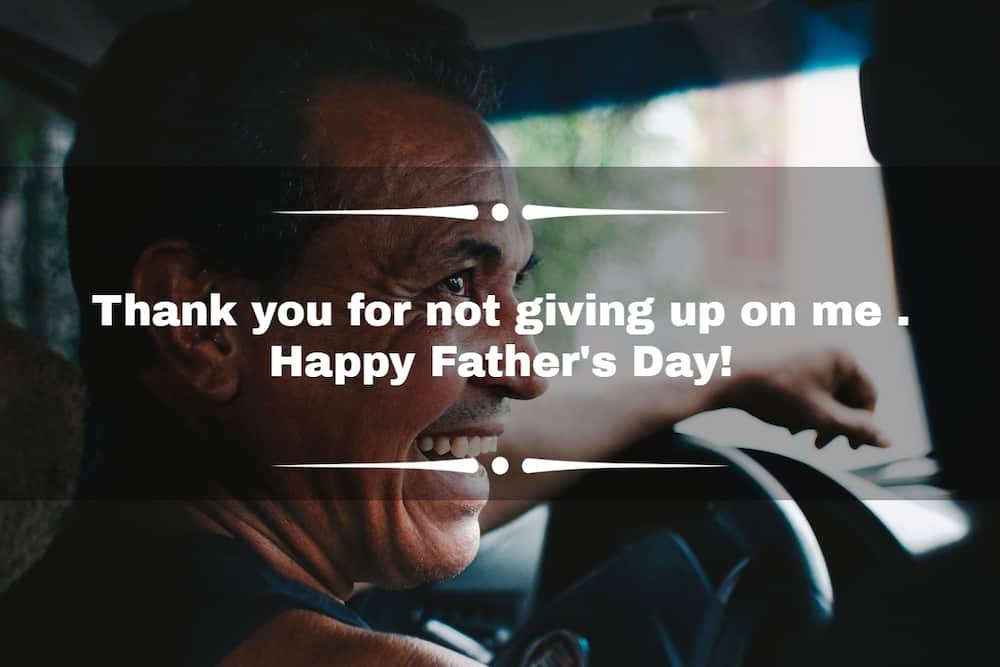 If you wish to cement the fact that your dad did a great job in raising you and the impact he has on you, you could share any of these messages.
Thank you for being the dad that you did not have to be.
I hope that it does not come to you as a surprise that I am thinking about you today. Thank you for not giving up on me and caring about me like a father. Happy Father's Day!
Happy Father's Day to the man who would rather rock torn boots and have his hands as greasy as possible to ensure that his family is comfortable.
Fatherhood is a superpower that you have gladly depicted selflessly. I am proud to be associated with you.
I am so privileged to have you as my dad. In another life, I would still choose you for a father.
First Fathers Day messages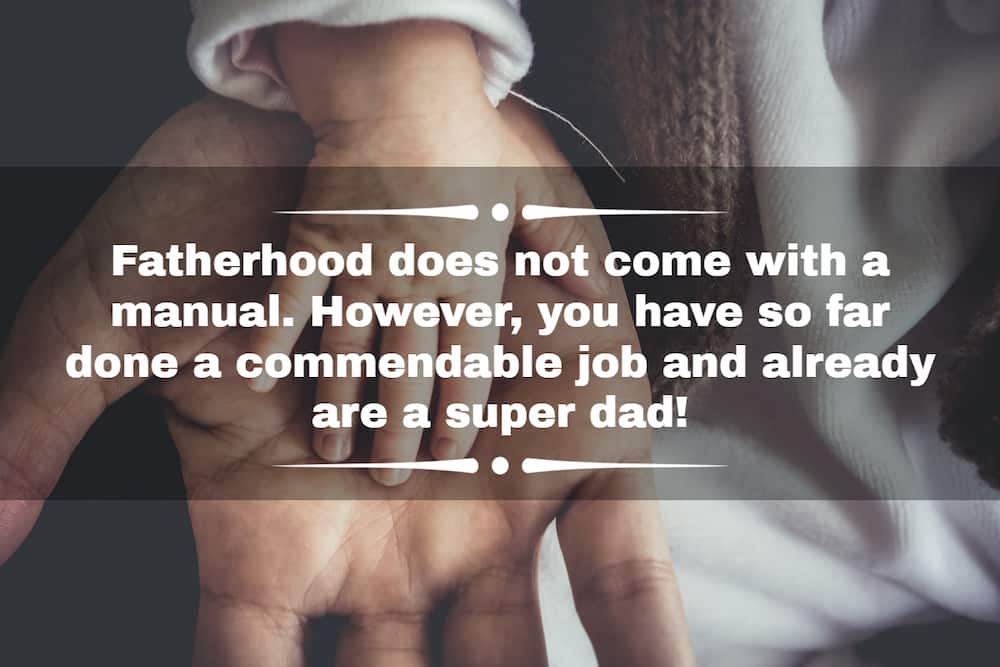 What do you write on a first Father's Day card? If you have a brother, son, or husband who is a first-time dad, you could share any of these messages to appreciate them for the great job that they are doing. It is one of the purest ways of soldiering them on.
Seeing you juggle through fatherhood is so amicable! You are doing a great job at it, and I am super proud of you!
You have been the father of our baby for less than a year, and you already qualify for the best dad award.
Happy first Father's Day!
Fatherhood does not come with a manual. However, you have so far done a commendable job and already are a super dad!
No one prepares you for the sleepless nights that come with fatherhood, but the determination that you have shown is unmatched. I celebrate you today, Happy Father's Day!
Since 2020 has proven to be a year of a kind, most occasions might not be celebrated because of factors that cannot be compromised. However, this does not mean that heroes will go unrecognised. These Fathers Day messages will go a long way in cementing the fact that dads are significant in our lives.
DISCLAIMER: Please note that some of the links in the article are affiliate links. BRIEFLY.co.za will earn a commission if you purchase through those links. However, we always choose only the best quality products that we use ourselves and recommend to our readers. The earnings we get from the affiliate marketing help us continue preparing useful and entertaining content that our audience enjoys.
READ ALSO: