Wrestling is an essential sport as it plays a critical role in entertaining the world. To join this sport, you must have strength and stamina to take every hit and tackle your opponent to the ground. This requires a lot of training to reach the level of Brock Lesnar, one of the world's top wrestlers. Aside from that, he is also a professional American football player.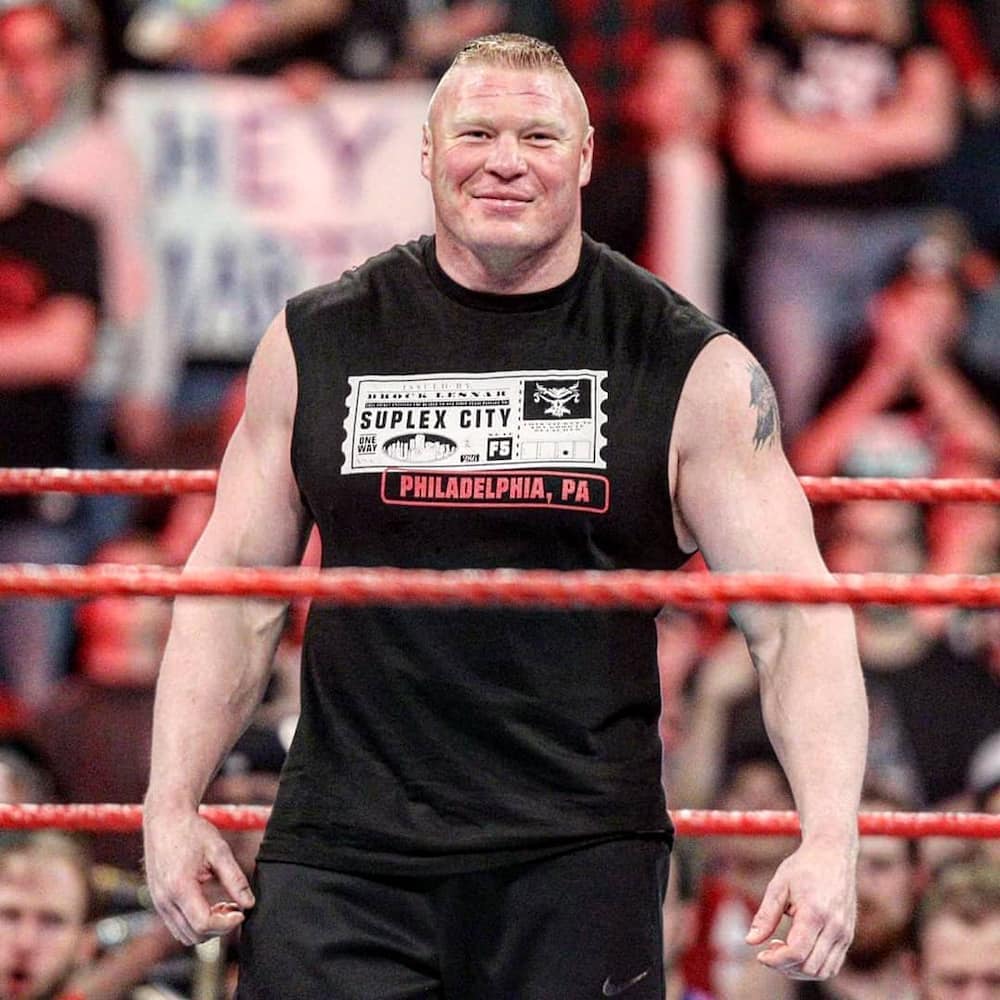 The WWE superstar has achieved a lot in his wrestling career, having won multiple championships, and this has earned him the hearts of many of his fans and has set some fear in whoever tries to challenge him.
Early life
Brock Lesnar was born in Webster, South Dakota, to Stephanie and Richard Lesnar. He grew up on his parents' dairy farm in Webster. In the Brock Lesnar family, there were two older brothers named Troy and Chad and a younger sister called Brandi. He is of German ethnicity. Brock Lesnar full name is Brock Edward Lesnar.
Education
Brock attended Webster High School, where he was on the football team. After high school, he joined Bismarck State College but later studied at the University of Minnesota on a wrestling scholarship.
How old is Brock Lesnar?
Brock Lesnar birthday is on July 12th 1977, so he is currently 43 years old. His zodiac sign is Cancer. At Brock Lesnar age, he is still energetic and can take out anyone on the ring.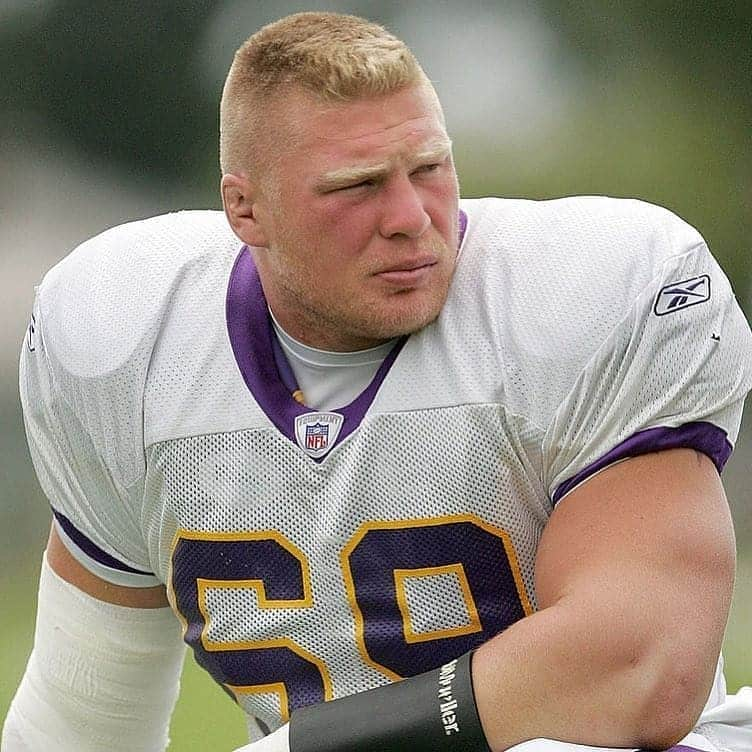 READ ALSO: Get ready to rumble: WWE star 'The Big Show' coming to Mzansi
Personal life
The multiple WWE Championship holder currently resides in a farm in Maryfield, Saskatchewan, after moving from Maple Plain, Minnesota. The WWE superstar lives with his family there. Brock Lesnar wife, Rena Greek, popularly known by her stage name as Sable, is a retried WWE performer. The couple tied the knot on May 6th, 2006. Brock Lesnar kids are named Turk, who was born in 2009, and Duke born in 2010. Brock also has a son and a daughter from previous relationships named Luke and Mya Lynn. They are twins born in 2002 by his former fiancée Nicole McClain. All three of his sons love to play ice hockey. He is also the stepfather of Rena's first child, Mariah, whom she had with her first husband. Sable age is 52 years.
The star is a member of the National Rifle Association, who has made appearances in their meetings to express his love for hunting. His favourite food and drink is steak and Cold Rye Whiskey, respectively, and he loves David Allan Coe's songs very much.
Career
The boy started his wrestling career as early as when he was in high school playing amateur wrestling, where he was third in the state championships during his senior year. In college, he won the National Junior College Athletic Association's heavyweight wrestling championship during his sophomore year. He has been successful throughout his career, earning himself several nicknames such as 'The Conqueror' and 'The Beast Incarnate.'
WWE
Brock Lesnar WWE journey began when he was signed to the World Wrestling Federation in 2000, where he was sent to the developmental territory Ohio wrestling territory where he met his manager Paul Heyman. The star made his WWE television debut on March 18th, 2002, where he wrestled against Maven, Al Snow, and Spanky.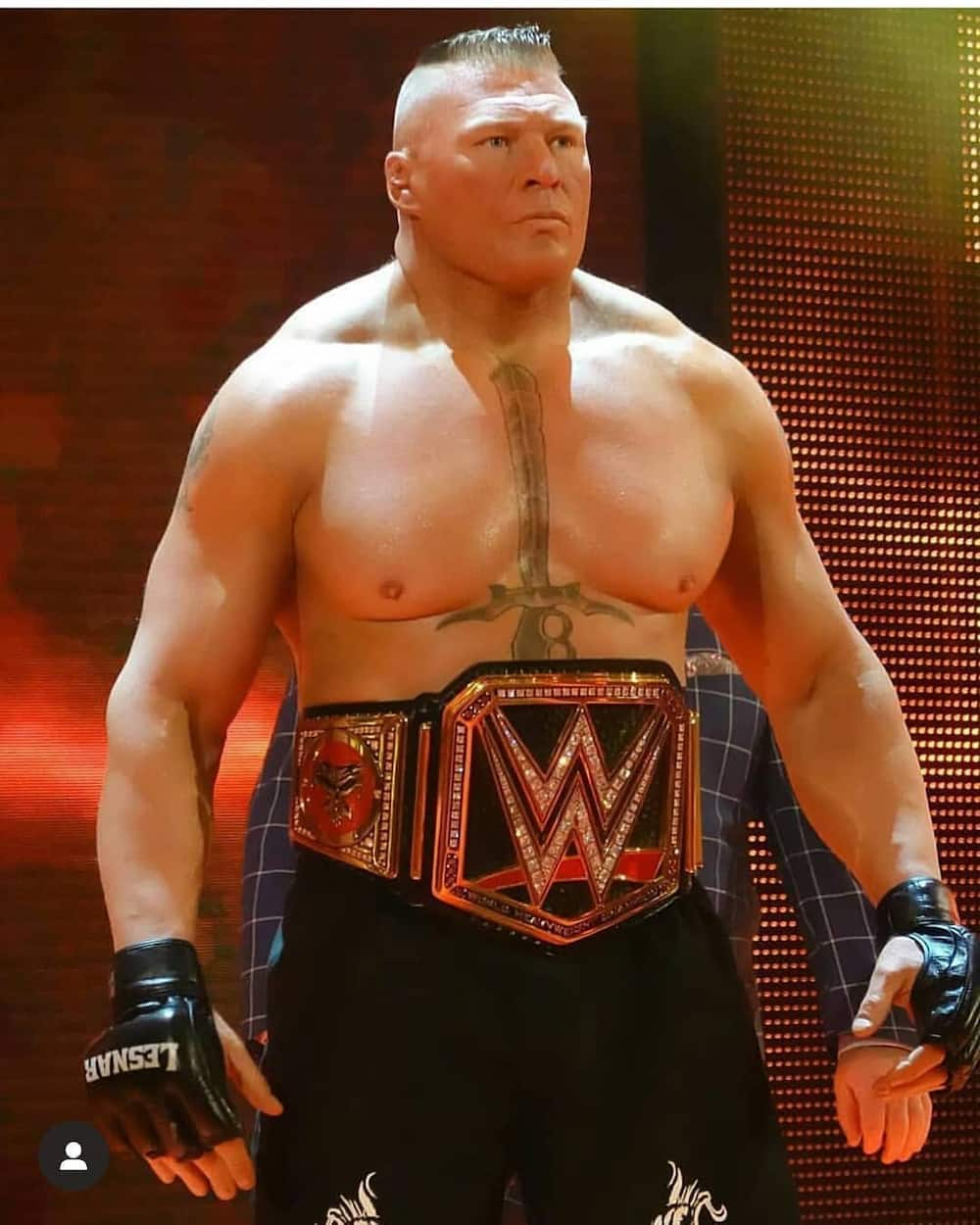 In June 2002, The Conquerer defeated Rob Van Dam and earned the title, King of the Ring. Lesnar also wrestled against and defeated superstars like the Undertaker and Hulk Logan. He also beat the WWE undisputed champion, the Rock becoming the youngest WWE champion at the age of 25.
In 2004, the Conqueror put on hold his wrestling career to pursue his football career in the National Football League. He played for the Minnesota Vikings in several games. He declined to go and play in the NFL Europe because he did not want to leave the country.
In 2005, The Beast Incarnate took part in the new Japan Pro-Wrestling, where he was one of the few Americans who won the IWGP Heavyweight Championship, a title he held for two years having defeated Japanese sumo wrestler, Akebono.
Brock Lesnar UFC record
In 2007, the multi-heavyweight championship holder became part of the Mixed Martial Arts. Brock Lesnar UFC title came after he beat Randy Couture, becoming the UFC Heavyweight Champion. He retired from the UFC in 2011 after losing to Alistair Overeem.
In 2012, he returned to WWE, where he later in 2014 challenged John Cena for the World Heavyweight Championship, and he emerged the winner. In 2017, the star won the WWE Universal Championship after defeating Bill Goldberg, and this made him the first man to poses both the titles. Lesnar held on to the Universal Championship for more than 500 days losing it to Roman Reigns. He later regained the title in 2018 but lost it again to Seth Rollings.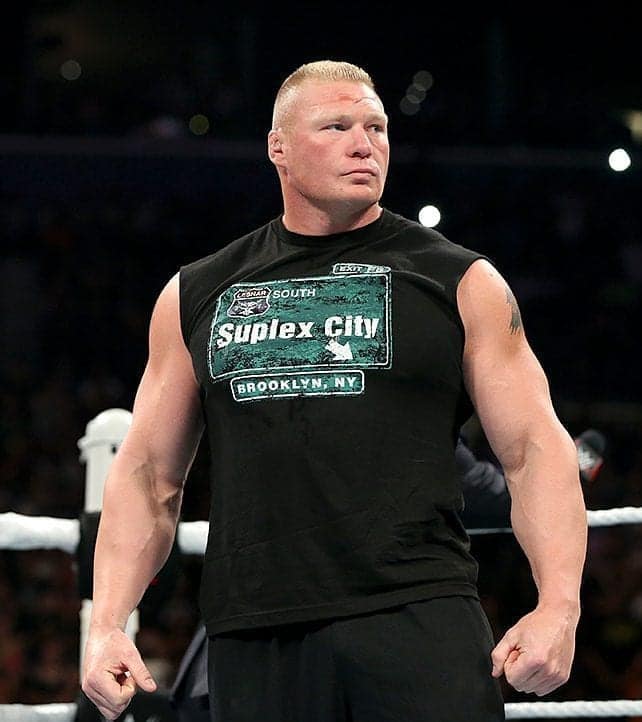 Body measurements
The WWE superstar is in top shape, for it is the most basic requirement to become a wrestler. Brock Lesnar height is 6' 1" (1.85m). His chest is 53 inches, his waist is 38 inches, and his biceps are 21 inches wide. Brock Lesnar weight is 130kg.
Brock Lesnar disease
In November 2009, the multi-talent suffered from mononucleosis. He later learned that he also suffered from an illness called 50 feet. His condition was so severe that he needed immediate surgery.
How much is Brock Lesnar worth?
The multi-talent is one of WWE's most paid wrestlers. Due to his hard work throughout his career, Brock Lesnar net worth 2020 is about $28 million.
Brock Lesnar is an inspiration to all the young wrestlers around the globe. He has put so much effort into his career, earning him a lot of respect from both fans and opponents. We all love seeing him get up on the ring.
READ ALSO: