- University of the Witwatersrand Professor Shabir Madhi has spoken about the coronavirus being airborne, according to new studies
- The acclaimed professor, who led SA's first Covid-19 vaccine trials, said airborne transmission is a reality and a cause for concern
- Madhi said droplets stay in the air for a short period of time and people in the area can be infected, especially in poorly ventilated spaces
PAY ATTENTION: Click "See First" under the "Following" tab to see Briefly.co.za News on your News Feed!
Wits' Professor Shabir Madhi said the spread of Covid-19 through breathing in contaminated air has been underestimated during the pandemic.
Speaking to eNCA on Tuesday, Madhi used the term "super-spreader" to describe the coronavirus, which means "a fair amount of airborne transmission taking place".
Madhi said airborne Covid-19 transmission is a reality and a cause for concern after new evidence found people do not only get infected by touching contaminated surfaces.
He explained the two-step process in which the virus can be transmitted through air we breathe.
"There are two parts to it, but the part we are referring to now is extremely small micro-droplets, they are suspended in the air for a reasonable period time. People who are in that vicinity, especially when the area is poorly-ventilated, might inhale those contaminated micro-droplets and that could cause an infection."
The professor added that airborne transmission could explain the rapid rise in positive Covid-19 cases, TimesLIVE reported.
Take a look at Professor Madhi's interview with eNCA below:
On Monday, it was reported hundreds of scientists have suggested that the Covid-19 pandemic may be airborne.
The scientists have written to the World Health Organization, asking them to revise their recommendations.
So far the virus is believed to spread through droplets from the nose or mouth when a person speaks or coughs.
READ ALSO: Covid-19 update: Trump confirms exit from WHO, Premier tests positive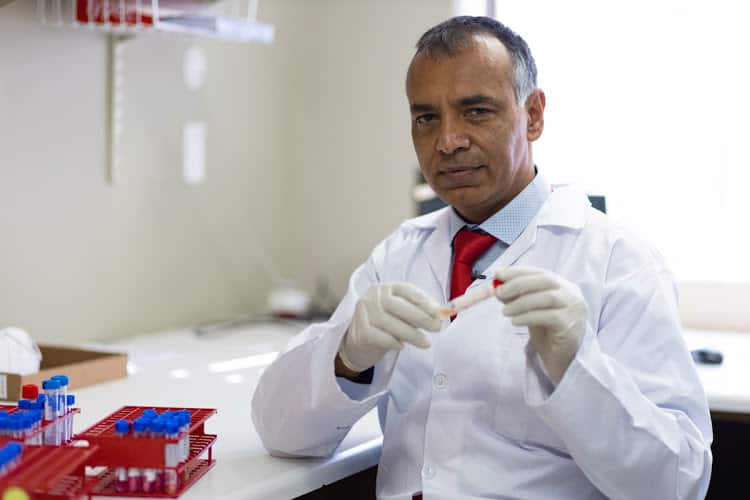 READ ALSO: Eish: Black Coffee to sell properties to pay off millions in tax
Briefly.co.za previously reported that Professor Madhi led South Africa's first vaccine trial, which kicked off earlier this month.
The South African Ox1Cov-19 Vaccine VIDA-Trial aims to find a vaccine that will prevent infection of the virus that causes Covid-19.
Commenting at the launch of the vaccine trial, which will take place at numerous sites in SA, Madhi said that:
"This is a landmark moment for South Africa and Africa at this stage of the Covid-19 pandemic. As we enter winter in South Africa and pressure increases on public hospitals, now more than ever we need a vaccine to prevent infection by Covid-19."
Enjoyed reading our story? Download BRIEFLY's news app on Google Play now and stay up-to-date with major South African news!