BI Phakathi Helps Homeless Man Chasing Torn R10 Note, Blesses Him with Over R1k
- BI Phakhati has done it again and changed an honest person's life
- He trusted an old man with R100 and repaid him with over R1 000 after hearing his story
- Facebook users praised BI Phakathi for his generosity and the good work he is doing
PAY ATTENTION: Join Briefly News' Telegram channel! Never miss important updates!
BI Phakathi, South Africa's very own good Samaritan, is at it again helping those who are less fortunate. He uploaded a video to Facebook which starts with a mad chase after a torn R10 note. He ended up blessing the man with over R1 000 after learning what happened to him.
He returns it to a homeless man called Basil and asked him what he wanted to do with the money. Basil revealed that he wanted to buy a cup of coffee with it. Phakathi gave Basil R100 and asked told him to buy a coffee and bring back his change.
Basil returned with the coffee but said he had to use the last of his coins as they did not have change for a R100 note.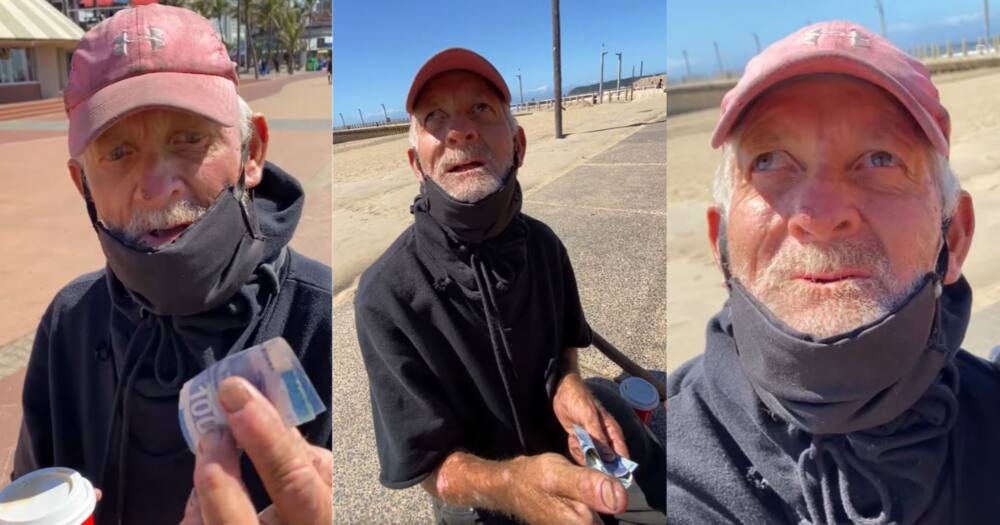 Phakathi told Basil to keep the R100 and proceeded to give him a further R500 and told him to buy himself some food.
Basil protested that he was taking all his money, Phakathi told him not to worry and that it was his money now.
This is where the story takes a different turn. It turns out Basil has been injured and needed to see a doctor. Phakathi inspected his wounds and gave him another R500 to see a doctor.
A truly amazing story of how BI Phakathi has helped another honest person living on the streets.
Facebook users praised Phakhati for his generosity:
Cindy Dorman Genis:
"Ok.Now that I have stopped crying,...I can write my thoughts. Probably so many people are afraid of him & consider him ALOT more special in what he needs. Here is a man who IS special, but in many ways!! He IS special in his needs,...but special in other ways, as well! He has a good heart, and could not believe your kindness, BI ! I pray no one steals his money( if people were watching!), that he doesn't lose it out of his pockets,.. but most of all he uses it for himself for shelter& a doctor!! When people are not used to kindness,....they are often in shock when kindness is shown! Let us all pray for him, that he is able to do the things he is supposed to do for himself!!!AMEN!!..xoxo OH!! And BI, blessings to you for listening,..really listening,...so you were able to understand his speech! This meeting of you both touched my heart!! xoxo"
Gairoeniesa Brown:
"What a kind ..humble and sweet old man ..my heart goes out to him and I hope and pray that he finds shelter and someone to look after him ..cause clearly he needs to be taken care of and thank so much for your great work with these homeless souls ..may God spread your incredible work far and may you always be blessed to help those that's in need... you help without judging ..without discriminating ..that's truly a prophets journey ..God Bless"
Trace Patchin:
"Every time I watch your Video's, it humbles me ....it makes me realize how blessed I am, irrespective of my situation. This man was chasing a torn R10.00 and ended up with enough for a shelter, the doctor, food and more. Bless you, Bi - you really are amazing !!!! May you be blessed beyond words. "
Earlier, Briefly.co.za reported that BI Phakathi has yet again proved himself a true angel on earth after doing yet another big thing to change someone's outlook on life. This time BI blessed an ailing young woman, @NkhosiLa with R10 000.
It all started when the young woman who is suffering from cystic fibrosis and has already undergone a number of treatments, tweeted that she really wanted to go on a vacation to get away from her norm a little bit.
"Still, no one taking me for a vacation, I need a gateway from these walls," she wrote.
Enjoyed reading our story? Download BRIEFLY's news app on Google Play now and stay up-to-date with major South African news!
Source: Briefly News