Thuso Mbedu: age, child, husband, Vogue, career, net worth
Thuso Mbedu, a young girl from a small, quiet town in South Africa, enters with big dreams and a bright smile, ready to make the world a better place. She is set for greatness and is already the titleholder of Emmies and numerous other awards. She has appeared in some of South Africa's most famous television shows and is only getting better. Join us as we share the already successful life of this young and ambitious actress.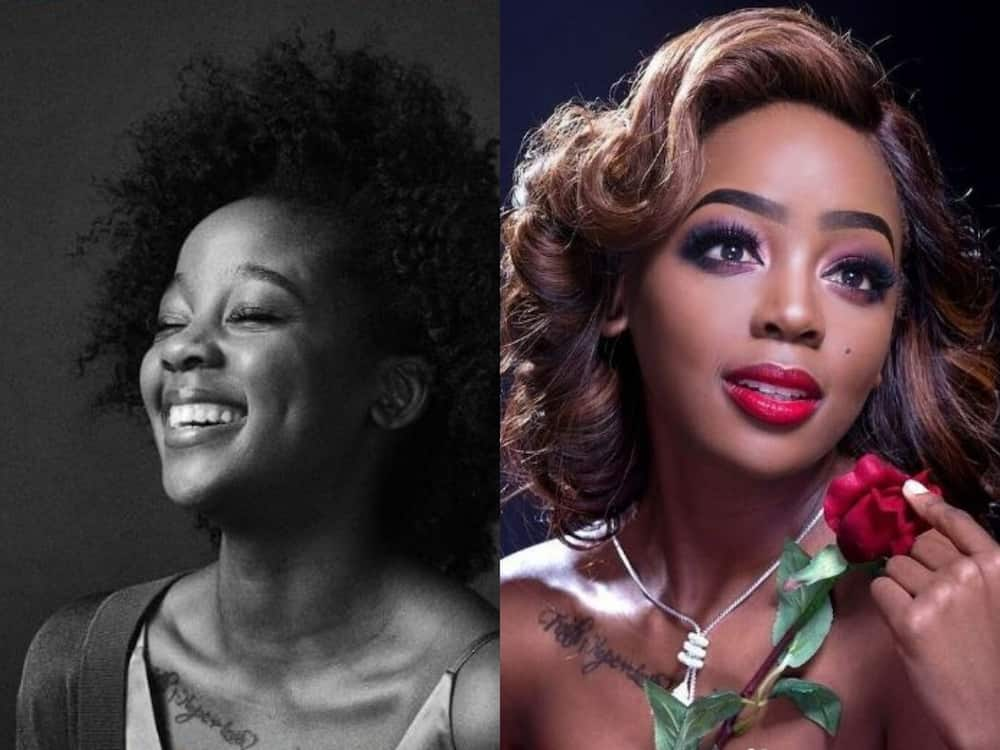 She has one win and three nominations to her name, and this is just the beginning. She will make her international debut in Amazon's widely awaited historical series The Underground Railroad.   What is next for this young go-getter? Hollywood? Let us explore the path to the great success that is unfolding in front of our eyes and the rest of the world.
Thuso Mbedu profile summary
Full name: Thuso Nokwanda Mbedu
Thuso Mbedu date of birth: 8 July 1991
Language: Zulu
Career: Actress, producer
Thuso Mbedu pronunciation: Too-so Mm-behdoo
Quote: 'Read something that will make you look good if you die in the middle of it' P.J O'Rouke
Thuso Mbedu Instagram: @thuso.mbedu
Facebook: Thuso Mbedu
Thuso Mbedu Twitter: @ThusoMbedu
TikTok: Thuso.Mbedu
This multitalented young woman is on her way to greatness, and she is bringing SA along for the ride. In her early 30s, she already had an Emmy award and international accreditation, and her name appeared in Forbes. She was first recognized when she played in Mzansi Magic's, Is'thunzi. In this article, we look at her exciting, artistic, and popular life.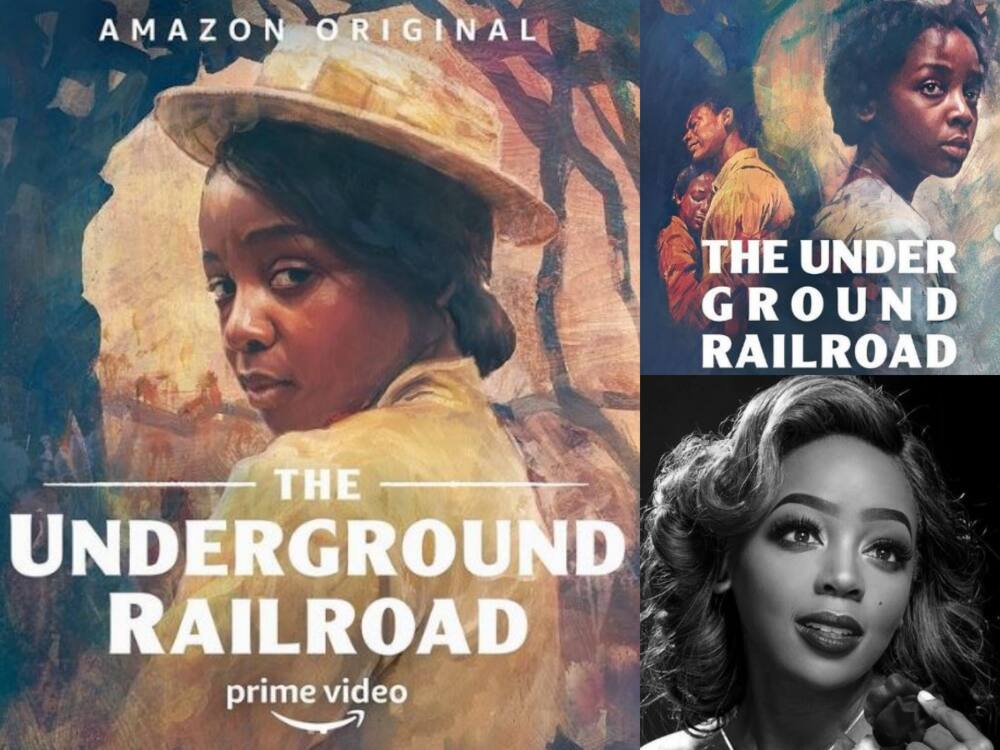 Thuso Mbedu age
Mzansi's shining golden girl is a South African actress born in 1991, so how old is Thuso Mbedu? That makes her 30 in 2021. She was raised in Pelham, a borough of Pietermaritzburg in KwaZulu-Natal. After both of her parents passed away when she was very young, she was raised by her grandmother. She has an older sister, Noma Mbedu. In 2018, Thuso Mbedu house offer was accepted and she became a 27-year-old homeowner in Gauteng.
Education
What did Thuso Mbedu study? She matriculated from Pietermaritzburg Girls' High School and was in the class of 2009. In 2013, she graduated with honours from the University of the Witwatersrand in the fields of Physical Theatre and Performing Arts. She also attended the Stella Adler Studio of Acting in New York in 2012 where she studied film and drama.
Thuso Mbedu child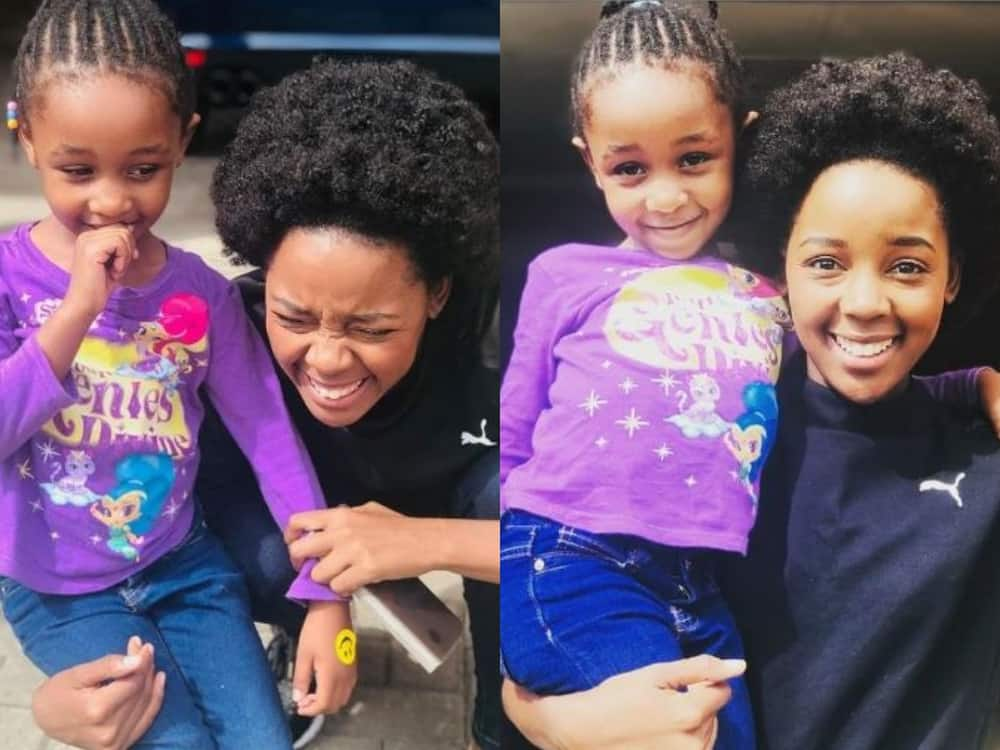 The stunning South African actress has an extremely busy schedule and has many wondering: does Thuso Mbedu have a child? Her daughter, Zenny Zen, was born on the 5th of November 2014. She is a devout mother who shares posts of Zenny Zen on her social media regularly. She is raising her daughter in Johannesburg, Gauteng.
Thuso Mbedu Vogue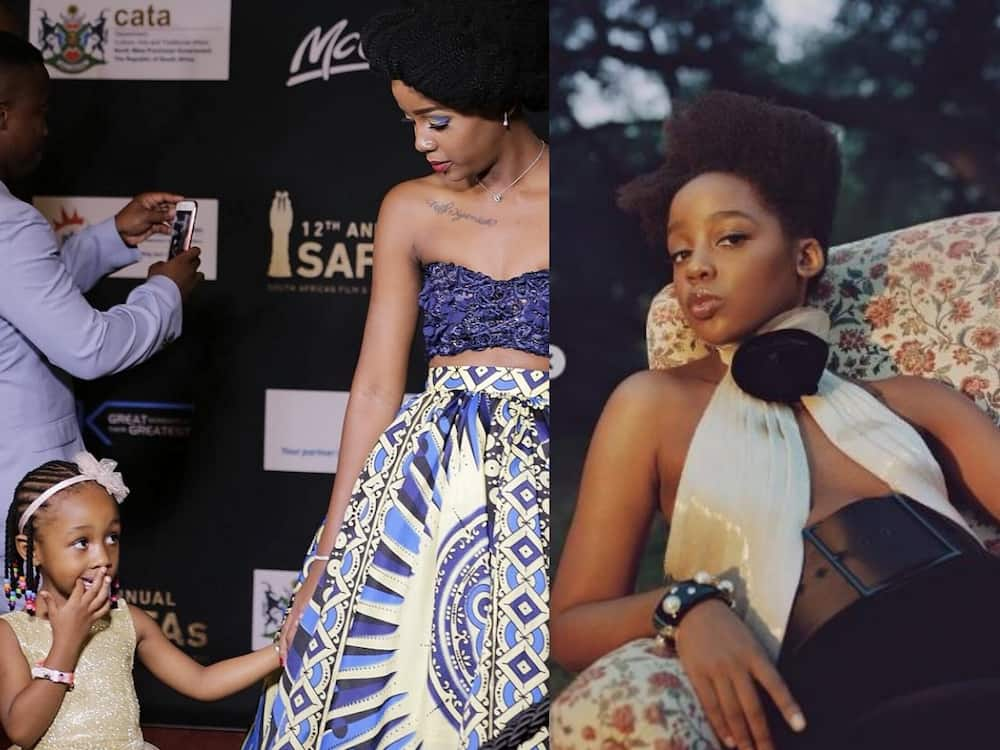 The May 2021 Vogue Magazine features her celebrating the new Giorgio Armani collection. She recently announced to her 1.3 million followers on Instagram that she has made a feature in Vogue, with a post of a picture of her in a dark blue Giorgio Armani dress photographed by Micaiah Carter. In May 2021, she also appeared on the front page of Emmy Magazine.
Thuso Mbedu husband
Her global fame has many wondering, is Thuso Mbedu in a relationship? and who is Thuso Mbedu's boyfriend? As per her Facebook, she is in a relationship. However, it is not publically known who Thuso Mbedu partner is. The father of her child does not seem to be in the picture either, and she keeps her love life personal.
Thuso Mbedu movies and TV Shows
After being unemployed for half a year, she debuted in the Mzansi Magic drama series Is'thunzi, which premiered in 2016. While filming a rape scene for the show, she suffered a panic attack. Hard work pays off, and in 2017, as per Thuso Mbedu IMDB, she was nominated for an Emmy Award for her role in the show. She was the only African to be selected that year.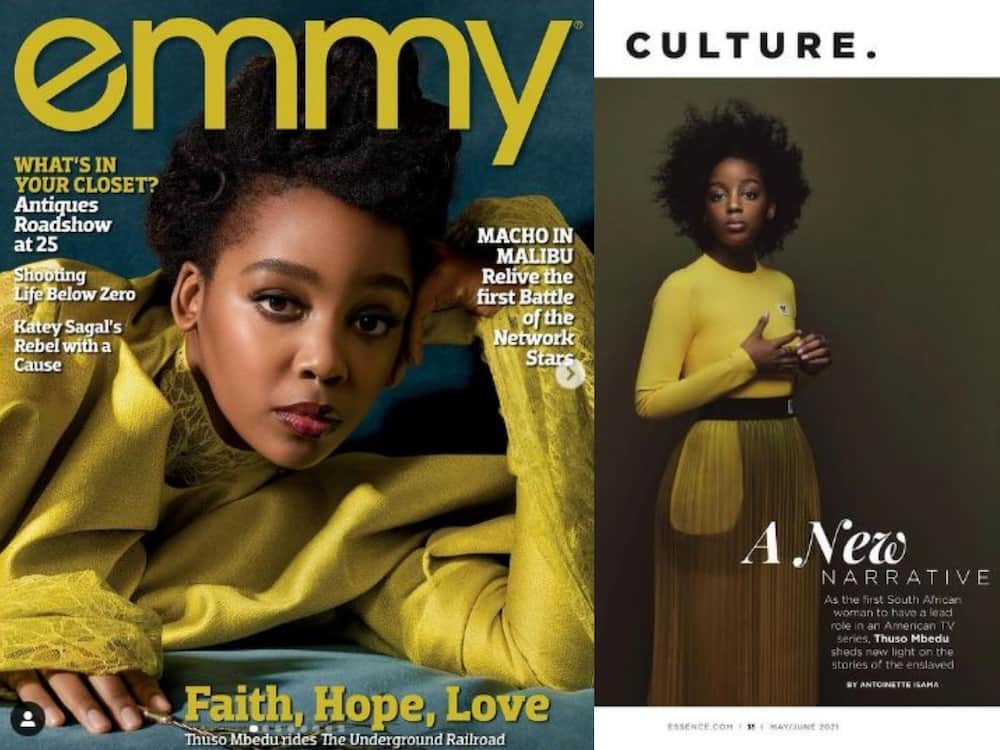 She also played Kitso Medupe in the soap opera Scandal!,, Nosisa in Isibaya, and Boni Khumalo in Saints and Sinners. In late 2014, she appeared in the second season of the soapie Isibaya. In 2015, she featured in Scandal! as a journalism student named Kitso. She then played a guest role as Kheti in the second season of the drama series Snake Park.
She is set to make her international debut in the highly-anticipated Amazon Video The Underground Railroad, based on Colson Whitehead's novel. The series will be directed and produced by the Academy Award winner Barry Jenkins.
Awards
Thuso Mbedu's awards include one win and three nominations. She has two international Emmy Awards, and the first one was in 2017 when she was nominated for the Emmy of the Best Performance by an actress in Is'Thunzi. The following year in 2018, she was the top nominee for another Emmy award.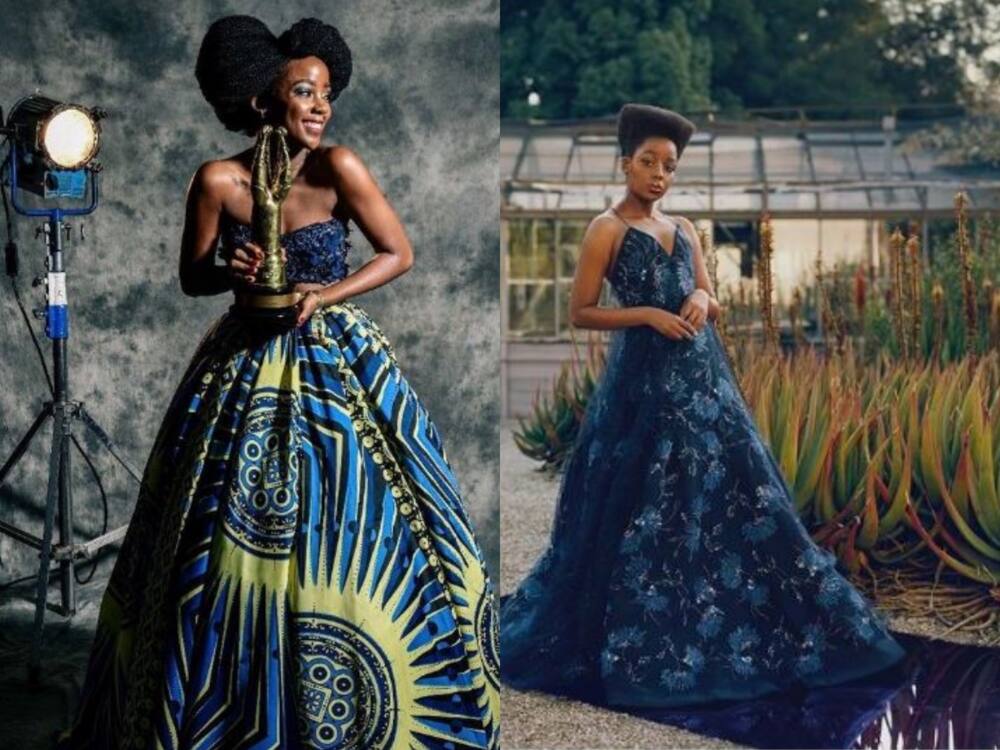 She is also a titleholder of the South African Film and Television Awards. In 2018, she won the SAFTA Golden Horn award for Best Actress in the TV drama, Is'Thunzi. In 2019 she was nominated again for the SAFTA Golden Horn of Best Actress for her role in Is'Thunzi.
What is Thuso Mbedu net worth?
She earns her worth from her acting in blockbuster films and series and modelling. Her net worth in 2021 is estimated to be around $1 million. She is climbing the ranks to stardom very quickly. With her already international acclaim, she is bound to land a spot in Hollywood soon.
Where is Thuso Mbedu now?
She is employed in the position of a junior production coordinator, producer, and anchor at Joburgtoday.tv in Johannesburg, Gauteng. In April 2021, it was announced that she would star alongside Viola Davis in The Woman King, a historical epic film inspired by the true events that took place in Africa in the 19th century. There is no doubt that many people anticipate her onscreen presence.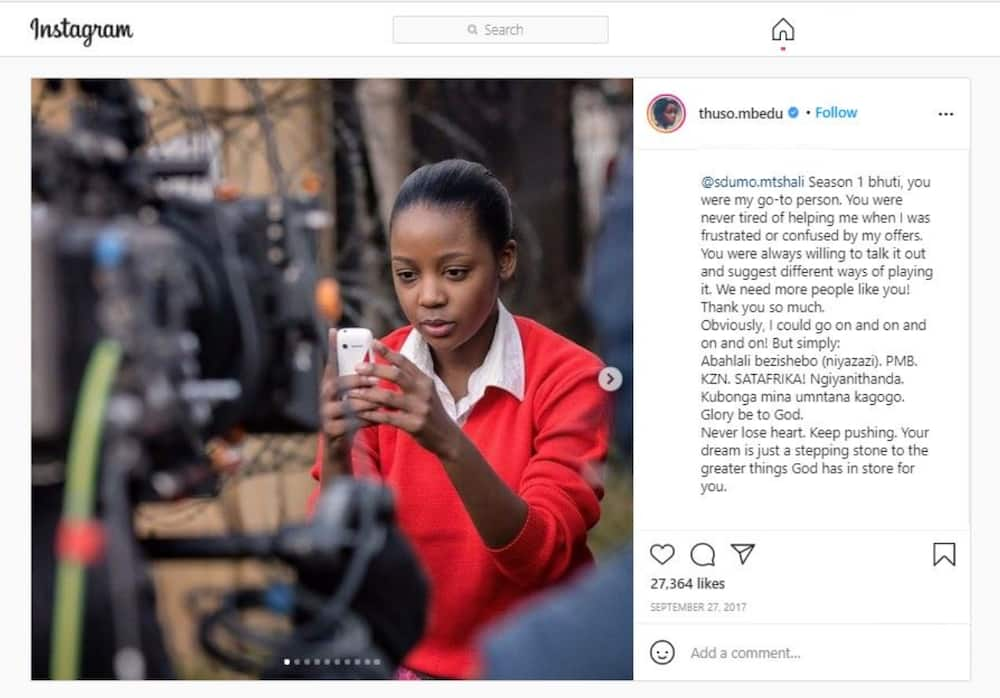 In a 2016 Thuso Mbedu interview, she admitted that she was struggling with depression and suicidal thoughts. After overcoming a year of hardships, she had a tattoo inked on her collar bone reading: faith, hope, and love. Two years later, in 2018, Thuso Mbedu was included in the Forbes List under 30. We simply cannot wait to see what this woman will do with her life and eagerly await to see her next acting appearance.
READ ALSO: Top 10 South African female TV presenters! Check them out!
Briefly.co.za recently posted about the first TV broadcast in South Africa, which was on 5 Jan 1976, and it was presented by Dorianne Berry.
Since then, the industry has had its own share of stunning presenters, and in this article, we take a look at some of the best female TV presenters who have graced South African television screens with their vivacious personalities.
Source: Briefly News