Young Stunna Allegedly Misses 'Frere Summer Party' After VIP Demands: "Almost Undermining Everyone"
Young Stunna has yet again ruffled some feathers by allegedly missing another performance
The show that was held at Mount Frere in the Eastern Cape became a flop when Mashaya had what was called "diva tendencies"
Mr Vee Sholo, the singer who was supposed to share the event with him told Briefly News that he was chilled about the episode
Amapiano hitmaker Young Stunna allegedly stirred new drama when he cancelled his Frere Summer Party performance at Underground Pub in Mount Frere in the Eastern Cape.
The Sete hitmaker, whose real name is Sandile Msimango, missed another performance, this time the organisers citing his bad attitude toward the people of the rural town.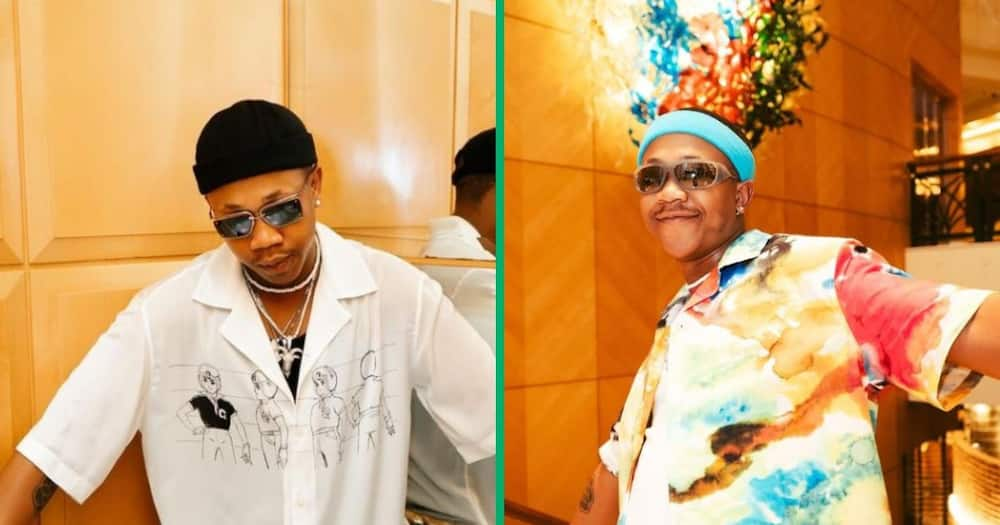 Young Stunna refuses to share with Mr Vee Sholo at Frere Summer Party
ZiMoja reports that the hitmaker refused to use the same resources as Mr Vee Sholo when he acted boujee, making performing together impossible. Sholo said it started at their guest house:
PAY ATTENTION: Watch the hottest celebrity stories on our YouTube channel 'Briefly TV'. Subscribe now!
"He first refused to let me drive in the same car as him, so I walked to the venue. Then at the VIP section, he said he will not sit with strangers."
The drama continued when they got to the venue, where it was wet and muddy, and it was arranged for him to be carried across the muddy path before he eventually refused to perform. A witness told the publication:
"Firstly, it was a cold and rainy day. The grass was wet, he refused to walk on the muddy path and he was basically behaving like a diva, almost undermining everyone."
Mr Vee Sholo opens up to Briefly News about the events of Frere Summer Party
The Akalali hitmaker explained to Briefly News that he doesn't think it was a personal attack on him because he believes that Stunna didn't even know him before the incident but was offended by the organisers' response:
"I didn't pay attention when he was talking to the organisers and saying he wouldn't be sitting with strangers, but what was offended when I was asked to leave the VIP section so that Young Stunna could sit.
"I told the organisers, 'Why don't you take him to where you're saying I must go, because I came here first and was allocated here?', other than that it wasn't a matter of Young Stunna having beef with Mr Vee Sholo."
Young Stunna had not responded by the time this story was published.
Promoters to take legal action against Young Stunna
The Underground Management released a statement apologising to the patrons for Stunna's behaviour, promising to take action:
"We will never tolerate or bow down to any artist that comes wherever they come from and undermine our artists from the EC, our establishment, our town... We have hosted big-name artists and actors and they never gave us any attitude.
"We will come up with the full statement in due course as we are busy consulting with our legal team and all parties involved."
Kelly Khumalo apologises for homophobic statement
In other entertainment stories on Briefly News, outspoken singer Kelly Khumalo apologised for her homophobic remarks.
This followed her vulgar rants on social media after she walked away from the SAMA29 empty-handed and swore at the award show and the whole country.
Source: Briefly News