Brains, beauty, and a lush life: Mzansi babe throws flames, showing off multiple distinctions
This Mzansi babe defies stereotypes with a TikTok video showcasing beauty, brains, and a lush life
@mandisagumede_ cleverly responds to inquiries about her studies by revealing multiple distinctions
The video receives applause from Mzansi people, celebrating a multifaceted approach to life
In a captivating TikTok video that's now making waves across Mzansi and beyond, a stunning young woman known as @mandisagumede_, brilliantly shut down stereotypes by showcasing her academic excellence while living her best life.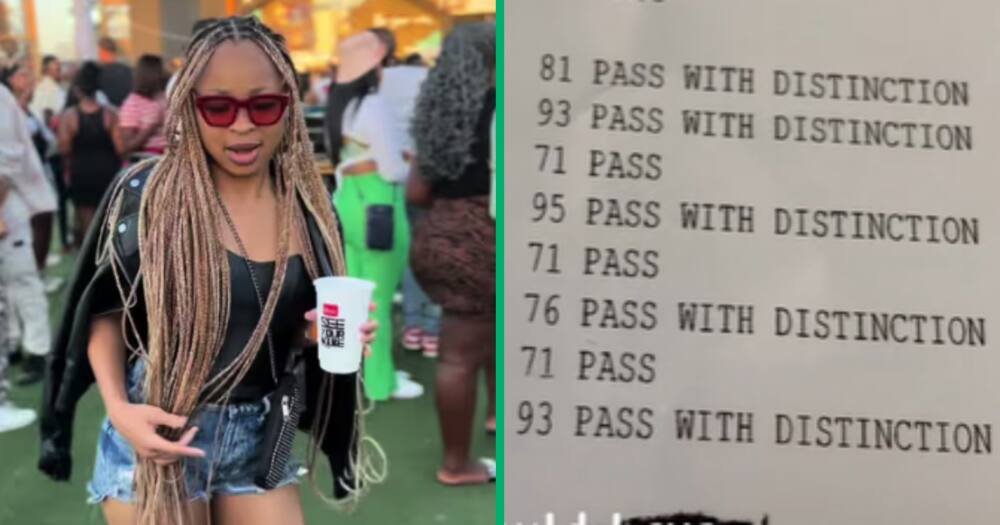 The video, available here, beautifully captures the essence of brains, beauty, and a flourishing lifestyle.
Babe flashes distinctions, showing guy flames
In the TikTok video, @mandisagumede_ responds to the common question about when she studies, given her frequent indulgence in a glamorous and enjoyable lifestyle. The response, delivered with a confident smile, is a dazzling display of academic excellence as she flaunts multiple distinctions, challenging the notion that a flourishing social life comes at the expense of academic achievement.
Take a look at this comeback:
Mzansi people clap for the gorgeous genius
The video has sparked widespread admiration and applause, not only for @mandisagumede_'s stunning looks and vibrant lifestyle but also for celebrating intelligence and academic success. Mzansi, known for its appreciation of diverse talents and achievements, has embraced the video as a symbol of breaking stereotypes and showcasing the multifaceted nature of individuals.
Read some comments:
Andile_G was impressed:
"Wow. Well done. ulandela ezinyathelwen zaMalume Philani. #CivilEngineering #WomenInEngineering"
portiano1 clapped:
"Civil engineering wow."
its_rose was inspired:
"I'm studying Civil Engineering, too, you're giving me hope with these marks."
sandilenkwanyana85 said:
"Brain and beauty going far in life."
Female software engineer inspires women
Briefly News reported that a young woman is shattering stereotypes and showcasing her journey as a woman in the world of Information Technology.
TikTok user @masana.xx, a software engineer, uploaded a video showcasing her struggles as a person working in IT. The young hun pursued her dream of becoming a software engineer, breaking the gender barriers that have plagued the IT industry. Her social media presence has become a window into her daily life, offering a glimpse of the challenges and triumphs she faces as a woman in IT.
Through engaging posts, the IT lady shares her experiences, code snippets, and projects, igniting a wave of curiosity among Mzansi's tech-savvy youth. People have reacted with immense support and admiration for her accomplishments.
Source: Briefly News