State Capture Inquiry: Norma Gigaba Says Malusi Owned More Than 100 Suits Paid in Cash
- The estranged wife of Malusi Gigaba, Norma, spilled the beans on Friday at the Commission into State Capture on how the Guptas bought suits for her then-husband
- Now known as Mngoma, Norma said the former cabinet minister, Malusi owned more than 100 suits that were bought in cash through the Gupta brothers
- On the other hand, Mngoma also explained how Malusi Gigaba's sibling got a job at Sahara Computers, a company owned by the Guptas
PAY ATTENTION: Click "See First" under the "Following" tab to see Briefly.co.za News on your News Feed!
Norma Mngoma, the estranged wife of former cabinet minister Malusi Gigaba, continued to spill the beans at the Commission into State Capture on Friday. Mngoma also testified that the former Home Affairs minister had owned more than 100 suits and they were all bought in cash.
She also told the commission that her estranged husband gave her a credit card - not a debit card with only R3 000 on it as he alleged.
Instead, the former minister gave her a R100 000 monthly limit, the commission heard. She added as per News24:
"There is nothing in my life that I can do with R3 000 and he knows that. So, when he says it was a debit card, that is him saying that. What [I] know is that it was a credit card.
"I didn't know how much the credit card had because when I go overseas sometimes, I would use it to buy a bag which would cost R30 000 to R40 000. Also in my life, there is nothing I can do with R3 000."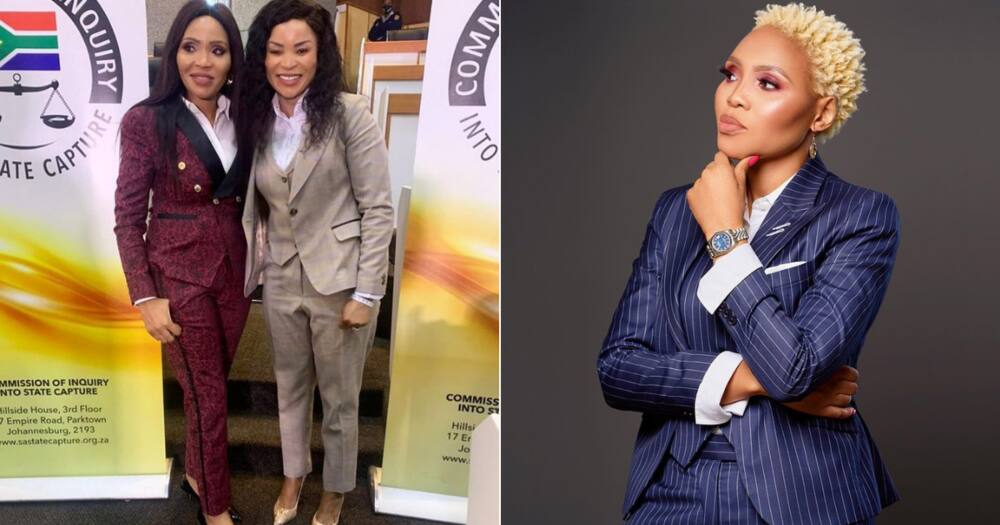 Mngoma denied the allegations that she was bought by the ruling African Nations Congress to destroy her former husband's political career.
This comes after the embattled former minister came under the spotlight and previously said in an affidavit that his wife was working with certain individuals to taint in his name in the media.
The SABC reports that Norma also told the commission that her estranged husband asked the Guptas for assistance to clear the debts of a relative who owed R850 000.
The unnamed relative was then later employed at the Guptas' company Sahara computers. Mngoma said she questioned the requested money. Mngoma said according to IOL:
"It doesn't make sense what he's saying. How can his father pay for our house in Pretoria when Malusi pays for his medical aid and we would buy him medication? Why didn't his father help his sister with her finances but paid for our house?
"I asked him: 'Where are we going to get that kind of money?' He said he will speak to Ajay and see how he can help. About two days later, Malusi visited Ajay and he told me that Ajay can help him, but he can't give all the money at once. He will give half now.
"She found the job difficult because she was employed in a marketing position there but she was a qualified optometrist."
PAY ATTENTION: Never miss breaking news – join Briefly News' Telegram channel
Meanwhile, Briefly News reported that Mngoma was trending on social media after she laid down the cold hard truth, or at least her version of the truth, at the state capture inquiry.
Norma told the inquiry all that she knew about her husband's dealings with the Guptas. She made it known that the Guptas influenced the appointments at state-owned enterprises, despite Malusi denying this in his testimony.
Although the Guptas played a part in appointments, Norma claims that Malusi and Ajay did not always agree and had heated discussions often.
Enjoyed reading our story? Download BRIEFLY's news app on Google Play now and stay up-to-date with major South African news!
Source: Briefly.co.za