As the saying goes, behind every successful man there is a woman. Looking at DJ Khaled's wealth and extravagant lifestyle, one can not help but wonder. So, who is the woman behind all this? Who is DJ Khaled's wife? And if her husband is that rich, what is Nicole Tuck worth? All these and other lingering questions will be clearly answered as you read on.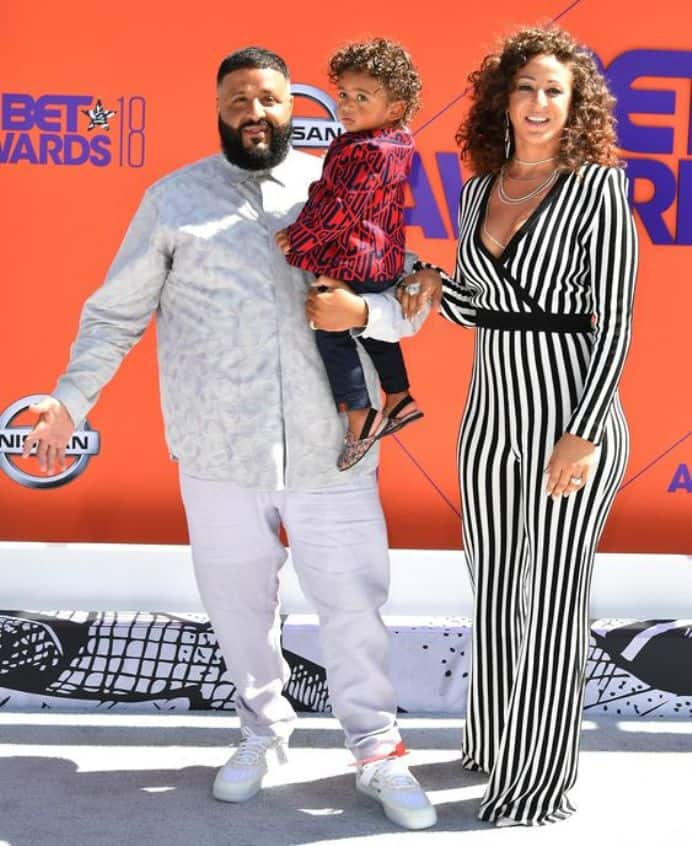 Have you ever met a woman married to a man "suffering from success?" Oh yes! The sickness is success! Not very common, but the American entrepreneur and artist manager Nicole Tuck became this lucky woman when she found space in Disc Jockey Khaled's life as his wife (not officially married). Khaled Mohamed Khaled is a prominent US musician, producer, songwriter, and DJ with a high appetite for material affluence. In one of his hit songs, Khaled claims to be suffering from success. The couple together with their 2-year-old son is enjoying life in their palatial Miami and Californian homes-
Nicole Tuck in brief
Citizenship: American
Country of birth: United States
Year and date of birth: December 7th, 1975
Husband: DJ Khaled
Occupation: Entrepreneur and artist manager
DJ Khaled wife age : 43 years
Height: 5.57 ft (1.7 meters)
She is slightly taller than her fiancee'.
DJ Khaled's wife was born in the United States of America on the 7th of December, 1975 and spent most of her formative years in Miami. Currently, she is a US business lady who also serves as DJ Khaled's private business manager. A lot of information about her root origin is scant, but some of Nicole Tuck Instagram posts indicate that she hails from a wealthy Palestinian - American family. Tuck's family is populated with aggressive entrepreneurs who manage diverse business ventures. Her friendship with DJ Khaled started almost 30 years ago and quickly blossomed into a promising relationship even before Khaled had made a name for himself in the music industry.
How educated is DJ Khaled's wife?
According to her Linkedin profile, Tuck holds two degrees.
She completed her higher education at Marymount Manhattan College with a Bachelor's degree in fine arts.
She also acquired her master's degree in education from Fordham University and graduated in 2005.
Stint at ABU
In 2011, she went into business by starting a small scale apparel company going by the name ABU Apparel. Nicole sold fashionable apparels, and through that label, she inspired her clients to define their style and follow their trends. ABU for "ALWAYS BE YOU" means you should always have high confidence yourself no matter your circumstances, size, color or shape. The company did well and made enough profits for her to enroll DJ Khaled as one of her brand ambassadors.
With time, the profit margins went even higher, and for any business person, this is good news. But this window of success did not open for long, as at some point, the business started registering losses. The downward trend only got worse by the day and compelled ABU to shut down.
She remained jobless for a while, concerning herself more with home management and raising their son Asahd until Khaled asked her to manage his business orders and assignments. To date, her primary focus is to increase Khaled's stocks as the business manager. The empire has since registered remarkable growth under her management.
Where it all started with DJ Khaled
The Nick Minaj proposal
Nicole and Khaled's love affair started way before he acquired fame in the music industry in the early 1990s. Although Khaled is quite vocal on social media, he has never shared precisely how he met Tuck. It is believed they first met at an event, and although each of them achieved personal success, their bond of friendship only got better.
However, men can be unpredictable sometimes. In 2013, when everyone was expecting the couple to settle down, DJ Khaled shocked their fans by proposing to Nicki Minaj on MTV YouTube channel. In a seemingly confident tone, he flushed out a $500000 engagement ring and asked the famous question, "Nicki Minaj, will you marry me? And most characteristically, Khaled pressed on;
"We got the same symptoms, we both suffering from success. You out there touring, you out there hustling, you out there making music, you out there winning. I understand. That's why I feel like you need a man like me in your life."
Whether he was serious or not, it is a question only Khaled can answer, but when contacted for a comment, Nicki Minaj dismissed the whole incident as a clever joke intended to promote the song "I wanna be with you."
Nobody in my real life took it seriously. Everybody just hit me like, 'LOL. Yo, Khaled is crazy.' Khaled is my brother, and Khaled was not serious with that damn proposal, ya'll… Please let it go. He was kidding. He's not attracted to me, and he doesn't like me. We're brother and sister. She said.
A little later though, Khaled also came public and confirmed that it was indeed a prank. If indeed that was a promotion idea, then his wife was privy to the whole scheme. Remember she is the private business manager, and this may provide an explanation as to why there was no public shock and outrage from her.
Tuck and Khaled had an 11-year casual relationship and only got engaged when their son Asahd Tuck Khaled was born in 2016.
Nicole Tuck family
Mum
Generally, Nicole does not like lots of publicity especially on social media. She only makes rare appearances on Khaled's social media feeds after attending essential functions. Tuck has not revealed much information about herself and very little is known about her family. Her mom is called Pauline Vitale, and her birthplace is New Jersey although today she lives in Florida. In 2015, Tuck surprised her mum with a European vacation after Pauline expressed a strong wish to visit Amsterdam on her facebook wall.
Dad
On Fathers' day in 2017, Tuck showed her Dad love by sharing a picture of him on her Instagram account.
Siblings
She has a sister called Freshie Tuck, a stepmom and step-siblings. Nicole's younger brother Jonathan died when he was shot in the face while shopping in Belmont.
'Prince' Asahd Khaled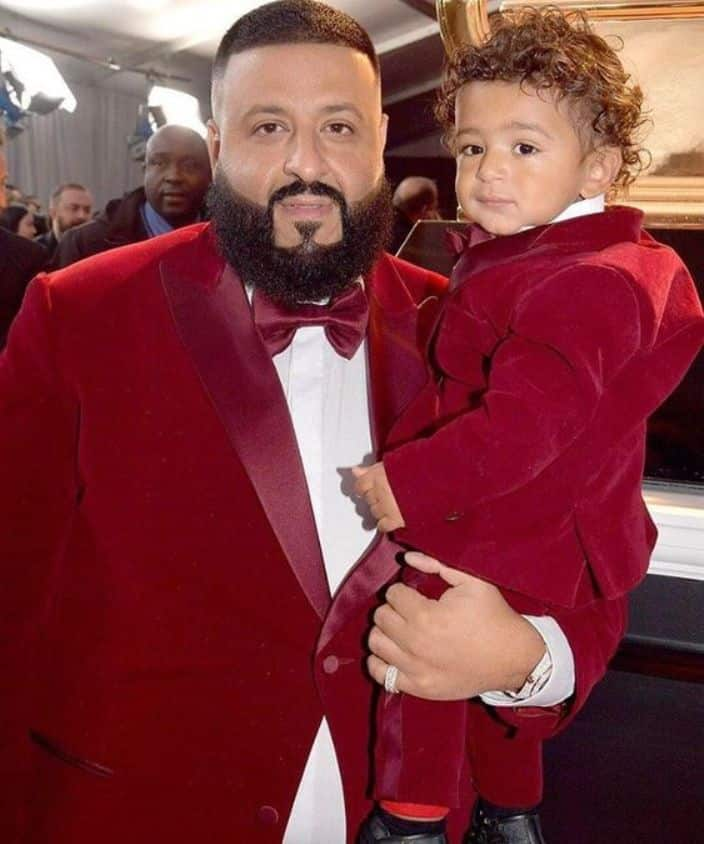 Tuck and Khaled are really proud of their son Asahd. Their love for him is obvious and it is often expressed in the numerous appearances they make with him on their important occasions. On the night he was born, the snap chat King got so excited that he documented the entire process. He had, of course, sought for his wife's consent way in advance and on the real day, his snap chat followers watched Nicole, grimace, and groan through contractions as she conversed with her doctor.
Quick facts about Asahd Tuck Khaled
DJ Khaled son is two years old (Born on October 23rd, 2016)
His father started sharing photos of him on Instagram when he was only six months.
He was named executive producer of the album Grateful by Khaled when he was only four months.
His name Asahd means "Lion "in Arabic.
He was born when his parents were engaged.
He has over 1.9 million followers on Instagram.
Nicole genuinely loves Khaled because she has stood by him during some of his most difficult and controversial times. This is one couple with an excellent bond, and Tuck has shown constant support for him throughout his career. During the BET awards in 2016, Nicole walked alongside DJ Khaled on the red carpet, and she was pregnant. Just before he walked in, he proudly kissed Tuck on her baby bump, an act that made the unborn Asahd famous even before he was born.
What is Nicole Tuck net worth?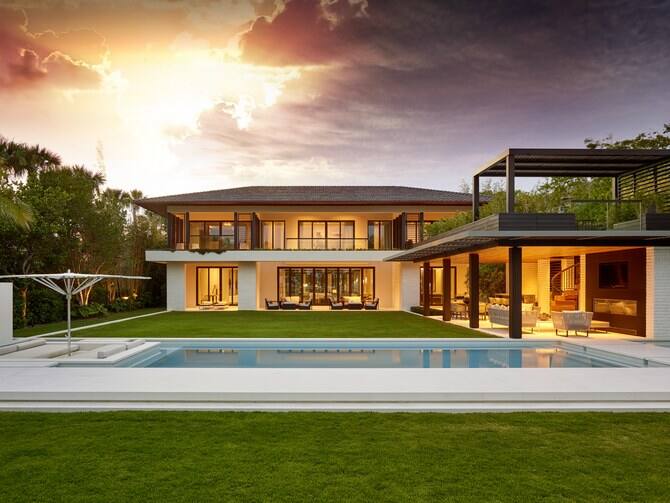 This family has so far purchased at least two high-end homes. Their first home was sold to them by Robbie Williams in Mulholland Estates in January 2017. Mulholland is a prestigious leafy suburb in Los Angeles, California.
Nicole Tuck and family in 2018 bought another luxurious 13 square ft home from Michael Lerner at a whopping $25.9m in Miami. The house has nine bedrooms, eleven bathrooms, an elevator, and an eighty ft swimming pool. It also has a guest house with four bedrooms, a safe room and a private dock on Indian Creek.
Little specific information is out on her net worth although it is estimated that her six million dollar sunny Isle beach in Florida along with other collective family assets put Nicole's net worth at about $20 million.
In many ways, DJ Khaled's wife has demonstrated true love and support for her fiancee. Her contribution towards creating family wealth is outstanding, and it is an aspect that makes her the dream woman for any organized man. However, the question that still lingers for many fans is, " When is DJ Khaled wedding?"
READ ALSO:
3 SA celebrity power couples who prove love can last a lifetime
List of South African female celebrities
5 Awesome South African celebrities with an international appeal
Most fashion forward Mzansi celebs of 2018: They've got it going on
Source: Briefly News