Latest Nigerian cornrow hairstyles
Do you ever have those days when you want a simple, unique, and elegant hairdo? You are probably not alone; most ladies prefer styles that are easy on the eyes, low maintenance, versatile, and at the same time, protective. The latest Nigerian cornrow hairstyles fit the above description best. Moreover, these styles of plaiting are relatively cheaper than most hairdos, and they require less time to fix. Amazing, right?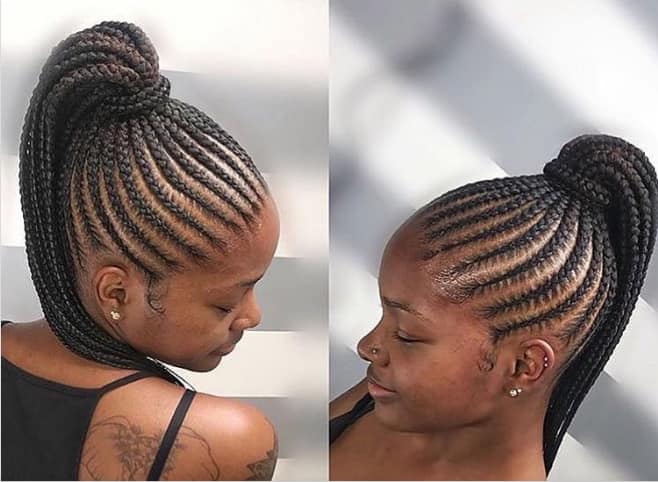 What are the different types of cornrows? For a simple hairdo that has been around for several generations, cornrows never seem to go out of fashion. Most of the time, it all narrows down to how creative a hair stylist is and how neat the outcome will be. As it is, Nigerian hairdressers are giving each other a run for their money, evidenced by the amazing Nigerian cornrow hairstyles 2019.
READ ALSO: 30 natural short hairstyles black hair with images 2019
Latest cornrow hairstyles
With the number of pictures of female cornrow styles available online, it becomes hard to tell which hairstyle is trending. Here are the top cornrow hairstyles in Nigeria in 2019. You will surely find more than three hairdos from our list that you can try this year.
1. Simple stitch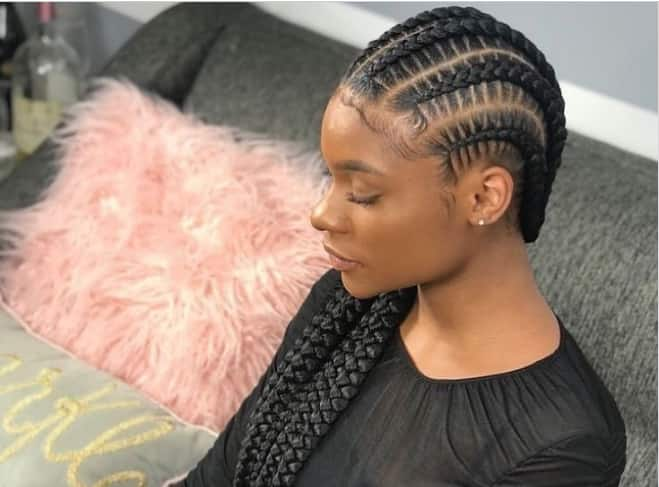 The simple stitch hairdo is one of the top round face hairstyles. The style highlights one's top facial features since the lines flow from front to back. You can either choose to jell your baby hairs at the front or tame them in the braids. This type of plaiting is suitable for all occasions, so you can rock it at work and over the weekend in an informal gathering.
2. Thick double crown cornrows braids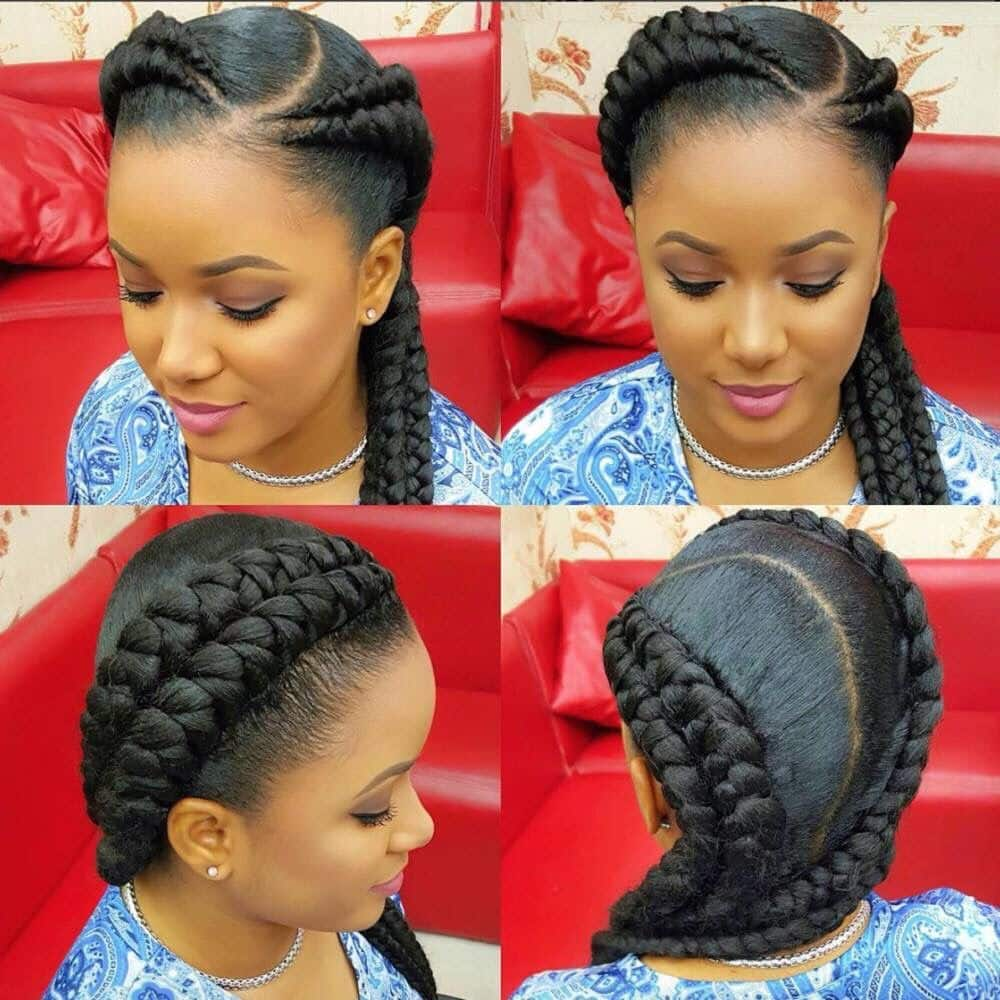 You will agree that crowns make ladies look like royalty. In this case, the thick double braids crown hairdo like the one in the image above work best for ladies with round and heart-shaped faces. For better results, use braids or other hair extensions when plaiting such big cornrows hairstyles 2019. Your stylist should ensure that all strands are neatly held in an organized manner for a perfect outcome.
3. Thin and thick cornrows hairstyles with curly ponytails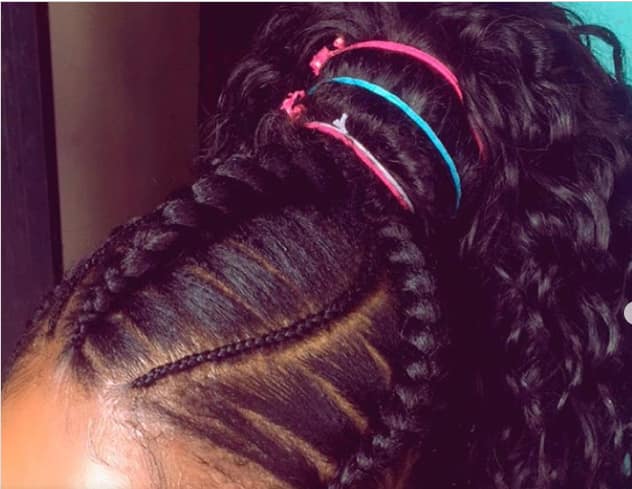 At times, thick cornrows may not tame all your hair neatly. In such scenarios, you can choose to plait thin and thick lines, as seen above. Furthermore, you can add curly ponytail extensions to make the hairdo attractive. This hairstyle is also among the best cornrow styles for round faces that you should try before the year ends. Instead of the braids meeting at the center of your head, you can opt for rows going to the back and then create two pony tails at the back depending on the shape of your head.
4. Stylish side cornrows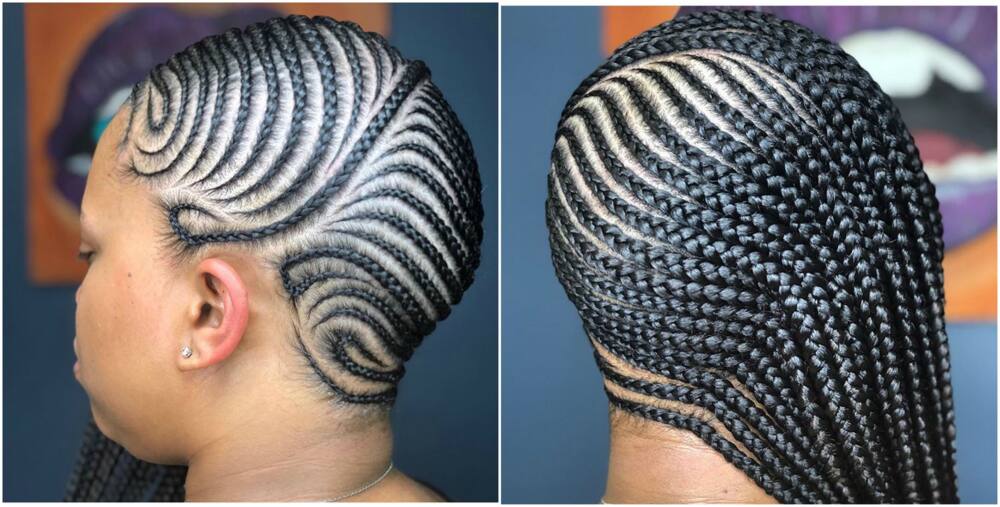 Neat side lines like in the image above are ideal for ladies with oval-shaped faces. The hairdo draws attention to one side and adds structure and volume to your face. The creativity with which the lines are plaited will surely make people turn heads wherever you go because they will be impressed!
5. Fulani cornrow braid hairstyles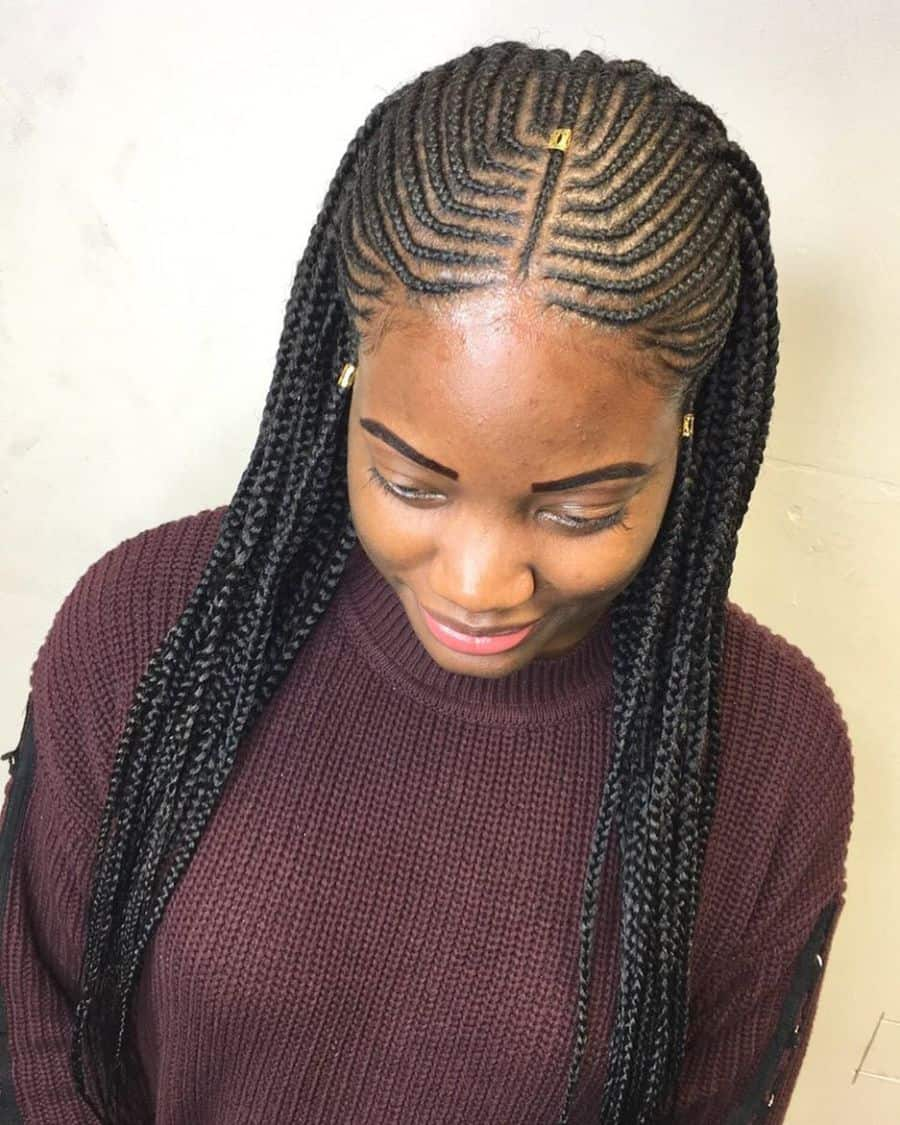 For a rich cultural look, always go for the tribal cornrow braid. The hairstyle is ideal for square-faced ladies, and it has been trending lately due to the fact that the artistic plaiting enhance a lady's appearance at all times. You can opt for lines going to the back, or you can style them in a pony tail depending on the type of your face.
6. Flat twists updos cornrow hairstyle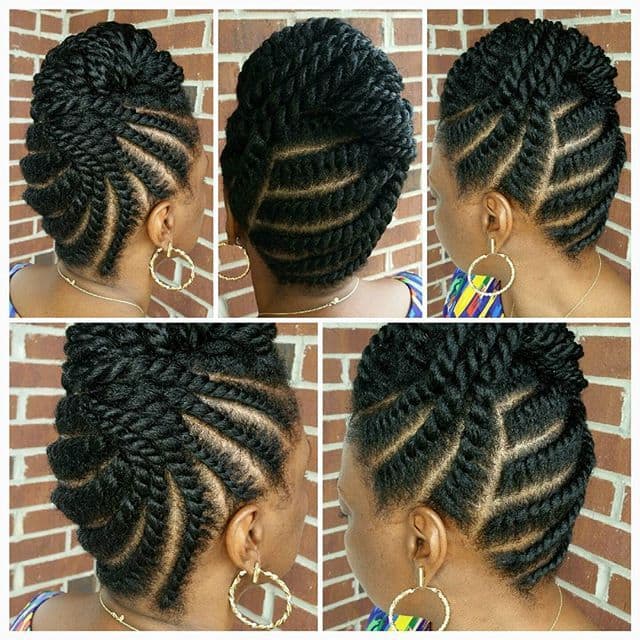 Natural hair proponents always suggest flat twists as one of the go-to hairstydos when you need to let your hair rest. Moisturize your hair before plaiting to get the best result and a neat outcome. The style is suitable for oval-shaped faces, as it hides the undesirable facial features in a creative manner.
7. Cornrows hairstyles with an afro bun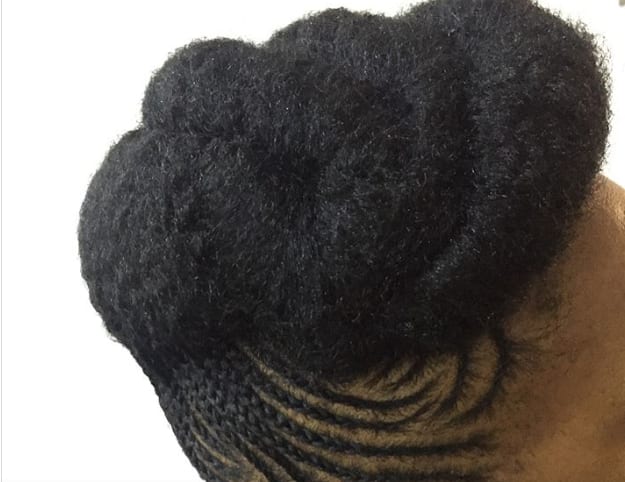 An afro bun adds volume to your cornrow hairstyle. Depending on the design of the cornrows, the style is suitable for round, oval, and heart-shaped faces. This is therefore a must-try for all ladies as the bulkiness of the afro will bring out the best facial features.
8. Cornrows with beads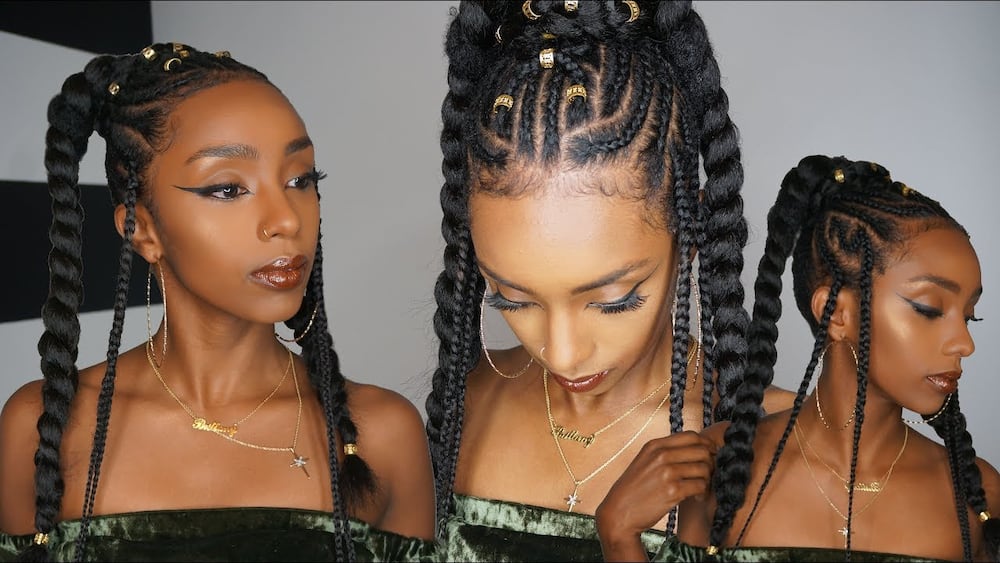 Beads accessorize your braids and give you a more tribal look. Some of the beads in the market include plastic, metallic, and traditional. You can opt to use the beads sparingly, or you can use many beads with this hairdo.
9. Thick lemonade cornrows styles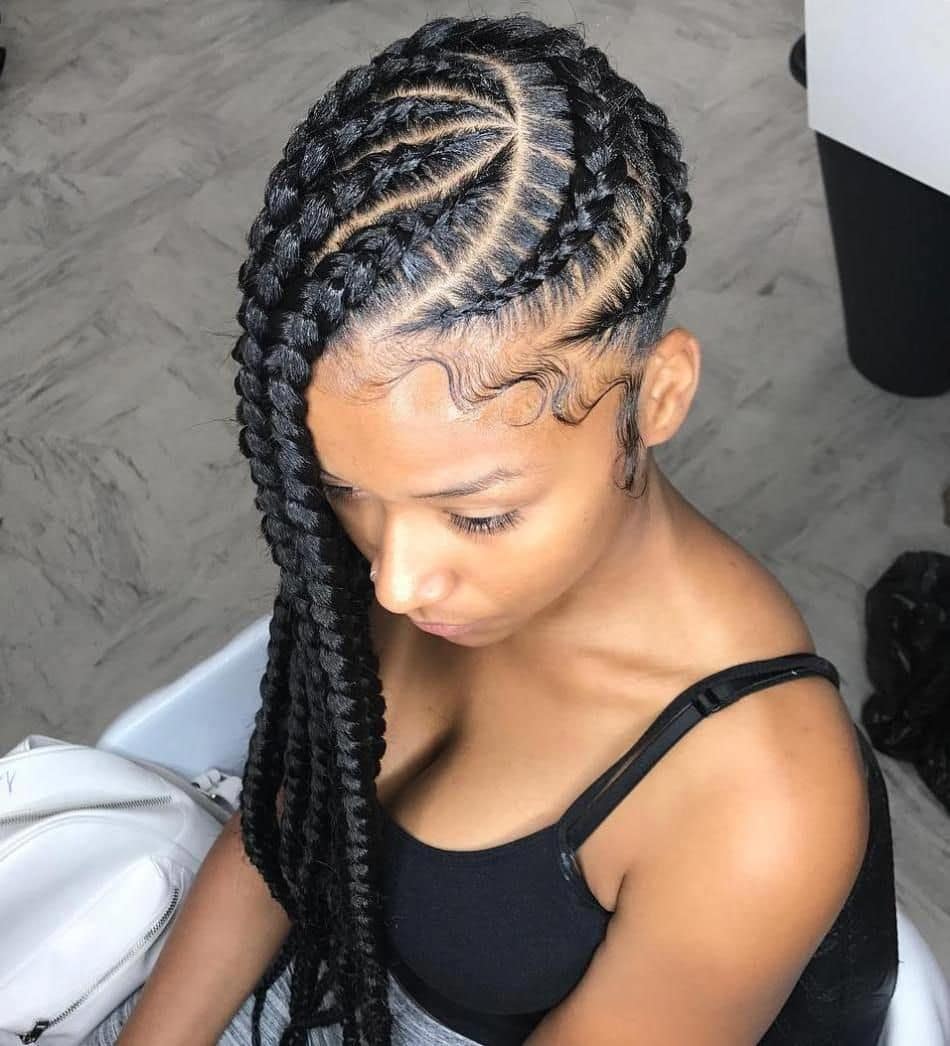 Isn't she gorgeous? Lemonade styles have been in vogue since 2016. This hairstyle flatters ladies with oblong-shaped faces the most. Nonetheless, this hairdo is also ideal for ladies with round, oval, and heart-shaped faces.
10. Stylish hairdo with afro mohawk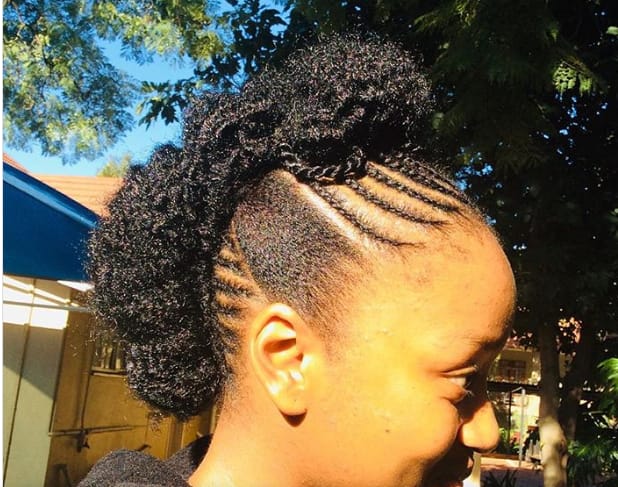 Did you know that this desired traditional African hairdo can be done with your plain hair? Then, extensions can be added to come up with a perfect afro mohowk like the one above. Alternatively, if you have long hair, twist outs can give you a curly and structured finish that complements well-done cornrows as shown above. This hairstyle is suitable for round, oval, and oblong-shaped faces, and if your hair is not long enough, you can add hair extensions for distinct twist outs.
Female cornrow styles are easy to maintain. You only need to moisturize and cover your head with a silk head-wrap when sleeping. Also, remember to wash your hair before plaiting. The only disadvantage is that generally, this type of plaiting is not as long lasting as other hairdos such as braids.
READ ALSO: Best Brazilian hair styles with pictures in 2019
Impressive, right? This list of the latest Nigerian cornrows hairstyles above may not be exhaustive considering the creativity in the hair industry. Nonetheless, you can use it to get amazing ideas for your next hairdo. Also, feel free to share other trending, related hairdos in the comments section below.
READ ALSO:
30 best African braids hairstyles 2019 (with pictures)
Best Boity Thulo hairstyles
20 Xhosa traditional attire for women
50 traditional dresses pictures in South Africa 2019
45 best Sepedi traditional attire images for ladies and men 2019
Source: Briefly News