20 best worship songs to uplift your spirit
Most people use worship songs to uplift their spirits. Whenever you feel downcast and are troubled by the issues of this world, drawing closer to God is the best solution. Finding the right song to make you worship and dedicate your praises to God is important. Fortunately, there are so many worship songs that will help you in your quest as long as you open your heart.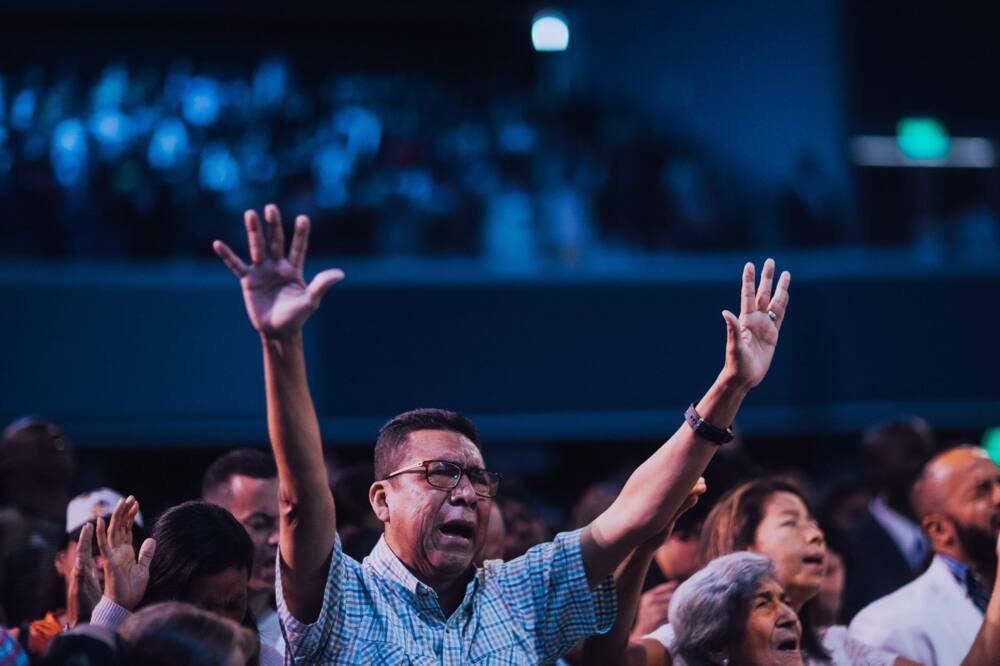 Church songs are some of the easiest to master and sing along to. The fact that most of the lyrics are repetitive makes this possible. With so many examples of numbers, including the famous Hillsong songs, anyone can feel that they are closer to their maker. Check out the examples of worship tunes that will uplift with your spirit.
The best gospel worship songs
Choosing the right Christian worship songs marks the start of a journey of drawing anyone to God. When the cares of the world seem overwhelming and you are lost with all options gone, the right song can help you jolt you back on course. Sometimes, before immersing yourself in prayers, you need to create the right environment for it. Christians believe that the Holy Spirit will lead you in choosing the right song if you believe. Here are perfect examples by world-renowned artists.
1. How Great Thou Art - Carrie Underwood
Carrie Underwood kicks off the list of the best worship Christian songs you should have within reach. Save it up in your favourite playlist for those days that life seems upside down. Even when life seems grimmest and no hope can be seen, God is great.
2. God's Not Dead - Newsboys
This is one of the few perfect praise and worship songs that work for every Christian. Sometimes you do not have to argue with people that do not believe in God. Their unbelief can be infectious and if you are not careful you can be dragged into the mud. Play this song to remind yourself that even if no one else sees it, God is alive and moving in your life. When the time comes, he surely must show up for himself through you.
3. 'Tis So Sweet To Trust In Jesus - Casting Crowns
Even as you consider all Jesus songs you can find, none beats those with the message of assurance. This one is a perfect example that all believers find consoling and worthwhile. When the journey seems long and dreary, trusting in Jesus is the only way out. Taking Jesus as a friend and an ever close helper will help your faith grow. You do not have to know everything or have a clear picture of how life will turn out. In the uncertainties of life, trusting in Jesus is the best consolation that will help you sail through life.
4. Oceans (Where Feet May Fail) - Hillsong UNITED
Hillsong worship songs are some of the most popular ones in the world. The group will help you draw closer to God through their songs. Even as you check out the Hillsong worship songs list, this particular number should feature among them. The serenity in it will encourage you as a believer to go out of your comfort zone for Christ.
5. In Christ Alone - Christina Grimmie
Nothing is more reassuring than the fact that even in death you are alive in Christ. This is one tune that uplifts Christians all over the world, especially those living in fear of worship that their service to God is not in vain. It is only in Christ that our hope can be found.
6. Steal My Show - Toby Mac
This is a perfect tune for when you want to tell God to take charge and control. Letting him know that it is all about him is a sure way of reaffirming your commitment to him alone. It is especially great if you sing it from deep down your heart. If you give it all to God, he is going to do far much greater than you ever could.
7. You Raise Me Up - Josh Groban
This is probably one of the oldest numbers you have ever heart. It is ever so powerful and relevant no matter when it sang. Christians are raised up just because they believe in Christ's sacrifice. You can always count on Christ even when the burden seems too much.
8. 10,000 Reasons (Bless the Lord) - Matt Redman
This is a fantastic tune that encourages the soul to praise and worship God. The journey of following Christ is never an easy one. With all the tribulations one is going to face, it helps to have a reminder of why you chose this path. Fortunately, there are thousands of such reasons that will keep you fighting.
9. Messiah/You're Beautiful - Phil Wickham
Perfect song for when you want to confirm the certainty of God's love to his creation. You will be consoled knowing that God has you n his heart and personally attends to you.
10. Whom Shall I Fear (God of Angel Armies) - Chris Tomlin
When life's fears threaten to engulf you, listen and sing this song to remind yourself whose child you are. Things can seem really difficult sometimes that fear is the only thing that is left. However, as a true believer, you need to know that when God is on your side nothing else can crush you hence no near to fear a thing.
11. All I Ever Needed - AJ Michalka
Let not the troubles of the world get to you. Even as you chase dreams and achievements, always pause to remind yourself what really matters. You should never let yourself feel void because you shut him out. Only God can feel the gap.
12. Amazing Grace (My Chains Are Gone) - Chris Tomlin
There is probably no Christian alive that does not know this song. The great tune has been translated and re-done in different languages all over the world because of how powerful it is. The message is direct and ever so true, especially for believers. Were it not for God's grace none would be saved. This reminder of his unending love is one we need to be constantly reminded of.
13. How Great Is Our God - Chris Tomlin
This number will work every time you need to boost your faith. It may be simple but the truth is so powerful. You will grateful for everything that our great God has allowed you to have. In fact, you will start counting your blessings.
READ ALSO: Top 10 songs in South Africa now 2018
14. You are Loved - Josh Groban
Every once in a while we all need someone to remind us that God loves us. This is the best way to never give up. Knowing that he understands everything and still cares can be reassuring. Sing this worship tune as a reminder and a prayer for his presence all the time.
15. Overcomer - Mandisa
How great is the assurance that he, our Lord, cannot give you a mountain that you cannot climb. Every tribulation he allows you to go through, you can keep fighting knowing that you are an overcomer. Just because you are down, does not mean that you should be out. Keep fighting for the one in you is bigger than all your troubles.
16. Free to be Me - Francesca Battistelli
The fact that Christ won the battle affords you the freedom to be whoever you were meant to be. There is no condemnation or belittling yourself because Christ finished the hard work.
17. Mighty to Save - Hillsong
Hillsong never disappoint. This tune will remind you of God's power. You should sing it with confidence so that the whole world can hear it. He is mighty and he saves.
18. Fighter - Jamie Grace
This is a number that will remind you to keep fighting on your knees since this is where battles are won properly. It does not matter how difficult life is. No matter what it throws at you, you can fight through it all with Jesus on your side.
19. Everyone Needs A Little - Kari Jobe
Be encouraged by the fact that God will always invite you to his table. The reminder that everyone needs something from God will keep you on the right track. Whether it is joy, restoration or even love, God has it all for you. All you need to do is to draw closer to him.
20. He is With Us - Love & The Outcome
You will be in the clear just knowing that God is with you. You can fully trust him and surrender to his will because he knows what he is doing. Leave everything to him because he is always with us.
Even as you move from song to song, and enjoy all the great worship songs that lift your spirit, you can always start fresh with him. Having something to hold on to, even if it is some hope is all humans need at some point.
READ ALSO:
10 best Shekhinah songs 2018-2019
10 best Snotkop songs 2018-2019
List of all Snotkop songs ranked
Source: Briefly News