To a typical South African, snoek is not a new thing. It forms part of the most common meals that they eat, especially Capetonians. So, whether you are just getting to know about braai snoek or you need new snoek recipes that you can try out, at least, to have a change of taste, this article shows you different fish braai recipes that you can try out on your own.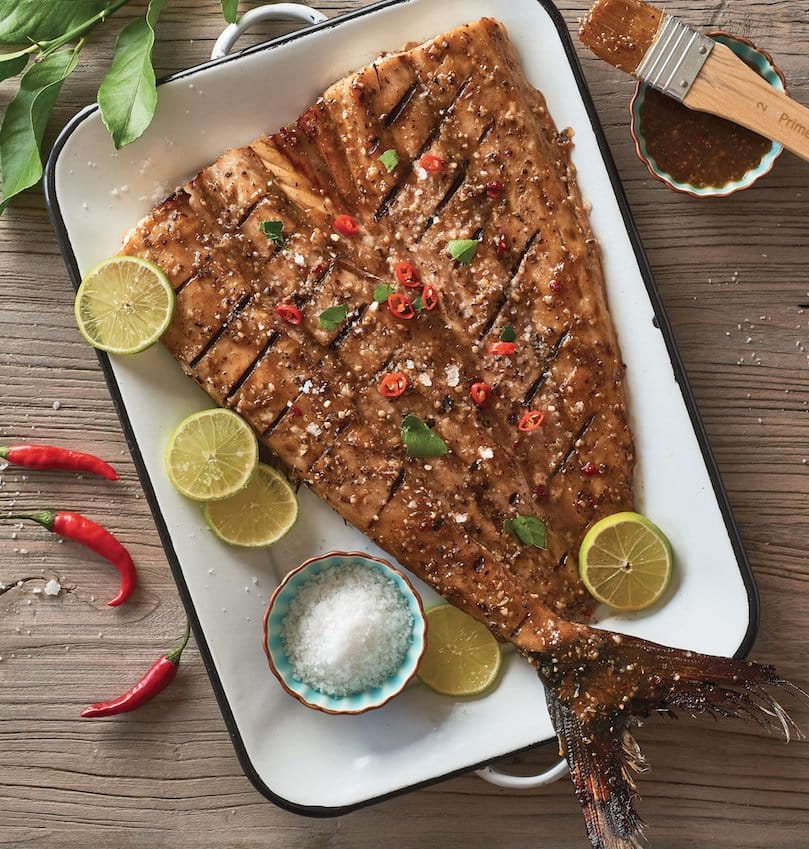 What is snoek fish? It is a fish that is commonly found in cold waters in the Western Cape. The silvery fish can grow to 2 m in length and weigh up to 9 kg. Snoek preys mostly on anchovy, sardine, and mantis shrimps, and it is said to form part of the reasons for its unique flavour. The fish is nutritional in that the special omega-3 fatty acids that it has help in preventing cancer and protect against heart attacks. How long can snoek be frozen? As long as there is power supply, it can be frozen for as long as you want.
Snoek braai resepte
Braaiing is one of the best ways that traditional South Africans have discovered to enjoy snoek. But this does not mean that it cannot be poached, baked, or smoked. Individual preference influences how to prepare snoek. But for this article, we discuss how to braai fish and also share some braai reseptes that you can try out at home.
READ ALSO: Sago pudding recipe - tastiest recipes here!
However, if you are new to braaing, bear in mind that learning how to braai snoek is not difficult. Once you know the required ingredients and the quantity, you are good to go. Therefore, the following are some easy-to-follow snoek recipes that will help your creativity, and you will be amazed at the result eventually.
Braai snoek with apricot jam
Ingredients:
Chutney (1/4 cup)
Apricot jam (1 tablespoon)
Ground cumin (1 tablespoon)
Lemon juice (2 tablespoons)
Sunflower oil (1 tablespoon)
Salt (1/2 tablespoon)
Black pepper to taste
Fresh snoek (2 kg)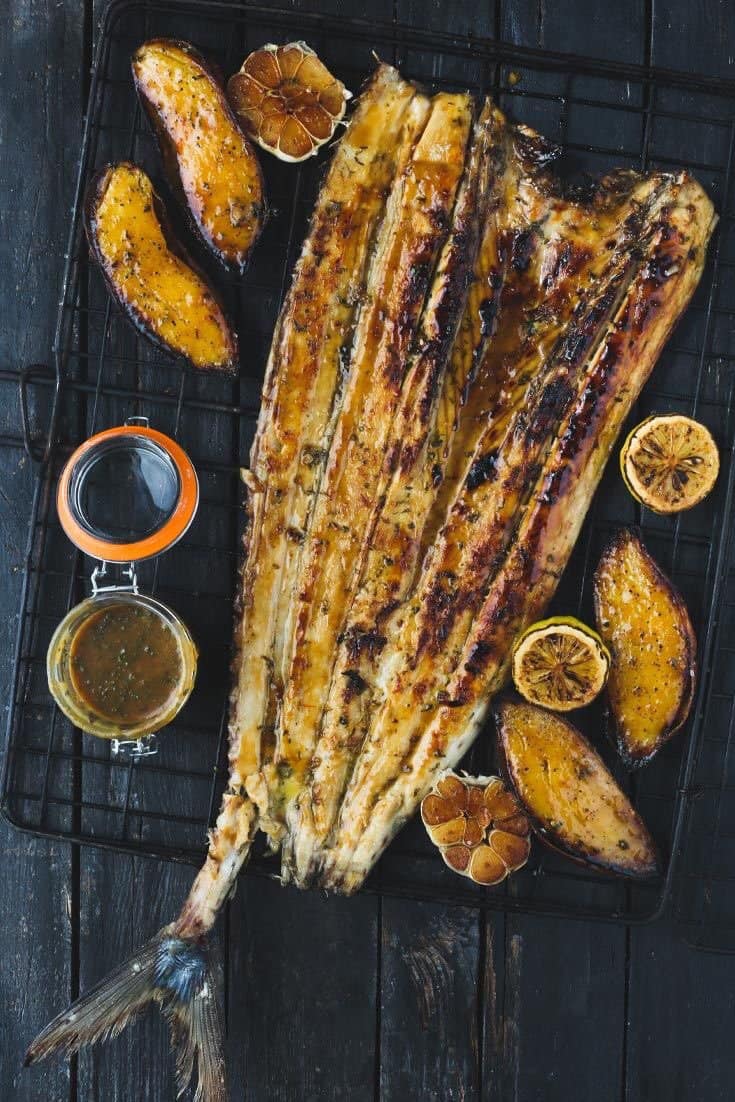 Preparation procedure:
Mix all of cumin, chutney, lemon juice, oil, and jam together
Add salt and season with pepper to taste.
Brush the braai grid that you want to use with oil, and then, place the fish on it (make sure that you remove the head and butterfly it before placing it on the grid).
Then, brush the fish using your jam mixture and allow it to braai for about 20 minutes over medium coals. While doing this, be sure that the skin is positioned downwards.
Try to turn it after a while and allow it to be brown for some minutes. As you are doing this, keep an eye on it so that it does not burn or overcook.
READ ALSO: Simple pancake recipe and guide for the perfect bake
Fish braai with garlic
Ingredients
Butter (400 g, melted)
Lemon juice (1 cup)
Garlic (10 cloves)
Salt (2 tablespoons)
Chilli pepper powder/Paprika (1 tablespoon)
Freshly chopped parsley (4 tablespoons)
Fresh fish fillets (2 kg)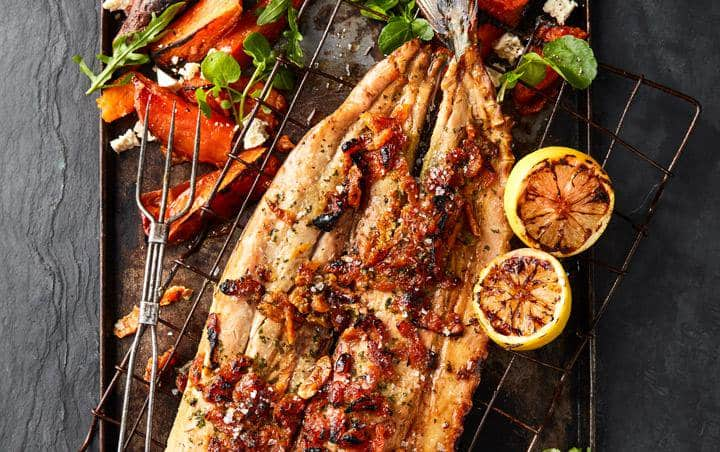 Preparation procedure:
Mix the whole of butter, paprika (or chilli, depending on what you choose), lemon juice, garlic, and parsley.
Then, add table salt to taste.
Baste the fish fillets with the garlic mixture generously on different foil sheets.
Next, wrap the fish in a way that it would be easy to braai.
Be sure that the coal is not too hot before you start braaing.
Allow the fish that you have wrapped with foil to grill for about 10 minutes.
Once it is ten minutes, you can turn it and allow to grill for another ten minutes to ensure that the fish is well cooked.
After that, remove from the grill and also let the fish loose.
At this time, you can serve it with whatever you want.
Smoked snoek recipes
Option 1
Ingredients:
Snoek fish (1kg)
Lemon juice (1/2 cup)
One fresh orange juice
Garlic (2 tablespoons)
Butter (100g)
Salt
Pepper
A big ball of onion cut into rings
Finely chopped green chillies (3 pieces)
Chopped pineapple (1/2)
Olive oil (2 tablespoons)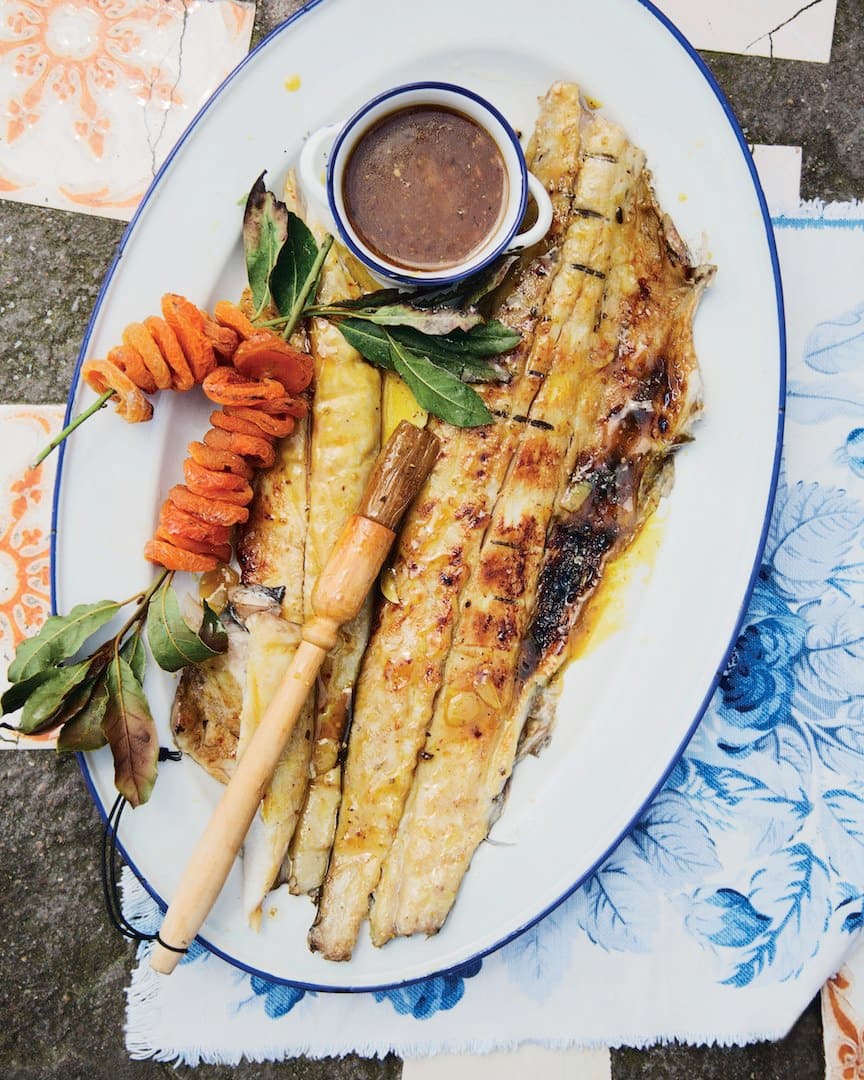 Preparation procedure
Mix the butter, orange juice, garlic, and lemon juice, and then add the salt and pepper.
Rub the mixture on both sides of the fish.
Layer the pineapple slices and onion rings on top while you add up one tablespoon of the olive oil.
Wrap up everything with a foil while you get the braai grill set.
Over medium heat, place the wrapped fish on the grill and allow it to braai for about 15 to 20 mins.
After the first side is done, turn to the other side and allow it to braai for about the same time.
Once you are sure that everything is set, you can remove the fish from heat, open the foil, and your braai fish is now ready to be served.
READ ALSO: How to make Dombolo: the best recipe with pictures
Option two
If you do not want to follow the first option, below is another snoek recipe that you can try out.
Ingredients:
Olive oil
Finely-sliced large leek (one)
Smoked snoek (200g)
Cream (1/4 cup)
Milled pepper
Salt
Eggs (4 pieces)
Preparation procedure
Over medium heat, place your pan and add in the olive oil.
Once it is hot, fry the leek until it becomes soft.
Mix all the seasonings together with the cream and snoek.
Stir them through the leeks and gently toss.
Add the leeks into a dish with which you can bake, and then, crack the eggs and spread them on top.
Bake for about 10 minutes, at least, and until you see that the whites of the eggs are ready (although the yolks may still be runny).
Remove the dish from the oven and serve it right away.
Braai pie resepte
If you love braai pie or want to try it out, here is what you need and the steps to follow:
Ingredients:
Puff Pastry (2 rolls)
Spinach (1 packet)
Chicken breasts (1 or 2 large, depending on your choice)
Shredded Bacon (1 packet)
Onion (1 ball)
Red and yellow pepper (1 each)
Mushrooms (1 packet)
Sandwich type grid with edges
Cheese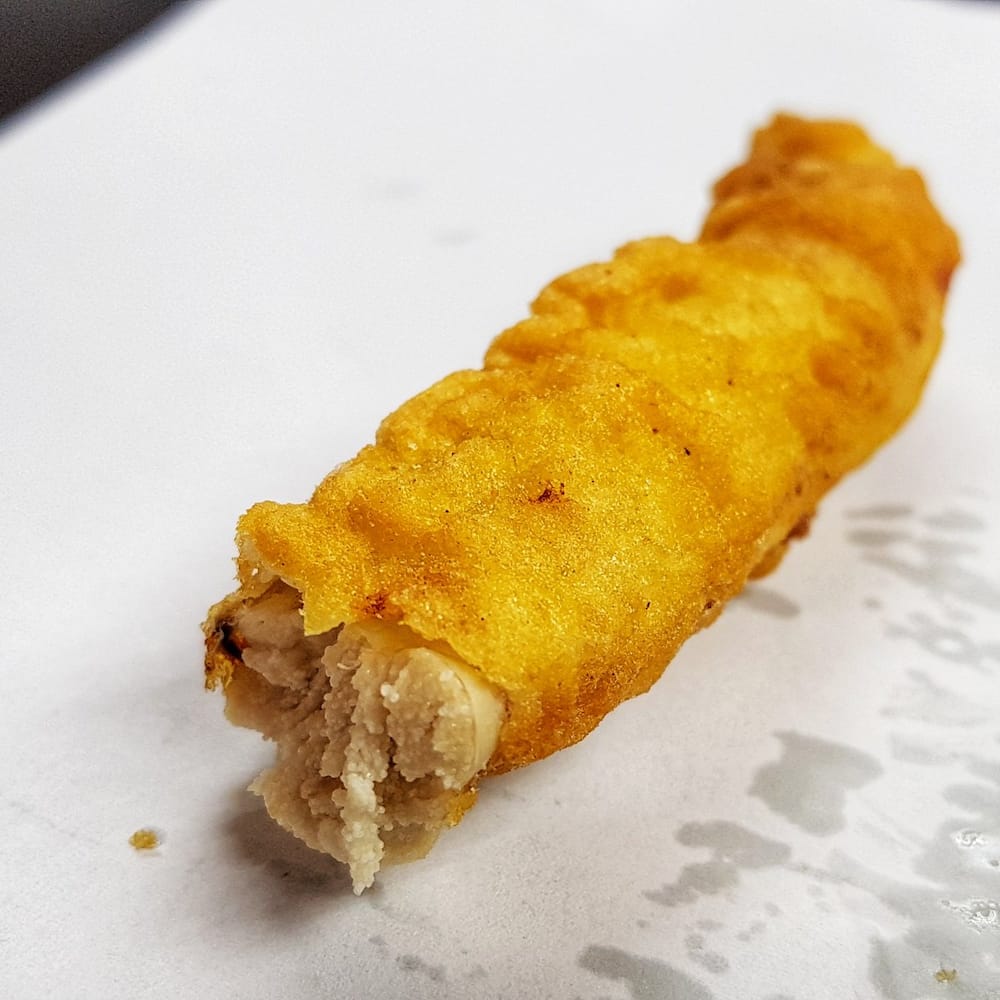 Preparation procedure:
Allow the dough to defrost (you can microwave it for a short time) before you roll one on the grid.
Fry the bacon, onion, and peppers together.
On the dough, you can lay half of the raw spinach after drying it off.
Chop the chicken, and then, carefully place them on the spinach.
Add the mixture of your bacon, onion, and peppers.
Next, chop the mushrooms also and add it afterwards.
Grate and add the cheese before you place the remaining spinach. Ensure that the spinach covers the dough in a nice way so that there will not be too much juice that may seep through and wet the dough.
Let the second roll of dough go on top, and then, seal it up in the same way you do when you want to make pies.
Brush the dough with a whisked egg to give you an extra golden brown effect.
Now, bake it in the oven and flip from time to time until it gets a brown color.
Snoek braai side dishes
Even while some people know how to braai, one of the often asked questions centre on what to serve with snoek. And on this, an essential point that you should note is that there are no hard and fast rules on what exactly must go with the braai snoek. Being creative or trying out a variety of things is never a bad idea. However, here are some of the things that you can consider if you want to enjoy your snoek fish:
You could serve it with chip and salad together with an ice-cold drink.
Another option that you may want to consider is serving it with a green salad and baked sweet potato.
If you are a lover of pear, you could also combine it with orange and sweet potato bake.
Better still, you can even opt for braai salads with a twist to enjoy your snoek.
Now that you have the information on snoek recipes, what stops you from trying it out? Interesting enough, the ingredients are easy to get in the market, so you do not have to stress yourself before you access one. As long as you follow the steps discussed above, you should not have any difficulty. So, enjoy your meal with your family and friends.
READ ALSO: 20 best Braai salads to make ever