You do not need to be a die-hard fan of boxing to know Mike Tyson. During his boxing days, he made a record for defending his titles numerous times. He proved his boxing prowess countless times by maintaining an outstanding record.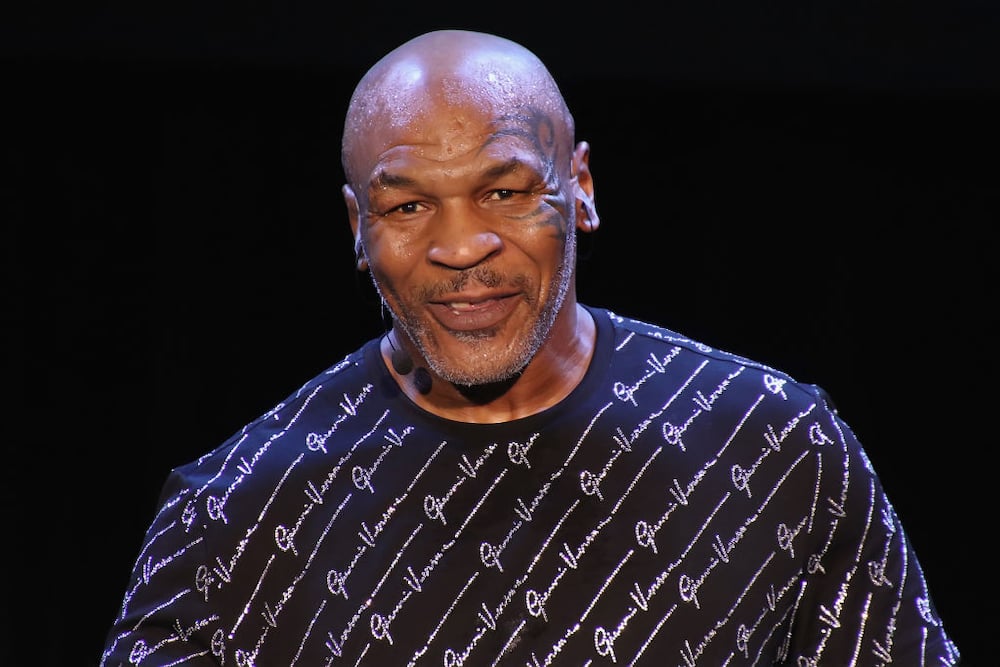 Mike Tyson is a retired professional heavyweight boxer who wowed many people for his boxing excellence. The name and fame he made for himself during his days on the pitch continue to reign to date. Here is all you need to know about the heavyweight boxing legend.
Mike Tyson profile summary
Full name: Michael Gerard Tyson
Celebrated name: Mike Tyson
Date of birth: 30th June 1966
Place of birth: Brooklyn, New York, United States
Mike Tyson age: 54 years old
Nationality: American
Ethnicity: African-American
Mike Tyson height: 5 feet 10 inches
Mike Tyson weight: 109 kg
Marital status: Married
Mike Tyson spouse: Lakiha Spicer
Profession: Retired professional boxer
Net worth: $3 million
Biography
Mike Tyson was born on 30th June 1966 as Michael Gerard Tyson in Brooklyn, New York. He has two siblings Denise and Rodney. Mike grew up in a high-crime neighbourhood, which exposed him to crime and fights at a very tender age. By the time he was 13 years old, he had already been arrested 38 times.
READ ALSO: Khanyisa Bunu bio: Age, husband, family, career, comedy special, Scandal, profile
Wife
Mike is married to the beautiful Lakiha Kiki Spicer. The couple is happily married, and they have two adorable children.
Mike Tyson children
Mike has seven children. He welcomed his first child, Mikey Lorna Tyson, in 1990 with Kimberly Scarborough, even though they did not get married.
Career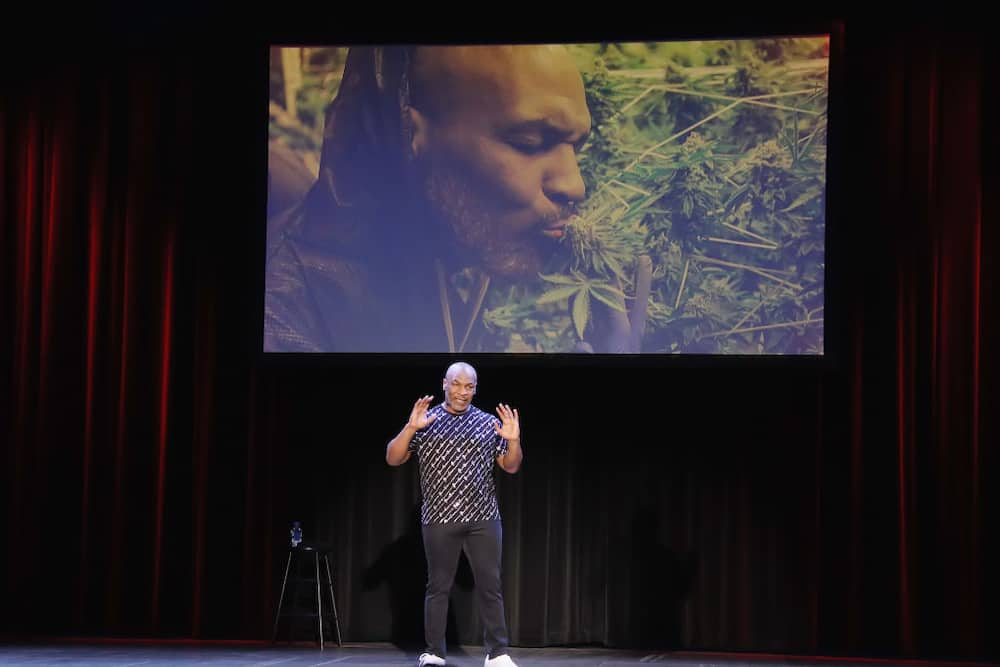 Mike made his professional debut in boxing at the age of 18 even though his career started shaping up when he was discovered and trained by Stewart, who later on led him to Cuss D'Amato. While still a beginner, he fought against Joe Cortez in 1981 and Kelton Brown in 1982 and won the two games.
Mike Tyson record
Mike's record is one of the things that have built his legacy throughout his career as a professional heavyweight boxer. Here is the summary of Mike Tyson boxing record:
58 total fights - 50 wins and six losses
Mike Tyson knockouts - 44 wins and five losses
By decision - 5 wins and zero losses
By disqualification - 1 win and one loss
No contests - 2
Comeback
Mike's reputation was very much stained after he was sentenced to 6-year imprisonment for a rape conviction. He was later released on parole upon serving three of the six years.
Nowadays, although he retired, has has been training a lot to get ready for his next fight with Roy Jones Jr, which is planned to take place on September 12th, 2020.
READ ALSO: John Cena bio: girlfriend, ex-wife, net worth, age, height
Mike Tyson movies
After retiring from boxing, Mike Tyson ventured into the film industry. He appeared in the 2009 film, The Hangover. He launched his TV show dubbed Mike Tyson: Undisputed Truth alongside Spike Lee. In 2013, he founded Iron Mike Productions alongside Garry Jones.
Here is a list of Mike Tyson TV shows:
1987 - Webster
1988 - D.C Follies
1989 - DJ Jazzy Jeff and the Fresh Prince: I Think I Can Beat Mike Tyson
1991 - Whitney Houston: My Name is Not Susan
1991 - Whitney Houston: I Belong to You
1994 - Crooklyn Dodgers: Crooklyn
1999 - Black and White
1999 - Play to the Bone
2001 - P. Diddy ft Black Rob and Mark Curry: Bad Boy for Life
2004 - When Will I Be Loved
2006 - Rocky Balboa
2009 - The Hangover
2009 - Brothers
2010 - Entourage
2010 - Every Little Step
2011 - Oscar Talk
2011 - When Harry Met Sally 2
2011 - Breaking In
2011 - The Hangover part II
2011 - The Cookout 2
2011 - Herman Cain's Campaign Promises with Mike Tyson
2012 - Yahoo! News/Funny or Die GOP Presidential Online Internet Cyber Debate
2012 - Cain Time Live
2012 - WWE' 13
2013 - Law and Order: Special Victims Units
2013 - How I Met Your Mother
2013 - Scary Movie V
2013 - My Last Chance
2013 - Signal Lost
2013 - The Roots of Fight
2013 - Grudge Match
2014 - Family Guy: The Quest for Stuff
2014 - Franklin and Bash
2014 - Gates of the Sun
2015 - Entourage
2015 - IP Man 3
2016 - Meet the Blacks
2016 - The Keys of Christmas
2017 - China Salesman
2017 - Tour de Pharmacy
2018 - Kickboxer: Retaliation
2018 - Girls vs Gangsters
2018 - Groove Street
2018 - Public Disturbance
2019 - Tyler Perry's a Madea Family Funeral
2019 - Pharaoh's War
2020 - Reality Queen
2020 - Mike Tyson Mysteries
2020 - The Last OG
The Devil May Care
Soul Business
Quotes
Apart from participating in boxing and taking roles in theatre, Mike is known for his captivating quotes. The quotes are inspiring and uplifting. Here are some of Mike Tyson quotes:
Everyone has a plan 'till they get punched in the mouth.
I could feel his muscle tissues collapse under my force. It is ludicrous these mortals even attempt to enter my realm.
I just want to conquer people and their souls.
I'm a dreamer. I have to dream and reach for the stars, and if I miss a star, then I grab a handful of clouds.
As long as we persevere and endure, we can get anything we want.
Real freedom is having nothing. I was freer when I didn't have a cent.
God lets everything happen for a reason. It is all a learning process, and you have to go from one level to another.
READ ALSO: Who is Sonny Bill Williams wife Alana Raffie? Her age, background, business and pics
Mike Tyson net worth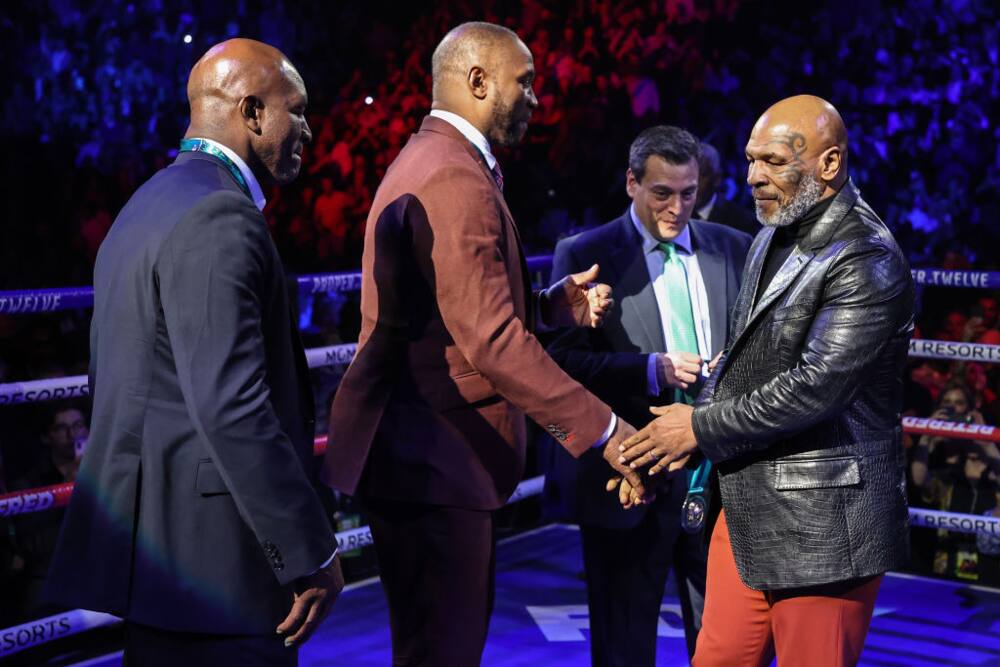 Mike Tyson had previously accumulated a net worth of $300 million. However, in 2003, he declared himself bankrupt after bouts of spending sprees.
As of 2020, his net worth stands at $3 million. Mike Tyson properties range from cars, houses to farms, among others.
Frequently asked questions
What is Mike Tyson's net worth? Why did Tyson bite? Here are the answers to the most frequently asked questions about the star:
What is Mike Tyson's net worth?
As of 2020, Tyson's net worth is estimated to be around $3 million. He had accrued more than $300 million in boxing, but he ended up losing almost all of it.
What happened to Mike Tyson?
Mike retired from professional heavyweight boxing in 2006 after he was knocked out in consecutive matches against Danny Williams and Kevin McBride. In 2003, he declared bankruptcy even though he had received more than $30 million for several fights and $300 million throughout his boxing career.
Who is the hardest puncher ever?
Mike Tyson has been known to have a six-inch punch. He has been the hardest puncher ever.
Who did Mike Tyson lose to?
Some of the boxers Mike Tyson lost to are Lennox Lewis and Buster Douglas. He was disqualified during his fight with Evander for biting his ear.
Who is the greatest boxer of all time?
In the modern era, there are five greatest boxers of all time. They are Muhammad Ali, George Foreman, Lennox Lewis, Evander Holyfield, and Larry Holmes.
Although Mike Tyson has struggled a lot during his life and career, he remains to be one of the greatest boxers of all time.
Briefly.co.za outlined the top ten best boxers in 2020 on 29th July. These are the people who work day and night to showcase their worth and strength by blows and jabs.
Some of the individuals who attained a slot on the top ten list were the likes of Artur Beterbiev, Josh Taylor, Tyson Fury, and Gennady Golovkin, among others.
READ ALSO:
Anthony Joshua age, measurements, family, trainer, record, profile, net worth
Tyson Fury bio, age, measurements, family, fights, records, trainer, net worth
Tommy Fury bio: age, parents, birthday, girlfriend