25 greatest African footballers of all time
Football is one of the most celebrated sports in the world. Africa has produced great players since the 70s who continue to be hailed for their achievements during their prime years. Some of the greatest African footballers are still actively involved in sports. A good fraction of them come back to work as football managers for local teams while others help scout for talents and train young players after retirement.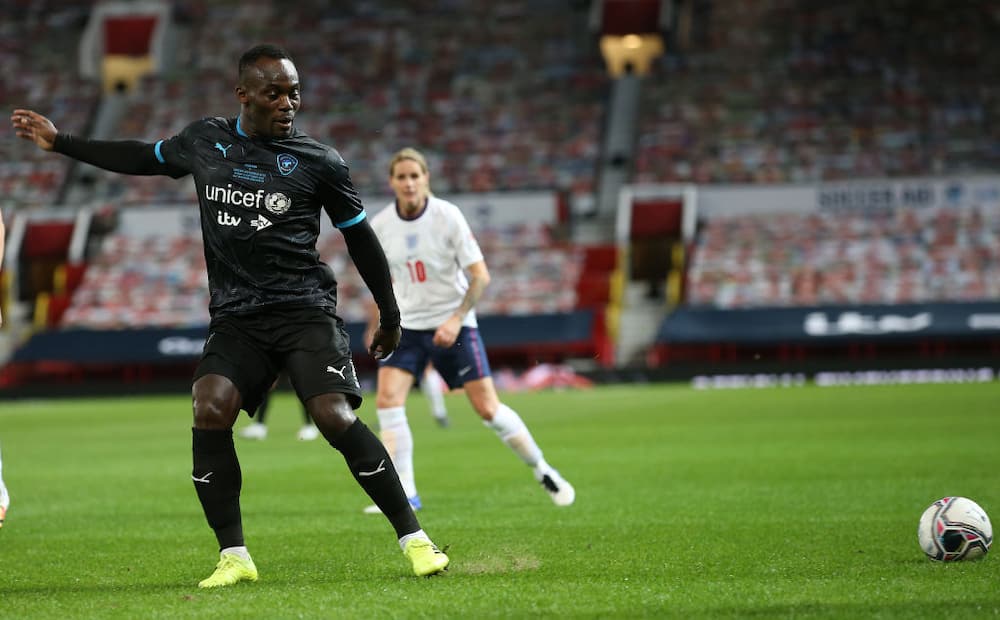 African footballers exhibit talent both at home and abroad. Their legacy lives forever, even after they quit professional football. Most footballers choose a career or pastime related to sports after they hang up their boots.
Greatest African footballers
African footballers are known to give back to society. They get involved with community projects like establishing football academies, schools, hospitals, and working with the government to help the vulnerable in society. This article contains 25 greatest African footballers.
1. Samuel Eto'o - Cameroon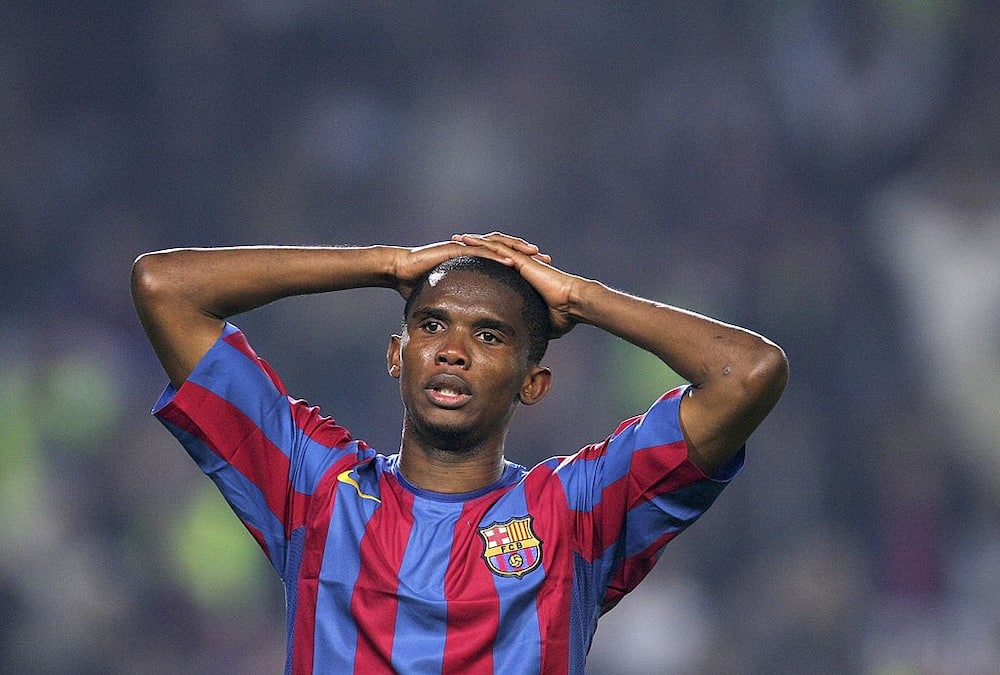 Samuel Eto'o is not only one of the greatest African footballers in history, but also one of the richest. Eto'o has 4 African Player of the Year prizes to his name. He has dozens of attainments and notable career triumphs.
This includes winning FIFA Club World Cup and the UEFA Champions League with Inter Milan in 2010 when Jose Mourinho was the manager. The player won two Cup of Nations, Olympic gold, and played for Indomitable Lions in 3 World Cups.
Samuel Eto'o is arguably the best footballer to come out of Cameroon. He is the best Cameroonian goal scorer and the greatest scorer in Cup of Nations ever.
2. George Weah - Liberia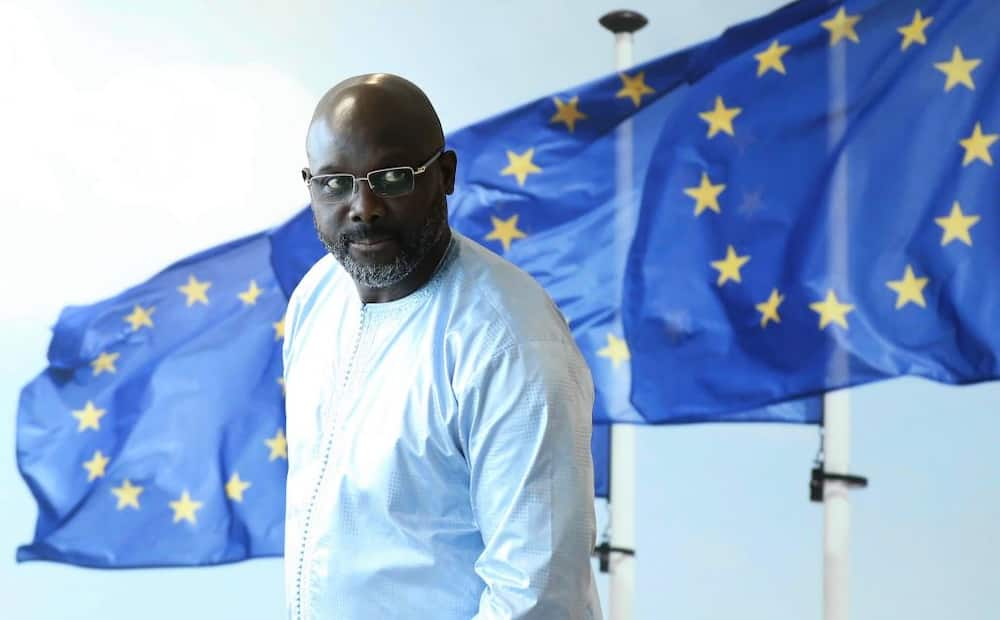 George Weah, the former Liberian footballer, joined politics and became the 25th president of Liberia in 2018. He had also served as a senator before he won the presidency. The ex-footballer lifted the African Player of the Year award three times. It is no surprise that his people love George Weah at home enough to trust him with the presidency.
At the peak of his career and even after, George Weah was involved with community projects that elevated the state of communities in Libera. He was a UNICEF Goodwill ambassador in 1997 and focused on helping educate the poor.
READ ALSO: Richest football clubs in Africa in 2020 - which teams rate highest in the money stakes
3. Didier Drogba - Cote d'Ivoire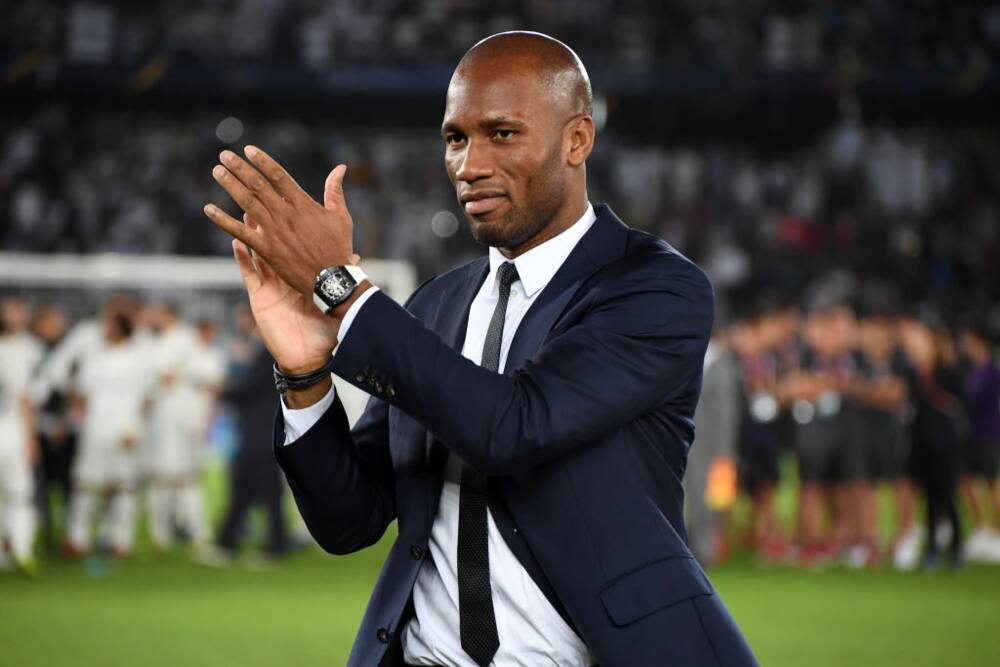 Didier Drogba is one of the greatest African footballers known for his skills and career success. The all-time top scorer and former captain of the Ivory Coast national team scored more than 300 goals in his football career.
He lifted 4 PL trophies, 4 FA Cups, 3 English League Cups, 2 Community Shields, and a UEFA Champions League trophy in 2012.
Drogba was named African Player of the Year two times and made the top three eight times. His most notable achievement was winning the 2012 Champions League.
4. Roger Milla - Cameroon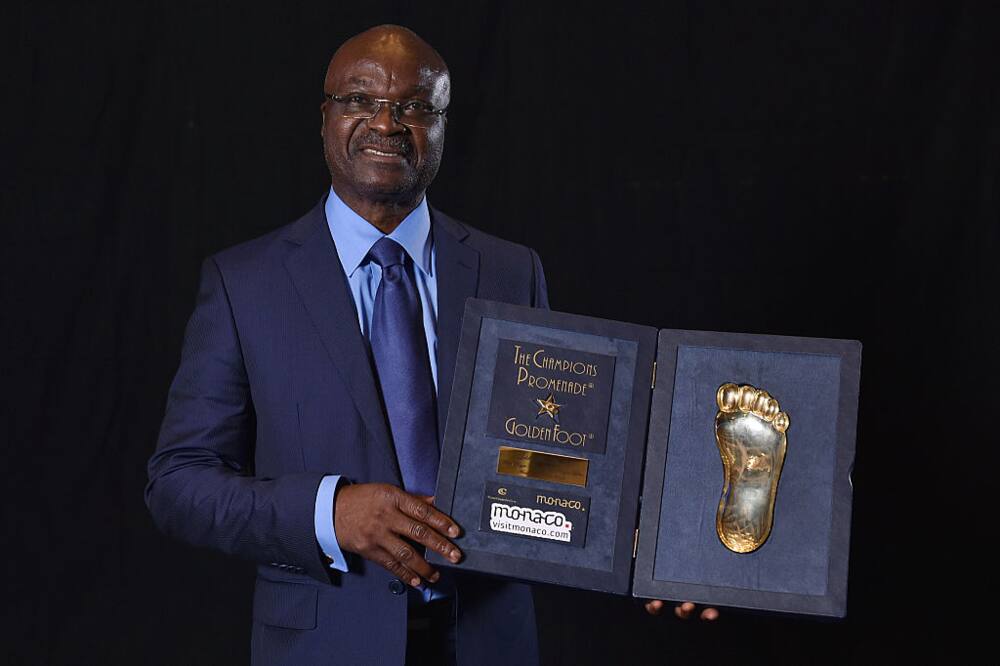 Roger Milla was born on 20th May 1952. While the prime years for footballers is between 27 and 30, Roger Milla proved naysayers wrong when he appeared in a World Cup when he was 42 years old.
Milla has won the African Player of the Year prize two times and won the Nation's cup twice for Cameroon. Roger Milla's consistency is what makes him stand out amongst African footballers. Among the accomplishments he is known for, Milla made the FIFA 100 and identified by CAF as the African Player of the Century.
5. Abedi Pele - Ghana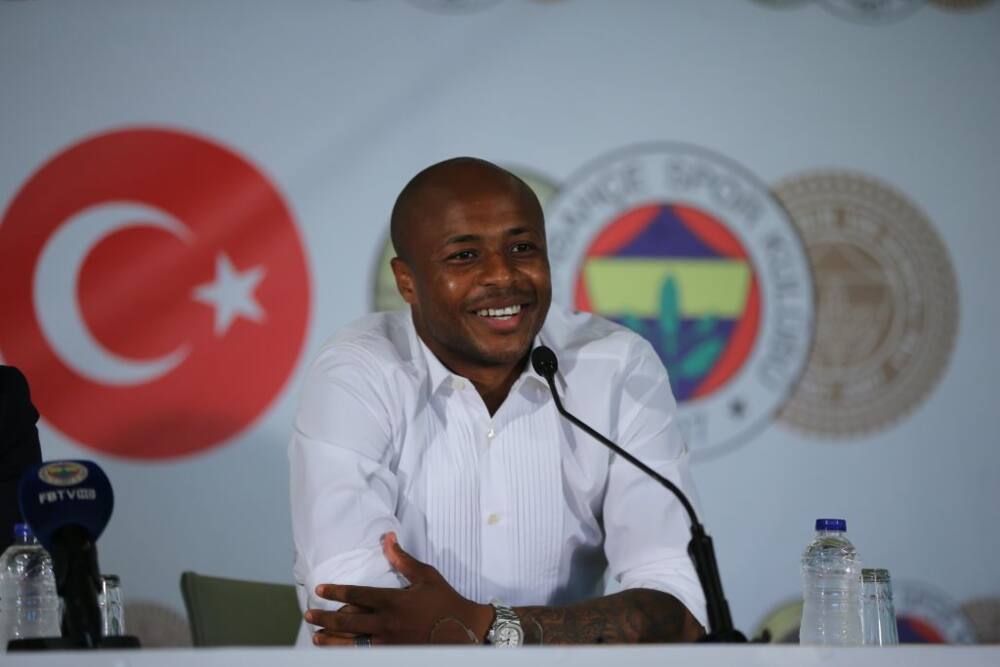 Abedi Ayew got the nickname Pele due to his football skills and abilities, which were compared to Brazilian legend. He was one of the most recognized African players in the 1990s. He has won the African Footballer of the Year 3 times and has been honoured as a BBC African Player of the Year once.
He is among the greatest African footballers of the past 50 years. All three of Abedi Pele's sons are playing professional football currently. The kids are Ibrahim Ayew playing for Europa F.C., André Ayew playing for Swansea City, and Jordan Ayew playing for Crystal Palace FC.
6. Nwankwo Kanu - Nigeria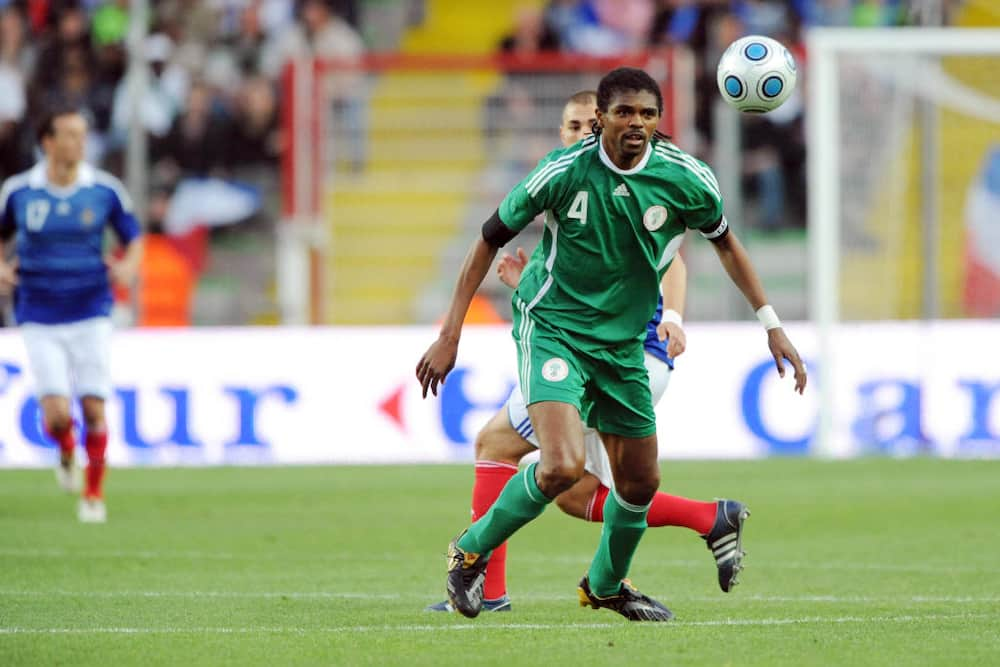 Not many African footballers can brag about winning the English Premier League, UEFA Champions League, Olympic Gold award, UEFA Cup, and FA Cup. Nwankwo Kanu can. Even after being put down by illness and having a heart procedure, the Nigerian centre-forward came back.
He was born on 1st August 1976 and has been named African Player of the year two times and BBC Footballer of the Year twice. While playing for Ajax, he netted 25 goals in 52 matches.
7. Yaya Toure - Cote d'Ivoire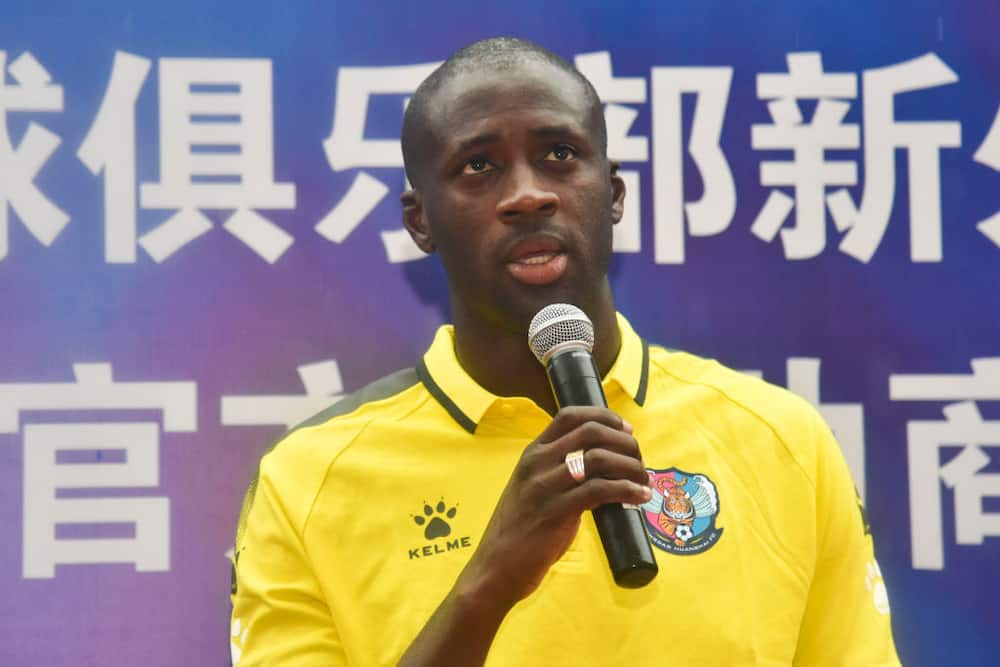 The most outstanding midfielder out of Cameroon and possibly in Africa is Ivorian Yaya Toure. His vision and attacking skills is something football pundits always talk about. He is hailed as the footballer with the most African Player of the Year prize, having been honoured with the award four times.
Some of Yaya Toure's peak football moments were when he was at Barcelona and Manchester City. He has played for the Elephants at three World Cups. Yaya Toure's name is always mentioned when discussions about stars of Cote d'Ivoire's Golden Generation happen as he is regarded as a legend.
READ ALSO: 10 richest soccer players in South Africa 2020
8. Jay-Jay Okocha - Nigeria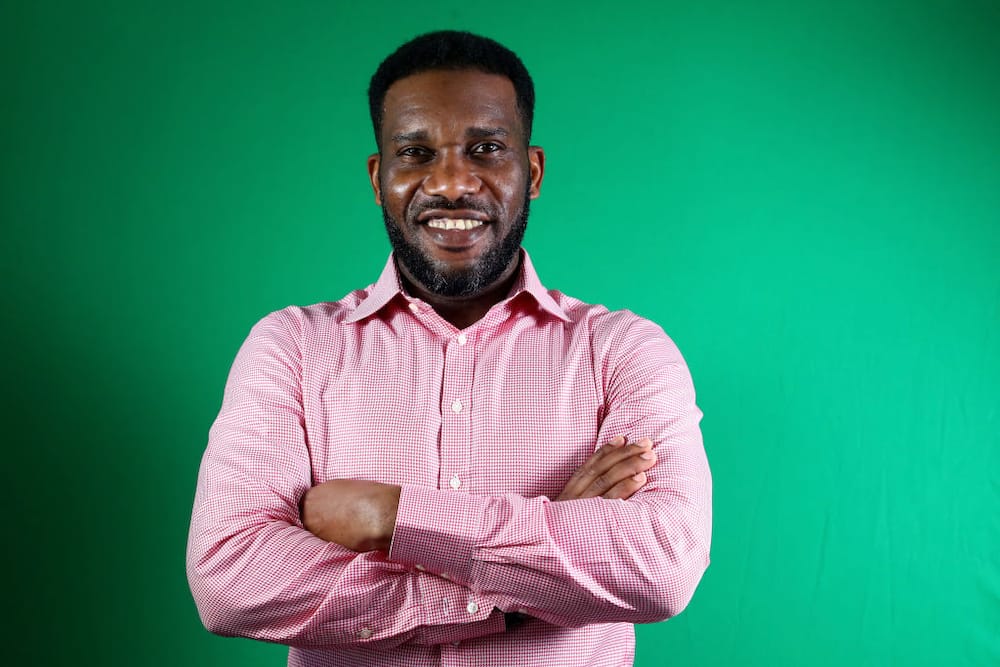 Jay-Jay Okocha played football so well that people often mistook him for a Brazilian. The Nigerian star was born on 14th August 1973 and proved to be a machine when he was on the field. One of the star's exceptional skills was dribbling a whole side. He was a first-team player in all clubs he played for.
Jay Jay Okocha is recognized for winning the African Cup of Nations, Olympic Gold with Nigeria, and BBC African Player of the Year honours twice among other honours. He was once listed as one of the 125 most prominent footballers of all time by Brazilian star Pele.
9. Michael Essien - Ghana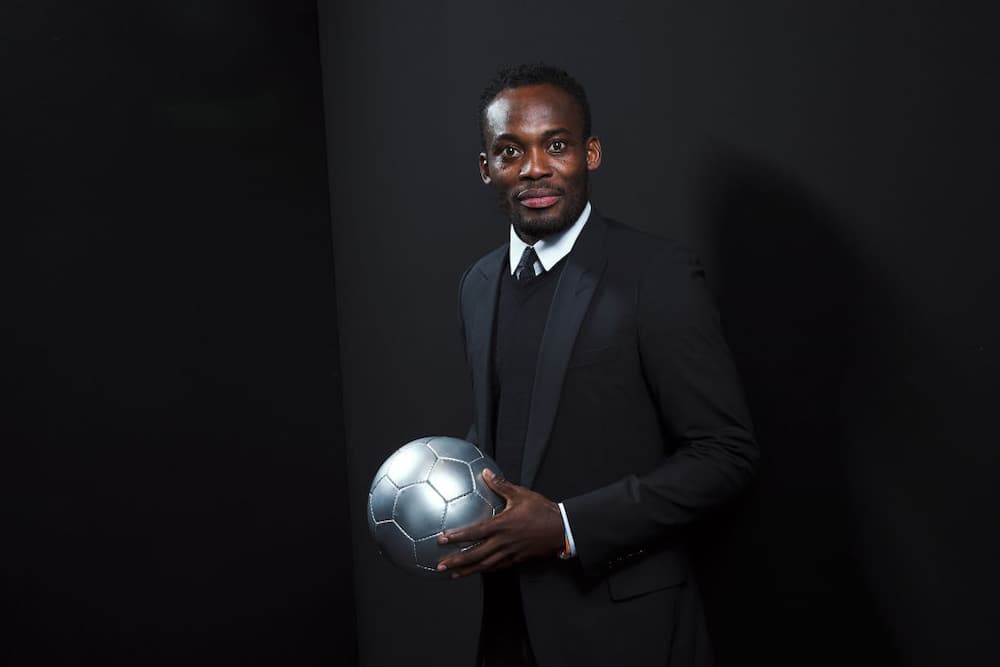 Michael Essien fast established himself as a rising star when he started playing local tournaments at home. He may not have many honours to his name, but he remains one of the greatest to come out of Ghana.
The player represented Ghana at the World Cup once, won one UEFA Champions League trophy, four notable titles, and dozens of domestic championships. He could probably have achieved more had it not been for the mixture of hardship and injury he has endured. His relationship with Jose Mourinho is admirable, a man he calls daddy.
10. Mohamed Aboutrika - Egypt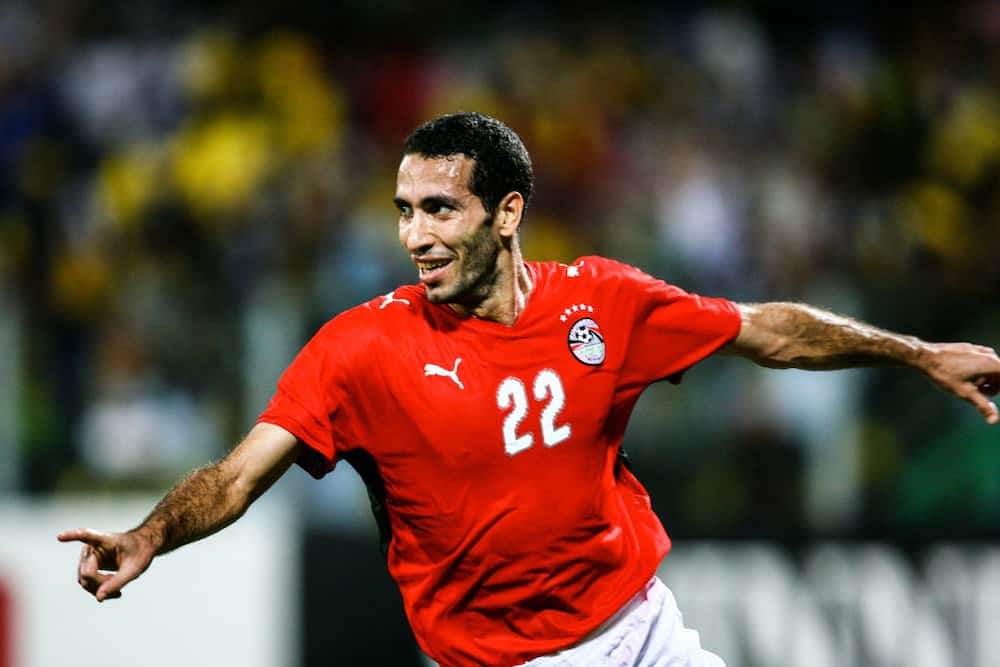 Mohamed Aboutrika is ranked as one of the most skilled attacking midfielders and forwards from Egypt. He helped Egypt win the 2008 Africa Cup of Nations by scoring the winning goal. He also won the African Cup of Nations in 2006 with his country's national team.
Other notable achievements during his professional career include his contribution to his club Al Ahly, which made the club win the bronze medal in the FIFA Club World Cup in 2006. He was the first runner up in the African Footballer of the Year award in 2008 and one of five nominees for the 2006 award.
READ ALSO: Top 10 richest football clubs in South Africa 2020
11. Sammy Kuffour - Ghana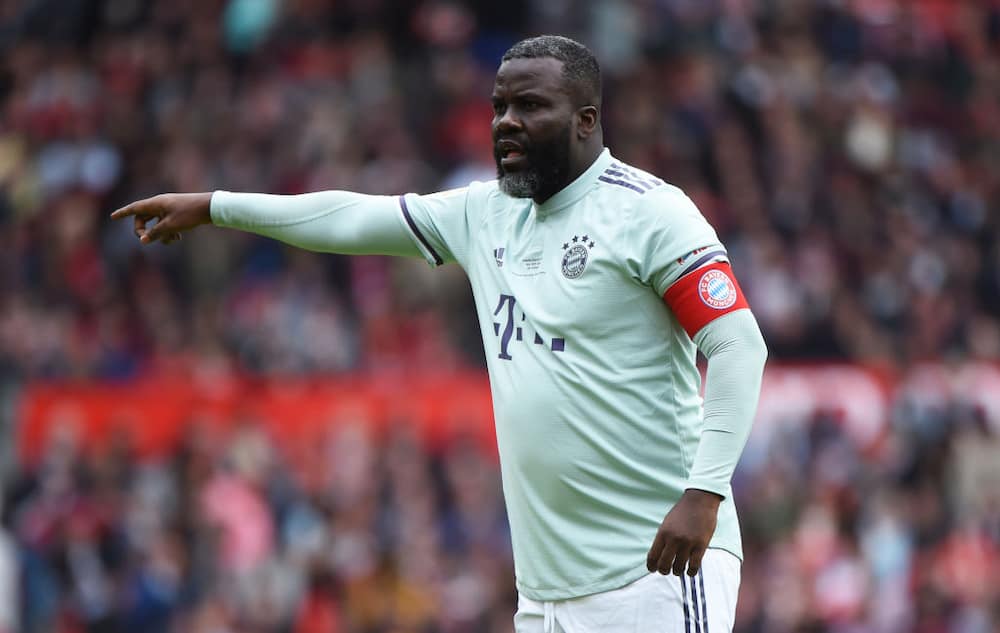 Sammy Kuffour was born on 3rd September in Kumasi, Ghana. He is an established professional Ghanaian player and was regarded as one of the best defenders in Europe in the previous decade.
Sammy Kuffour is remembered for his intense display of grief following the 1999 Champions League loss against Manchester United. He, however, compensated for the loss by emerging victorious against Valencia two years later.
Sammy Kuffour is one of the only three Ghanaian footballers to lift the world's premier domestic club tournament.
12. Rabah Madjer - Algeria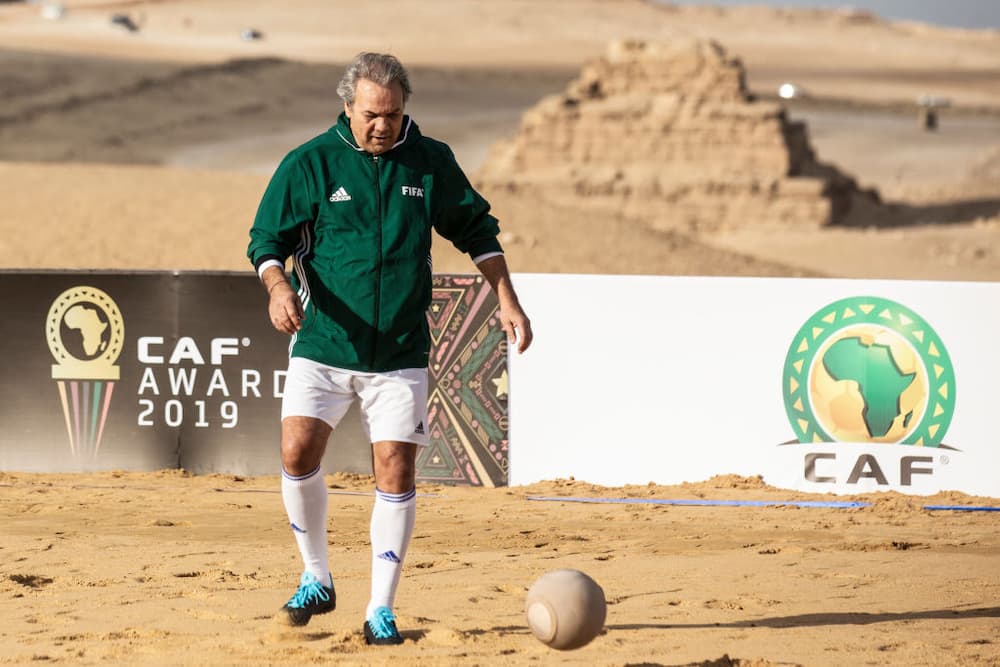 Rabah Madjer is one of the greatest African players of the last century. He is remembered for his goal for Portuguese giant FC Porto in the 1987 European Cup final game. Rabah has a record of nine significant trophies with FC Porto and netted in more than 150 goals.
The Algerian player was a force to reckon with in the late 1980s and early 1990s. He was named African footballer of the year in 1987 and the same year recognized as Algerian player of the twentieth century. He was named player of the match in 1990 as Algeria won the Cup of Nations.
13. Essam El-Hadary - Egypt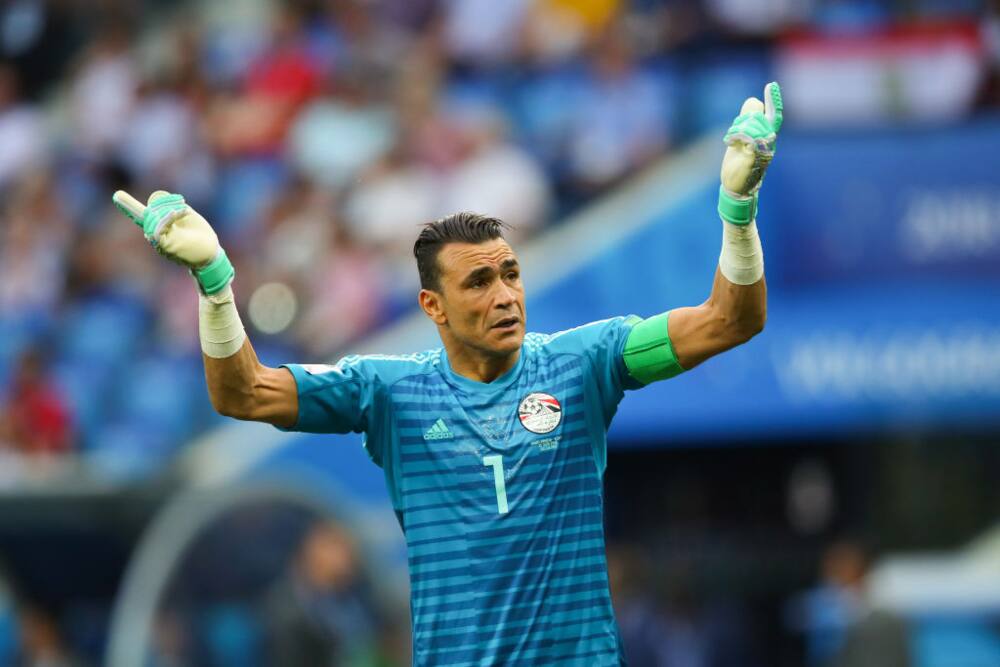 Essam El-Hadary is among the best African goalkeepers ever. The four-times African Cup of Nations winner was born on 15th January 1973. He has lifted eight league trophies with Al-Merreikh and Al-Ahly. He also represented Egypt for 22 years at AFCON.
His influence as an Egyptian Golden Generation footballer was felt for years. The player was too good that one time Didier Drogba called him his most formidable rival ever. He has 4 African Champions League titles to his name and several other trophies from around Africa.
READ ALSO: Here are the 10 highest paid celebrities in South Africa
14. Emmanuel Adebayor - Togo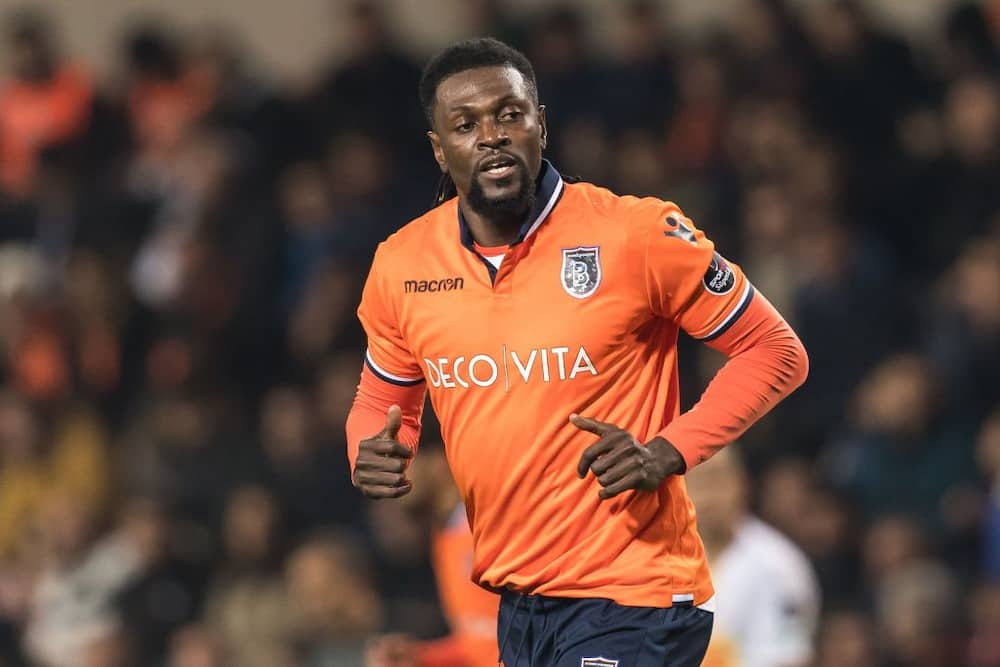 Togolese professional player was born on 26th February 1984. The striker has played for significant clubs like Arsenal, Manchester City, Tottenham Hotspur, and Crystal Palace. He was honoured with the African Footballer of the Year in 2008 while playing at Arsenal.
In 2010, Adebayor retired from playing for his national team after being a victim of an unfortunate incident. The bus with Adebayor and other Togolese players was under a gunfire attack when the team was heading to the 2010 Africa Cup of Nations in Angola.
The striker, however, returned to football in 2013 and even represented his national team for the 2013 African Cup of Nations in South Africa. Adebayor is Togo's all-time top goalscorer with 32 goals.
15. Lucas Radebe - South Africa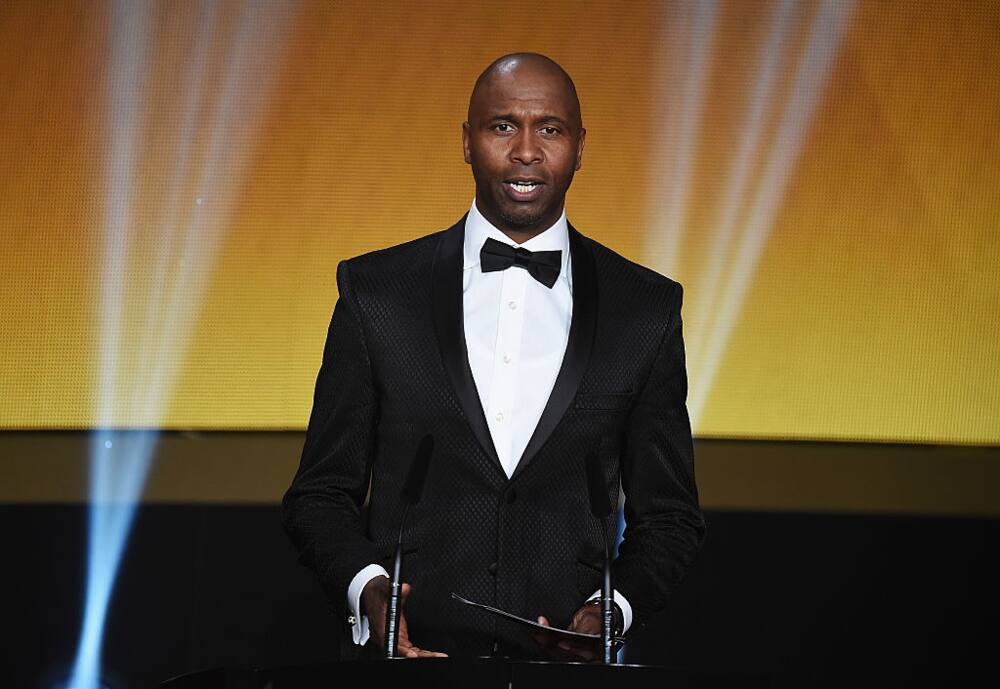 Lucas Radebe represented Bafana Bafana at the 1998 and 2002 World Cups. The player was so good in his art that he got recognition from Nelson Mandela. Mandela described Radebe as his hero.
His time at Leeds United was perhaps his most prosperous time in football as he helped the team win in many matches. He was named Leeds's Player of the Year in 1998. Despite not having any significant leagues under his name, he remains one of South Africa's greats.
16. Hossam Hassan - Egypt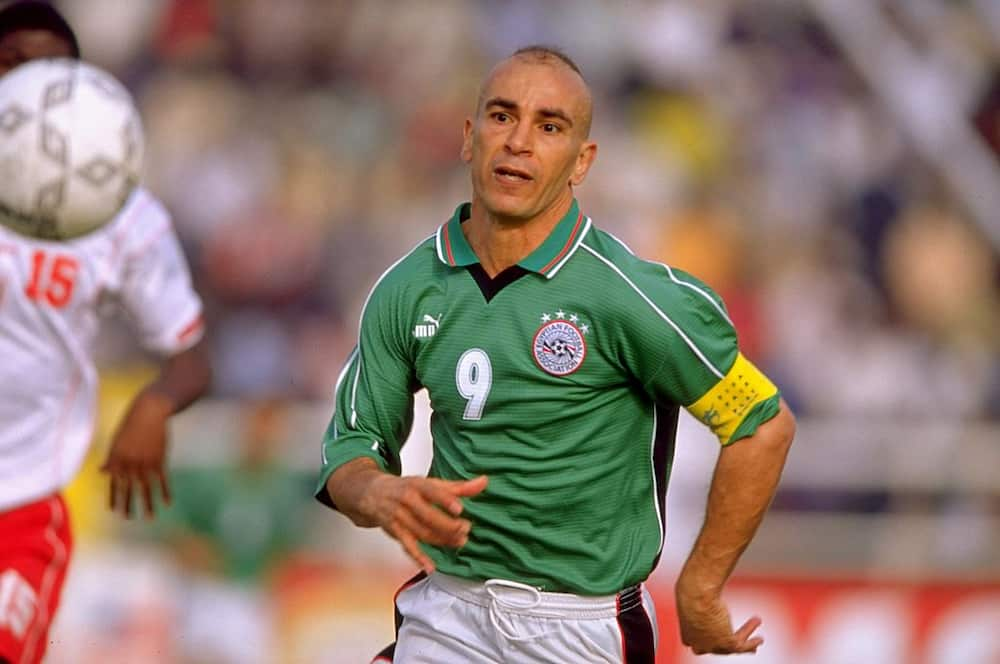 Hossam Hassan is regarded as one of the best players to come out of Egypt. The forward player is recognized as one of the finest goal scorers from North Africa having netted in 68 goals in 176 matches. 1998 was a good year for him as he was the top scorer for the Cup of Nations having netted seven goals.
The Egyptian forward has 13 league trophies to his name, 5 Egyptian championships, and an additional African Champions League title.
READ ALSO: F1 teams 2020: Which is the best Formula 1 team?
17. Thomas N'Kono - Cameroon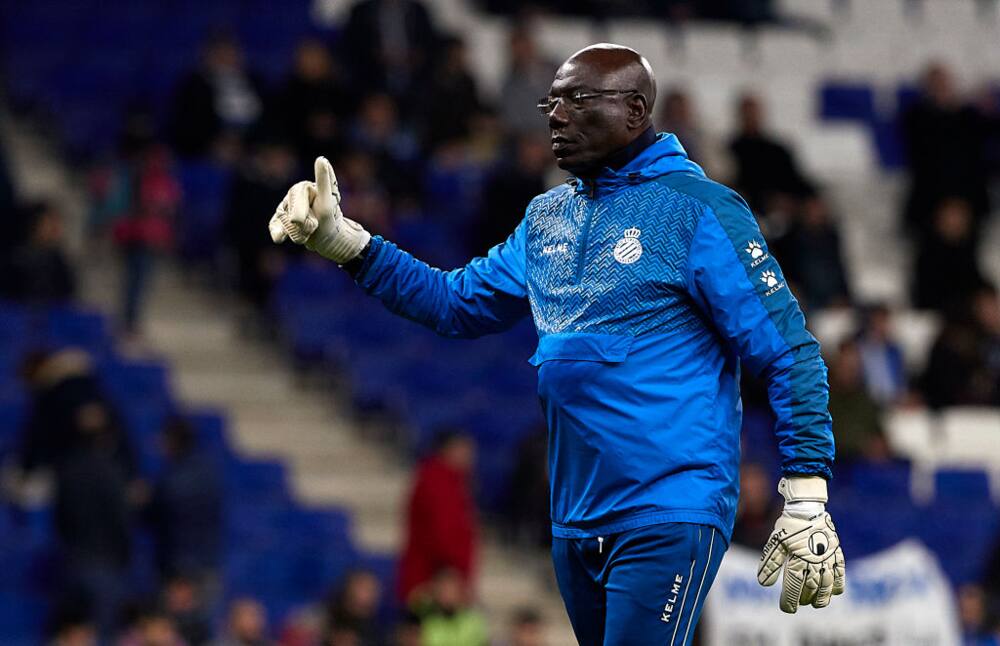 Cameroonian goalkeeper Thomas N'Kono could not miss on the list of greatest African footballers. He is among the top ten goalkeepers in Africa. Throughout his career, Thomas has been named African Footballer of the Year two times.
He was born on 20th July 1955 and was a first-team player at two World Cups for Cameroon. For the longest time, he was associated with Espanyol, which he represented for about ten years. He appeared in more than 300 official matches. Thomas has several domestic trophies and some continental club titles with Kpa-Kum.
18. Benni McCarthy - South Africa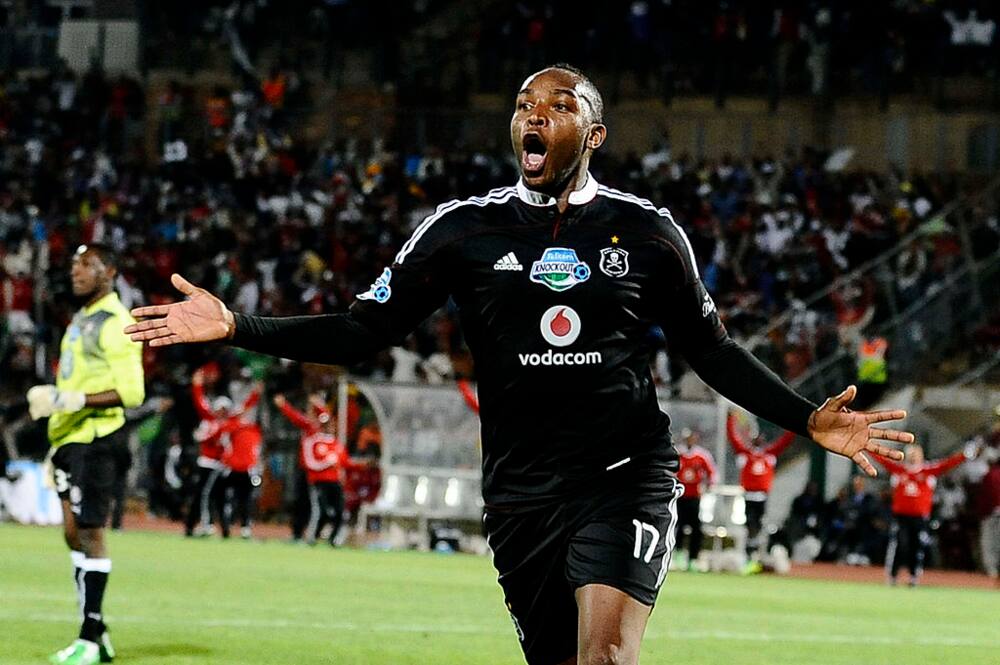 Benni McCarthy is hailed as the South African national team's all-time top scorer, having netted in 31 goals. Major awards he has won include CAF International Goal of the Year. The former footballer is the only South African player to have ever won the UEFA Champions League.
Benni is regarded as one of Africa's most incredible forwards and South Africa's finest in the football world. Some of the international clubs he has played for include Porto, Blackburn Rovers, West Ham United, Ajax, and Celta Vigo. He currently works as a coach.
19. Ahmed Hassan - Egypt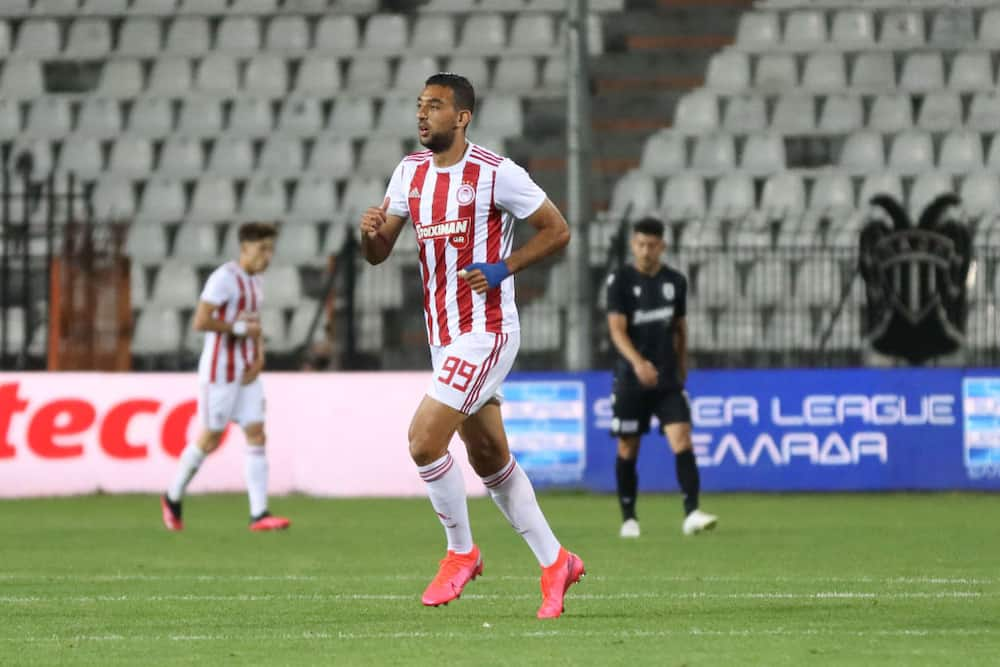 Renown attacking midfielder Ahmed Hassan is ranked with the smoothest African playmakers of his time. The two-time AFCON man of the match also won the Cup of Nations four-time with Egypt.
He has 184 appearances for Egypt's The Pharaohs and will probably not be bested soon. His career abroad was more successful than most Egyptian players, as he outdid his peers when he played in Belgium and Turkey, garnering more trophies than other Egyptian players overseas.
20. Joe Kadenge - Kenya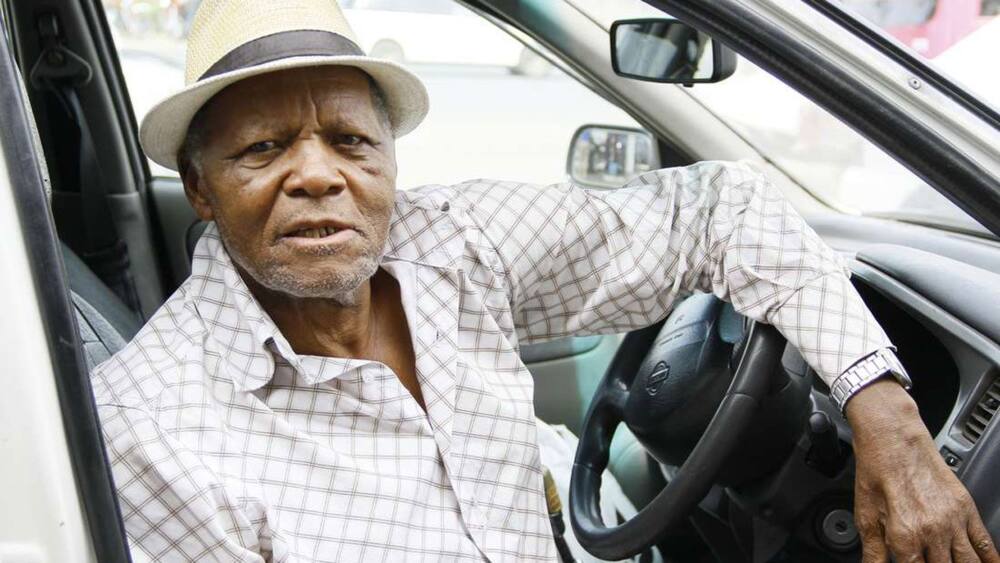 Kenyan football legend Joe Kadenge is one of the finest the country has ever produced. The now-deceased former player and coach started playing professional football in 1975. He is recorded as the only footballer to score the fastest ever goal in the Kenyan Premier League.
He won many local trophies and played for Kenya's national team for 14 years. Joe saw Kenya win many regional tournaments throughout his career. He retired from professional football as a player in 1970 and came back as a football manager for the national team in 2002. He passed on from a stroke in 2019.
READ ALSO: Top 17 hottest female DJs in South Africa 2020
21. Salah Assad - Algeria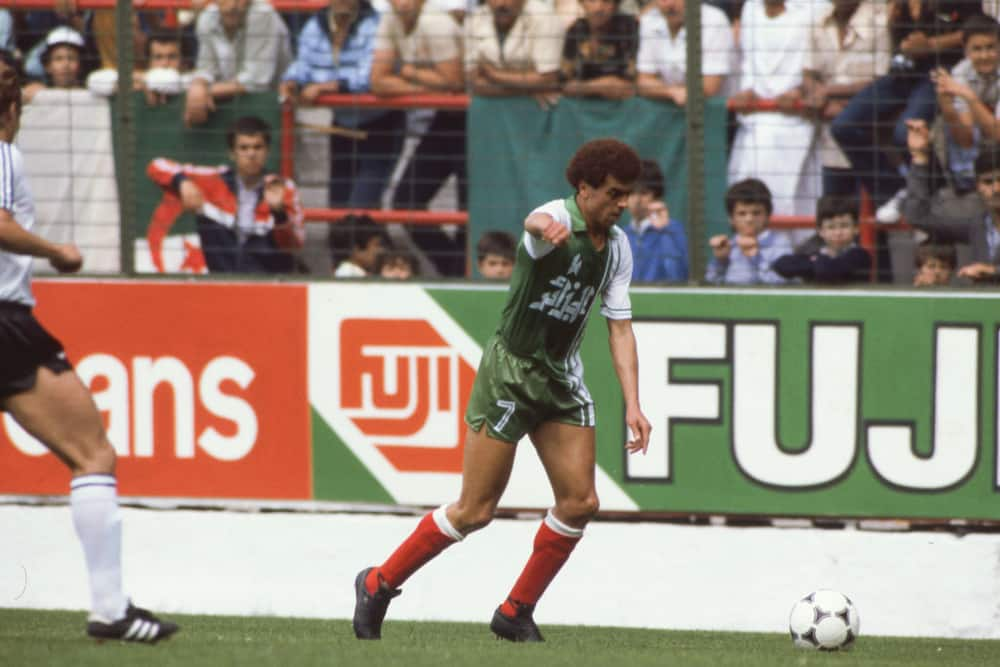 Salah Assad was born on 10th June 1958. He is among the best African footballers. His first major accomplishment was in 1981 when his team won the African Cup Winner's Cup. Salah Assad scored two goals at the FIFA World Cup in 1982 and 1986.
He is currently the top scorer for Algeria. Other titles he has been honoured with include 2nd Best African football player in 1982, Best sportsman in 1982, and Best left forward in 1982 FIFA World Cup.
22. Doctor Khumalo - South Africa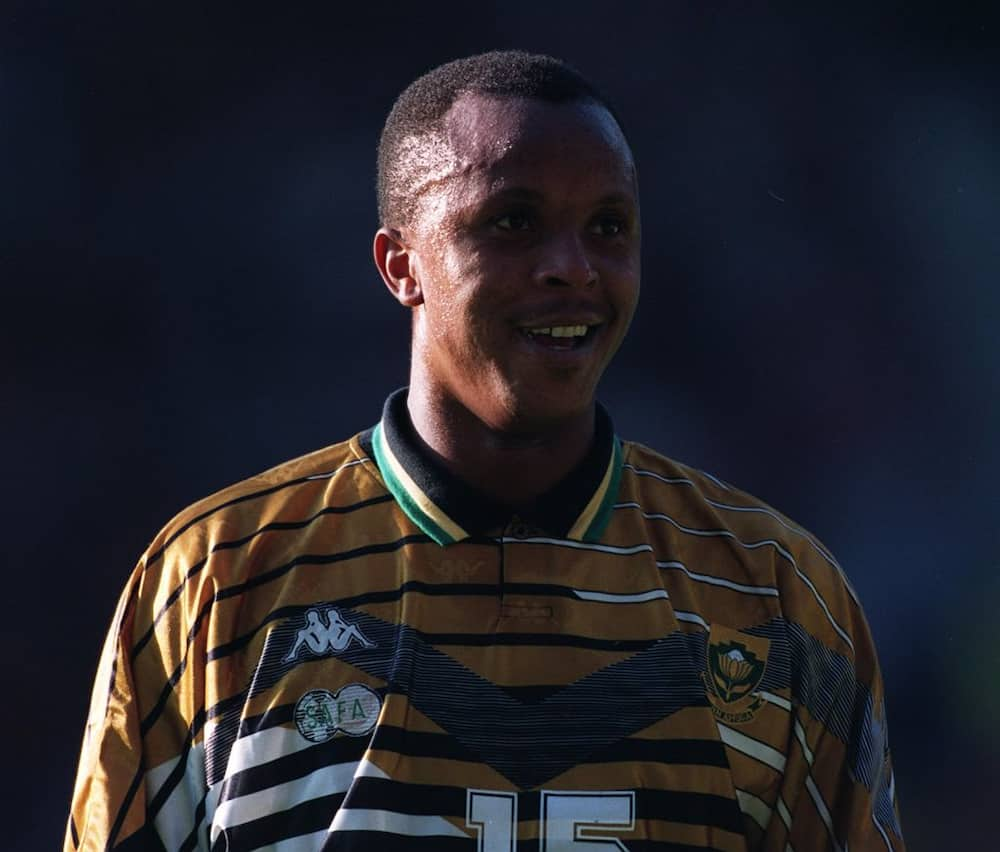 Doctor Khumalo is one of the greatest South African footballer of all time. The player who took the midfielder position was the first Bafana Bafana player to score an international goal following independence. He scored the only goal of the game in South Africa's victory over Cameroon in 1992.
Doctor Khumalo was always featured in football conversations in the 1990s and was honoured as a national hero who won the African Cup of Nations on home soil in 1996. He represented South Africa in the 1998 World Cup in France.
READ ALSO: F1 drivers 2020: who is the best formula 1 driver?
23. Mahmoud Abbas - Kenya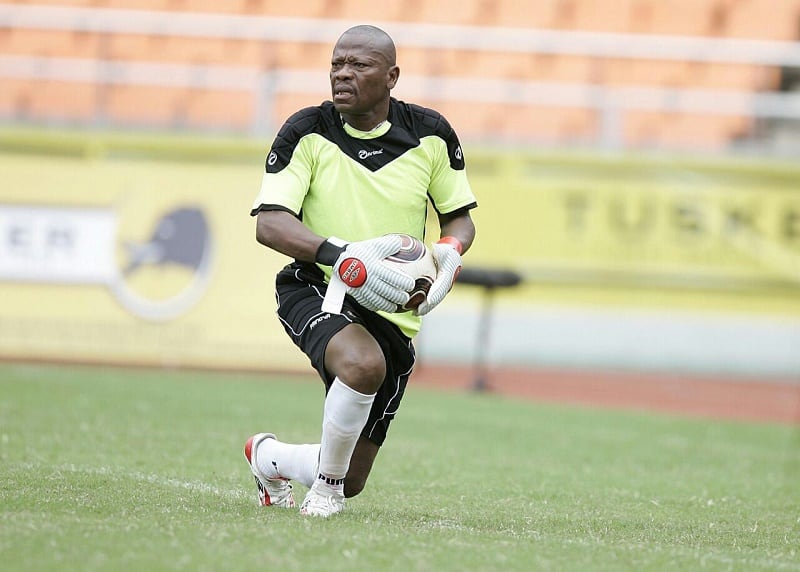 Mahmoud Abbas is the best goalkeeper to have played for Kenya's national team. The football legend started playing for the national team while he was a teen.
At only 19 years old, Mahmoud has shown potential as one of the greatest Kenya has ever produced. He represented the country in major regional and international tournaments like the Cecafa Senior Challenge Cup, then known as the Gossage Cup.
He was part of the national team that won the Cecafa Cup in 1981, 1982, and 1983. He won significant local leagues and retired in 1990. He died after a long illness in 2017.
24. Mohamed Zidan - Egypt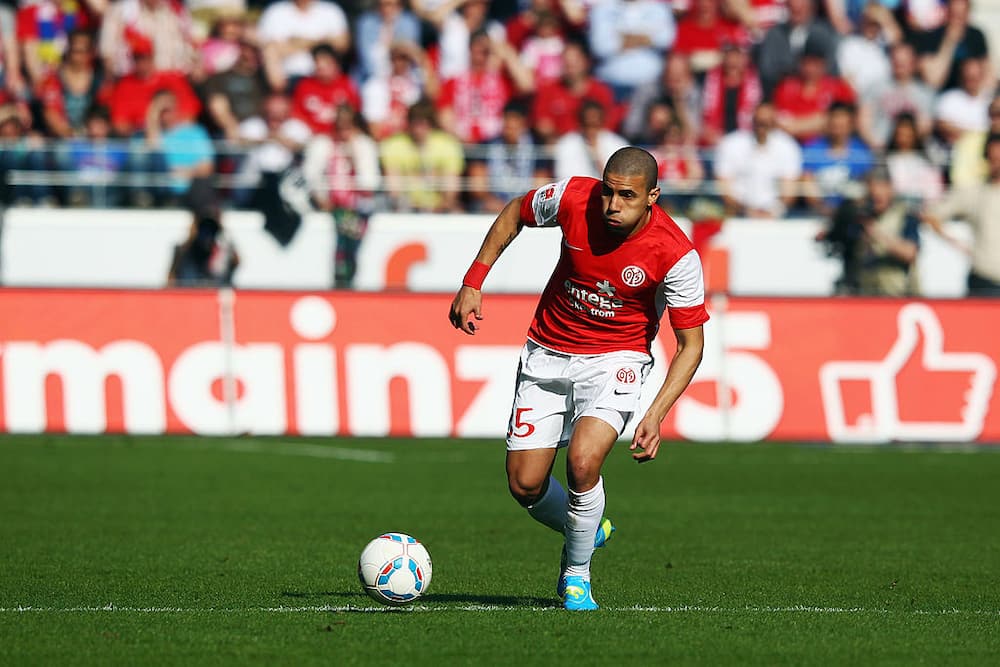 Egypt has never run short of world-class players. Mohamed Zidan is one of the many retired Egyptian football players who changed the face of football in the country. He started his professional career in 1999 while playing at AB.
Zidan elevated the success of the team, most notable moments being in 2005 when his performance in the Danish League resulted in several top European clubs gaining interest in signing him. This marked the highlight of his career. Mohamed Zidan has won the AFCON Cup twice and the German League Cup once, in 2007.
25. Christian Benteke - D.R Congo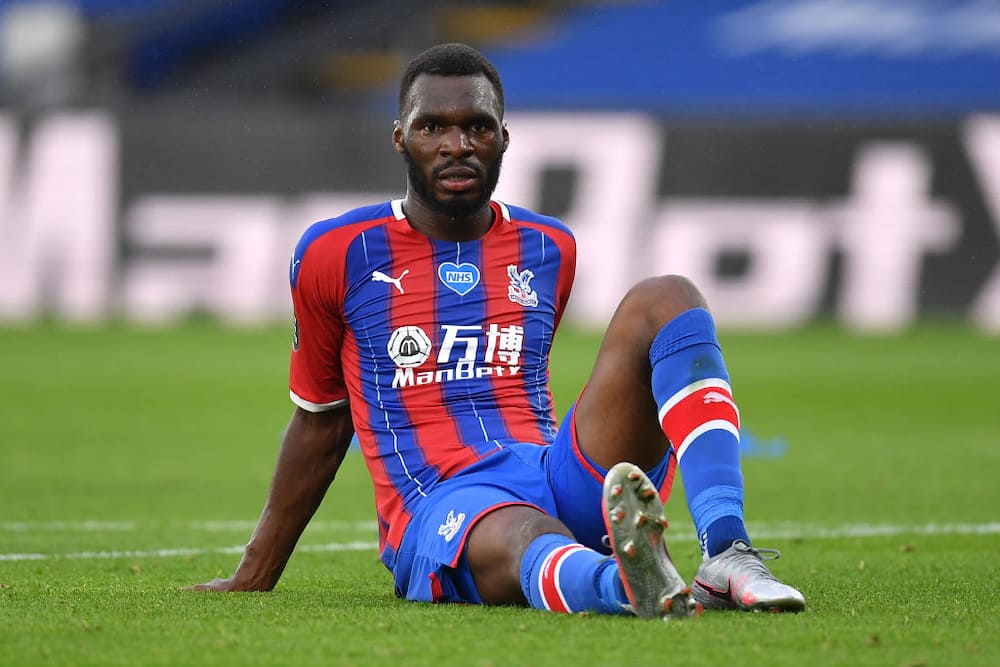 Christian Benteke plays for the EPL club Crystal Palace. Born on 3rd December 1990, Christian Benteke started his career laying a part in their 2008–2009 Belgian First Division triumph. The D.R. Congo player has earned over 30 caps for Belgium since making his debut in 2010.
Christian Benteke was born in Congo but was forced to flee to Belgium with his family when the Mobutu regime turned against its citizens. Some of the major clubs he has played for include Aston Villa, Liverpool, Genk, and Standard Liege.
Who is the king of football in Africa?
Senegalese player Sadio Mane is crowned the current king of football in Africa. He took the award for the Player of the Year in Egypt. Sadio plays as a winger for Premier League club Liverpool.
Who is the greatest African footballer of all time?
Samuel Eto'o is the greatest African footballers of all time. He has won three Champions League titles with Barcelona, Nerazzurri, and Internazionale. He also won the World Cup in 2010.
Who is the greatest Nigerian footballer of all time?
Jay-Jay Okocha takes it all. The former attacking midfielder was a great juggler. He helped his team win the Africa Cup of Nations title in 1994 and Olympic gold in 1996, among other achievements.
Football, like any other sport, has proven to be beneficial to players, their families, and fans. Other than being a source of entertainment, football brings people of different backgrounds together and helps players achieve financial success. Special events like the FIFA World Cup or AFCON attract thousands of fans across the continent. The greatest African footballers have attained their status by showing consistency and practising to perfect their skills.
READ ALSO: Top 10 highest paid soccer players in South Africa ABSA PSL 2020
Briefly.co.za shared on 11th August a list of the highest-paid soccer players in South Africa ABSA PSL 2020. The South African soccer league is the 7th in the list of the soccer leagues that earn the most from sponsorships worldwide. Therefore, these statistics already hint that the highest-paid soccer players in the country bag decent figures from the sport.
READ ALSO:
Top 15 richest business owners ranked: black South African millionaires
Richest DJ in South Africa - Top 10 richest DJs and their net worths
List of famous South African actors and actresses
Source: Briefly News