If you are a sports lover, you should be familiar with the name Pitso Mosimane. A one-time professional soccer player but now a coach with several awards and success stories, Pitso is one of the highly-revered Soccer coaches in South Africa with international recognition. This is a reason why his story is worth reading, and so, for everything you need to know about him, including his family and career lives, here is more detailed information about him.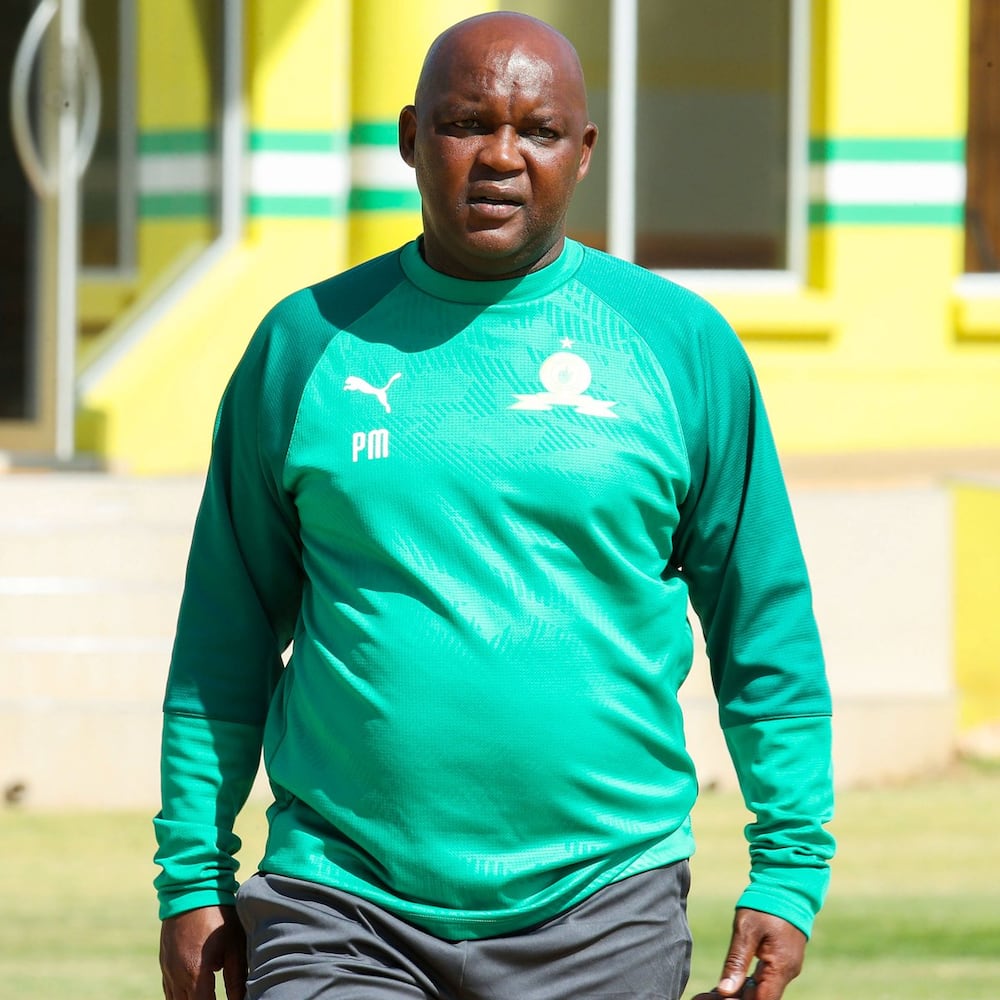 Since Pitso began his coaching career in Soccer, and he has risen to be one with a difference based on the results that he has led his team to achieve. In fact, his results resonate at the international community to the level that at a time, he was rated as the tenth best coach in the world. Then, apart from that, he has also become one of the top-rated and highest-paid coaches in Africa.
Pitso Mosimane biography
The former South African football player Pitso John Mosimane is one of the notable longest-serving coaches with significant impact in South African Soccer. Mosimane presently coaches Mamelodi Sundowns in the Premier Soccer League (PSL). In Soccer history, Mosimane has broken a record by emerging as the first South African coach who would win the CAF Champions League. Successfully, he had led Sundowns to two domestic cups, three league titles, and two continental crowns.
READ ALSO: Aphiwe Dyantyi biography: Age, measurements, injury, drugs, education, salary, and Instagram
When he picked up an offer with SuperSport United, between 2001 and 2007, Mosimane won several significant trophies. After guiding SuperSport to win the Absa Cup in 2005, he was awarded the PSL Coach of the Year. Then, after leading the Sundowns to victory during the CAF Champions League in 2016, in December of the same year during the Global-Confederation of African Football award that was held in Abuja, Nigeria, he was ranked as number 10 best coach in the world.
As a talented coach, his coming into Chloorkop when the club was facing a significant challenge of being relegated during the 2012/13 season halfway mark became a redefining moment for the club. It also ended up adding up to his success stories as an accomplished coach. This is because he hardly had a full season ended without him winning a trophy. At a point in time when there was a hint of his possible break taking to have some time with his family, Mosimane made it known that he was not tired of coaching the club yet. While talking on Kick Off Magazine, he said:
For me it is normal [to be at one club for many years] because I have only coached two PSL clubs through my career. I was at SuperSport United for seven years, and then from 2007 to 2012 I was with Bafana Bafana. I don't like hopping around. I like to stay, especially when you are loved and people show you that they love you. When you are loved, you stay. Sometimes you think the grass is greener on the other side when it is not. So I have stayed where I am happy and feel comfortable because Mamelodi Sundowns looks after me.
How old is Pitso Mosimane?
There have been agitations in the minds of people with a desire to know the several award-winning coach Pitso Mosimane age. "When was Pitso Mosimane born?" is a question that some of those who do not know much about him keep asking.
Well, Pitso was born in a township around Krugersdorp, which is on the west side of Johannesburg and known as Kagiso Township on the 26th of July, 1964. Consequently, the coach is currently 55 years old.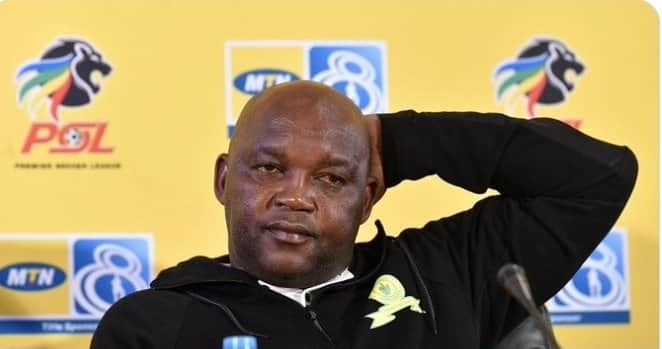 Pitso Mosimane wife
Who is Pitso Mosimane's wife? Mosimane is the husband to Moira Mosimane, and since they got married, their union has been blessed with two children who are Lelentle and Kopano.
Pitso Mosimane position and teams coached
Between 1982 and 1983, he played professional soccer for Jomo Cosmos Football Club.
From 1985 to 1987, he also played professional soccer for Mamelodi Sundowns Football Club.
Then, from 1993 to 1994, he was a professional soccer player in the Bafana Bafana Soccer Team.
He managed SuperSport United Football Club between 2001 and 2007.
Also, Pitso worked as an assistant coach between 2006 and 2010 with Bafana Bafana Soccer Team.
Between 2010 and 2012, he was the head coach of the South African Bafana Bafana Soccer Team.
From December 2012 until presently, Pitso coached Mamelodi Sundowns in the Premier Soccer League (PSL).
READ ALSO: Zikhona Sodlaka biography: Age, speech, profile, Nomhle Nkonyeni, Generations, Instagram and contact details
Pitso Mosimane awards
Since Pitso began his career in Soccer playing, his skills and professionalism have attracted different accolades. In 2010, he won the South African Football Association Coach of the Year, and in 2013, he also emerged as the Absa Premiership Coach of Quarter Four. At the 2016 CAF awards which were held in Abuja, Nigeria, he was awarded as the Coach of the Year for 2017.
More so, on several occasions, Pitso Mosimane had received the PSL Coach of the Month award as well as the PSL Coach of the Season.
Pitso Mosimane on Khama Billiat
The midfielder Khama Billiat is a Zimbabwean professional footballer who plays currently for South Africa's Kaizer Chiefs. He joined Mamelodi Sundowns on the 19th of August, 2013 on five years contract, and at the end of the 2017/18 campaign, he left Sundowns for Kaizer Chiefs on three years deal.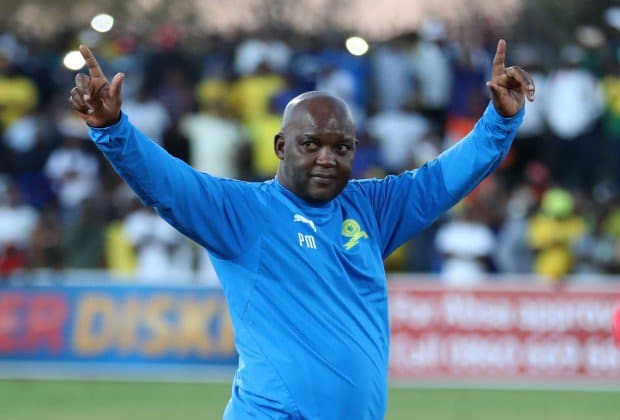 However, some reports came up later that Khama Billiat was returning to Chloorkop, which triggered a need for the Mamelodi Sundowns coach Pitso Mosimane to open up on the issue. This was because the reports suggested that Mosimane planned to have him back on board. Then, while reacting on the issue, Pitso said:
I should be very careful on this issue. I need to respect Kaizer Chiefs, it's a big institution, and the league will fine me. If they complain to the league, they will fine me of poaching their players. We need to respect that. If we want Khama, what do we need to do? We speak to Kaizer Chiefs, club to club…you know the story. And then they will tell us 'we are selling, we are not selling'.
Pitso Mosimane salary
Starting from a humbling background, the much-celebrated Mamelodi Sundowns' Pitso Mosimane has been reported to be among the top ten coaches in Africa with the highest pay. As reported by Kick Off, the four-time Absa Premiership winning coach goes home with nothing less than $50K, which is equivalent to R700,000.
Pitso Mosimane cars
Apart from his passion for winning games, Pitso is also known for his love of cars. As reported by Soccer Laduma, there was a time when he was identified with a Mercedes-Benz C350 before, and in recent times, he is said to be found cruising around in a sponsored Hyundai Tuscon.
Pitso Mosimane Instagram
Until recently when the coach publicly announced his official twitter handle page, there have been other fake twitter accounts which operated in his name. Unfortunately, the same also goes with his Instagram page, which makes it hard to tell which exactly is Pitso's Instagram account. So, maybe we have to wait until another announcement is made to clarify the doubts and put things straight.
Pitso Mosimane memes
After a lot of time, Pitso eventually registered his presence on the Twitter social media platform. And as you can almost predict, since Pitso Mosimane news of joining the social medium, some memes have been dedicated to him as a form of "welcome" address to the awards-winning coach. Here are a few to get you humorous:
Here is another that will get you laughing.
From all that has been read so far, Pitso Mosimane's success in his career has validated the fact that when a man's life is characterised with results, such a person becomes a force to be reckoned with.
READ ALSO: Moshidi Motshegwa biography: Age, place of birth, child, husband, family, The River, house and Salary