Gerhard Jansen Van Vuuren bio: age, girlfriend, mother, profile, latest news
Gerhard Jansen Van Vuuren, an IT technician, hit the headlines in South Africa for killing his girlfriend in 2011. He went missing at the beginning of the trial, and the SAPS have been tracking him for seven years with Interpol's help. The police found him in Rio de Janeiro, Brazil, and brought him back to South Africa on 9th October 2020, dressed in a white T-shirt, shorts, and flip-flops. SAPS Commissioner, Khehla Sitole, congratulated the team that made the operation successful.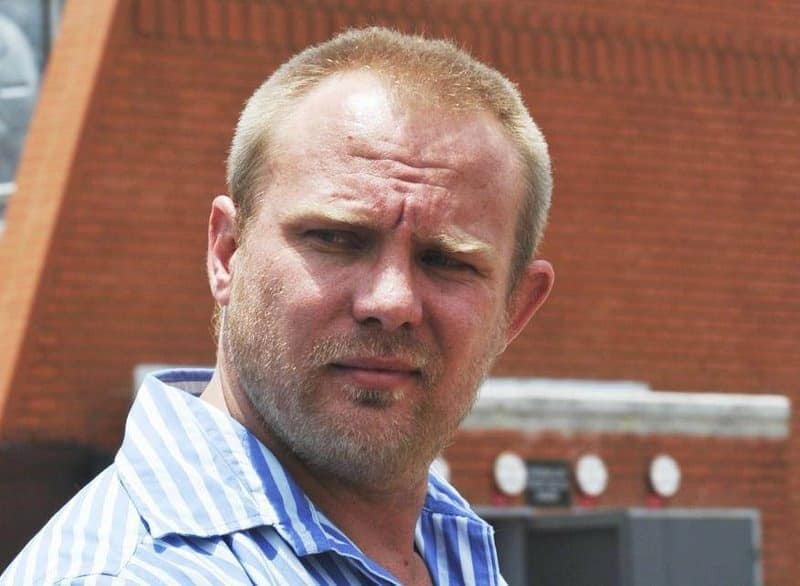 In Gerhard Jansen van Vuuren latest news, Gerhard Jansen van Vuuren mother, Thea Pretorius, stated before the court on 27th November 2020 that her son relied on his family alone for help. She told the court how she helped her son to escape from the country. Gerhard Jansen van Vuuren girlfriend, Andrea Venter, was a 25-year-old accountant in Johannesburg and Rustenburg's first test-tube baby. Her parents, Dries and Anntjie, feared for their lives after she went missing. The couple had longed to have a baby for around 13 years before they had her. In 2007, she filed for a protection order against her abusive boyfriend before fleeing from her home in Rustenburg. Andrea's mother passed away before witnessing justice prevail for her daughter's death.
Gerhard Jansen Van Vuuren profile summary
Full name: Gerhard Jansen Van Vuuren
Career: Former IT technician
Nationality: South African
Gerhard Jansen van Vuuren biography
Gerhard comes from Koster, North West Province. The couple met at a friend's wedding eight years before Andrea's death. Gerhard Jansen van Vuuren Snr, the accused's father, revealed that the two had a stormy relationship and that his son apologized for threatening to harm Andrea's parents.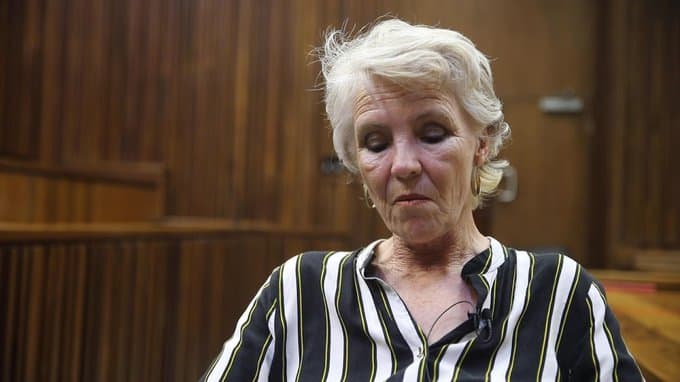 He begged his son to leave her alone because he was obsessed with her. Gerhard Jansen van Vuuren Jnr once paid for his girlfriend's flight ticket when she went to work for a top company in London and also went to live with her. The daughter of Gerhard Jansen van Vuuren Snr, Yvonne, committed suicide at the age of 19 years in 1994, and his other son also did the same in 2011.
It is alleged that Jansen found Andrea's address in May 2011 and held her captive. He tortured her before stabbing her 14 times in front of security guards and residents outside the apartment. The accused attempted suicide by cutting his throat with the same pocket knife used to kill Andrea. He was rushed to Life Fourways Hospital in Johannesburg, where he remained under the police and doctors' watchful eyes.
Who bailed out Jansen van Vuuren?
Randburg Magistrate's Court charged him with murder, and SAPS applied for bail twice for the accused in vain. Gerhard fled the country four days before the trial in May 2013. He forged identity documents under the name Daniel Joseph Mouton, and he left the country through OR Tambo International Airport after Judge Fritz van Oosten of Johannesburg High Court granted him an R15,000 bail. On 15th May 2013, Gerhard signed in to comply with his bail conditions before he disappeared.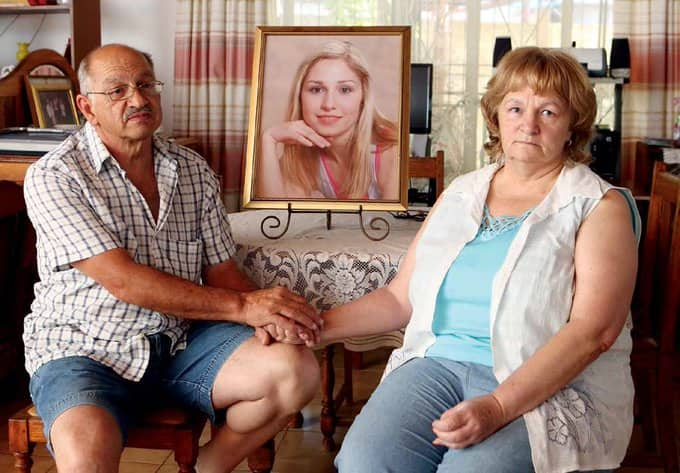 A CCTV recorded everything that happened on that day. The accused appeared before the Johannesburg High Court in November 2020 to face the murder charges. The August 2013 Gerhard Jansen van Vuuren Brazil arrest and two-years jail sentence he served were for possessing a fake passport. Interpol in Pretoria cooperated with SAPS and arrested him in Brazil in June 2020.
Andrea Venter's father, Dries, expressed himself in tears. He said that his old wounds were pricked after the arrest of Gerhard. Dries also explained that the accused used to threaten his family but was confident that justice would be served. He told TimesLive:
He would threaten all of us if he couldn't find her. He would say that if he couldn't have her, nobody else would. He would say he will get people to murder me and rape my wife.
He added:
There's not even half a chance he will be released again. On Monday, he will be appearing in court, and most likely, in January 2021, we will see him in court again and have him trialed and prosecuted.
Gerhard Jansen van Vuuren pictures
Gerhard Jansen van Vuuren latest pictures of his arrest were a relief to many South Africans because many people waited for this moment for years. His arrest restores trust in South Africans towards SAPS and the government, especially to those who believed they stopped following up the case. Mzansi people are boiling with anger and demanding justice as soon as possible. Here are Gerhard Jansen van Vuuren Facebook images.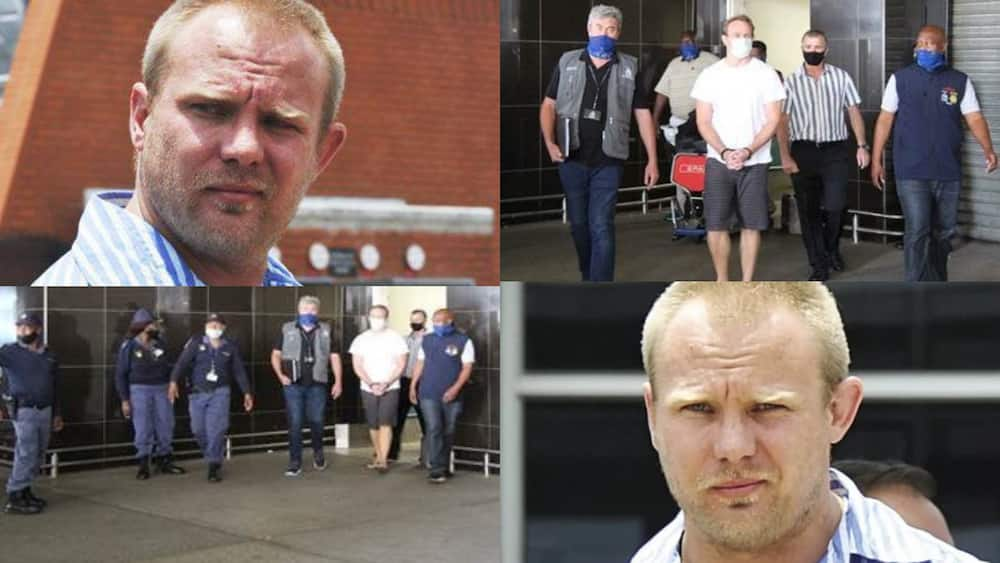 Gerhard Jansen van Vuuren case is one of the many murder cases that hurt South Africans every time they resurface. South Africans are hopeful that other victims killed in cold blood or died under suspicious circumstances will receive justice someday as they rest in eternal peace.
READ ALSO: Mkhwebane's report against Pravin Gordhan set aside by High Court
Busisiwe Mkhwebane, the prosecutor of Gauteng High Court in Pretoria, is in trouble after the court discredited her reports regarding the SARS commissioner, Pravin Gordhan. It is reported that Busisiwe did not express ideal opinions in the report, and the findings that proved Pravin Gordhan broke intelligence laws were invalid.
Briefly.co.za noted that the court issued punitive orders against the prosecutor. She found that the SARS commissioner misled the South African parliament by failing to disclose a meeting with the Gupta family.
Source: Briefly.co.za