ANC gets dragged online after clip of mother crossing river goes viral
- The ANC is being dragged online following a viral video of a woman with what appears to be a baby strapped to her back crossing a river in the Eastern Cape
- The footage shows the mother crossing rapidly raging waters using a makeshift bridge constructed out of poles and cables
- Online users began criticising the ANC for the situation and blamed them for the dangerous lack of infrastructure
PAY ATTENTION: Join Briefly News' Telegram channel! Never miss important updates!
Online users have been dragging the African National Congress on social media platforms after a video clip of a woman crossing a river went viral.
The video footage was posted to Twitter and shows a woman with looks like a baby strapped to her back crossing rapidly raging waters in order to get to the embankment on the opposite side. The method of crossing is what has users up in arms as instead of a bridge, the woman is using a makeshift system of poles and cables.
Commenters were outraged and immediately replied to the video with strong words for the ANC about the lack of infrastructure.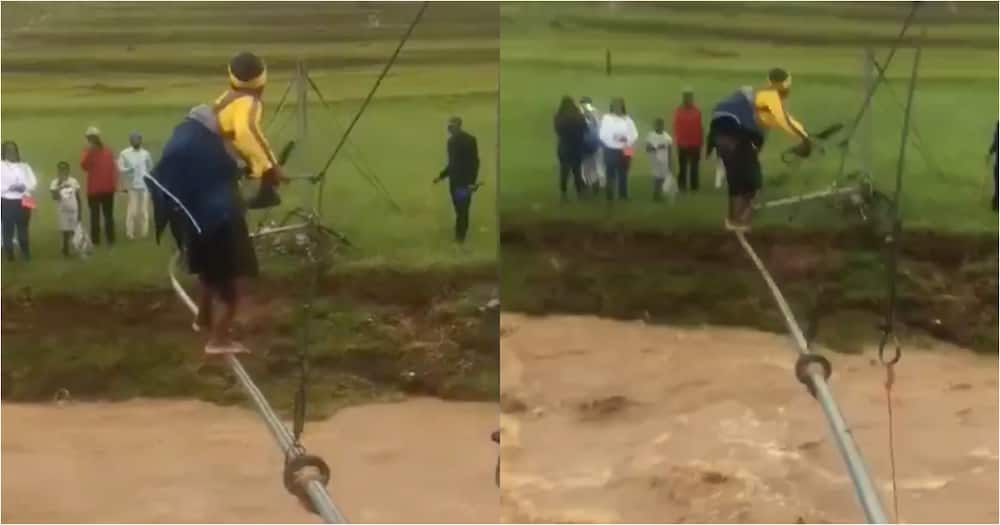 The video was said to have been recorded in the Eastern Cape and since the ANC is the dominant political party in the province, Mzansi tweeps directed most of their outrage at the government.
Some commented on the clear danger of the situation for the mother and baby and the fact that the community had been offered no suppogt by their government, while others dragged the ANC for not delivering on promises:
@VukaKhondlo: "I used to feel sympathy for our citizens but lately I don't. They voted for ANC and they got ANC. If they want to change their situation they can vote differently, but if they want their situation not to change they can keep their ANC"
@Menze_Ps: "The ANC is waiting for the upcoming general elections then they will time the construction of a bridge to coincide with the elections so that they will have something to campaign about. This has been the strategy of the ANC all these years."
@bhoyoya: "ANC doesn't care about the people members are forever defending it. EC is example of how much ANC cant allocate and follow the budget to ensure service is delivered. Now you see members blaming the rain."
Some commenters even tagged their representatives directly in their replies:
@HadebeM2: "This is the province under the Premiership of @OscarMabuyane who rewarded himself with the Bentley machine while his people are suffering like this. There is NO CONSCIENCE with these @MYANC @ANCECape"
@TonySto74753556: "@CyrilRamaphosa, how about your thieving cadres give back some of the money they have stolen and build a bridge for these poor people. A Bailey bridge like this one is ready and cheap to build. Do something for our people who really need it."
Check out the video below:
In previous news, Briefly.co.za reported on South Africans sharing their thoughts on the alcohol ban after the hashtag trended online.
The recent reintroduction of the alcohol ban has had a mixed reaction from South Africans. Liquor companies say they cannot survive another protracted ban. However, the relief it has brought tired doctors and nurses who have to battle Covid-19 has been welcomed. Having to treat alcohol-related trauma and Covid-19 at the same time can be exhausting.
South Africa is divided over the ban and many have taken to Twitter to share their views and air their frustrations.
@MikeRamothwala: "Doctors and nurses are emotionally and physically exhausted from treating COVID-19 patients. If SAB wins it's battle to lift the #AlcoholBan they must come and also treat the alcohol-related trauma cases because we currently don't have the energy to deal with two pandemics."
@Cellular_ZA: "Let's debate guys... Doctors are complaining that they receiving lots of patients at the hospital due to Alcohol, on the flip side people who are working at SAB are losing their jobs and houses... What should the President do? #AlcoholBan"
@Hlonipheka: "President must open Alcohol because people are losing their jobs. Doctors are complaining because they are not losing their jobs. Doctors who are complaining are not thinking for other people. It is clear that Doctors who are complaining chose the wrong profession."
@logacrimz: "To be honest, SAB is only concerned about their profits and not people's jobs. The jobs will be there when the ban is lifted. "Lives lost due to the pandemic will never come back. I say the government should allow hospitals to ease the burden and free some beds."
Enjoyed reading our story? Download BRIEFLY's news app on Google Play now and stay up-to-date with major South African news!
Source: Briefly.co.za