- Jacob Zuma is in the spotlight on Monday after following through with his promises to ditch the State Capture Inquiry
- His legal team has argued that its challenge amid Zondo's recusal saga has yet to be finalised
- South Africans have met this new with mixed reactions with some calling to see the law in action
PAY ATTENTION: Join Briefly News' Telegram channel! Never miss important updates!
Former president Jacob Zuma has opted out of appearing before the State Capture Inquiry on Monday.
This news, although there had been suspicions leading up to this moment, has naturally grabbed people's attention.
The views on this matter have been split between people wanting to see that the law in South Africa applies to the ex-president and those who feel that this has been a political witchhunt.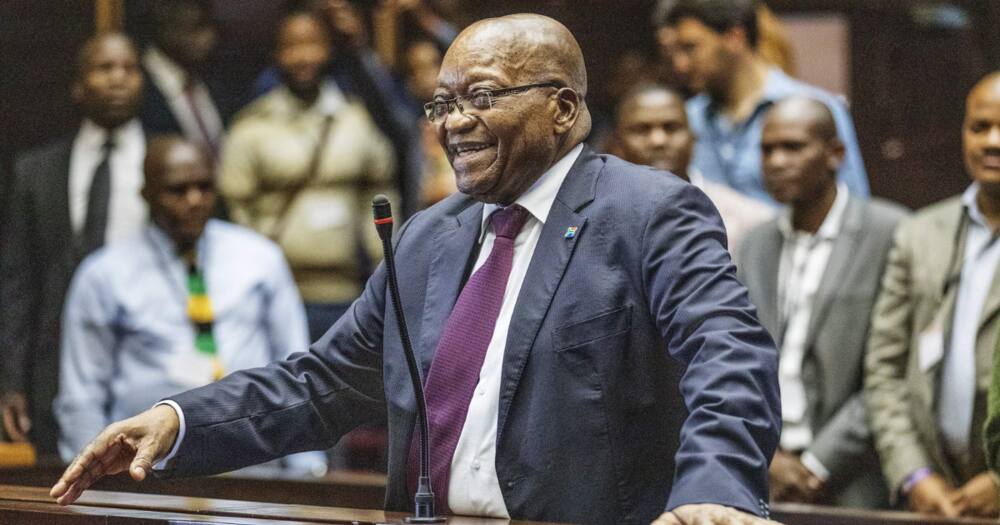 Democratic Alliance MP, Dean Macpherson, has questioned how citizens could be subjected to harsh lockdown restrictions while Zuma has seemingly managed to defy a court order without consequence:
"If you can be immediately arrested for swimming in the sea or not wearing a face mask, surely there should be no hesitation in being arrested for defying a court order? It's not exactly hard to find Zuma! Let's see the law in action!"
Take a look at just a few reactions from other citizens below:
@Kgomo389: "Constitutional Court ruling was a waste of time and money. Zondo didn't reveal that there's a pending case in court for his recusal made by Zuma. Without the ruling on the pending recusal case that ConCourt judgment is baseless."
@MphahleleMM: "How can it be difficult to arrest Zuma, if he is encircled by SAPS members everywhere he goes. The same members currently tasked to protect him must be instructed to pack him, and deliver him where he needs to be."
@ReginaldMtshali: "In essence, without the testimony of Zuma the commission is deemed futile hence this obsession for him to appear. Take all those allegations to the courts and allow those who made them to provide evidence. Let the courts test them."
@Bongile82596942: "30 Witnesses mentioned Zuma by name why doesn't he want to defend himself against those allegations? The commission is the best tool for him to set the record straight. No one is above the law in this country."
@Spiwo: "Zuma is going to end up crying crocodile tears and pleading for mercy in jail. He will ditch his lawyers and blame them for bad legal advice. Ramaphosa will be asked to consider a presidential pardon."
Earlier, Brielfy.co.za reported that former president Jacob Zuma's legal team has confirmed that he will indeed not be appearing before the State Capture Inquiry.
In a letter sent to inform the Constitutional Court of the decision, Mabuza Attorneys outlined the reasons:
"The Commission is aware that the review application which President Zuma has instituted to set aside the refusal by Deputy Chief Justice Raymond Zondo to recuse himself from hearing matters concerning him and his family is yet to be determined by the court."
Enjoyed reading our story? Download BRIEFLY's news app on Google Play now and stay up-to-date with major South African news!